At a new premium event at this year's Epcot International Food and Wine Festival, guests can help determine the best gourmet burger created by Disney chefs— after an evening of sampling, of course! The Rockin' Burger Block Party offers sliders that are inspired by recording artists who have left their mark on the beverage world, and those drinks are paired with the burgers. A DJ spins the musicians' most popular tracks, adding to the evening's upbeat atmosphere (and synergy).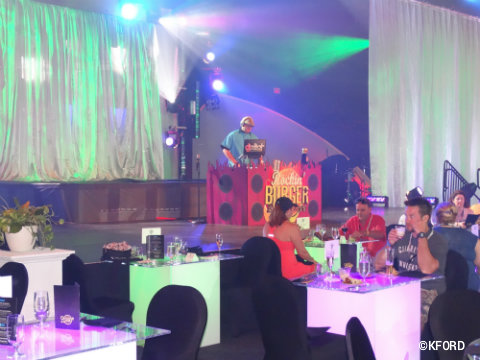 AllEars Editor Deb Koma and I were invited to cover the first of three Rockin' Burger Block Parties this festival season on Sept. 25 for AllEars.Net. When we checked in at World Showplace for the two-hour party, and we were given wristbands and programs and offered glasses of champagne. There also was a fun backdrop for those who wanted to take photos while they waited.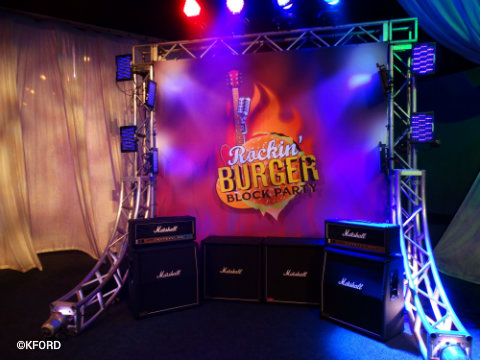 Inside the event space, we could clearly see the various admission options. Those who chose Nosh Pit seating for $199 (plus tax, including gratuity) were allowed early entry and guaranteed a private reserved table, a specialty cocktail toast, a premium bar and the closest seating to the stage in a sectioned off area. Reserved seating at $119 (plus tax, including gratuity) included a reserved table on the main floor, early entry and the cocktail toast. General admission at $99 (plus tax, including gratuity) does not guarantee a seat but does include all the food and beverage stations.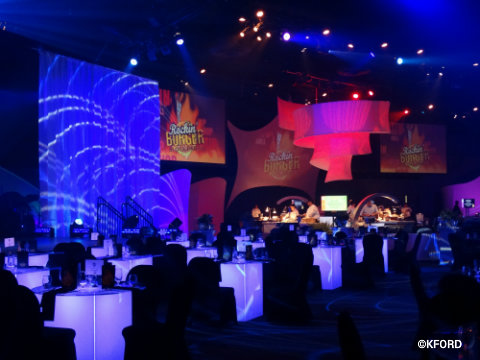 When we entered the dining space at World Showplace, the stations were open and ready to begin serving the early arrivals at 6:45 p.m. As media guests, Deb and I first were part of a group interview with the party's celebrity chef host, Andrew Zimmern, of "Bizarre Foods with Andrew Zimmern" and two related shows on the Travel Channel. You can see Deb's interview in the highlights video below:
Then, Zimmern took the stage to address the partygoers. He explained that the hamburger in America is a food from Germany that we Americans adopted about 120 years ago. Although it has been called an American tradition for more than a century, the hamburger has enjoyed a resurgence in popularity as a food trend in the last five or six years, he said.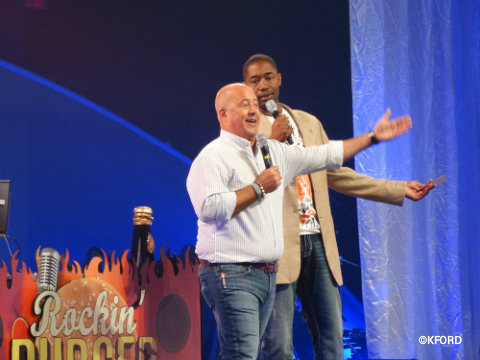 Partygoers who wanted to get started slowly could check out the Finger Foods Station, which included cheeseburger spring rolls, spicy sticky pig wings, vegetable pot stickers and lentil samosa. Most guests, however, seemed ready to dive into tasting the 14 different kinds of burgers. And even though the sliders and their side dishes are not huge portions, there is a lot of bread, so some of our friends used the strategy of splitting each slider in half to save room to sample all the varieties.
First up: Chef Carlos' Smooth Burger (ground turkey and grape jelly burger with cheddar cheese, bacon and smooth peanut butter on a toasted bun) and Chef Tony's Grouper Burger (grilled grouper patty topped with butter lettuce, vine-ripened romato and lime aiolo on a griddled bun). I enjoyed the combination of flavors on the Smooth Burger and would have gone back for seconds if there weren't so many sliders to try! Deb did not care for the Grouper Burger, and I am not a huge fish eater, so I skipped it.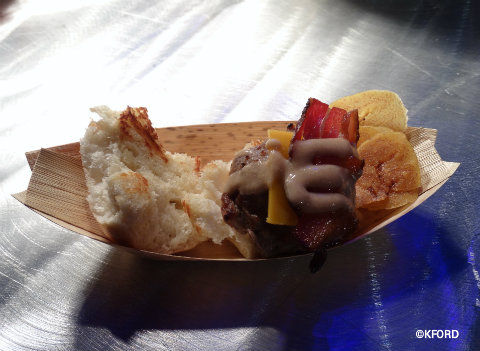 Chef Carlos' Smooth Burger
These burgers were paired with Maestro Dobel Tequila; Ciroc Vodka (Moscow Mule, Red Berry and Pineapple); Florida Orange Groves Winery (White Sangria, Key Lime Wine and Blackberry Wine); and Red Stag by Jim Beam and EFFEN Vodka (All Summer Long Cooler and American Dream). The musical connection: Ciroc Vodka is promoted by Sean (P. Diddy) Combs, and Effen Vodka is repped by rapper 50 Cent.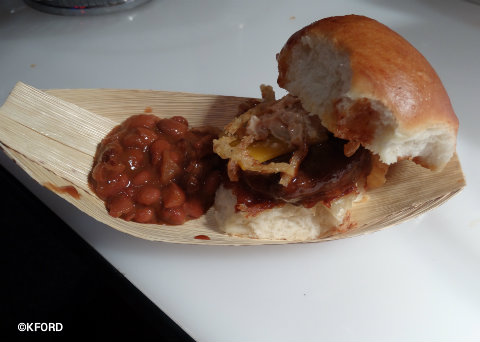 Chef Mikko's Bourbon Burger
The next grouping was Chef Mikko's Bourbon Burger (Bourbon BBQ burger topped with cheddar cheese, fried onions and chipotle aioli on Parker House bun); Chef Marianne's Sicilian Burger (pan-seared branzino patty topped with pecorino cheese, blood orange, raisin, onion jam and dried prosciutto on griddled bun); The Chew Burger (all beef sirloin, shortrib and brisket patty, cheddar cheese, carmelized onion mustard and sweet hot pickles on mayo toasted sesame bun); and Chef Jarrod's Backwoods Burger (Grilled Cervena patty topped with Black Diamond cheddar, fried onions and juniper port wine ketchup on toasted bun). By far, my favorite burger in this group was Chef Mikko's, although I also enjoyed The Chew burger, which had hints of the traditional burger toppings.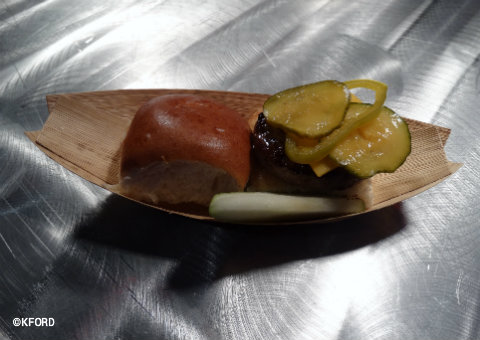 The Chew Burger
These four burgers were paired with Jim Beam Bourbon (Devil's Cut, Kentucky Fire and Apple varieties) and Sauza 901 Tequila, which is Justin Timberlake's label. Who knew?!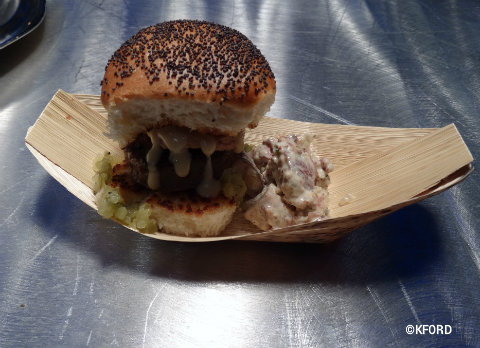 Chef Reynold's Chicago Burger
Traveling from the Midwest to the West Coast, we had Chef Reynold's Chicago Burger (grass-fed beef patty topped with all-beef hot dog, relish and Hawaii cheese sauce on a poppyseed bun) and Chef Keith's Cali Veggie Cheese Burger (Morningstar Farms bean burger topped with vegan cheese, marinated avocado and sriracha heirloom tomato ketchup on a vegan buttered bun). I'm not a huge fan of veggie burgers so I wasn't tempted by Chef Keith's creation. I did try the Chicago Burger but didn't care for the slice of hot dog on the patty. Once I removed that, I enjoyed the burger more.
Also in the grouping was the Sweets Station, which featured cinnamon roll fireball bread pudding with cream cheese glaze, snickerdoodle crusted apple custard crisp and Vahlrona chocolate ganache brownie. All three were delicious, but quite a few people at our table were raving about the bread pudding, and I had to agree it was the best of the three offerings.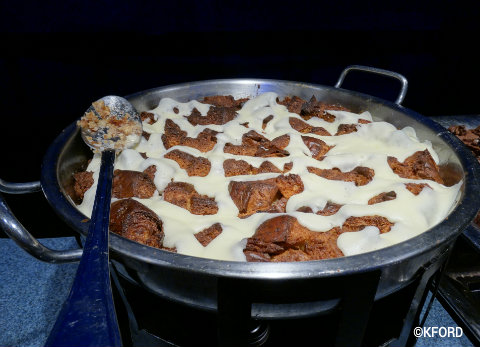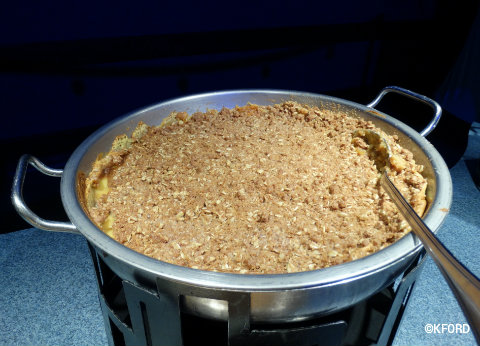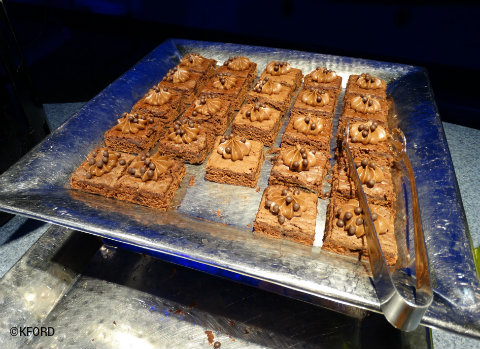 The state burgers and sweets were paired with Margaritaville Brewing Co. (Landshark Lager); The Dreaming Tree wines (Everyday White Wine, Crush Red Blend and Chardonnay); assorted hot beverages; and Little Rocker Station (specialty non-alcoholic beverage). Jimmy Buffett is affiliated with the Landshark Lager from Margaritaville Brewing Co., of course. (It's made by Anheuser-Busch, but it's sold in his restaurants.) The Dreaming Tree wines are Dave Matthews' (of Dave Matthews Band) label. Deb had the "Crush" Red Blend and said it was a nice, full-bodied red — her favorite wine of the night.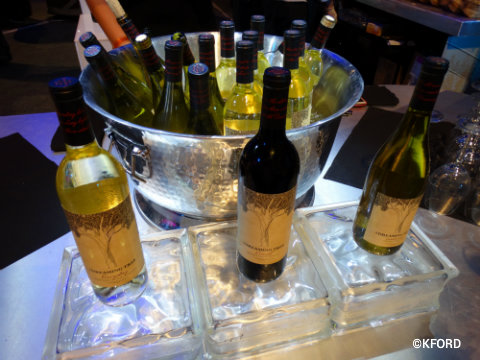 The next trio of burgers were Chef Judi's Truck Stop Burger (mixed grill burger topped with fried egg, bacon grease fries and nacho cheese sauce on griddled bun); Chef Melissa's Thai Shellfish Burger (shrimp and scallop burger topped with spicy thai slaw and cilantro lime mayo on sesame bun); and Chef Hanson Oklahoma Burger (grass-fed burger topped with BBQ pulled pork, cheddar cheese and onion fried on toasted Parker House bun). For me, and many other nearby diners, it was the Oklahoma burger, hands down, that got our vote from this group. Although the other sliders offered interesting combinations of flavors, Chef Hanson had the best toppings. Deb said the Oklahoma burger was in her Top 5 of the night.
Chef Hanson Oklahoma Burger
This group was paired with Hanson Brothers Beer Company (Mmmhops Pale Ale) — no surprise there; The Boston Beer Company (Samuel Adams Boston Lager, Seasonal and Rebel IPA brews); and Voli Vodka (International Love Cosmopolitan, Voli Black and Voli Mango Coconut). Hanson is, of course, famous for its single "Mmm Bop," so the play on words for the brothers' beer refers to that song. Voli Vodka is promoted by singer Pitbull.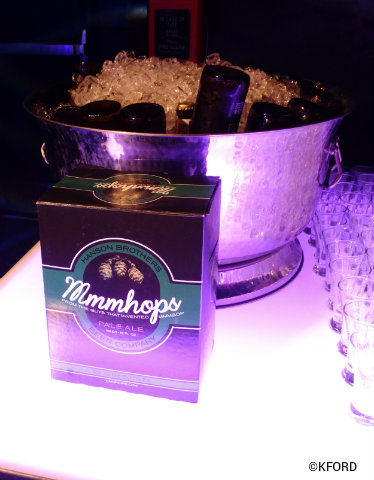 Finally, the last of the burgers were Chef Nanor's Middle-Eastern Burger (spiced lamb and feta cheese burger topped by pickled watermelon rind and Za'atar aioli on buttered bun); Chef Eggie's Mallorcan Burger (coffee-crusted beef short burger topped with smoked gouda, garlic potato strings and sangria ketchup on medianoche roll); and Chef Dale's Asian Cheese Burger (CVAP chicken duck burger topped with butterkase cheese, bulqogi braised pork belly and sweet Thai chili sauce on sesame bun). The Asian Cheese Burger was a crowd favorite, for sure.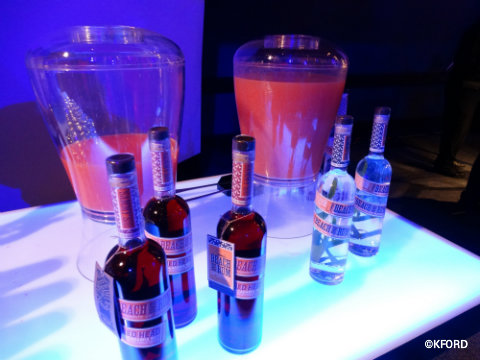 The last grouping was paired with Niche Import Co. (Hex vom Dasenstein Pinot Noir and Sweet Hex vom Dasenstein Pinot Noir); Casa Noble Tequila (Margarita and Casa Noble Reposado Tequila); and Sammy's Beach Bar Rum (Mai Tai and Red Head Rum, also called Macademia Nut Rum). Deb said she did not recommend the Hex vom Dasenstein Pinot Noir. She tried the Maragarita and I tried the Mai Tai, and both mixed drinks were exactly what you would expect in terms of flavor. Sammy's Beach Bar Rum is from Sammy Hagar, formerly of Van Halen.
At the end of the evening, guests were encouraged to vote for their favorite burgers by placing a guitar pick in a jar at the desired station. At our party, it was a tie between Chef Mikko's Bourbon Burger and Chef Dale's Asian Cheese Burger. The tie was broken by a vocal vote of the audience, when advocates of the Bourbon Burger outyelled fans of the Asian Burger. A trophy then was presented to Chef Mikko's team. On our way out of the building, guests were given more of the guitar picks as souvenirs.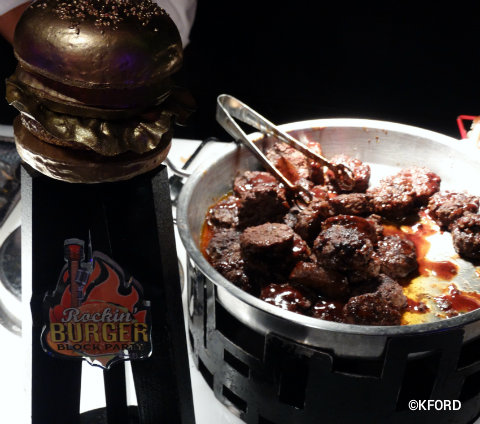 There are two remaining Rockin' Burger Block Parties on Oct. 8 and Nov. 6. The cast of The Chew will host the event on Oct. 8, and "Cake Boss" Buddy Valastro will be in the spotlight for the Nov. 6 party. Tickets can be purchased by calling 407-WDW-FEST (939-3378).
DISCLAIMER: I was a guest of Walt Disney World for its Rockin' Burger Block Party. This did not affect my story; my opinions are my own.