Time to take a spin on the Resort Monorail this week. The monorail stops at the Contemporary, Polynesian Village and Grand Floridian resorts.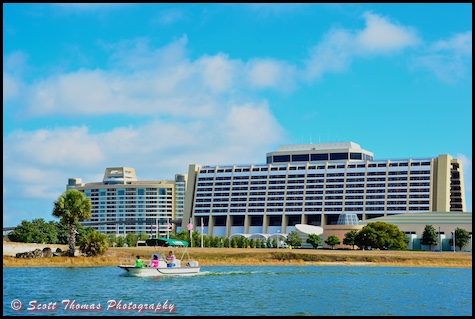 Contemporary Resort on the Seven Seas Lagoon.
Nikon D700/28-300VR, 1/125s, f/14, ISO 200, EV +0.3, 58mm Focal Length, Polarizer filter.
Okay, so this photo was taken from a Motor Cruiser on the Seven Seas Lagoon, it is still a photo of the Contemporary. Here I used a Circular Polarizing Filter (CPF) to cut through the haze and enhance the clouds and colors of the scene. A CPF is something a good travel photographer should have in his/her bag of tricks.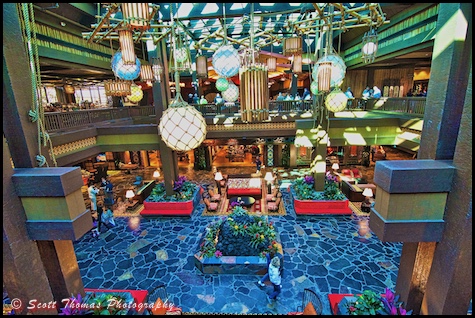 Lobby of the Polynesian Village Resort.
Nikon D7100/Tokina 11-16mm, 1/60s, f/5.6, ISO 2800, EV +0.3, 11mm Focal Length.
Our next stop is the newly named and refurbished Polynesian Village Resort lobby. The lobby seems more functional and inviting now. Still has lots of color and Polynesian tales. This is an example of looking down and finding a new perspective.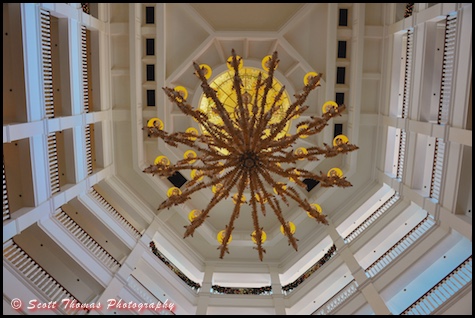 Chandelier in the lobby of Disney's Grand Floridian Resort.
Nikon D700/28-300VR, 1/30s, f/8, ISO 720, EV 0, 28mm Focal Length.
The last stop is the beautiful and elegant Grand Floridian Resort. The grand lobby atrium is gorgeous as you enter from the Monorail station. From the floor below, be sure to look up at the chandeliers and patterns of the floors which surround them.
Hope you have enjoyed the ride and remember: Please stand clear of the doors…Por favor mantengase alejado de las puertas.