Epcot's annual Flower and Garden Festival begins March 4th with new displays, topiaries, mini-gardens, garden rocks bands, food and beverages. This is Part 2 of our preview.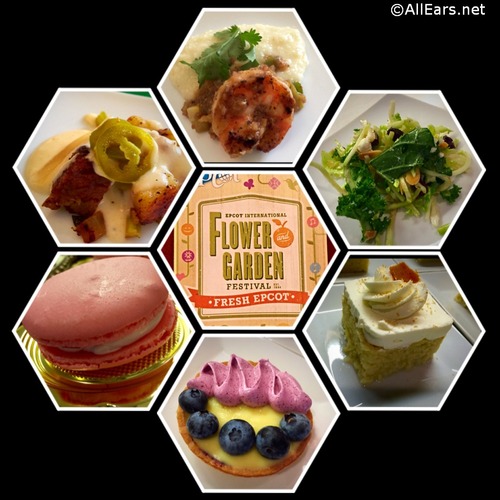 Our Festival Preview also included tasting some of the new food and beverages offered this year in the Outdoor Kitchens. Here are interviews with Epcot Executive Chef Gregg Hannon and Content Manager. Following the videos we share photos and our thoughts on the food and beverages.


Our Preview Tastes –
Cachapa con Queso Sweet Corn Pancake with Farmers Cheese – Botanas Botánico
LINDA: I really like the touch of sweetness in the pancake. The cheese has a very mild flavor. While this item is tasty, it is not one I would seek out.
DEB: This was tasty and something non-adventurous folks (like myself) would enjoy. I think kids will like it too

Beef Brisket Burnt Ends Hash – With White Cheddar Fondue and Pickled Jalapenos – THE SMOKEHOUSE: Barbecue and Brews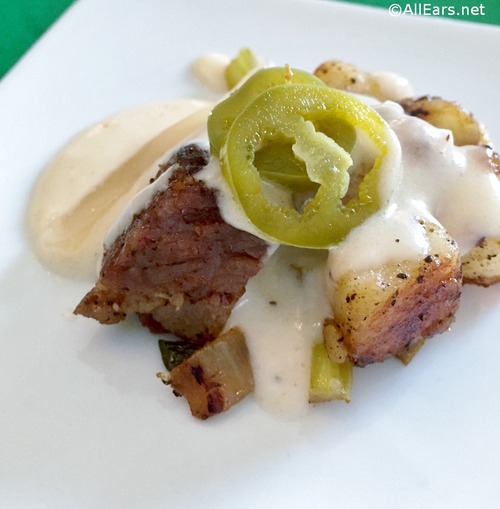 LINDA: While this was a flavorful dish, the brisket was a bit fatty for me and I thought the fondue was too much and overpowered the dish.
DEB: Not a big fan of fatty meats of which this is. However, just about everyone else around me really enjoyed it.

Shrimp and Stone Ground Grits – With Andouille Sausage, Sweet Corn, Tomatoes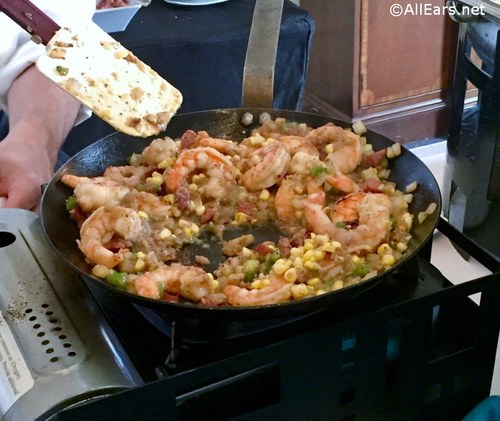 LINDA: This was by far my favorite!!! I loved the creamy, slightly cheesy tasting grits. Adding the Andouille Sausage gives it a slight kick while the corn a touch of sweetness. Both the grits and shrimp were cooked perfectly.
DEB: I took a pass due to my shellfish allergy


Kale Salad – Dried Cherries, Almonds, and Goat Cheese with White Balsamic Vinaigrette – Urban Farm Eat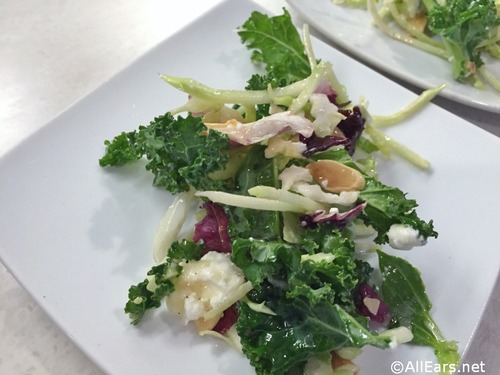 LINDA: This salad is very refreshing. I am not a fan of dried fruit so I pushed the cherries aside. I thought the goat cheese was the best part of the salad. It is so creamy and light tasting.
DEB: I really enjoyed this salad. I was a tad leary because I am not a kale fan, but the blend of all the flavors and the light vinaigrette had me going back for another helping.

Quinoa Vegetable Nannwich – With Arugula Pesto and Oven Dried Tomatoes – Urban Farm Eat
LINDA: This was my second favorite tasting! I am allergic to pine nuts and they are present in the arugula pesto so I asked to have mine served without the pesto. It was still very delicious. I love the vegetarian quinoa patty and tomatoes together. This seems to be fun food. As you can wrap the naan bread around the patty and eat it like a sandwich. This could be a nice walk around food item.
DEB: I really enjoyed this item. The quinoa patty was on the loose side so it might make for a slightly messy sandwich… but I loved the flavors and look forward to trying it again.

Smoked Debreziner Sausage With House made Kraut and Mustard – THE SMOKEHOUSE: Barbecue and Brews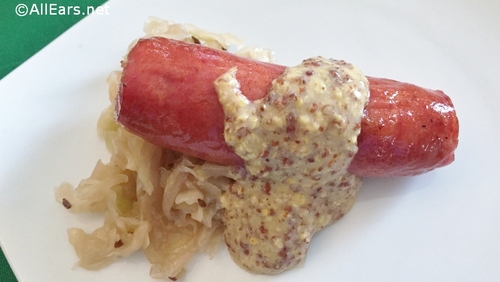 LINDA: I normally do not care for sausage, but this little dish was full of tasty heat and spice flavor. I believe the mustard was where the heat was. It was subtle heat. It did not burn the mouth but gave plenty of flavor.
DEB: I enjoyed the sausage.. I only put a little mustard on mine since I'm not a heat fan.

Coconut Tres Leches – Botanas Botánico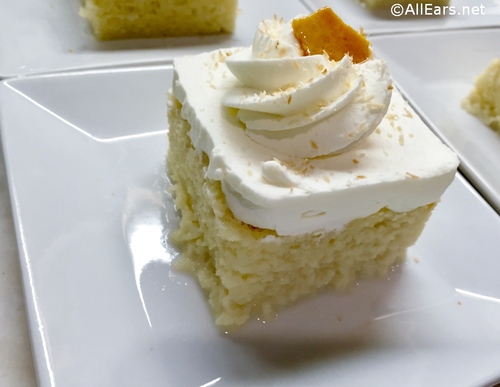 LINDA: This by far my favorite dessert! The cake was so moist, the icing light and airy with a hint of caramel and coconut flavor. I am not a big sweet dessert person but I could easily have stuffed myself with several pieces of this cake.
DEB: My favorite dessert too. Light, moist, flavorful.. simply yummy. I have to tell you I haven't seen Linda eat a whole piece of cake in a long time LOL


Florida Blueberry & Lemon Curd Tart – Florida Fresh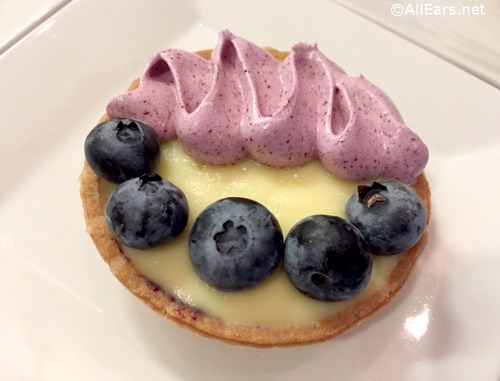 LINDA: Again, not being a big dessert person, this did not do much for me. It wasn't bad, just meh for me.
DEB: It tasted good and the blueberries were very fresh. However, after tasting the Coconut Tres Leches, I only took one bite of the tart and went back to my piece of Coconut cake.

Macaron Guimauve a la Fraise – Large Strawberry Marshmallow Macaron – Fleur de Lys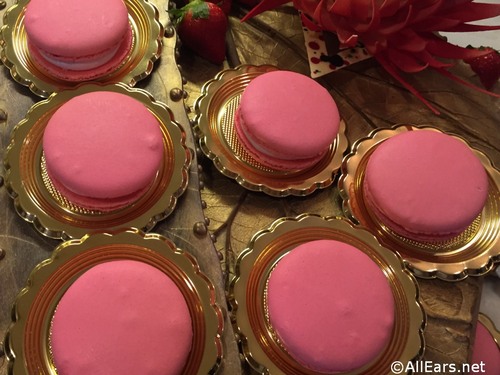 LINDA: This was my least favorite because it was so sweet. If you like a really sweet dessert, this could be for you.
DEB: Agreed! If you are into super sweet this is a dessert for you!

La Tizana with or without Santa Teresa RHUM Orange Liqueur – Botanas Botánico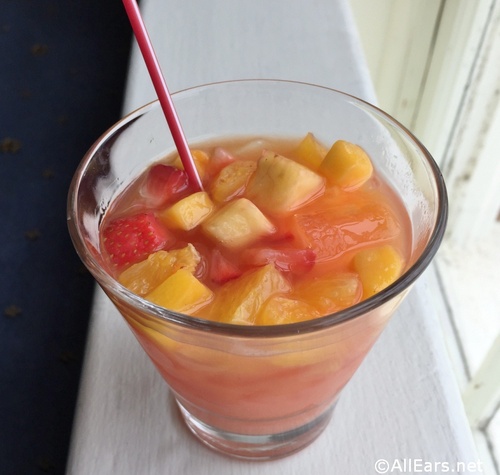 LINDA: Too sweet for me.
DEB: A tasty sweet Ruhm beverage with great fresh fruit pieces on top. I think the kids will enjoy the non-alcoholic version!


Ace Pineapple Hard Cider – Sacramento, California – Pineapple Promenade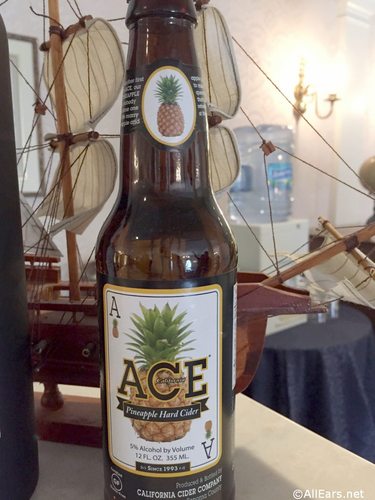 LINDA and DEB: Not hard cider fans, but the pineapple flavoring was certainly there!

Key Lime Sparkling Wine – Florida Orange Groves, St. Petersburg, FL – Florida Fresh
LINDA and DEB: When this was served as a simple white wine in 2014, neither of us cared for it. Too sweet for our tastes. However by adding the effervescence it made it a great beverage to start our noshing with!
DISCLAIMER: AllEars was invited by Disney to the Epcot Flower and Garden Media Preview on February 27, 2015. We were given a special horticulture tour, and complementary tastes of the food and beverages.