Given that today is Christmas Eve, I'd like to take a moment and digress about my childhood memories of Christmas. It was our family tradition to go with my dad and buy a live Christmas tree during the day, on Christmas eve. My mom was home cooking. I remember it was always cold and sometimes, even snowing!
Once the tree was set up, we put the lights on it. My parents told me that when Santa brought our presents, he would also finish decorating the tree. Since he was going to work so hard, we had to leave him milk and freshly baked cookies — oh and carrots for the reindeer. Every year, after dinner, my parents would give me new pajamas and slippers and then it was time to hang our stockings on the fireplace mantel, take the annual photo and go to sleep.
Visions of sugarplums certainly danced in my head as I dreamed of Santa and a few times, when I woke up in the middle of the night, I even saw him in our house!! When I think of Christmas as a child, I remember waking up on Christmas morning to find the tree fully decorated with beautiful lights, real tinsel, garland and ornaments and beautifully wrapped presents underneath. Thank you mom and dad for the wonderful Christmas memories I cherish so deeply.
Now, back to the Pic of the Week, Christmas at Disney!
One of my favorite Christmas memories at Walt Disney World was back in 2011. A few days before Christmas we decided to take our time and simply wait in the perfect spot for Mickey's Once Upon a Christmastime Parade! Perhaps we waited 90 minutes or so, but it was worth it. Here's one of my favorite photos of Christmas at Disney.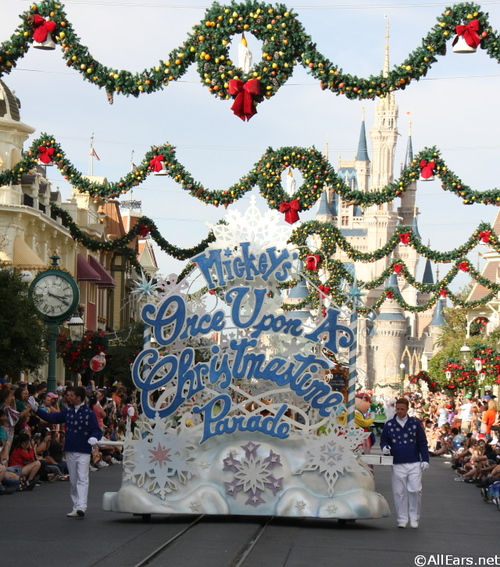 Merry Christmas and Happy Holidays Everyone!!!