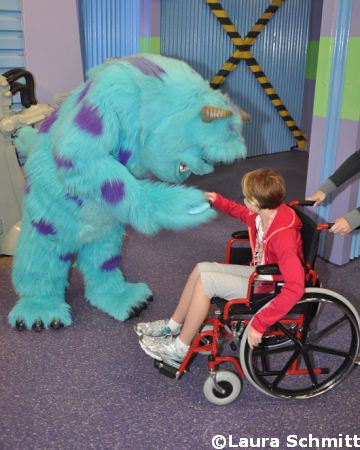 By Guest Blogger Laura Schmitt
I remember that first trip, when our girls were only 3 and 5. They were full of excitement and energy and everything seemed to fall into place, perfectly. The magic was definitely with us. Once we caught that infectious desire to return to our new found happy place, we took any opportunity we could find to visit again. My oldest daughter was never a night owl, and she was always in bed by 8pm, but it didn't cramp our style. It wasn't until our last trip that we had to make such a change in the way we toured the World. With our oldest child in a wheelchair for the first time, we were forced to look at Walt Disney World from a new point of view, and guess what? It was just as magical.
Our oldest has a connective tissue disorder called Ehlers Danlos Syndrome (EDS). While EDS presents itself differently in different people, for our daughter, once she hit those growth spurt years, it presented as non stop inflammation of joints, ever present level of pain, and the worst symptom…her joints started dislocating daily. Her shoulders are the worst, now, with daily should dislocations. Her knees and ankles used to give her more trouble. What that meant for a day at Walt Disney World was that she couldn't walk the parks safely, she couldn't do all the rides, and she didn't have the stamina that other kids her age may start with. When embarking on such a big and expensive vacation, it is a little difficult to consider that you will have to go slower, see less, and pay the same, but we found that this wasn't the case at all.
To start with, we rented a small wheelchair in our home town and we utilized that in the airport, which worked great. Once we got to Disney, we were a little nervous that people may give her dirty looks or make rude comments since the average person would never know by looking at her that she is struggling to keep her shoulder connected, or her knee cap from sliding out. People see only a young, vibrant girl and therefor, it is easy to assume that she could be faking to take advantage of any perks of being in a wheelchair. I was ready to explain to anyone who stopped us what EDS was and how it affects her, but you know what? No one did comment. The cast members did not treat her any differently than they treated her sister on two legs. If anything, she got a bit more positive attention. While she did feel self conscious that there were eyes on her from other people, I let her know that curiosity is normal and encouraged her to smile and not worry.
We still started our day in the same early to rise fashion that we always do, and we hit our favorite rides and shows. While the wheelchair may have slowed us down a bit, we were still able to do everything we wanted to do. Cast members are well trained in dealing with someone in my daughter's situation. She is able to transfer on her own, so she was able to stand up and get into a ride while her chair was moved to the ride exit for her use. The system is so smooth and efficient that we never felt hindered. For shows, there are designated areas for the wheelchairs, which were open for us each and every time.
Break time was longer, with leisurely meals and relaxing time by the pool. We didn't make it to the evening shows and fireworks, as my daughter was too worn out by the time evening rolled around, but we didn't let that worry us at all. The way I figure it is that anything we miss during the trip is a good excuse to come back again another day. Also, if there is one thing that repeat trips to Disney World has taught me, it's that the magic is often found in unplanned moments, so we kept our eyes and hearts open and we had a beautiful trip.
Our first trip to Walt Disney World in a wheelchair was just as wonderful a trip as any from previous years. If I had to weigh it out, I may even say it was better because my daughter was able to do everything that she wanted to do before this disability took hold of her body and began to dictate her life. She works hard in physical therapy, year round, and she wears braces that have given her some additional freedoms, but she is unable to safely attend school due to such easy and frequent shoulder dislocations. Being able to use her safe wheelchair space while touring the parks is the only way such a crowded environment would work for such a fragile child.
Should you ever find yourself ready to embark on a magical adventure with an unexpected injury looking to ruin your fun, don't give up on the plan. Disney is unparalleled when it comes to accommodating special needs of all shapes and sizes. It truly is a magical place for every visitor.
It has been a couple of years, and I am sad to say that even though my daughters legs are improving, her shoulders are worsening. There is no cure for Ehlers Danlos Syndrome, and we can only hope that age and physical therapy will save her from losing the use of her shoulder joints over time. We continue to see specialists and search for innovations that may help her. In the meantime, we are prepping for our second trip to Walt Disney World from the slightly lower view of a wheelchair, and I can tell you… the view looks great from here.