Gamers and Disney fans (and, of course, their parents), are you counting the days until the Toy Box Starter Pack for Disney Infinity 2.0 hits store shelves? (For those who haven't marked their calendars, that's Tuesday, Nov. 4.) If you happen to be in Orlando, though, you actually can purchase the new game a few days early and get a gift with your purchase at Walt Disney Disney World.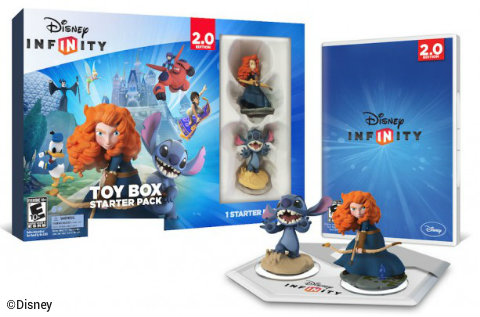 Once Upon a Toy, the toy store at the Downtown Disney Marketplace, will have the starter pack that contains Merida from Disney-Pixar's "Brave" and Stitch on Nov. 1 (today!) and 2. The set also includes the video game disc; a Disney Infinity base; Disney Originals "Toy Box Game Discs" – Stitch's Tropical Rescue and Brave Forest Siege; one web code card; and a poster. This starter pack sells for $59.99 plus tax, and guests will receive one complimentary Disney figure with the purchase of a starter pack at this location on Nov. 1 and 2 (while supplies last).
Additional items being released at the store this weekend include figures of Maleficent, Donald Duck, Aladdin and Tinker Bell.
Disney Interactive announced that Hiro and Baymax figures from the upcoming animated movie "Big Hero 6″ also will be released nationwide on Tuesday, Nov. 4. Fans will be able to use Hiro's mind-power and Baymax's super strength, along with hundreds of items, locations, props and vehicles from across the Disney and Marvel universes to create all-new adventures born from the imagination of players. There will also be a "Big Hero 6″ Chem Capsule Power Disc, which allows players to create a cloud of frost that freezes enemies right in their tracks.
The first starter pack for Disney Infinity 2.0 was released this fall and features Marvel characters. The Marvel Super Heroes Starter Pack includes the video game; three collectible characters, Iron Man, Thor and Black Widow; a Disney Infinity 2.0 base; two Toy Box game discs; a Marvel's The Avengers play set piece; and a web code card. The list price for the Marvel starter pack is $74.99.
Neither starter pack for Disney Infinity 2.0 is available for the Wii or Nintendo 3DS systems, as the original version is. Instead, new gaming platforms have been added — Playstation 4, Xbox One, iOS tablets and smart phones. They also will be compatible with Wii U, Xbox 360, PlayStation 3 and PCs, which were platforms for the original game, as well.
Disney Interactive is making it easier to enjoy playing the original game on the Nintendo Wii U, if you choose to upgrade game systems, with your existing accessories. You can get the free download at the Wii U eShop and then use your Wii U Gamepad to start creating worlds in the Toy Box or unlocking items in the Play Sets. You also will be able to enjoy online multiplayer modes of play, as well.
Disney Infinity 2.0 is rated E-10+ by the ESRB.