To all who come to this photo trivia game, Welcome! Along the way, the photos can make us relive memories and see details Walt's Imagineers put into everything we love in Walt Disney World!
Special Announcement: we welcome a new Player! Congratulations to Ed and Barbara Elder on their new son, EJ!

Bill Mckim leaves for Disney soon! Bon Voyage, Bill! Have a magical time!

Take us with you!
On the other hand, Lindsey Schlauderaff is going through serious Disney withdrawal. What can we do, Lindsey? Maybe a sing-a-long? Let's go with a classic. Think Jiminy Cricket, Players.
When you wish upon a star
Makes no difference who you are.
Anything your heart desires
Will come to you.
Like a bolt out of the blue
Fate steps in and sees you through.
When you wish upon a star
Your dreams come true.
Agnes Ciotti and Danielle Ciotti Harsley, thank you for the compliment on the picture of my husband & I! Of course I knew it was Harley Davidson's 10th Anniversary, Sandie Albrecht! I planned that long ago!
Challenge #295: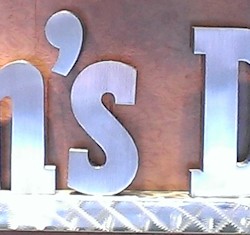 And here's the answer: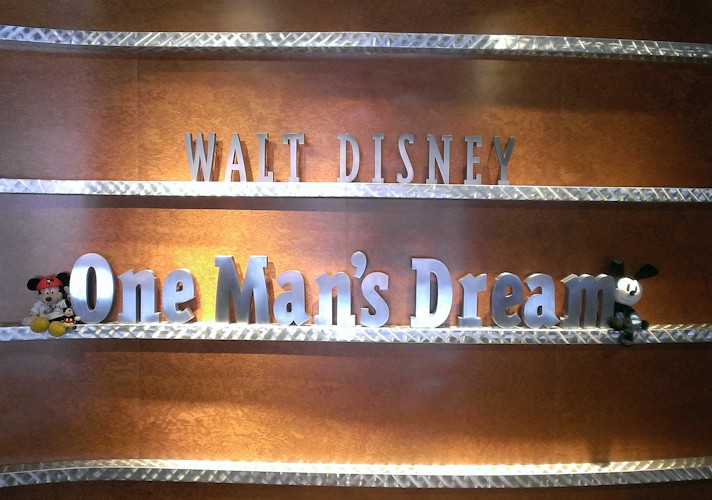 Copyright © 2013 Erin Blackwell
The sign for One Man's Dream in Disney's Hollywood Studios. I put Oswald at one end and his little brother Mickey at the other. I thought it was only appropriate.
Please note: my Pal Mickey has a Walt shirt and a little Pal Mickey of his own. 😉
As so many of you said about this must see attraction to see everything we owe to the man: Thank you, Walt, for all the memories and magic. Without you, we wouldn't be here together sharing something we love so much.
Kristi Strembicki were the first to send in the correct answer! Congratulations to Kristi and all our winners this week! Chris Masse, Jennifer Harmon, Mary Beth Tarbet, Donna Frank, Shannon Savoia, Joann Albrecht, Jennifer Rowell, Megan Krainski, Colette Stanton, Paula Massarelli, Andrea Kruszewski, Amber Penske, Barb Tucker, Lori Elias, Angie Blair, Lindsey Nozal, Jen Tremley, Carol Ney, Linda Ranatza, Kira A, Andrew Norman, Josh Etzweiler, Anne Heffentreyer, Lee Deroia, Tricia Petty, Larissa Huda, Bill Mckim, Andrew Carrieri, Wendy Beaudoin, Rob And April -team Vanderpool, Valerie Lunsford, Amy Martel, Deb Ragno, Sandie Albrecht, Tina Santacroce, Sharon Powell, Paul Dickson, Karen Ramirez, Stuart Hale, Pam Vanaustin, The Malesky Family, Ellie Argaluza, Robin Robinson, Krystal Pound, Karen Smith, Chris Kelly, Jeff Schoeling, Maureen Handy, Chris, Gretchen, And Katie Barnes, Kimi Scimeca, Kristan Bertelmann, Sandy Kanigowski, Dave Kanigowski, Scott Mcbride, Emily Hudson, Chris Nichols, Danielle Ciotti Harsley, Alicia Stevenson, Agnes Ciotti, Janet T Thorn, Olga Vorontsova, Sheryl Hicks, Julie Larsen, Robert Wescovich, Terry Blair, Claire Gregory, Diane Ramos, Melissa Such, Belicia Cullen, Scott Cullen, Patti Mccaffrey, Jolynn Digiallonardo, Sharon Pierce, Katie Bray, Olivia, Brian Mcwithey, Les Stewart, Larry Sprenkle, Virginia Pierce, Josh Weiss, Jonathan Ward, Chloe Mayhew, Betsy Dross, Morag Lemon, Alan Mize, Josh Carney, Vicki Britt, Fran Rendulic, Rob Blundin, Team Hill, Timmy Saunders, Patti Deluca, Jackie Graebel, Joseph M. Zafia, Tom Higbee, Matt Holley, Lindsey Schlauderaff, Nathaniel Clements, Lynette Michalos, Patti Gumiela, Jo Ann Bailey, Barclay Bakkum, Tom Buck, Evald Olson, Cheri Palmisano, and Carla Leger. Each of you are entered in this month's winners' drawing.
_____________________________________________________ _____________________
Challenge #296 Where in the world is this?
We're staying in the parks!

Do you know? Do you have a guess? Please send in your answer, before the end of the day on Thursday, September 12th, by clicking on the blue box below. Please do not post answers using the Feedback Form link at the bottom of this post.
See you next week, Players!


_______________________________________________________________________
Everyone who sends in a correct answer to a Where in the World Challenge this month will be entered in a drawing at the end of the month for some special AllEars® goodies!