A few months ago Carol and I were out riding our bicycles around our neighbourhood and I overheard a mother as we passed. She told her young son, "Those are the people who live in the Mickey Mouse house."
People know that we are Disney fans! When we decorate for Halloween or Christmas there are always Disney themed inflatables involved! It's always a treat to see children stop to enjoy our display . . . and the adults seem to like it too! We make no secret of our mania for all things Disney!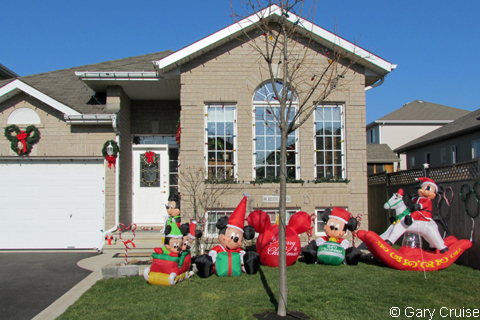 As a result friends, family and neighbours often ask us for advice before they visit the Disney parks and we are happy to oblige. One of the bits of advice we give is "Stay on Property" – stay in a Disney resort. Walt Disney World offers a wide variety of resorts to accommodate all budgets and each resort is designed, finished and furnished in typical Disney fashion. Their attention to detail is astounding. Are you looking for a luxurious tropical isle feeling? Disney has it at the Polynesian Resort!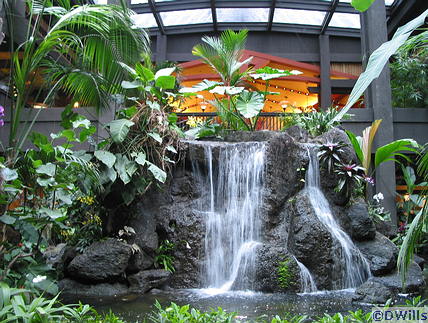 Would you prefer a rustic Mississippi Delta or New Orleans atmosphere? Disney has them both at Port Orleans Riverside and Port Orleans French Quarter.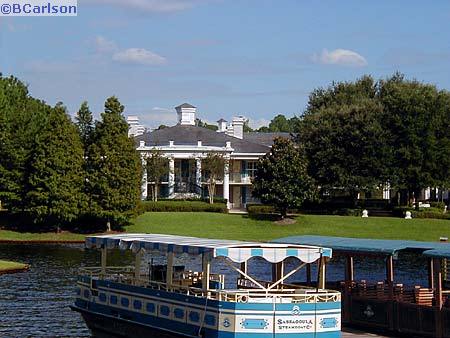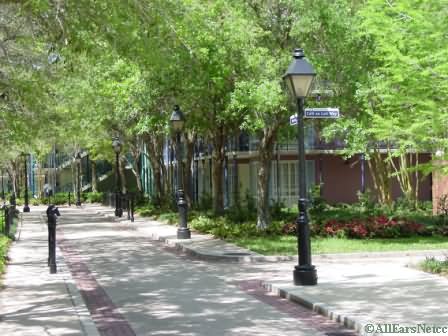 Do you need a larger space with room for up to six people? Try the cabins at Fort Wilderness Resort & Campground or consider the newest Disney addition, The Art of Animation Resort.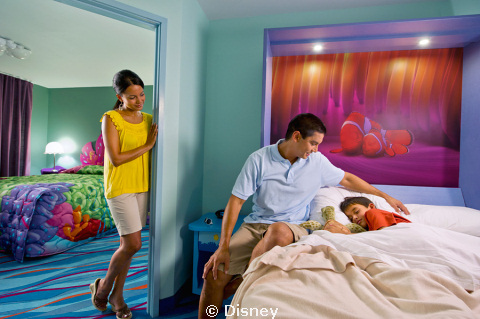 The variety to be found in Disney resorts is just too wide to cover in a blog . . . you can find complete details and prices here:
What about the "off-site" resorts? Walt Disney World is surrounded by some excellent hotels and resorts. There are some good values for families who are looking for multiple bedrooms and are willing to drive a few miles to get them . . . BUT!
In my mind that is a very big BUT! I firmly believe that those who stay "off-property" are missing out on some very important perks!
What are those perks?
First and foremost in my personal ranking is "the magic". When you stay at a Disney resort that magic which you feel at the parks follows you home. Disney properties are not only immaculately clean, well landscaped and secure, but they are also are all uniquely themed. When you stay at a Disney resort you become immersed in the theme . . . you actually feel as though you are living in the time and place the designers had in mind. The cast members in the Disney resorts, like their counterparts in the parks, strive to give guests the best possible vacation experience. I think the added magic when you "stay on property" adds a whole new dimension to your vacation.
My second important perk is the Disney Transportation system. Resort guests have unlimited access to all those Disney buses, boats and monorails! There is no need to rent a car, no hassle finding parking, no need to pay for parking. You will never get lost on your way to a park and at the end of a long day, when you're dog-tired, just sit back and relax as Disney transportation takes you back to your magical resort!
A perk which compliments the Disney Transportation system is Disney's Magical Express which offers free airport shuttle service, luggage delivery and airline check-in (with certain airlines) for Disney resort guests. You really don't need a car to enjoy a Disney vacation!
If you do have a car and prefer to drive to the theme parks there's another perk too! All guests at Disney resorts are entitled to free parking at the parks, a savings of $15.00 per day.
Let's not forget Extra Magic Hours. Guests at Disney resorts are given special access to selected parks for an extra hour in the morning before the park opens to the general public or for two hours in the evening after regular closing hours. These Extra Magic Hours feature much smaller crowds and offer easier access to the most popular rides and attractions. If you are trying to cram as much fun as you can into a short vacation Extra Magic Hours can be a great perk!
Disney resort guests are eligible for several unique Magic Your Way packages. These packages offer a number of discounts around Walt Disney World and can also include a pre-paid dining option. You can save a great deal of money with a Magic Your Way package. Sometimes during slower seasons the Magic Your Way package is offered as a free perk – that means your dining at the parks is free! It's a huge saving when it's free! Complete details can be found here! /pl/packages.htm
Disney offers free shipping back to your Disney resort on all purchases. Looking at a bulky item . . . or simply one you don't want to carry around all day? No problem, it will be available for pick-up at your resort the following afternoon!
When you stay at a Disney resort and you request a wake-up call it will be a Disney character who prompts you to "rise and shine!" How much fun is that?
There are plenty of other advantages to Disney resorts, such as souvenir mugs which can be refilled at no charge for the duration of your stay. Look here to see even more perks and also some advice to help you select the resort which is best for you and your family.
But aren't Disney resorts more expensive than those other hotels nearby? No, in my opinion they are not! The "on property" resorts are priced competitively and compare quite well to other nearby hotels. If you want luxury Disney has it in their Deluxe resorts; if you want economy Disney has it in their Value Resorts. If you are looking for something in between take a look at the Moderate resorts.
Another tip we always give to friends and family to help keep costs down, "Use a Travel Agent." It really will save you money! Carol just loves the time she spends planning our trips and for years she booked all our accommodations on her own. She shopped for good deals and always found some bargains but other Disney fans kept telling us to try an agent . . . so finally she relented and gave Mouse Fan Travel a call. WOW! We have saved thousands of dollars because of our terrific travel agent/vacation planner! She is amazing! She doesn't stop once the booking is made; she continues to monitor new deals and special pricing offers. Almost every time we book a vacation we receive a surprise e-mail from her saying something like, "I just applied a AAA discount, you will save $205.00." I really like that kind of mail!
So let's do a quick recap. Disney has almost 20 unique resorts offering a wide variety of unique themes at various price levels; there's something to suit every family. Disney resorts are closer to the theme parks than the "off-property" hotels. Disney resorts come with many unique perks which are not available anywhere else.
Don't get me wrong, I'm not saying there's anything wrong with staying off property. There are some beautiful resorts nearby and many of them offer good value, but when you add in all the benefits that come with a Disney resort it's an easy decision for me . . . Stay on property!