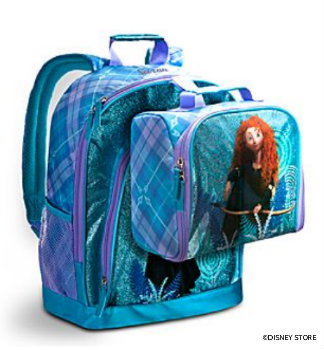 It's back-to-school time and, for some of us, that means the search is on for Disney-themed binders, backpacks, lunch boxes and more.
The first stop for Disney fans likely is a Disney Store in their local mall or DisneyStore.com, where you can find the newest characters and school styles every summer and fall. This year, my daughter chose the "Brave" princess, Merida, to adorn her backpack, lunch box and water bottle. (A tip: If you order the backpack online, you can add personalization, which you cannot do at a store.)
We have purchased many backpacks from the Disney Store over the years, and I especially appreciate the quality of these products. They usually survive until the end of the school year without any rips and tears, which I cannot say for some other brands we have tested. Plus, my kids think it's cool that the lunch box attaches to the front of the backpack. This week at DisneyStore.com, backpacks are on sale for $12 and lunch boxes are $8.
Disney Store also sells school supply kits that include a folder, notebook, pencil box, pencils, scissors, glue stick, ruler and eraser themed to each character. These are priced at $14.50. Customized binders start at $20.95, and there is even a Minnie Mouse composition notebook for $4.99.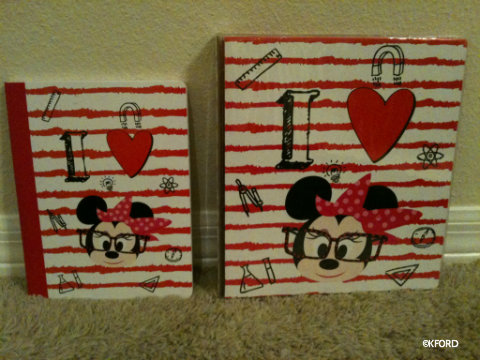 The last two items are more expensive than their counterparts at a big store, such as Target, which also carries some Minnie Mouse school supplies this year. We spotted a binder for $5, a lunch box for $10 and a backpack for $15.
At Toys 'R' Us, there are several backpacks with Disney characters: Disney Princesses, Ariel, Rapunzel, Cinderella, Minnie Mouse, Cars, Tinker Bell and Disney Fairies. They range in price from $13 to $17 and come with a free lunch kit this week.
If you're a Walmart shopper, the store carries a wide selection of Disney-themed backpacks, priced from $10 to $15 and some even include matching lunch boxes for that price. The store also has Mickey and Minnie binders and Disney portfolio folders at various prices.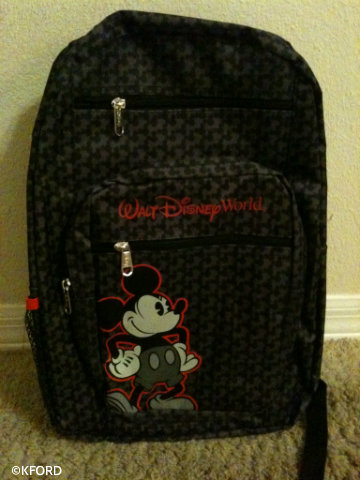 What's a mom to do when an older child wants a more "grown-up" looking Disney-themed backpack? My suggestion is to look for Disney theme park merchandise, which may be designed for adults. If you're not going to be vacationing at Walt Disney World before school starts, you can call the mail order merchandise department toll-free at 877-560-6477 and ask what is available. Also, some theme-park backpacks are available at DisneyStore.com. One of the current Disney World promotions allows guests to purchase a traditional black backpack with a Mickey Mouse icon and the words "Walt Disney World" when they spend $40. You must be on property to get this deal.
Speaking of deals, if you're looking for the best prices for your family on all things Disney, be sure to sign up for email alerts from the new website, disneyfamilydeals.com. It's described this way: "Disney Family Deals is an online resource for parents and Disney enthusiasts to find exclusive offers on Disney products and experiences, as well as daily local and online deals we believe will interest our Disney family audience."