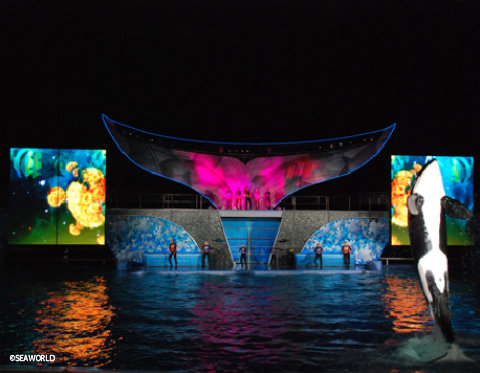 SeaWorld Orlando celebrates summer the way some theme parks celebrate the holidays — with new shows and experiences, plus longer hours. Through Aug. 14, the park stays open until 10 p.m. as part of Summer Nights, and guests can take in performances planned just for the season.
The park's iconic killer whales perform in a nighttime high-energy show, Shamu Rocks!, that is set to music and colorful lights. Water fountains from the daytime show, One Ocean, have been added to Shamu Rocks! Perhaps the best way to describe this experience is that it's a blend of a concert of classic rock hits with marine animal performances. There's even a performer pretending to play a Shamu guitar, and the animal trainers do more dancing than their usual shuffling to the beat.
Shamu Rocks! is only performed once each night in the summer, so if you want good seats, be sure to get there early. Shamu Stadium typically opens 45 minutes before the show, and lines will form on the ramps. Surprisingly, to us anyway, the splash sections filled up first.
My elementary-school age kids really enjoyed this show. Even the wait was entertaining thanks to the big-screen entertainment, showing live scenes of audience members in Shamu Stadium.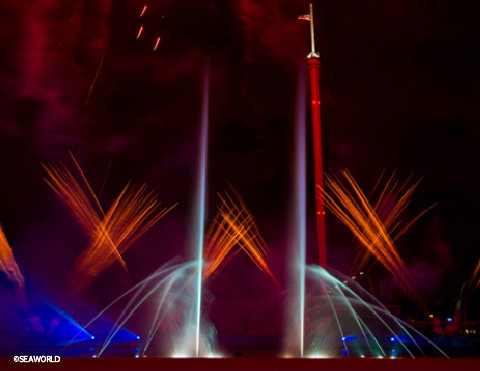 When the show ends, it's an easy walk over to Atlantis Bayside Stadium to see Reflections: Fireworks and Fountains Show Finale. On the night my family attended, we arrived and were pleased to find the stadium sparsely filled and we had our choice of seats. Once again, there was pre-show entertainment, this time in the form of an energetic drum corp and acrobats on stilts. This show encouraged the kids to dance in the aisles, so they weren't preoccupied with when the show would begin. Reflections is a water, lights and fireworks show and its new soundtrack includes segments from the killer whale show, "One Ocean." The pyrotechnics are contained to the space over the bay, no doubt for the safety of guests and to not disturb all the animals.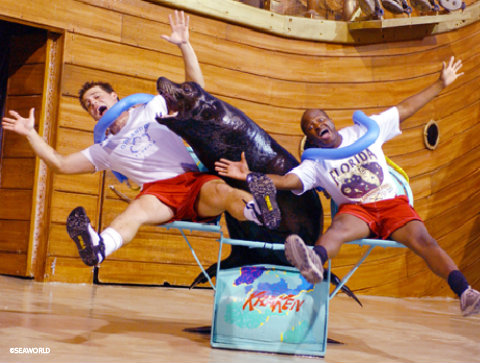 The third summer show is Sea Lions Tonite, in which the park's talented sea lions, otters and walrus parody favorite SeaWorld shows and attractions. This year, a new spoof based on the latest killer whale show, One Ocean, has been added.
In addition to shows, SeaWorld hosts Summer Nights Central, a party on Bayside pathway. The fun begins at 6 p.m. each night with family friendly music from a DJ during the week and live music from bands on the weekends. Adults can purchase beer, wine and frozen drinks at the party, and the young and the young-at-heart might enjoy seasonal treats of cotton candy and Blue Bunny ice cream.
Looking for a thrill? Head over to Manta roller coaster for a moonlit ride that's only possible seasonally. My daughter is still at least an inch shy of the height requirement, so I haven't been forced to confront my Manta fears yet.
SeaWorld also offers guests a summer guided tour of the park at an additional charge that includes front-of-line access to the most popular rides, an opportunity to feed dolphins and reserved seating at Shamu Rocks! and Reflections. This Summer Nights VIP Tour also takes guests to the Makahiki Luau dinner show.
Even with the summer crowds, SeaWorld Orlando is easy to navigate. From my perspective as a frequent Disney World visitor, this is largely because the park and number of visitors are so much smaller than what I usually expect when I go to an Orlando theme park. It's a welcome change of pace.