A Relaxing Yet Sophisticated Dining Experience at Chefs de France
When it comes to having a variety of dining options, the France pavilion in World Showcase offers a little something for everyone. Whether it is just grabbing a freshly made crepe from the stand on the Promenade or maybe a Napoleon, éclair, or one of the other delectable pastries from the Boulangerie Patisserie, France is one of my favorite spots to visit if I am looking for a quick snack. At the same time, if you are looking for a relaxing sit-down meal, France features two vastly different dining experiences.
The Bistro De Paris is one of the most refined dining locations not only in Epcot, but all of Walt Disney World. This Signature restaurant boasts a gourmet menu as well as an extensive wine list which, when combined with its quiet and elegant setting, make it a great location for those couples looking for a romantic night out. If you are looking for a dining option that is a little more family friendly , but without necessarily losing the French grace and sophistication, then Chefs de France is a must-do. Not only will this restaurant's atmosphere make you feel as though you have been transported to the heart of Paris, but its menu will give you a taste of some of the country's legendary cuisine.
Overview:
Disney World features several restaurants by famous chefs, such as the Wolfgang Puck Café in Downtown Disney, Cat Cora's Kouzzina at the Boardwalk, and Todd English's Bluezoo at the Dolphin, but Chefs de France's pedigree is just as impressive even if it bears no one's name. The reason for the restaurant being named this way is due to the fact that it was actually founded by three well known French chefs: Paul Bocuse, Roger Verge, and Gaston Lenotre.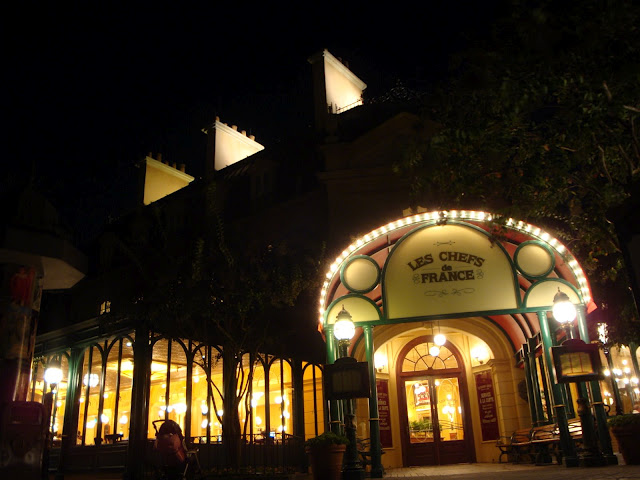 Of the three Bocuse is probably the best known. It might be said that Bocuse was the first real celebrity chef. Nowadays we know many chefs by name, with icons such as Emeril and Paula Deen. If it had not been for Bocuse, none of these chefs may have achieved the status which they have today. Bocuse became a household name when, in 1965, he became the first chef to put his name on his restaurant. Prior to this point, as Bocuse himself noted, "Chefs spent their professional lives in basement kitchens, rarely seeing the sun and consoling themselves with the sherry bottle that brought them to the tomb at age 50."
The other restaurant founders are just as impressive. Roger Verge's restaurant in France is a favorite of stars attending the Cannes Film Festival and the late Gaston Lenotre was famous in France and around the world for his pastries. Together, these three chefs give Chef de France a certain legacy that cannot be matched by any of the other restaurants in World Showcase.
Atmosphere:
Chefs de France is patterned after a French brasserie, a type of restaurant with a relaxed yet upscale setting. Indeed, the dining room at Chefs de France is very much about contrasting feels and styles. On one hand you have the light, open, airiness created by the high ceilings, massive mirrors, and large windows, but combining with this are the dark woods of the tables and chairs, the polished brass light fixtures, and crisp white tablecloths that add an air of sophistication and refinement to the dining experience.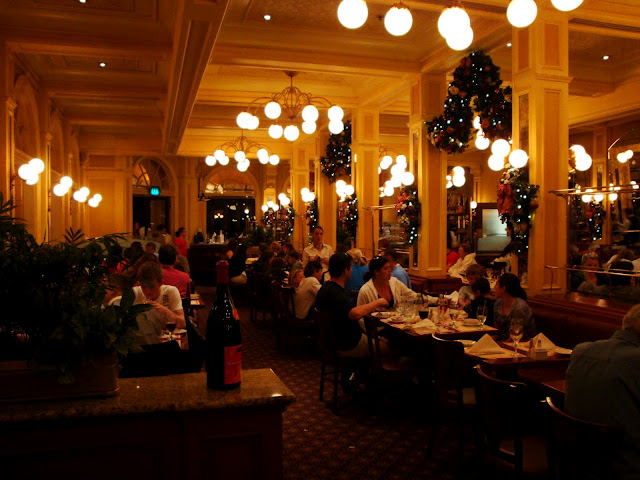 Because of the massive amounts of natural light the restaurant receives, the dining room takes on a different feel when dining for lunch as opposed to dinner. At lunch, sunlight helps create a mood is very bright and cheerful, a feel that is a little more relaxed and laid back. At night, the restaurant takes on more of an intimate, romantic feel, one that is more upscale and refined.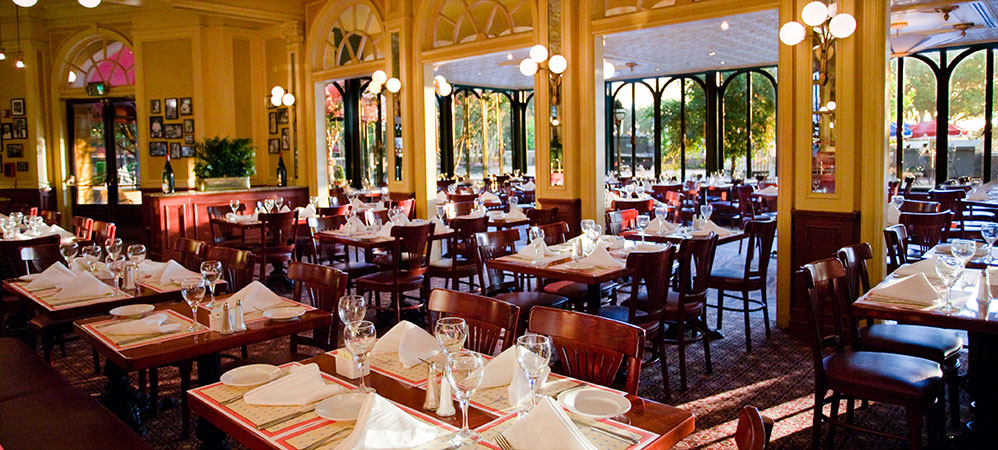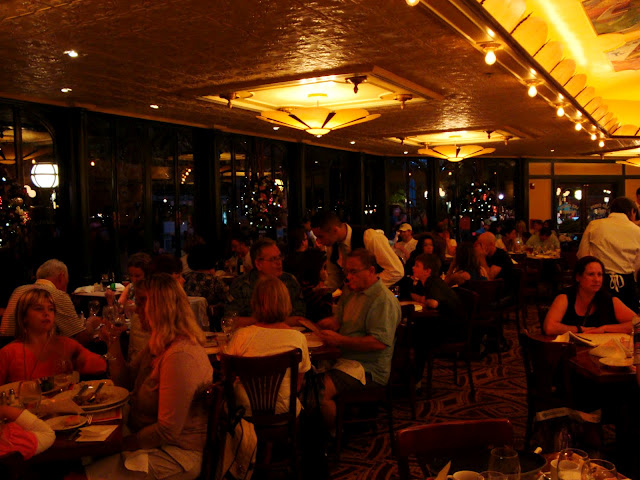 When it comes to the time of day, I actually prefer this restaurant by day. When I go for lunch I make sure to request a table by the window. Not only do they offer great views of the Promenade and the World Showcase Lagoon, but watching the hustle and bustle of guests walking by make you almost feel as if you are at a real Parisian bistro in the heart of the city.
If you do decide to dine here at night, these same windows do offer views of Illuminations, although a little more obstructed than those found at the Rose and Crown in the United Kingdom or La Hacienda de San Angel in Mexico.
Chefs de France is certainly a restaurant which relies more on light and the views from its windows more than architectural style, color, or decorations to create its atmosphere. That being said, there are still some great details to be found around the dining room. Near the front entrance of the restaurant are a variety of black and white photographs featuring the restaurant's illustrious founders. This helps give the restaurant a sense of history and also lends to its authenticity.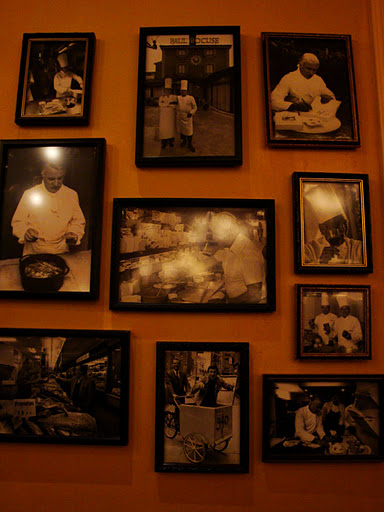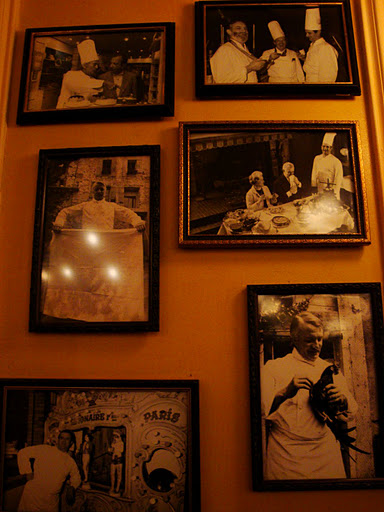 Of course, no French restaurant would be complete without wine and Chefs de France utilizes wine bottles as a form of decoration that is featured prominently throughout the dining room.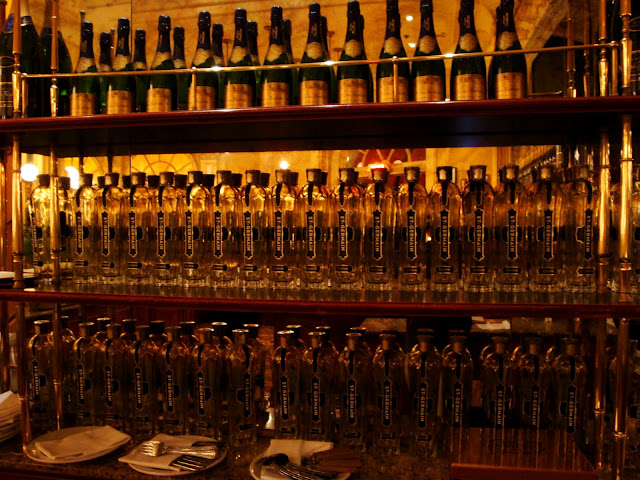 Also, if you look carefully, you will probably notice more than one model of one of France's most enduring landmarks.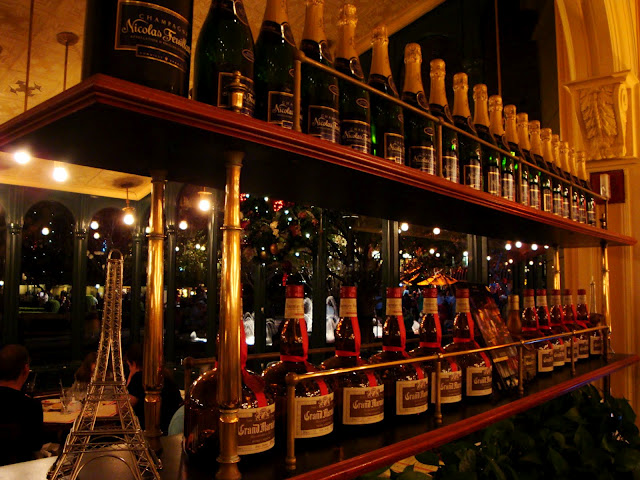 One of the nice touches that I found in the dining room might actually go unnoticed by most guests because you need to look up to see it. French art is probably just as well-known and respected as French cuisine and, towards the front of the restaurant, the ceiling features an array of paintings depicting various scenes of men and women dining. These paintings help to add a splash of color to a dining area that is otherwise dominated by whites and creams.
It might not have the same level of immersion as the San Angel Inn nor the decorations and details of the Rose and Crown, but the dining room at Chefs de France is still one of my favorites in World Showcase. Combining a relaxing, open feel with French sophistication, Chefs de France is a restaurant that everyone can feel comfortable in, whether looking for a nice sit-down meal to enjoy with the entire family or a more romantic night out for just the two of you.
The Menu:
Just as the feel and mood of the dining room change whether there for lunch or dinner, the menu likewise undergoes a transformation. I generally go to Chefs de France for lunch, but this time I decided to go for dinner to try some of the different menu items that are offered.
Whether dining at Chefs de France for lunch or dinner, the appetizer offerings are the same. Among the appetizer featured on the menu are Assiette Campagnarde ($13.99), an assortment of French pates and charcuteries, Cassolette d'Escargots de Bourgogne ($12.99), escargots baked in parsley and garlic butter, Plateau de Fromages de France ($14.50), an imported cheese plate, Bisque de Homard ($8.99), a lobster bisque, Salade de Chevre Chaud ($11.99) featuring baked goat cheese with walnuts, fresh grapes, tomatoes, endives and arugula salad, and Soupe Al Oignon Gratinee ($7.99), the classic onion soup topped with Gruyere cheese.
Where the lunch and dinner menus differ greatly, in terms of both selection and pricing, is with their entrees. The lunch menu features a generally lighter fare with a variety of sandwiches and other, more casual meals. The lunch offerings include Crepes Florentine ($14.79) filled with chicken, spinach, mushrooms and bechamel sauce, Croque Monsieur ($13.99), the classic French toasted ham and cheese sandwich, Demi Poulet Fermier Roti ($18.99), half of an all-natural roasted chicken served with rissole potatoes and broccoli, Filet de Saumon ($23.99), broiled salmon with smashed potatoes served on a tomato and red pepper sauce, Gratin de Macaroni ($14.99), baked macaroni with cream and gruyere cheese, Lasagnes de Legumes du Soleil ($14.99), a vegetarian lasagna with zucchini, eggplant, onions, bell peppers and tomatoes, Mahi Mahi Sandwich ($16.99) served on Mediterranean bread with braised peppers and onions, Plat de Cote de Boeuf ($22.99), beef short ribs braised in cabernet with pasta, pearl onions and mushrooms, Quiche Lorraine ($14.99), a ham and cheese quiche served with a mixed green salad, and Steak Hache Angus ($15.99) a half-pound angus hamburger with onions, mushroom, tomatoes and Béarnaise served on a brioche.
At dinner, the menu becomes a little more sophisticated and gourmet, but still has some carry-overs from the lunch menu such as the Filet de Saumon, Gratin de Macaroni, and Plat de Cote de Boeuf. Among the items available only for dinner are Canard aux Cerises ($31.99) featuring duck breast and leg with cherries and sweet potato puree, Filet de Boeuf Grille ($34.99), a grilled tenderloin of beef with black peppercorn sauce, potato gratin, and green beans, and the Trio de Fruits de Mer ($31.99) featuring seared scallops, mahi mahi, and black tiger shrimp served in a lobster broth with gnocchi.
You are definitely going to want to save room for dessert as there is an assortment of delectable options to choose from. Among the dessert offerings are Assiette de Sorbets ($7.25), a daily assortment of fresh sorbets served with an elephant ear pastry, Creme Brulee ($7.25) Crepe a la Pomme ($7.25) filled with cinnamon and apple, served with vanilla ice cream, and topped with apple caramel sauce, Profiterolles au Chocolat ($7.25), puff pastries filled with vanilla ice cream and topped with chocolate sauce, Salade de Fruits ($7.25) infused with Earl Grey tea syrup and served with mango sorbet, and Tarte au Chocolat, Banane et Noix de Coco ($7.25), a chocolate tart with banana and coconut topped with praline sauce and chocolate ice cream.
I started my meal like I do every time I dine at Chefs de France with the Soupe Al Oignon Gratinee ($7.99). I have had French Onion Soup at many different locations both at Disney and elsewhere, but the soup at Chefs de France remains far and away my favorite. The first thing I have to say about the soup is that it is absolutely huge; this could literally be a meal unto itself and I am never able to finish the entire thing by myself. I usually end up ordering the soup to split with someone else and it is more than enough for two people. Even if splitting with someone else, this soup is extremely filling.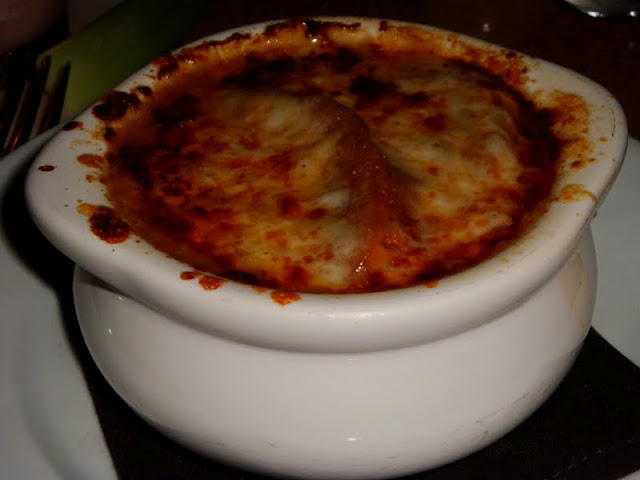 One of the things I like most about the soup are how the onions themselves are prepared. I have had French Onion Soup before where the onions are chopped up into very tiny pieces, others that there are hardly any onions in the soup, and still others where the onions are mushy. The soup at Chefs de France is not like any of that and with every spoonful you will get a generous portion of onions. Of everything about the soup, however, it is the Gruyere cheese that makes it what it is. While it can be a little messy to eat, it is extremely good.
For my entrée I decided on the Trio de Fruits de Mer ($31.99). Gnocchi is something that I associate more with Italy than France, but I was willing to try something different and all the seafood in the dish made it sound very tempting. If you order this expecting it to be a pasta dish you will be disappointed. This is, first and foremost, a seafood dish. Rather than the gnocchi being the highlight of the meal, it is merely there to serve as an accompaniment for the seafood.
The seafood and gnocchi come in a very light, yet flavorful, lobster broth. This dish is definitely a nice change of pace from the heavier, filling French Onion Soup. I was impressed with the generous amount of seafood that came with this dish, featuring two large pieces of mahi mahi, along with several shrimp, and two good-sized scallops. The gnocchi themselves were a little firmer in texture than other gnocchi I have had in the past and they provided a very nice contrast, in both flavor and texture, to the light broth and seafood.
For dessert I was very undecided about what to get because of so many delectable choices, but I finally went with the Crepe a la Pomme ($7.25). I have to warn you that this dessert is extremely sweet and is literally smothered in caramel sauce. The crepe itself was light and soft in texture and the filling was more of an apple puree rather than sliced or chopped apples. What I really enjoyed about this dessert was all the different flavors that blended together perfectly, with the apples, cinnamon, and caramel complimenting each other extremely well with no one flavor really dominating the others. The vanilla ice cream proved to be the perfect complement, providing a light and refreshing contrast to the sweetness of the apple and caramel.
Service:
Just as with the rest of World Showcase, all the servers at Chefs de France come from France and this helps to give an added degree of authenticity and sense of immersion to the restaurant. However, this sometimes means that it can be difficult to understand your server due to them having a very strong accent. This was not the case for me on this occasion. My server demonstrated a good grasp of the English language and I had no problem in understanding her at all.
I have dined at Chefs de France many times and have always found the service to be extremely attentive, with servers continually checking in on you during the course of your meal to make sure everything is to your liking. I have also always found the service here to be very courteous and respectful. You can tell that the servers genuinely care about making sure that your dining experience is the best it can possibly be. My meal progressed at a very nice pace and, even though the restaurant was crowded, I did not feel rushed during my meal nor did I see my server running around from table to table; she appeared very calm and poised throughout the entire course of the meal even though serving several tables.
Dining of a Budget:
If you are looking to save some money, then I would definitely recommend dining at Chefs de France for lunch. This restaurant offers one of the best deals on Disney property with its Pre Fixe lunch menu featuring your choice of an appetizer, entrée, and dessert all for just $23.99. With this you get your choice of either Lobster Bisque or French Onion Soup for an appetizer, Croque Monsieur, Crepes Florentine, Quiche Lorraine, or Gratin De Macaroni for an entrée, and Creme Brulee or Profiterolles au Chocolat for dessert. This is a great way to sample a variety of different French cuisine for a very reasonable price and can save you some money as well. For example, if you were to order the French Onion Soup for $8, the Gratin de Macaroni for $15, and the Crème Brulee for $7.25 all separately your total would come to about $30. Ordering the Prix Fixe lunch is like the equivalent of getting your dessert for free.
There is also a Prix Fixe option on the dinner menu, but the cost of this is $39.99. Here you still get a choice of the Lobster Bisque or French Onion Soup for an appetizer, the Beef Short Ribs, Half Roasted Chicken, Broiled Salmon, or Gratin de Macaroni for an entrée, and Crème Brulee or Profiterolles au Chocolat for dessert. While you still end up saving money with the Pre Fixe menu at dinner, the lunch option is definitely the better value.
It should also be noted that some of the items found on both the lunch and dinner menus are cheaper at lunch. For example, Filet de Saumon is $23.99 but increases to $29.99 at dinner. Likewise, the Gratin de Macaroni, which is $14.99 at lunch, goes up to $18.99 at dinner.
Chefs de France does participate on the Disney Dining Plan and is worth one table service credit for both lunch and dinner. If you are using the Dining Plan, then I would definitely recommend coming for dinner because that is going to give you better value for you money. While the restaurant does not offer a discount for Annual Passholders, it does participate in Tables in Wonderland and thus offers the 20% for members. There is also a 20% discount for Disney Vacation Club members for lunch and a 10% discount at dinner.
The Overall Experience:
When it comes to dining in World Showcase it is always a difficult decision about in which country to eat. Yet, even with all the choices and different restaurants that I enjoy, I keep returning to Chefs de France again and again. With its simple and relaxing yet sophisticated atmosphere, its reasonably priced yet great-tasting food, and its attentive service, Chefs de France has become one of my favorite restaurants in Disney World. Every part of the meal, from appetizer to entrée to dessert, is of the highest quality and the portion sizes are very generous. This is one restaurant that you will certainly never leave feeling hungry. Another alluring aspect of Chefs de France is that it is a dining location comfortable enough for families with children and yet can still be appreciated by adults looking for a quiet, more intimate dining experience. It is truly a restaurant that offers something for everyone. It may not be the most immersive restaurants in World Showcase, but in terms of overall dining experience it is certainly one of the best.
See past reviews by Guest Blogger Andrew Rossi.
Check out Reader Reviews of Chefs de France and post your own too!