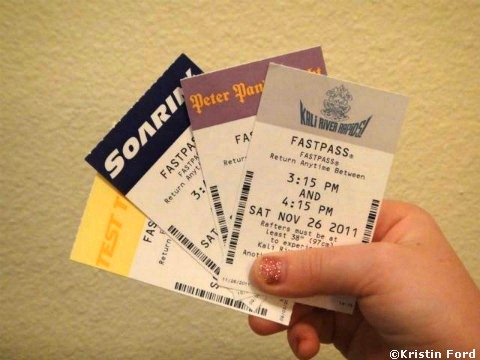 Families planning to visit Walt Disney World after the first week in March may want to reconsider their touring strategies for the theme parks. Beginning March 7, cast members will enforce the end times on FastPass tickets, according to multiple reports and sources.
FastPasses are essentially reservation times for guests to return to the most popular Disney attractions at specific times in exchange for shorter wait times. Under the current system, a FastPass is issued for a one-hour window. However, cast members routinely do not enforce the end times, meaning guests can use their FastPasses anytime during the day once the start time arrives. (To read more about FastPasses, see the AllEars resource page.)
When cast members begin enforcing the FastPass policy in March, guests will be allowed to return five minutes earlier than the FastPass window starts and 15 minutes past the end time.
One common strategy for those familiar with the FastPass system is to ride attractions in the morning when the parks are less crowded and collect the maximum number of FastPasses — one every two hours — to use in the afternoon or evening when lines are longer.
With that option disappearing, families will need to determine their priorities — experiencing more attractions per day by planning with the FastPass system or being able to explore at their own pace and take their chances on the standby lines.
Critics say that enforcing the FastPass windows will eliminate the spontaneity from a Disney vacation, as dining reservations, parade and fireworks times and other entertainment will have to be considered more closely with FastPasses. They also claim guests will be able to ride fewer rides. Those in favor of Disney using the system as it was designed remind guests they are not being forced to use FastPasses; they are simply an option for those who want to plan ahead.
Longtime Disney writer Jim Hill points out that enforcing the FastPass times is not a random change; it's being done to prepare for the rollout of the XPass system this year. XPass is a premium guest experience that is said to include such perks as FastPasses for every attraction a guest wants to ride, reserved parade seating in front of Cinderella Castle, special seats for the fireworks, dining reservations and more — all booked from home well before a vacation starts.
Perhaps the most-talked-about aspect of the XPass system is the personalization of character experiences and rides for those with the RFID wristbands. Hill says characters will be able to greet guests by name and there even will be additions to rides such as it's a small world that allow computer-generated dolls to interact with the guests who created them. Hill reports XPass will first be made available only to guests staying at deluxe Disney resorts.
Disney World has not officially announced the XPass program, but it has been alluded to in public comments by company leaders talking about its NextGen project. Last summer, cast members at the Magic Kingdom tested a FastPass system for parade seating.
As one writer astutely observed: These changes, which begin by enforcing the FastPass windows, are a step toward Disney World offering all-inclusive vacations, where everything is planned for the guest, much like going on a Disney Cruise. Do they make you want to step onboard?
Leave a comment on your thoughts about these changes.