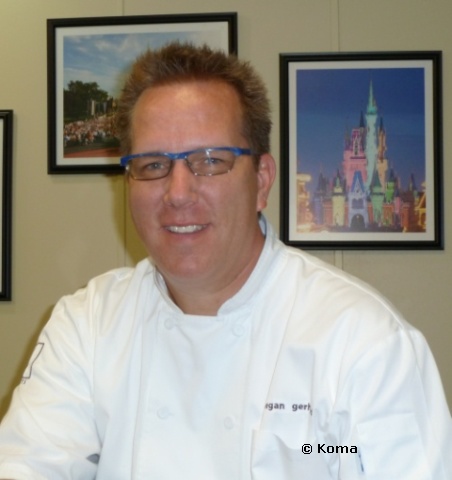 To me, one of the most exciting things about the annual Food and Wine Festival at Epcot is the long list of well-known and respected chefs it brings to Walt Disney World to share their expertise with Disneyphiles who happen to be foodies. Over the years, I've had the opportunity to attend demos by a number of chefs I would never have seen in person otherwise. Many have become household names, hosting their own television programs or writing their own cookbooks: Martin Yan, Cat Cora, and Bobby Flay, just to name a few.
Of all the chefs I've seen over the years, though, one of my favorites has to be pastry chef Keegan Gerhard, who has participated in the Epcot Food and Wine Festival every year since its first. His enthusiasm for dessert-making, coupled with his down-to-earth, approachable style make him a delight to watch in the kitchen setting. Widely known as the creator and spiky-haired host-turned-judge of Food Network's live Food Network Challenge Series, Chef Keegan was named one of the nation's top 10 pastry chefs of 2002 and 2004 by both Chocolatier and Pastry Art & Design magazines. Today, he's also Executive Pastry Chef/owner of his own restaurant, D Bar Desserts in Denver, CO.
I first saw Chef Keegan in person at last year's festival, at both the First Bites Opening Reception, and at a culinary demo, during which he prepared a delicious and whimsically named "Dessert Sandwich Situation." This year, I again caught the busy chef as he co-hosted the First Bites Reception, and at another culinary demonstration, where he presented an enhanced version of last year's dessert sandwich, Faux Foster Bananas Impostor. (Recipe at the end of this post.)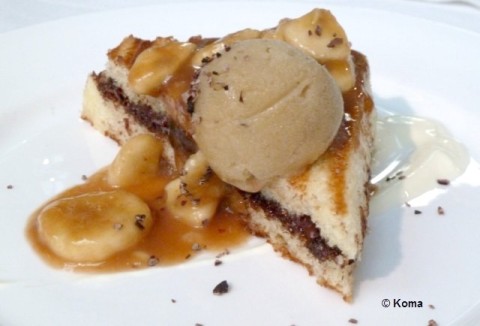 Better than all that, though — I was lucky enough to have a few minutes with Chef Keegan as he was preparing for the opening of this year's Festival at Epcot. We talked about how the annual event has changed over the years, as well as his thoughts on the state of food and pastry in particular, at Walt Disney World. We also chatted a bit about the impact his Food Network Challenge has had on pastry chefs everywhere, and what's on his horizon.
DMK: You've been coming to the Epcot Food and Wine Festival for 16 years running. What keeps you coming back?
KG: Yes, I've been to all of them. ALLLLLLLL of them! I think only Bob Waggoner [host of the PBS show "U Cook with Chef Bob"] and I have been coming here since the beginning. It's funny, it sounds set up, but Epcot is my favorite Food & Wine Festival, and there's two reasons for this. The very first year I was at the Ritz Carlton in Naples, Florida, I was corporate assistant pastry chef and my boss Norman was asked to go but couldn't, but he sent me. No one thought much about it because it was the first year, and no one knew how it would be. First years of festivals are always sketchy. I liked it, it was great. The next two years were very transitional, and since year three they've made it better every year.
DMK: Do you do many other Food & Wine festivals?
KG: I do a ton of them. I know some chefs don't like to and only do them because they have to, but I enjoy them. I wish I could do more.
DMK: What is it about the Epcot festival that makes it special?
KG: In particular, the three things I like: First of all, the guest access. You're not terribly far removed, you have a lot of interaction with Disney guests, especially in events like Party for the Senses and Sweet Sundays. Sweet Sundays is an uncommon format. You get to make three desserts for people and you spend two hours with them, and you're eating a meal — there's a little more camaraderie, a little bit more of a connection you can make with the audience than in a 30-minute demo. The obviousness of what Disney's created with Party for the Senses — the interaction, the action stations, the cooking, the wine, the food, it's just a big event. There's a buzz in the air about it, so I love that part as well. The demos themselves are my passion, that's what first drew me. I have a big passion to teach people that dessert should not be intimidating. Dessert should be fun, you shouldn't be afraid of things you don't know in baking and pastry. You just have to learn a few tricks to build your confidence. I think the key in food is If you can teach people a few tricks and they build their confidence, then they can start to be creative. If you're afraid, if you're nervous, if you have anxiety in any occasion you can't really unleash your creativity, right? But once you gain some confidence, you make something 10 times, you think, 'Hey, what about this twist? What about that twist?' And then that's when your passion gets included, that's when you have a story about the food you're making. So in a demo, I get to tell stories about why and how I make things. That's probably my most common question I get: What inspires you to create food? I love to tell those stories. I always have stories about my desserts. I like to share those.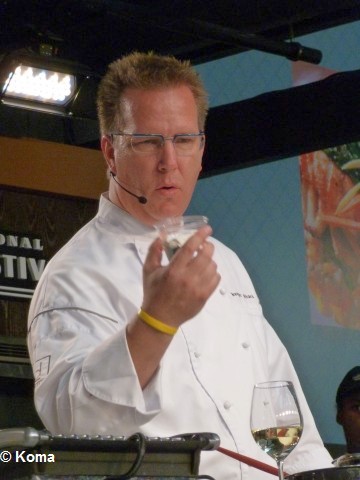 DMK: Are there any special challenges to cooking here at Epcot's Food & Wine Festival?
KG: There are a few. In the beginning it was very challenging, because I don't believe that Disney realized how quickly it would grow. If you know the Odyssey, the entire festival happened in that building the first couple years. And there were 30 of us, and one oven. But once they realized what was going on they began to correct that. The Epcot Catering Center, where we work now, didn't even exist back then. So they grew it grew it grew it… But the challenge is always just cooking in an unfamiliar environment with unfamiliar equipment. But you know, I like that.
DMK: What about that makes it enjoyable? It seems that unfamiliarity would make things really difficult.
KG: My role on TV is kind of an odd one, if I'm being honest. I created the competition that became Food Network Challenge. I'm not a TV guy. I'm just a pastry chef. So to be on TV and get quote-unquote famous as a great pastry chef, but nobody had ever seen me make anything in nine years, it's kinda weird. So I much prefer the format of my restaurant, because at night I make desserts in front of you, like if you would go to sushi, but instead it's dessert, every night — we can sit there and talk. It's like a live demo all night long. I'm sitting and interacting with people while I'm cooking. I prefer that, but in a situation like this, where you're a guest chef, you don't know anybody, you don't know where anything is, you have a couple of options. You can hide in a corner, or you can get involved. I believe that the oddity of that position on TV — there's some responsibility there. Whether it's warranted or not, people look up to you. Whether it's warranted or not, our show has changed the industry some. I feel like I'm representing the pastry industry, Food Network, my show, and I'm certainly representing myself. So I try to set an example of how I think culinarians should be. I introduce myself to everybody. It used to be really easy — there were only four guys. Now it's 70 people. It took me 45 minutes this morning. But you know what? If you just look somebody in the eye and say good morning to the dishwashers, to the stewards, to all the guys who worked really hard before you ever got here to get your ingredients together and they're curious to meet you, and they don't know how you'll be, you can put everybody at ease.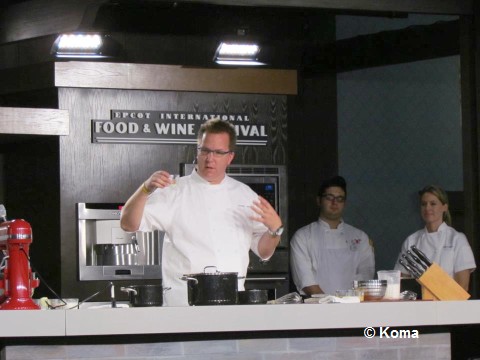 I believe that food is a connection, and when you say that, it's usually about me to the guest or it's me at a demo, and you realize, hey, I'm a normal guy, and so we have a connection. It's the same in the kitchen, there's the same barriers to break down. I have to put them at ease. So I show them and cook with them and I teach them and I let them taste my stuff and I make it myself. There are some chefs that are so busy they just turn in their recipes, they don't have the time to stay here. I've always made the time to come and make my own food. I don't want to bring my own staff to cook, I want to cook with the guys who are already here.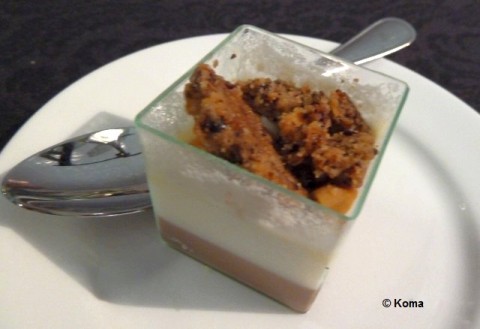 One exception was last year. Lisa, my wife, and I both were guest chefs, so we shut our restaurant down for three days and put a sign up that said, "Gone to Disney World." We brought our whole staff as a kind of reward for having been open two years. Oddly, 75 percent of our staff had never been here before, so they were wearing their 'First-Time' buttons — It was life-changing for them!
All my passion for what I do, whether it's a food festival or TV or my restaurant whatever, I believe that food is a connection and I believe that the possibilities are limitless. I've been doing this for 16 years and I do at least two events, sometimes four. I like it that way, I like to work, and play at the end. It's special. People are already excited to be in Disney, and now Disney has made Epcot Food and Wine Festival an added attraction that some people plan their vacations around.
DMK: Having said that, have you had a chance to walk around the Food Booths around World Showcase?
KG: Not yet this year, but yes, I'm always intrigued to see how people react. I don't think that everybody understands that Epcot Food & Wine is going on. There's some people that come for it, and there's some people that don't. The people that just randomly come during festival are like, "Wow! Epcot really IS cool!" I always think, what about the people who come back in the summer and it's not the same?
DMK: Since you've been coming to Walt Disney World a while, you've probably had the chance to try a lot of the different restaurants. What are your favorite desserts here? And where do you like to eat when you come here?
KG: Oh, that's a good question. I can't be impartial because I know a lot of the chefs behind the scenes and a lot of time the personality is a draw for me to the restaurant itself.
I think Disney is extremely fortunate because they have a couple of really great pastry chefs. For example, if I look to dessert first, Erich [Herbitschek] at the Grand Floridian is amazing. When you go to Victoria and Albert's, it's over-the-top, crazy, amazing dessert, but everything that he makes is great. Another guy I think is a complete genius, and I actually just admire to no end, is Stefan Riemer. He's gotten promoted now into a corporate position in development with Disney's cruise line, but he turned the food and beverage situation and that buffet and pastry area at the Yacht and Beach Club around, and Boardwalk as well. So it's really exciting to see the food come up, because I was here when there wasn't really much of a food scene here, and when they really started to get serious about it, with California Grill and Spoodles and Flying Fish. It's evolved, and the emphasis has always stayed on great food. I consistently eat at Flying Fish, every time I come. (Chef) Tim Keating is a friend of mine — my wife worked as a pastry cook for him at the Four Seasons Houston. I love Jiko. I think Jiko is so unexpected and uncommon for Disney. Who would think you could take a really cool, almost fine dining South African restaurant and put it at Disney? And if I'm being super-duper honest I always race my wife or my sous chef or my pastry cook on the [Kitchen] Sink at Beaches and Cream. Our plan of attack is Party for the Senses, sneak out and watch IllumiNations, and then run over and try to get to Beaches and Cream before it closes.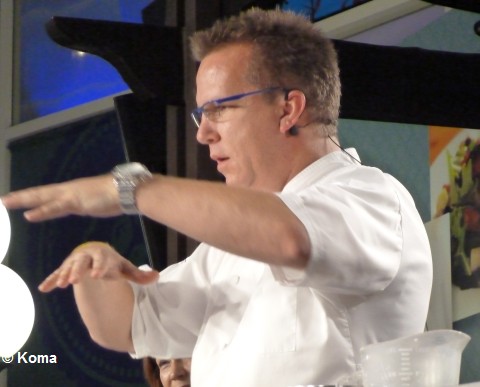 DMK: Is the winner whoever feels sicker from eating so much ice cream?
KG: (laughs) It's hard to determine who wins, but it's just the fun of it all… You know, I like corny. I don't ever tell anybody this, but you know when I finally get to play in the park, after I've done everything? I always eat at Prime Time Café for lunch, always. And I never believe that they'll correct me, and they do. I didn't finish my peas last time and the server airplaned them to me before my dessert. Oh, and I love to eat at that weird little drive-in in the Studios [Sci-Fi Dine In Theater], where you watch movies. I mean, come on, even if you're grumpy and you sit in there, you're going to feel like a little kid, so I think it's cool.
DMK: So overall you enjoy dining at Disney World?
KG: A lot of the higher-end outlet chefs, from places like the [Yachtsman] Steakhouse, are chefs now in the Epcot Catering Center, so inevitably the level of the food that's put out — even in the kiosks — just kind of increases in quality. It's got a very symbiotic relationship, I think, because you have these great chefs from all over the country, and all over the world, coming to the Festival. Fortunately, Disney doesn't ignore that. They see what these guys do at Party for the Senses and they adapt that, and try to make that possible in the park for guests all the time. Disney has a big advantage because they're seeing some of the best culinary talent in the world come here. It would be easy to ignore and just stay on the same track. I'm proud of Disney that they kind of push the envelope a little bit. They don't do what's been done for 20 years, they're always doing new stuff.
DMK: So after Epcot's Food and Wine Festival, what's next for you? More Food Network Challenge?
KG: Well, we have done all of our holiday shows, so there's seven new episodes for Challenge to come that have not come on yet. I don't know yet if we're going to get re-signed. You find out every year. Maybe, maybe not. Who knows? But at the end of the day we've shot over 300 shows so they're going to be on for… EVER! Probably. I've done a couple other fun little things, made a couple of appearances on some other Food Network shows… I did an episode of Chopped All Stars, which will come on next year. I just shot two fun little random things for DIY Network for a show called Disaster House… And then a big focus for us will be to keep D Bar in Denver great and to get D Bar in the Hillcrest open in April.
DMK: You're opening a second restaurant?
KG: Yes, we're about to open in San Diego, in Hillcrest. Our favorite people in San Diego are these two brothers, Jon and Adam Schlegel, who own a restaurant called Snooze — a cool breakfast place. They're like the breakfast version of D Bar. We're opening up side-by-side with them, on 5th and University Avenues. I'm known for pastry, but I was a chef for seven years before I was a pastry chef. D Bar is a restaurant, we do lunch and dinner, but we're very dessert-focused at night. In San Diego, at Hillcrest we'll be even more so. It will have 120 seats, it's a much bigger space. But we don't want to do a bunch of restaurants. We just want to do Denver and San Diego and —
DMK: And Disney World?
KG: Listen, I would do Disney — but you gotta be a hotshot to do that, and I don't know if I'm big enough yet! But then we're looking for Austin (Texas) and that's all I really want to do. That will be enough, right?
For more excerpts from my interview with Chef Keegan, see the video below:
********
Recipe for Faux Foster Banana Impostor
Nutella Panini
your favorite egg bread, such as Brioche
Nutella spread
unsalted butter, melted
vanilla bean
Method:
1. Cut crust off of bread to end up with a perfectly square shape.
2. Spread Nutella to make a sandwich.
3. Scrape vanilla bean and whisk seeds into the butter.
4. Brush vanilla butter on both sides of sandwich.
5. Use a Panini grill or toaster oven to toast the sandwich to golden brown crispiness.

Caramel Sauce
1.5 ounces water
8 ounces granulated sugar
1/2 ounce light corn syrup
1 cup heavy cream, hot
1/4 ounce vanilla paste
pinch of salt
Method:
1. Cook water, corn syrup and sugar to a deep amber.
2. Combine cream, vanilla paste and salt. Bring to just a simmer or light boil.
3. Stop the cooking process of the caramel by adding the hot cream mixture.
4. Whisk until the mixture is smooth.
Banana Sorbet
10 ounces water
4 ounces granulated sugar
1.5 ounces Trimoline (which is inverted sugar, or use honey)
18 ounces roasted bananas
1/2 each lemon juice
rum to taste
Method:
1. Peel and slice bananas lengthwise. Lay on a sheet tray with a silpats and roast in overn 300F until the sugars begin to caramelize.
2. Combine all other ingredients and bring to a boil.
3. Put the syrup and bananas in a blender and blend until smooth.
4. Strain, cool, chill, then process in ice cream machine.
Plantain Chips
Plantains
Granulated sugar
Method:
1. Slice the plantains lengthwise to about 1/4-inch thickness.
2. Place each slice individually into the deep fryer at about 350F.
3. Once golden brown and crispy, remove and toss in granulated sugar.
Homemade Crème Fraiche
1/2 ounce buttermilk
2 cups heavy cream
Method:
1. Mix ingredients together thoroughly and place into a sealed container.
2. Keep contained out at room temperature for about 24 hours or until mixture has thickened to the point where it seems to resemble jelly.
3. Keep refrigerated after this point.
NOTE: In the photo above Chef Gerhard substituted cocoa nibs for the plantain chips.