by Jennifer B.
AllEars® Guest Blogger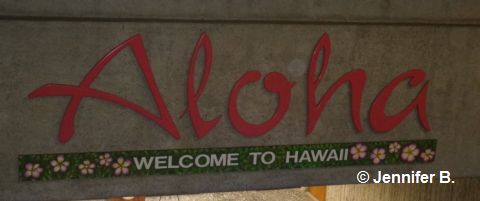 The Cast:
• Jennifer – 31 Years old
• Ellen – 29 Years Old
• Beth – 30 Years Old
• Angela – 31 Years Old
Introduction: This is a girl's weekend/reunion trip. We met and were roommates on the Disney College Program back in 2001. We have remained close over the past 10 years, so this is a perfect way to celebrate our friendship and have a reunion. We are leaving our kids and husbands behind and just having a girl's weekend. We all live in different parts of the country, so it is so nice that we are all able to get together.
Planning: Really all I needed to do for this trip was book my plane ticket. I found some great flights on United, but due to the arriving flights of the other girls, I went ahead and paid a little more so that we could all land around the same time. I chose to connect in LA rather than take the nonstop flight, just because I am not a huge fan of flying, so I wanted to break up the day. With tax, my plane ticket came out to around $718.00.
We booked the rental car that we would all share through the Disney Travel Company. I believe the rate we got was $180 through Alamo for a midsize car for the four days.
I am also lucky in that one of my sorority sisters who is from Hawaii is now working at Aulani, so we will get to see her a few times while we are there.
Day One – Wednesday
The Plan: Fly to Hawaii and Check into the Resort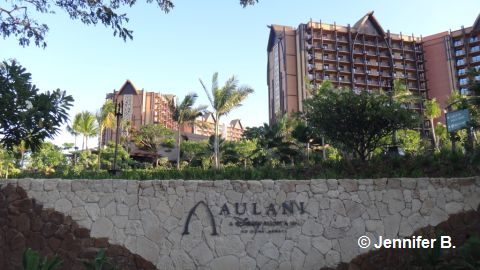 My flight to LA was fast and not bumpy at all. The best part was that I had all three seats to myself! We landed in LA on time, and then I got off the plane to look for the gate that I needed to connect to.
I walked for about 20 minutes to another terminal and I finally made it to gate 63. When I got there, there was no reader board saying where that flight was headed. So I checked the monitors again. Still no gate listed. By this point I am not only mad, but slightly worried that I am in the wrong spot.
A few minutes later, four flight attendants walk by and ask another passenger where we are headed. A woman answers "Hawaii", so it was only then that I was finally able to confirm that I was at the right gate.
Once I got on the plane, and went to my seat I found a gentleman in the middle and a woman in the window seat. Both were very friendly. and were on their way to Hawaii for work. We talked through most of the flight there.
When I got to the baggage claim, Beth was already there waiting for me. She had been in Maui since Sunday, and flew in just before I did. I got my bag, and then we sat and waited since the baggage claim for Ellen and Angela's flight was right next to mine.
Finally Ellen and Angela arrived, we got the bags, and then caught the Alamo shuttle. While we were waiting, Beth gave us some yellow flowers for our hair. They looked like the ones we put in our hair at Epcot on one of the first nights we met.
The shuttle took us about 10 minutes away to the rental place. We had reserved a midsize car, but when we asked where to get one, one of the workers offered us an SUV upgrade free of charge. So that was nice! We picked a Dodge Charger and it had third row seating. We loaded up the bags and were on our way!
To start the trip out right, we of course turned on Hawaiian Roller Coaster Ride from Lilo and Stitch. The resort was about 30 minutes away, but it was a quick and easy ride. We saw the resort before we got to Ko Olina and I snapped a picture. We got to the entrance and checked in with security there. We told them we were checking into Aulani and they said "Welcome Home" and told us how to get there. It was nice that they told us that, seeing as they were obviously not Disney cast members.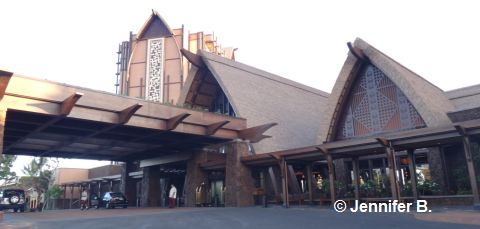 We drove about 1/4 mile and the hotel was on the right. There was a cast member at the entrance and we told him the last name. We curved around to the top of the porte cochere, and we were greeted by several bellmen and valets. One bellman loaded up our luggage on a cart, while another cast member named Jeremy gave us all leis. Apparently when you check into the resort, the women will all get leis (real ones), the men get the beaded necklaces, and children will get a necklace with a menehune on it.
As we walked in, the bellman followed us, while Jeremy told us about the resort and took our pictures. This was the start of cast members offering to take our pictures for us. It honestly felt like everywhere we went, cast members offered to take our pictures for us. We absolutely loved that! It's always nice to be able to get everyone in the pictures.
In the lobby, everything was open, and it is in the shape of a cross. The wind was blowing through and it felt wonderful!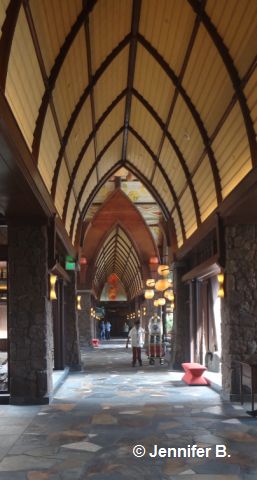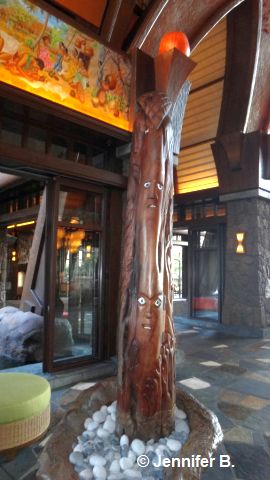 There was a large rainbow collage behind the front desk. Each picture posted was one taken by a local Hawaiian and they were told to focus in on one color and capture the spirit of Hawaii in it. It was beautiful. There was also a kid's check-in area next to the front desk with stools and a TV set.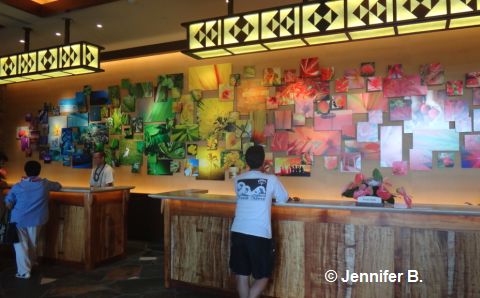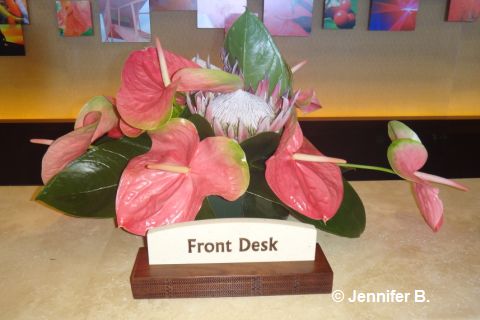 After a few more minutes with Jeremy, we left with the bellman to go up to our room. Ellen had done the online check-in, so she just had to grab our packet and then we went upstairs. We saw Djuan Rivers who is the Vice President and General Manager of the hotel. I had seen him in a few interviews about Aulani in the past, so that was great to get to meet him in person.
We took the elevator up to our room, which was a studio on the 7th floor. We did not face the ocean, but the mountains on the other side of the resort, as well as the conference area. It was a beautiful view. I think it was considered a standard view, but we all thought it was still great.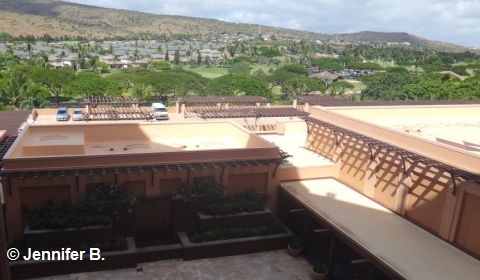 We took a few pictures of the room, and then I called Arynn (my cast member friend), who had just gotten off work. We met her in the lobby and then she took us around the resort and we just went exploring.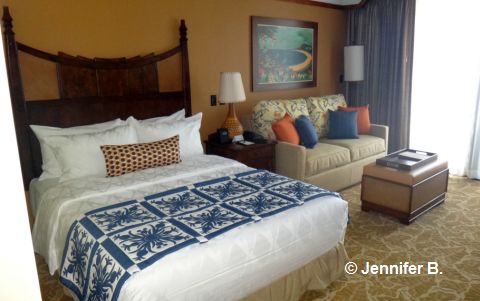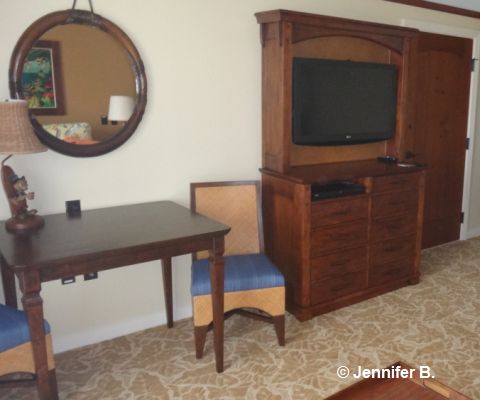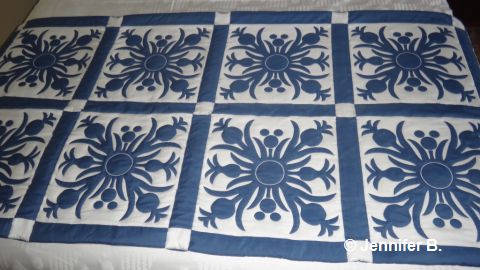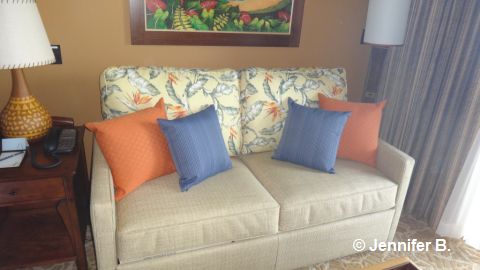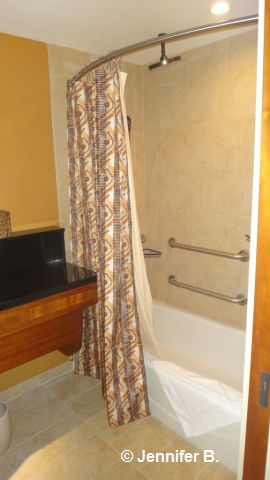 We went downstairs and stopped by The Oleo Room, which is a bar. They had beautiful wood carvings all around and the Hawaiian word for it underneath. For the Tiger, it was a wooden carving of Tigger. It was great to see the small, subtle, Disney details.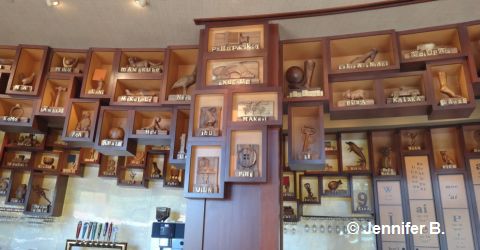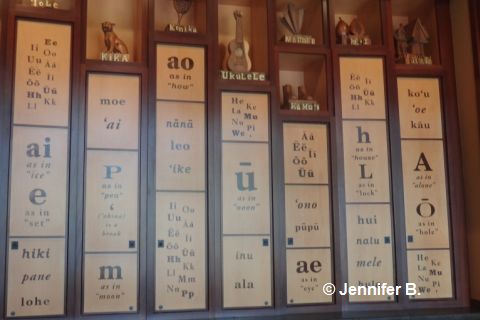 We stopped by the pool, the beach, the restaurants, and then Aunty's Beach House, which is the kid's area. The kid's area is wonderful! Everyone must wash their hands when entering, and then we went into a large room that had racks and racks of Disney princess dress-up clothes in various sizes. They also had some boys dress-up clothes for Buzz and Woody. Aunty was also in there at the time, and she was sitting on a couch. It looked like she was reading a story.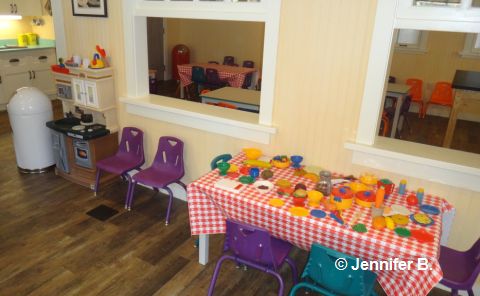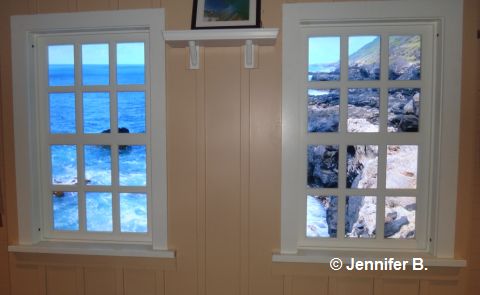 In the next room they had a ton of toys, a kitchen area, and two large interactive tables. We were saying that they were like giant iPads. There were a few kids in there, and a ton of counselors. I think the ratio of counselors to kids will be very good in there. Next we went into a room that was a movie theater and The Princess and the Frog was on. There was also another room full of computers and a Wii for the older kids. There were areas to color as well. They had two large windows with TV screens in them. They looked real, as if you were looking outside a cliff. It was a great effect. Aunty's Beach House is free of charge to guests, as long as the child is 3 or older, and also needs to be potty-trained.
We also stopped by the Rainbow Reef, which is where you can snorkel. It's a pretty big lagoon, and I read somewhere that Disney put more than 2,500 fish in there. We looked through the glass windows and could see quite a few. They also have chairs you can sit in while you look, as well as a guide of what kinds of fish are inside.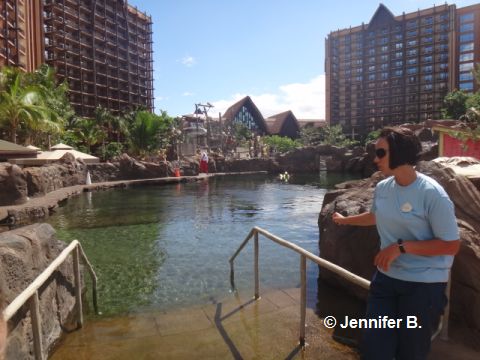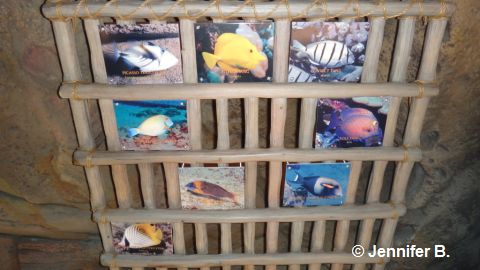 After that we were ready to hit the pool, so we said goodbye to Arynn (cast members cannot swim at the hotel) and we went back up to the room to change. I had brought my waterproof camera with me, so I took that to the pool with us. We stopped to get towels first — we needed to show them our room keys for each person to get them. The towels were huge and thick, which was nice.
There were water stations set up throughout the resort, free of charge. The water was delicious, and ice cold! The water at the front of the resort had orange slices, while the stations out by the pool were just plain ice water. Arynn was telling us that they triple filter it, which is why it tastes so good.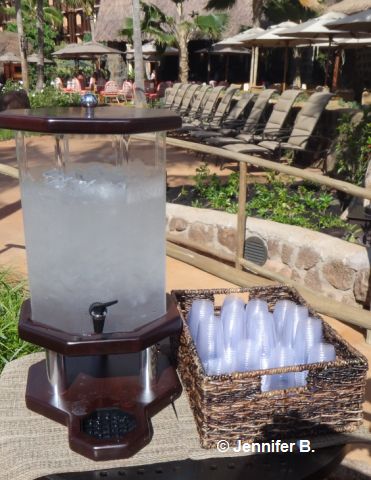 We spent a lot of time on the lazy river, and then Angela and Beth went on both water slides. One was on an innertube, and the other one was in the dark. After that we went down to the beach and sat in the lagoon for a while. The beaches there are all public, so there were other people there that were not staying at the resort. The beach was also shared with the JW Marriott, which was right next door. Disney did have a cast member standing at the gate checking wristbands to get let back into the pool area to the resort.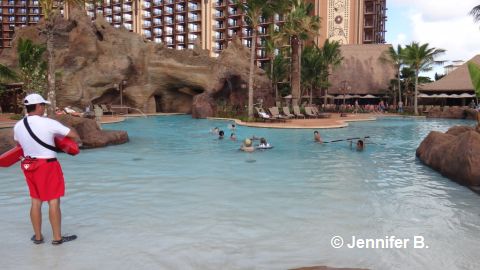 We stopped by the gift shop to peruse the items. They had a lot of Aulani merchandise, but some things that we didn't see that we wished they had were horizontal frames (they only sold one vertical one) and scrapbooks. They had the usual fare of t-shirts, clothes, and several Dooney & Bourke purses. There was a small food section and toiletries. The prices were in line with the Disney World prices. They also had a PhotoPass section in the store. We also stopped at the Lava Shack, which is the gift shop in the pool area. We noticed that they sold the Nestle Tollhouse ice cream sandwiches, which we love!
We went back up to the room and relaxed and showered before dinner. Dinner for us was at 8 p.m. that night, which was midnight to me, 1 a.m. to Angela, and 2 a.m. to Ellen. We were all super tired, but excited to have our first meal there.
Dinner that night was at 'Ama 'Ama. When we got there, they were running a little behind, so we went to the bar to have a drink since it was right next door.
The bar is called Off the Hook. Beth and Angela ordered drinks, and Ellen and I skipped out. About 20 minutes later, we were seated in the restaurant. Our server was Johnson and he gave us some cold oshibori towels (chilled wet towels with a hint of citrus) when we were seated.
Once seated, we were offered the gift of bread. I can't remember exactly what it was, but I remember there was green tea in it. We were given unsalted butter and then two different types of sea salt. One was black and the other was pink. A little bit went a long way.
For our appetizers we got the Crispy Curried Chicken Fire Cracker with Mango Salsa, and the Heirloom Tomato, Buratta Cheese, with a White Corn Vinaigrette. The chicken was just all right for us, but we all loved the tomato salad! It was delicious!
For our entrees, Angela and I both got Grilled Angus Filet of Beef. It came with potatoes and swiss chard. Ellen got Grilled Lobster with Vanilla Sauce and a Korean Pancake, and Beth got the Sustainable Catch of the Day.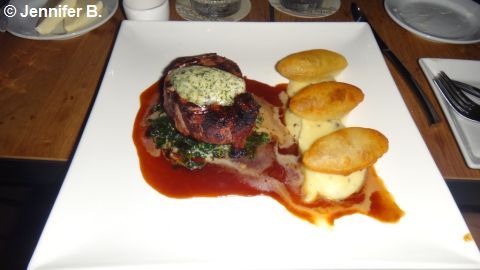 For dessert we shared a Hawaiian Chocolate Cake with Kau Coffee Cream and Caramel Chard and a Lilikoi Mousse Meringue with Caramelized Bananas. The chocolate cake was delicious, but none of us cared for the Lilikoi Mousse. It was just very tart. One bite was all you needed. And when they said bananas on the menu, they should have said banana. It was one slice.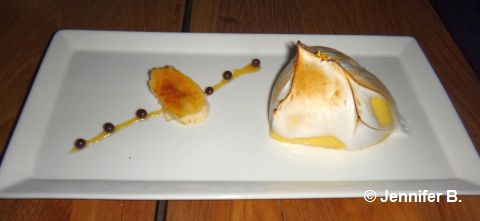 After dinner we were all stuffed and exhausted. We went back up to the room and read for a little bit and chatted while we were all trying to settle in for the night. Turndown had been done, which I was surprised at since we were staying in a DVC room and they typically only do housekeeping every four nights. They left us a towel that had been folded into a flower and there was an Aulani bookmark and single orchid placed in it. It was very pretty. I think we went to bed sometime after 11 p.m. Ellen had been up for more than 24 hours, and Angela and I had just made it there. It had been a long day, but it was a wonderful start!