Guest Blogger Andrew Rossi returns with a review of Narcoossee's at Disney's Grand Floridian Resort and Spa.
Disney's Grand Floridian Resort and Spa certainly lives up to its name. When it comes to Disney resorts, its grandeur is second to none. The Grand Floridian is all about elegance as soon as you enter the resort's lobby. It is then no surprise that Grand Floridian is home to some of the most elegant restaurants found in all of Disney World. In fact, there are three Signature restaurants at Grand Floridian alone.
Victoria and Albert's is the gold standard among Disney dining experiences and a ten-year recipient of the prestigious AAA Five Diamond Award. Within the elaborate Victorian dining room, guests enjoy a six course prix fixe menu featuring the freshest ingredients paired with fine wines. Citrico's features the cuisine of Southern Europe within a setting of old-world furnishings, wrought-iron railings and mosaic-tile floors that contribute to an overall warm, Mediterranean décor. Finally, there is Narcoossee's. Serving a wide selection of fresh seafood and situated right on the shores of the Seven Seas Lagoon, Narcoossee's offers one of the finest and most breathtaking dining experiences in all of Disney World.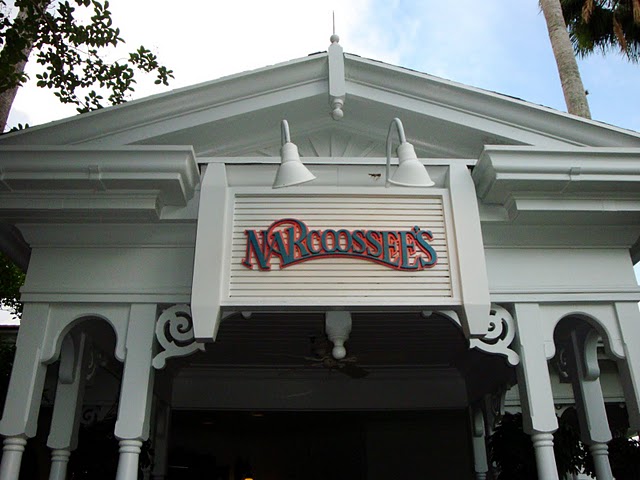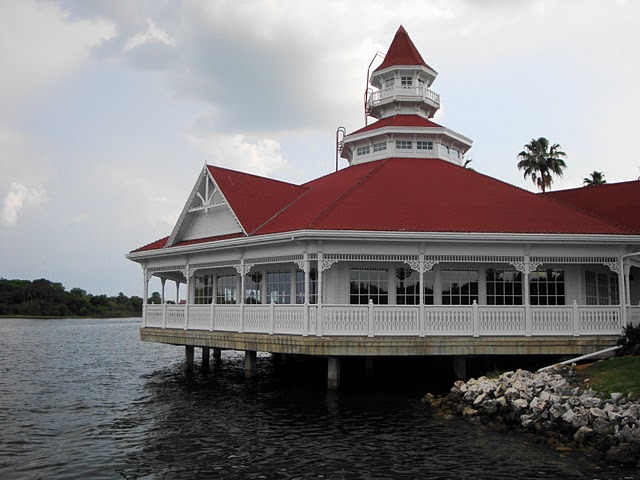 Overview:
Narcoossee's is a type of restaurant that Disney classifies as a Signature dining experience. In fact, it is one of just 16 Signature restaurants in all of Disney World. This begs the question as to what exactly makes a restaurant a Signature dining location. These are restaurants that are the cream of the crop amongst the numerous dining locations to be found all across Disney World. They are settings that create truly unique and memorable dining experiences that really go above and beyond. Signature dining locations are often some of the most elegant and refined (and therefore usually the most expensive) restaurants.
As a result, of their more formal, upscale look and feel, Signature restaurants feature a dress code. The dress code for Narcoossee's is as follows (as stated on the Disney World website). Men are encouraged to wear khakis, slacks, jeans, dress shorts, and collared shirts. Sport coats are optional. For women it is suggested that they wear capris, skirts, dresses, jeans, dress shorts. There are also certain articles of clothing that are not allowed in the dining room, such as tank tops, swimwear, hats, cut-off or torn clothing. Also, while t-shirts are allowed, the policy is that anything with offensive language or graphics is not acceptable.
Another mark of Signature restaurants is their menu offerings. These dining locations are frequently changing their menus in accordance to the time of year because they use only the freshest ingredients. While there are some noteworthy items on the menu at Narcoossee's that are there consistently, my server explained that the menu changes on almost a weekly basis. Dining at a signature restaurant, you will notice the food offerings to be far more gourmet and the presentation to be exquisite. Signature restaurants are also known for their extensive wine lists.
In sum, these Signature restaurants offer everything you would typically expect from a Disney restaurant in terms of high quality atmosphere, food, and service, but they elevate it all to an entirely new level that really helps to separate them from the other restaurants found across Disney World.
Atmosphere:
Narcoossee's has a very simple, subtle, and subdued elegance to its atmosphere. There is actually very little décor to speak of aside from a few nautical touches as you enter the restaurant. The dining room itself has a very open, spacious feel thanks to its high ceilings and large windows.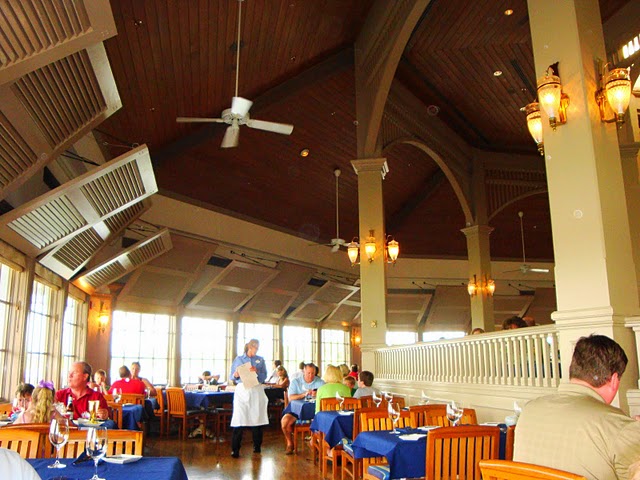 While these windows make the dining room very bright, warm, and inviting by day, when the sun sets the restaurant's low lighting makes for a much more intimate and romantic feel. Despite the restaurant's openness, the dining room's relatively small size and low seating capacity make for a very quiet meal. This makes Narcoossee's the perfect location for a romantic night out, whether on a date, celebrating an anniversary, or even if you are just looking to spend some time away from the kids. While I did notice some children present during dinner, this is a restaurant geared primarily towards adults.
What makes the atmosphere of Narcoossee's truly special is the view. With so little to look at inside in terms of décor, all eyes are drawn to the large windows encircling the dining room. In fact, all the tables of the restaurant are situated in a way to offer diners great views outside.
The restaurant is located right on the Seven Seas Lagoon and is situated in such a way that it juts out over the water and offers beautiful vistas of the surrounding area.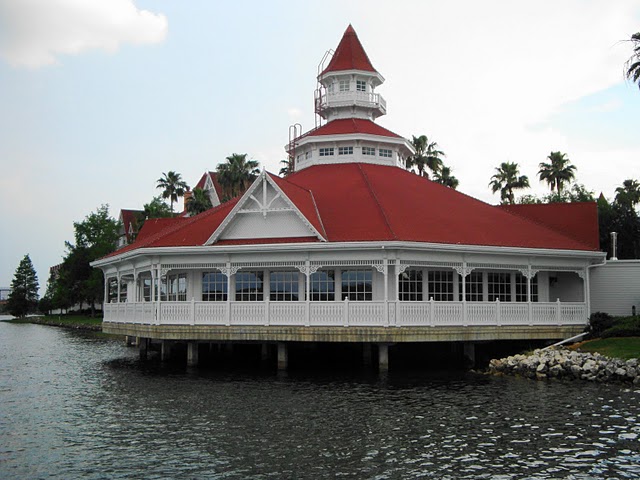 Looking out the windows, depending on where you are seated, you may see the topmost spires of Cinderella Castle: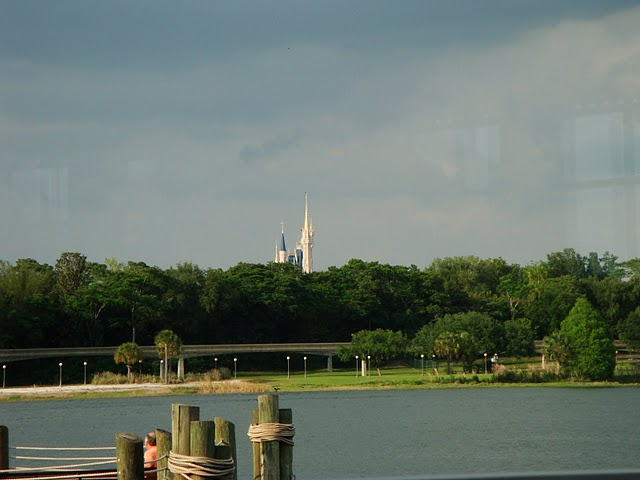 The Main Street Train Station and Space Mountain looming in the background: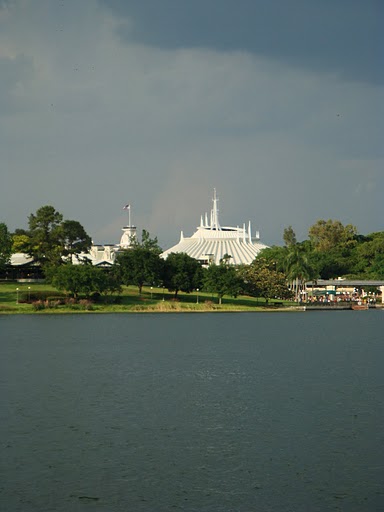 Disney's Contemporary Resort: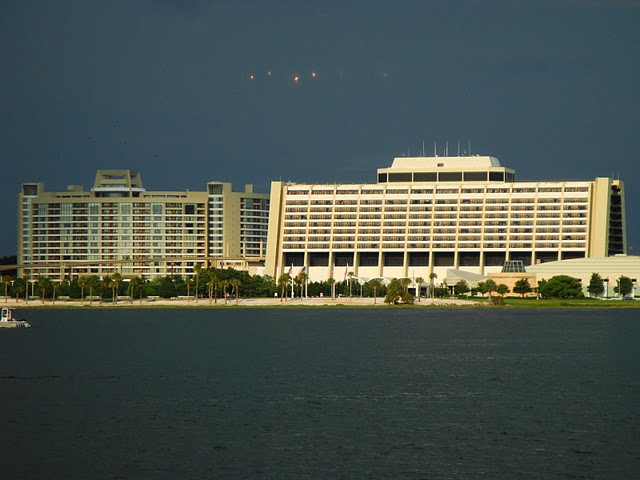 And even the monorail passing by taking guests to and from the Magic Kingdom: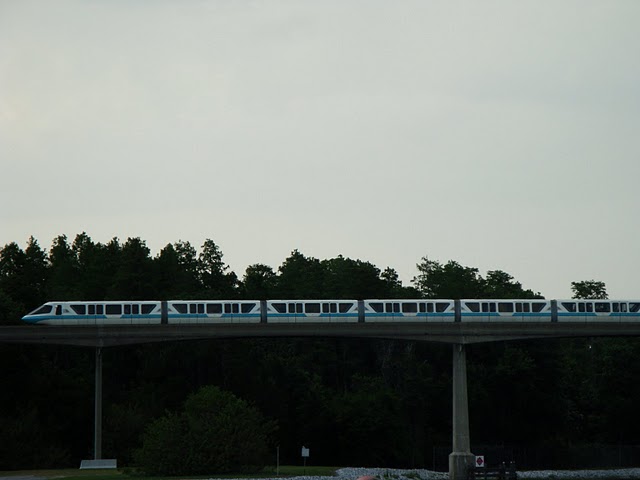 These stunning views make for a great dining experience at any time of night, but create a truly memorable location for watching Wishes. It is because of this amazing location that makes Narcoossee's unique and special, offering views unmatched by most other Disney dining locations.
The Menu:
Narcoossee's location and amazing views are matched only by its gourmet cuisine. It offers a menu which specializes in seafood, but also includes a wide range of other dishes. It is also a menu which is continually changing. My server made sure to emphasize that the menu is laser printed; it is not permanent and while there are some items that remain constant there are many other items which change depending on what types of fresh fish and other ingredients they have.
The appetizer selections are many and varied. Of course, seafood is prominent, but there are also many other options available. There is a Jumbo Lump Crabcake ($15.00) with grilled corn relish and ancho chili sauce, a Lobster Spring Roll ($9.00) with spicy mayonnaise and soy orange dipping sauce, Prince Edward Island Mussels ($10.00) with a parseley-pastis broth, Rhode Island Calamari ($13.00) with pepperoncini relish and tomato coulis, Roasted Beet Salad ($9.00) topped with goat cheese, candied pecans, and an orange-honey vinaigrette, Fried Oysters Rockefeller ($13.00) served with dijon creamed spinach and shallot rouille, Shrimp and Crab Chowder ($9.00), and a Mixed Greens Salad ($10.00) topped with a honey-dijon vinaigrette.
The entrée offerings are likewise numerous and feature something for everyone whether you are a seafood fan or not. In fact, my server noted that the most popular item on the menu is the Grilled Filet Mignon ($41.00) which comes with potato gratin and baby spring vegetables. Also found on the menu is a Shrimp and Scallop Fettuccini ($31.00), Crispy Whole Snapper ($35.00) with basmati rice and charred green beans, Grilled Swordfish ($37.00) with a panzanella salad of eggplant, sun dried tomatoes, and arugula topped with a roasted garlic vinaigrette, Brick-Roasted Whole Young Chicken ($29.00) served with manchego potatoes, spinach, onions, and citrus-chicken jus, Crab-Crusted Mahi Mahi ($35.00) accompanied by crushed fingerling potatoes and topped with a meyer lemon sauce, Steamed Whole Maine Lobster ($58.00), a Bouillabaisse ($38.00) featuring black cod, shrimp, mussels, scallops, and lobster in a saffron-tomato broth, and a Surf & Turf ($59.00) of filet mignon and lobster tail along with duchess potatoes and wax beans.
You also want to make sure to save room for dessert because there are several delectable options available. My server informed me that the restaurant's most popular dessert is its Almond-Crusted Cheesecake ($10.00) finished with a lambert cherry sauce. Also found on the dessert menu is a Florida Strawberry-Lemon Tart ($10.00), a Gelato Sampler ($8.00) featuring chocolate, raspberry, pistachio, and cappuccino gelato, a Bittersweet Chocolate Mousse Dome ($10.00) finished with a raspberry sauce, and a Crème Brulee Duo ($9.00) of both key lime and coconut custard finished with caramelized sugar.
For an appetizer, I first started with the Rhode Island Calamari. Originally being from Rhode Island, fried calamari is a dish that I am very familiar with and it is no stretch to say that the calamari at Narcoossee's was some of the best I have ever had. It was prepared perfectly so that it was nice and crispy on the outside, but still extremely tender on the inside; it could almost melt in your mouth.
The calamari itself was so good that it really did not need the pepperoncini relish and tomato coulis accompaniments. The relish was a little disappointing because I am not a big fan of olives, but after picking them out the hot pepper rings proved to be a nice compliment to the flavor of the calamari. I preferred the tomato coulis, which was basically like a spicy marinara sauce and added a little kick to the dish.
I also decided to try the Shrimp and Crab Chowder. In contrast to the light-tasting calamari, the chowder was very rich and creamy; it was very filling. The flavors of the shrimp and crab blended together very well so that one did not necessarily overpower the other. I was pleasantly surprised to see good-sized pieces of crab and shrimp in the chowder. I would go so far as to say that the chowder may have actually been the highlight of my meal.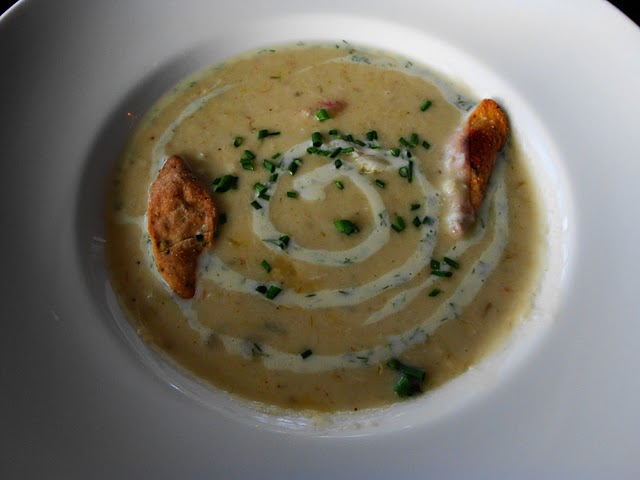 For an entrée I decided on the Crab-Crusted Mahi Mahi. The fish itself was light and flaky and it came topped with a generous amount of crab. The fish was cooked perfectly so the crabmeat on top was just a little crispy, but the fish itself was still nice and moist. The more distinct flavor of the crabmeat paired well with the mild-tasting fish, but did not necessarily overpower the mahi mahi.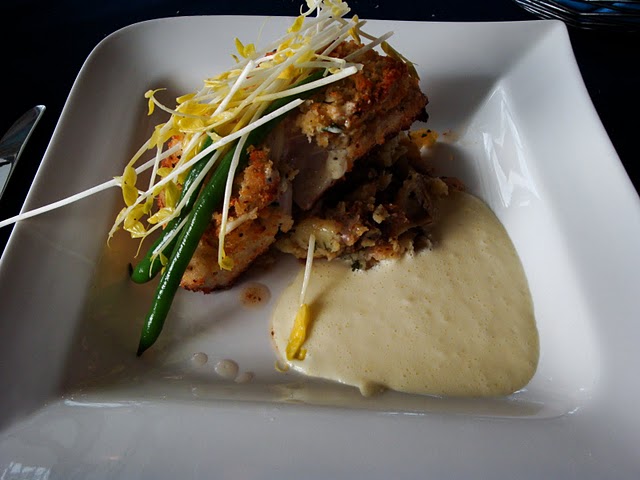 The fish came accompanied by a meyer lemon sauce. This was very strong in flavor and only a little bit was needed to go along with the fish. While the sauce was light and refreshing, I felt it was a little too overpowering compared with the flavor of the mahi mahi and so I used it sparingly. The mahi mahi also came with crushed fingerling potatoes, which were good but paled in comparison to the gratin potatoes that came along with the filet mignon ordered by others in my party. I was also a little disappointed with the lack of vegetables that came along with the dish, as the fish was served with just two green beans.
For dessert, my party decided to split two different choices that were recommended by our server as the restaurant's most popular. First was the Bittersweet Chocolate Mousse Dome, which was a very rich and decadent dessert. Although this was a heavy and filling dessert, the mousse itself was extremely creamy, smooth and fluffy and it was accompanied by a raspberry sauce that really complimented the flavor of the chocolate well.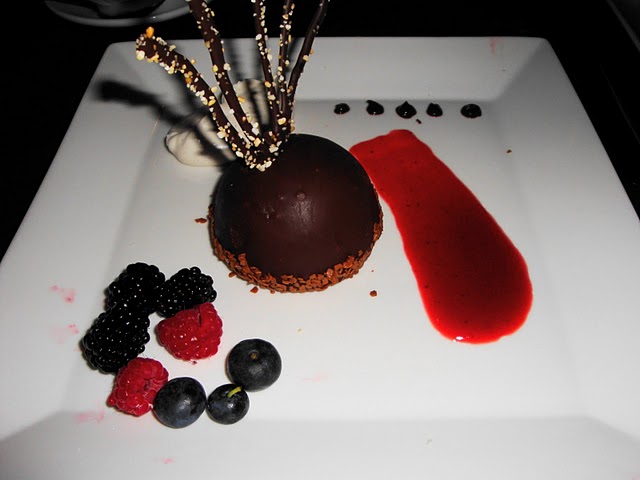 The second dessert we tried was the Almond-Crusted Cheesecake. In contrast to the heavier chocolate mousse, the cheesecake was extremely light. Not only was it coated in almonds, but the cheesecake itself was also infused with almond flavor. Overall, the texture was much fluffier than what you would expect from a typical cheesecake and presented a nice contrast to the crispiness and crunchiness of the almond coating.
I am not usually a big fan of cherries, but the sauce that accompanied the cheesecake paired perfectly with the flavor of the almonds. The cheesecake was also served with fresh-made whipped cream, which was probably some of the creamiest and smoothest whipped cream I have ever tasted. This dessert was my favorite of the two just because it was so unique.
Service:
One of the nice things about Signature dining locations is their smaller size, which means that the servers have fewer tables and can be more attentive to your needs. My server took time to explain several of the items on the menu and offer recommendations as to which were the most popular and which were his own personal favorites. He also checked in frequently to make sure every part of the meal was to my liking.
One thing should be noted about the service at Narcoossee's and that is it is definitely not a place to go if you are in a hurry. While the server was not slow or inefficient by any means, the meal progressed at a very relaxed and leisurely pace. There is plenty of time between courses to digest and take a little break before the next course is brought out; I was seated at six o'clock and did not leave the restaurant until after eight. While this might be a little long for some, I felt that the pace of the meal really allowed you to enjoy the beautiful view and helped you to fully appreciate the food rather than being rushed through your meal.
Dining on a Budget:
Because of its status as a Signature dining location, Narcoossee's is not necessarily a restaurant that you would want to go to if you are attempting to dine on a budget. If you are looking for seafood in particular, there are several other restaurants found across Disney property that can be much more affordable. Although I have not eaten there, a friend told me that Captain Jack's at the Downtown Disney Marketplace offers an atmosphere which is comparable to Narcoossee's (but more casual) and a menu which is far cheaper and still features a wide variety of seafood dishes.
If you are dining at Narcoossee's and looking to save a little money, I would suggests ordering a couple of appetizers and a dessert as opposed to an entrée as a way of keeping costs down. The Shrimp and Crab Chowder was very filling and could easily make a meal unto itself. If you paired this with the Rhode Island Calamari and the Almond-Crusted Cheesecake for dessert you could have an entire meal for $32 before tax and tip (compared with an entrée like the Filet Mignon which is $41 by itself).
The Overall Experience:
Dinner at Narcoossee's is probably one of the most exquisite meals I have had at Disney World. The restaurant certainly lived up to its Signature status in every way. Everything from the restaurant's beautiful location, to its gourmet food, to the attentive service made for an exceptional meal.
That being said, while Narcoossee's is certainly near the top of my list of most refined and elegant restaurants in Disney World, I would not necessarily consider it one of my overall favorites. There are several other restaurants that I would choose to dine at before going back to Narcoossee's again. I am not saying that I did not enjoy my experience there (on the contrary, everything was of the highest quality), but there are other restaurant's at Disney World that I just enjoy more and which are much more affordable. However, if you are looking to splurge on a fancy meal, Narcoossee's is a great option if you are celebrating a birthday, anniversary, honeymoon, any other special occasion, or even just looking for a romantic night out. Whatever the reason for going there, Narcoossee's will deliver a dining experience that is truly special and memorable.
Check out Reader Reviews of Narcoossee's and post your own too!