Over the past 11 years or so I have been very fortunate to talk to and interview some very interesting personalities in the Disney community. However there is one person who I am honored to say is a friend of mine, who I place head and shoulders above all these individuals, because, like Walt Disney himself, this individual is first and foremost, a storyteller.
I am talking about Jim Korkis.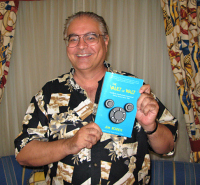 You may recognize the name but if you don't, you may know Jim via his pseudonym, Wade Sampson; but more on that later.
Before I tell you a little about "The Vault of Walt" By Jim Korkis (Ayefour Publishing: 2010. ISBN-978-0-615-40242-0), his latest, and may I say, greatest contribution to the Disney community to date (yes I am expecting more from this storyteller), let me catch you up on Mr. Korkis. You see, he is not just another writer who one day decided to write a book on Disney content"¦Jim Korkis IS Disney content.
If I were to begin the Korkis resume I would start with his elementary school years. Young Jim Korkis was a Disney fan as long as he could remember but imagine his reaction when on one day as a student at the Thomas Edison Elementary School he found out that his teacher was a Mrs. Disney"¦and yes she was married to one of THOSE Disneys.
As the years went by Korkis' fascination with all things Disney, especially animation, grew stronger and stronger.
As a young teacher, Korkis made time to nurture and hone his writing craft. Living in Glendale-Burbank, California offered him the opportunity to talk to many of the imaginers and animators instrumental in creating Disney magic. His discussions with these extraordinary artisans lead to articles Korkis submitted to newspapers and magazines.
In 1995 Jim Korkis moved to Orlando, Florida and another career was born. His unique talents landed him a job at the then known Pleasure Island. His craft? It was performing magic and creating balloon animals for guests.
But Korkis had more to offer and many of you reading these words, who may have visited Walt Disney World in the mid-1990's, may be surprised to learn that you may have met Jim Korkis on one of those trips.
You see, besides his talents as an educator, writer, magician, and balloon artist, Korkis was also a performer.
Have you ever come across "Prospector Pat" in the Magic Kingdom's Frontierland?
That was Jim Korkis.
How about Merlin the Magician in Fantasyland"¦perhaps during the Sword in the Stone ceremony? Yes.
Merlin = Korkis.
Oh and remember his fascination with Disney animation many years before then? Well, his love for this component of the Disney legacy led him to yet another career as he found himself logging time at the Disney Institute as an animation instructor where among his classes was one of his favorite topics, animation history.
But there's so much more that Korkis was able to give"¦and he did.
Korkis was also a member of Disney Adult Discoveries, the organization given the charter to develop and deliver backstage tours for guests. This group also developed programs for Disneyana conventions.
Take a deep breath"¦there's more.
Let's see"¦he served as a coordinator for the College and International Programs"¦coordinator for the Epcot Disney Learning Center, and a researcher/writer/presenter on Disney History making presentations to both cast members and Disney corporate partners.
I'm not finished.
If you've ever watched the syndicated television series "Secrets of the Animal Kingdom", then you may have heard the voice of Jim Korkis doing the off-camera announcing.
I'm going to run out of space so let me quickly list the other amazing things this special man has accomplished over the years.
"¢ He has written articles for Disney publications like Disney Adventures, Disney Files (DVC), Sketches, Disney Inside.
"¢ He has served as the on camera host for the 100 Years of Magic Vacation Planning Video.
"¢ He has performed as a facilitator with the Disney Crew puppet show.
"¢ He's worked for the Disney Cruise Line, WDW Travel Company, Imagineering and Disney Design Group with Disney historical material.
Korkis has also received the very prestigious Partners in Excellence award.
"So Mike!" you must be thinking, "Why all this talk about Jim Korkis?"
It's very simple, I recently received a complimentary copy of the aforementioned book, "The Vault of Walt" and while reading it I wondered how many people knew how much credibility this man's words have as compared to so many other authors who have tried to capture the essence of what Walt Disney was all about.
Let me make it plain and simple, Jim Korkis has cache.
As I poured through each page and became more and more fascinated with what I read"¦stories, anecdotes and other facts I had never come across before, I had to contact Jim and talk to him about his latest creation.
One thing I had noticed about this book was how it was constructed. There are four essential major pieces of this book with each piece being very topical"¦Walt Stories, Disney Film Stories, Disney Park Stories, and the most interesting of them all, The Other Worlds of Disney Stories.
So why was the book put together this way?
Korkis says he wanted to make sure that every chapter was self-contained. He recognizes that the term "Disney fan" covers a wide expanse and it could include people interested in only Walt, interested in only Disney films, just interested in only theme parks, and yes, even those people who may be interested in only Duffy the Bear.
So the book was arranged so that the reader can go to any part of the book and read anything that catches his or her interest.
The book offers some unique information"¦information yours truly had either never come across or had found presented in a superficial manner.
Korkis explained that over the years he had heard many stories but in almost all cases never found them documented. The owner of literally thousands of book, Korkis, found that among his collection, included limited and unpublished materials; many of these stories were not to be found"¦they were sadly never written.
In his words Korkis says, "The legacy of Walt Disney and the legacy of The Walt Disney Company is so rich that there's a lot of things in between the lines." In many cases there have been things casually mentioned but never really deeply explained.
Korkis, in hearing many stories over the years, felt it was important to get these stories in print"¦why?
Because, as Korkis explains so well, the original sources are slowly disappearing. As time goes on memories and, unfortunately, lives fade away and Korkis felt a need to preserve those stories for generations to come.
Thus the research involved digging deep and contacting many individuals to not only find out the facts but to more importantly, validate the stories. Korkis found himself contacting wives, sons, and daughters because, in so many cases, the sources he was seeking were long gone.
Even though Walt Disney has been gone for almost 50 years we are still learning things about him almost every week, because his life was so rich.
Much of the Disney history was oral history. It seemed there was no time for documentation.
What happens when these people retire or pass away or forget these stories?
Korkis says, "It's important to get these stories into print."
The goal was to save the stories for future Disney fans and future generations of researchers.