In this final blog about Disney steam trains I'll be discussing the Tokyo, Paris, and Hong Kong parks.
Tokyo Disneyland
The Western River Railroad is unique among its steam train cousins in the other Disney parks in that it doesn't circle the perimeter of Tokyo Disneyland. You see, if it did, its track length combined with multiple stations would have classified it as "public transportation" under Japanese law and it would have fallen under different government regulations. This of course was unacceptable to Disney and some other solution needed to be reached. And that solution was a railroad that runs only through Adventureland and Westernland (Frontierland) and only has one station.
For those of us thoroughly familiar with Disneyland and Walt Disney World, you might think that you're going to be cheated on this shorter steam train loop (5,283 feet). But nothing could be further from the truth. In my opinion, it's the best as it affords it's passengers with the most sights along the journey.
You board the train in Adventureland from a second story station. The lower level is used for the queue of the Jungle Cruise. When you depart, you're in a bamboo forest. Soon a clearing comes into view and you can look down onto the Jungle Cruise attraction. You can even see the boats passing by. The glimpse is short, but adequate.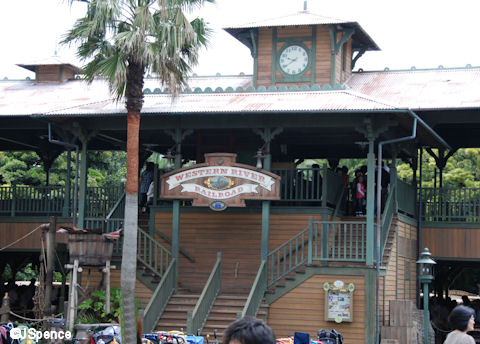 As the train continues its journey, you pass by a western train station. This is strictly for show as the train does not stop here. From the station you venture deeper into the woods and see familiar sights like moose, deer, and the "cabin on fire." You also pass by several Native American encampments. Eventually you leave the forest and you're now riding along the banks of the Rivers of America. Tom Sawyer Island is to your right and Splash Mountain is ahead of you.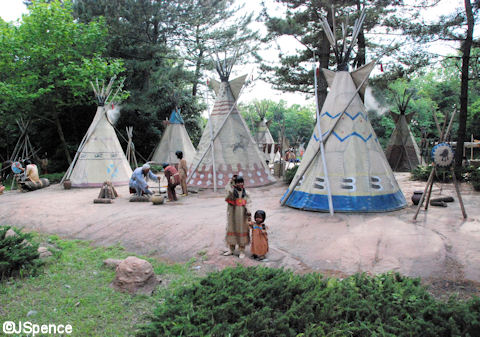 At this point you travel across a very long trestle as it skirts Critter Country and then enters a section of Westernland. For a long section of track, guests can walk under the trestle as the train passes overhead. This is one of the most beautiful spots in Tokyo Disneyland.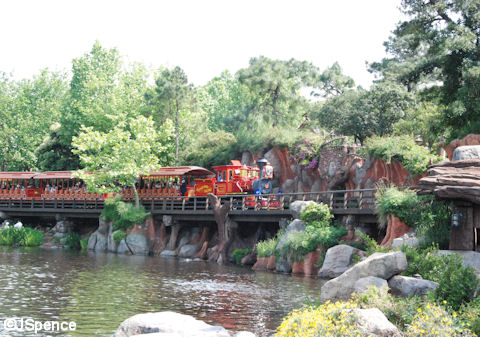 The train then passes by a substantial section of Thunder Mountain. You can see the runaway mine cars race by and a large number of dinosaur bones scattered about. Your train is traveling in and out of rock formations during this section of the ride until if finally enters a deep tunnel. Here guests are treated to Primeval World – a copy of the one at Disneyland. Once again, Audioanimatronic dinosaurs delight guests as they pass by.
It's a very nice transition between Thunder Mountain and Primeval World. First you see the bleached bones of these ancient creatures strewn around parched wasteland. Then you see the actual beasts. When you emerge from the other end of the tunnel, you're back at the Adventureland Station.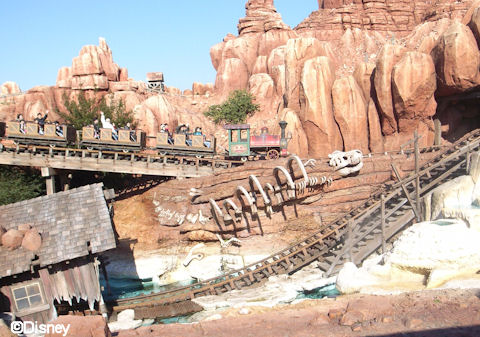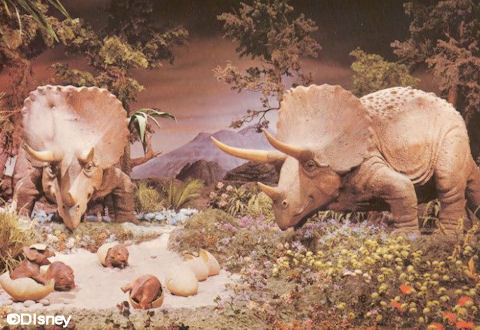 All four locomotives used at Tokyo Disneyland were built from scratch in Japan. They were modeled after the Denver & Rio Grande Railway 2-4-0 Montezuma designed and built by Baldwin. Each train has a different color scheme and was named after an American River: Mississippi, Rio Grande, Missouri, and Colorado.
Guests ride in forward-facing excursion cars similar to those used at Walt Disney World. The one noticeable difference to the layman's eye, these trains have small doors (hard-plastic flaps) at each bench. They swing inward and provide a little extra safety so young ones won't fall out.
Disneyland Paris
In my opinion, Disneyland Paris is the most beautiful of the five Magic Kingdoms. Disney pulled out all the stops when creating this park and their attention to detail shows. Even though I vote Tokyo's steam train as my favorite, Disneyland Paris is a VERY close second – and for the same reason. You see more sights on these two lines than you do on the other three.
Shortly after leaving an elaborate Main Street Station, you enter the Grand Canyon Diorama, a copy of the one found at Disneyland California. Once again, you hear the music of Grofe as a full day of the Canyon unfolds as you pass by.
Emerging from the tunnel, you travel past mud pots and geysers. Then a section of the Rivers of America comes into view. Here you can see the Mark Twain and the Molly Brown sail by with Big Thunder Mountain (an island in the middle of the river) towering in the background. Eventually you pull into the Frontierland Station.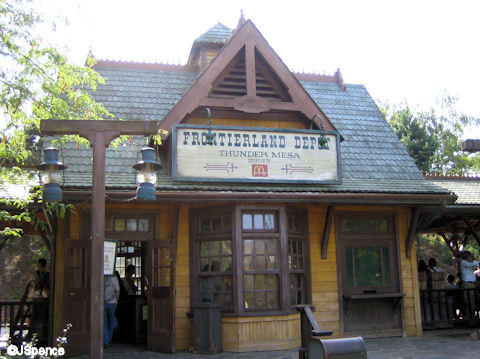 As your journey continues, you see Woody's Roundup Village before crossing over into Adventureland. The next sight you see is Indiana Jones and the Temple of Peril to be followed by a grassy meadow and then a tunnel. Inside the tunnel you can catch a glimpse of the Pirates of the Caribbean (similar to seeing Splash Mountain at Disney World). When you emerge from the tunnel, you're in Fantasyland.
As you skirt the edges of Fantasyland, you see Alice's Curious Labyrinth and Mad Hatter's Tea Party before crossing a trestle. You then pass in front of "it's a small world" in the same manner that you do in Disneyland, California. A few chugs later and you're at the Discoveryland (Tomorrowland) Station.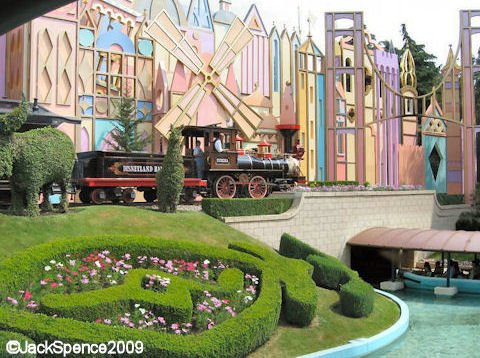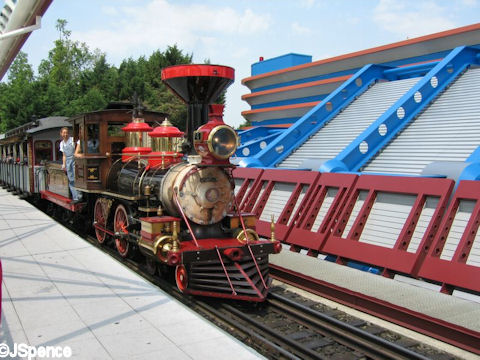 From Discoveryland you are afforded views of Star Tours, Space Mountain, and a small section of the Autopia. After 7,150 feet of track, you're back at Main Street Station.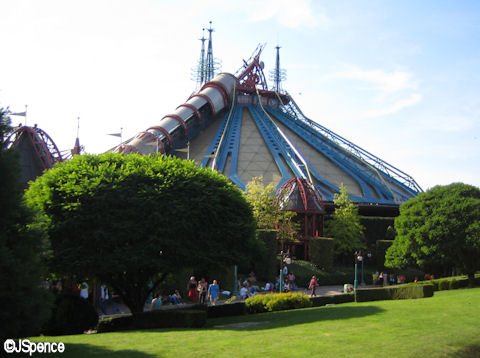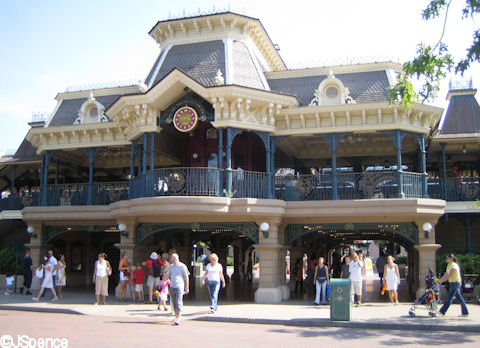 Disneyland California and Disneyland Paris are the only two parks to have four stations.
Disneyland Paris has four trains, all build from the ground up. They would be mechanically the same as Disneyland's C.K. Holliday, but each engine and accompanying cars would be given its own identity and color scheme.
No. 1 – G. Washington – This engine is the most ornate of the four. It features numerous American eagles and portraits of Washington and Marquis de Lafayette who served under Washington in the American Revolution. The cars it pulls are named Mt. Vernon, Boston, Philadelphia, Yorktown, and Valley Forge.
No. 2 – Cyrus Kurtz Holliday – This engine honors Disneyland's C.K. Holliday and has a lavish look befitting of turn-of-the-century Main Street. The cars it pulls are the Coney Island, Atlantic City, Chesapeake, Long Island, and Niagara Falls.
No. 3 – W.F. Cody – Complete with deer antlers on the front of the train, this locomotive honors Buffalo Bill and the Wild West. Behind it you'll find cars named Silverton, Durango, Denver, Wichita, and Cheyenne.
No. 4 – Eureka – This engine honors the part trains played in expanding our nation to the Pacific Ocean. Its passenger cars are named San Francisco, Los Angeles, Monterey, San Diego, and Sacramento.
The rolling stock for Disneyland Paris is also unique in that the cars are better enclosed due to the variations in weather and they feature an interesting seating pattern. Instead of forward or side facing benches, these trains use a "U" shaped or "booth" configuration. Each car is divided into six sections and within each section you'll find a "U" shaped bench with one portion facing forward, another facing sideways, and one backwards. The idea was to give everyone a better view. Personally, I found this configuration a little cramped. When sitting in a "corner" seat, your legs and knees are pressed against those of your fellow passengers.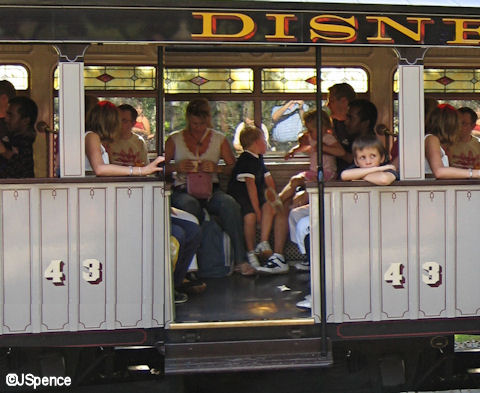 Hong Kong Disneyland
Like its four predecessors, Hong Kong Disneyland has trains. However, these are powered by diesel, not steam. In addition, this park has the fewest engines and passenger cars.
As you might expect, one of the stations is located at the beginning of Main Street. Modeled after the one in Disneyland California, this station is modest compared to Disney World and Paris, but it still packs a lot of charm.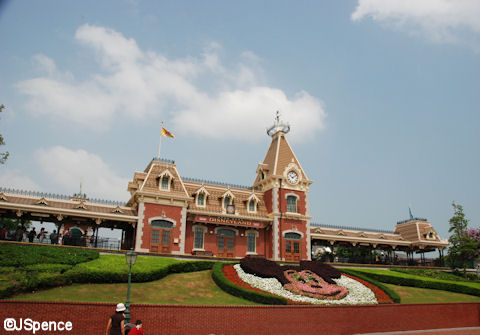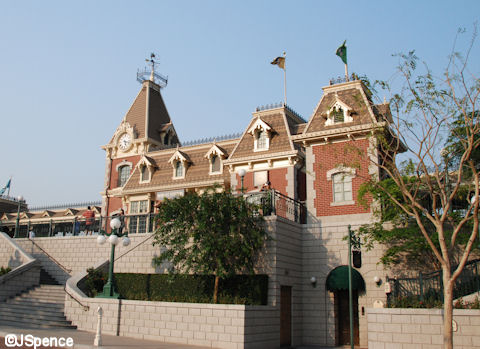 The second station is at the other side of the park in Fantasyland. This station has a toy-like circus feel about it. It's flanked by manicured grassy knolls and dotted with topiary. Its design complements the nearby Dumbo attraction and Fantasia Gardens.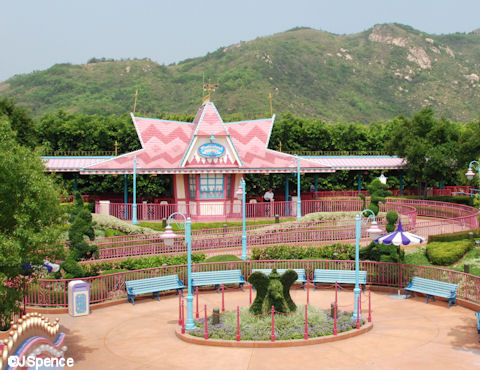 The railroad has three engines, the Walter E. Disney, the Roy O. Disney, and the Frank G. Wells, but only two are used at a time. Their departures and arrivals are coordinated so that when one train leaves Main Street, the other is leaving Fantasyland. The total route is just shy of 5,000 feet, making it the shortest of the five steam trains worldwide.
The rolling stock is named for locations that played an important part in Walt's life. One set of cars are named Anaheim, Burbank, Glendale, Los Angeles, and California. The second set is named Chicago, Marceline, Kansas City, Hollywood, and Orlando. Each train holds approximately 250 passengers on long benches that face sideways, rather than forward.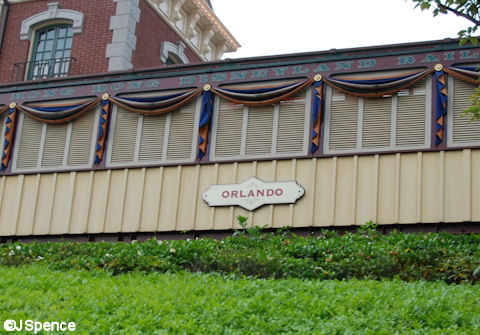 As the entire west side of Hong Kong Disneyland is occupied by Adventureland, jungle sights and sounds dominate the first half of your journey. Along the way you can see Tarzan's Treehouse, sections of the Jungle Cruise, and various audioanimatronic birds and animals interspersed among the trees.
After leaving the Fantasyland Station, you are able to see a few glimpses of the Mad Hatter Tea Cups and the Festival of Fools restaurant before entering Tomorrowland. In Tomorrowland, the train travels next to a portion of the Autopia highway giving delight to those driving the little electric cars. As you approach the Buzz Lightyear attraction, the 3-eyed, green space men from the movie Toy Story pop up and down and wave from the rooftop as you pass by.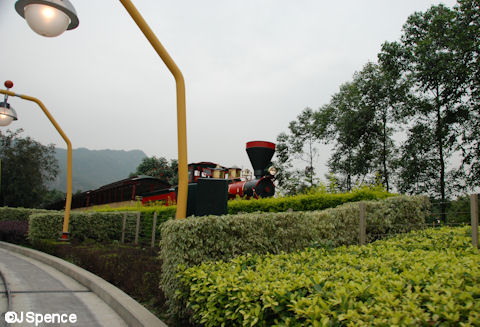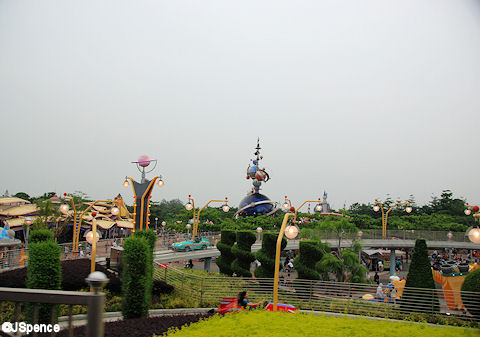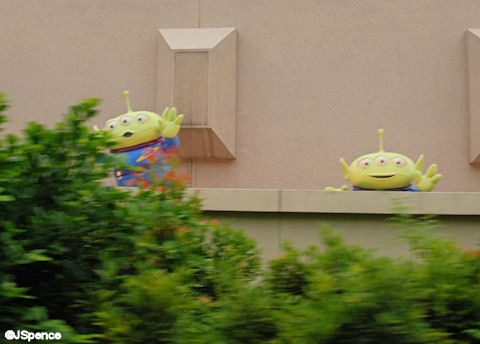 Well there you have it, five very different, yet very similar steam trains. Trains that helped build Disneyland and four more fantastic parks. Next time you ride any of these marvels, remember, you're riding on one of Walt's greatest loves.