'Ohana means family in the Hawaiian language. And when you eat at the 'Ohana restaurant located on the second floor of the Great Ceremonial House at the Polynesian Resort, the cast members will do their best to make you feel like you belong to their clan as everyone is called "cousin."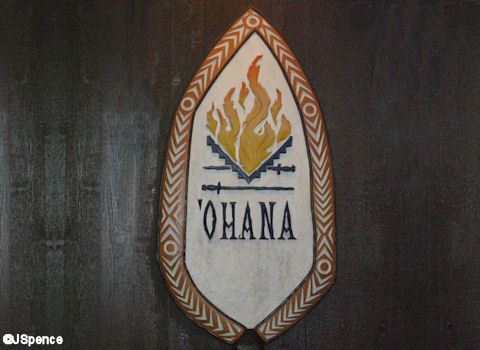 I hadn't eaten at 'Ohana for at least five or six years, so when my out-of-town guest suggested this restaurant, I was more than happy to return. And for the most part, everything was as I remembered it. However, I do have some words of caution for those of you who aren't familiar with this establishment.
Let me start by telling you who I think this restaurant is perfect for: Parents (and grandparents) with children between the ages of five and twelve. If your kids are outgoing and like to join in the fun, then you're all going to have a fantastic time here.
Also, if you have a big appetite for grilled meats, then you're well suited for 'Ohana.
Who should avoid this establishment: Adult couples looking for a quiet, relaxing meal. It's just not going to happen here. However, I do have a partial solution for you if you want to give this unique establishment a try and still enjoy a somewhat less raucous time. But I'll get to that later.
Your evening begins when your pager buzzes and your host or hostess escorts you to your table. Along the way, you stop by the kitchen window were tonight's dessert is pointed out and a loaf of coconut bread is secured.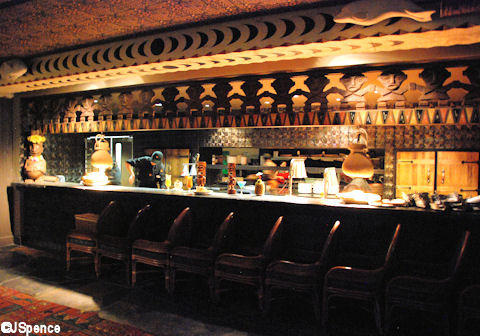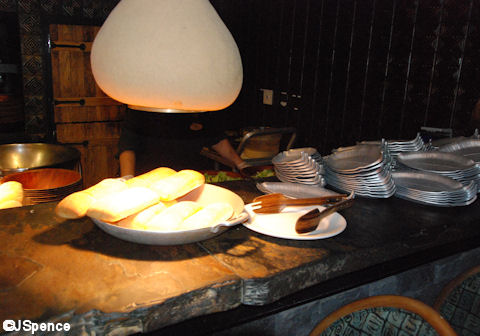 The restaurant is large and a number of tables are situated next to the windows. Those lucky enough to be seated here have wonderful views of the lush landscape and some of the tables can even see the Magic Kingdom fireworks. When the nightly spectacle begins, the restaurant lights are dimmed and the music is piped into the room.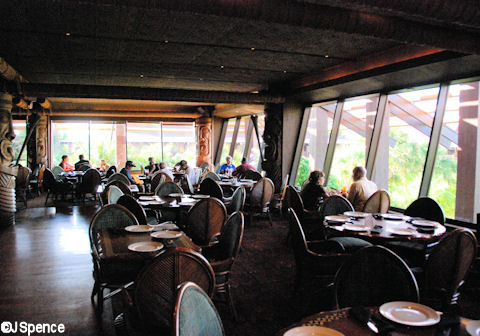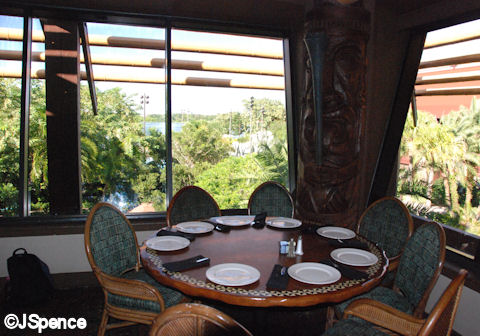 Window tables are seated on a first come, first served basis. You can request a table when you check in, but you will probably be required to wait (sometimes significantly) past your reservation time before a window table opens up. If you want to make this wait a little less boring, have a drink at the adjacent Tambu Lounge.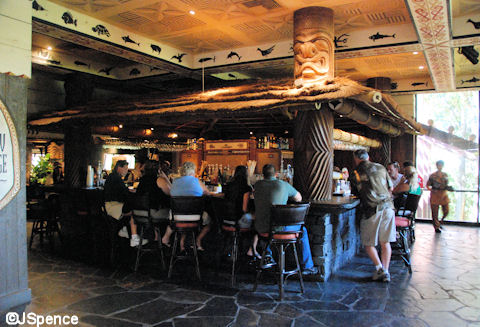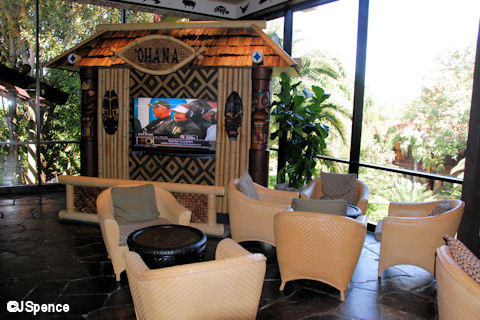 There are a few tables situated next to the show kitchen. This is where all of the tasty meats are grilled for your pleasure.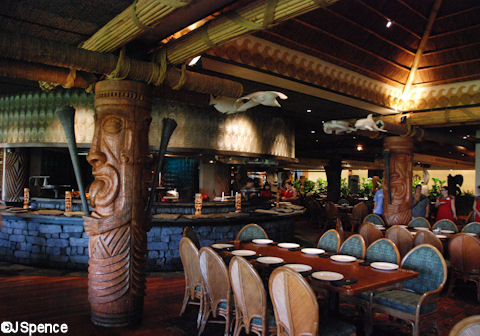 For those of you looking for a slightly quieter evening (as I mentioned above), request a table behind or to the side of the show kitchen. Although the entertainer's talking and singing can still be heard through the speaker system, the children's activities will not intrude.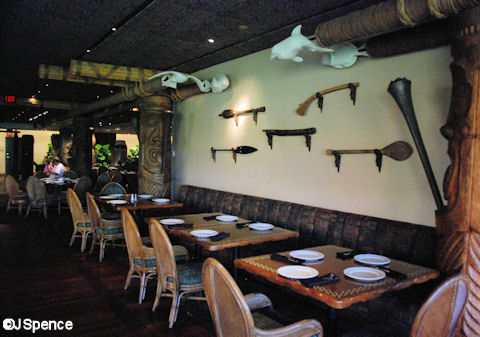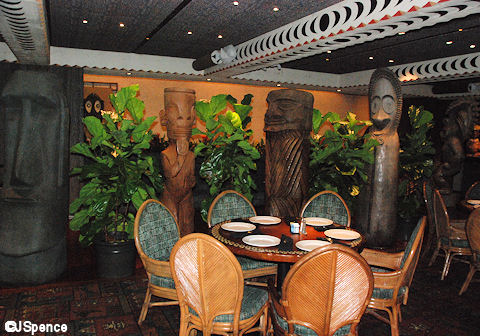 At some point during your evening, it would be worth your while to stop by the show kitchen and watch the chefs work their magic. It's amazing how many skewers of meat they can simultaneously prepare.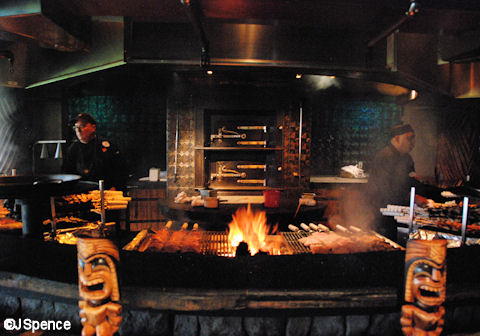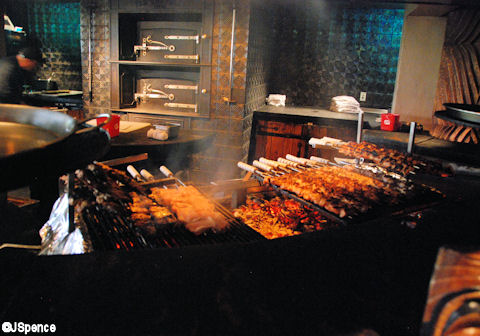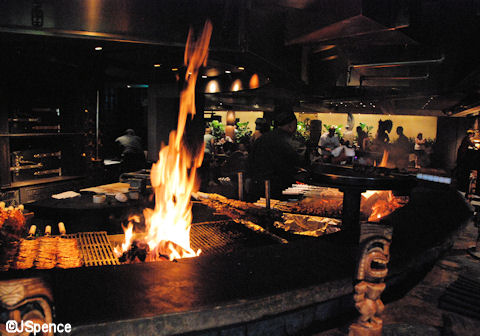 Also, take a gander around the restaurant and you'll see the mesquite wood used on the grill.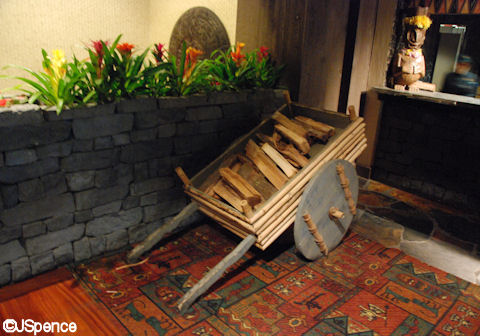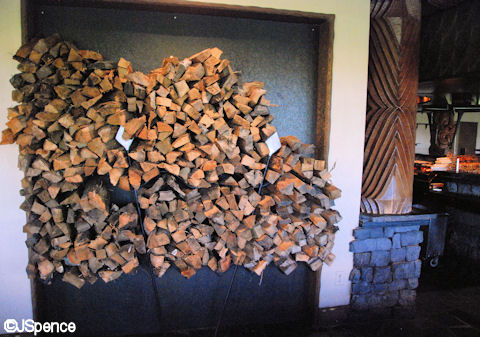 Shortly after being seated, your server arrives and welcomes you to 'Ohana. Drink orders are taken, then it is explained that this is an all-you-can-eat restaurant and your meal starts out with a mixed greens salad with honey-lime dressing.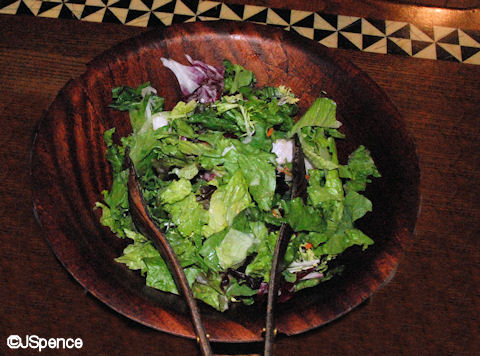 For appetizers you receive Pork Dumplings topped with a Pineapple Sweet-and-Sour Sauce and Honey Coriander Chicken Wings.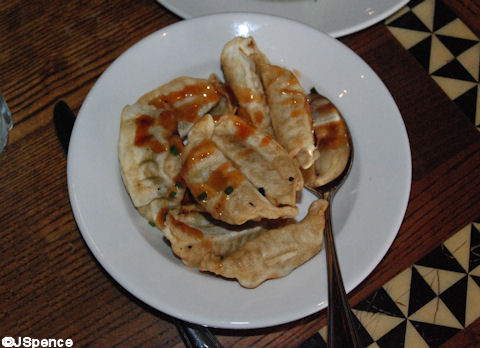 Also brought to your table are moist, hot towels. Although you can use these to clean your hands before you start eating, they're really intended to be used after you consume the finger foods.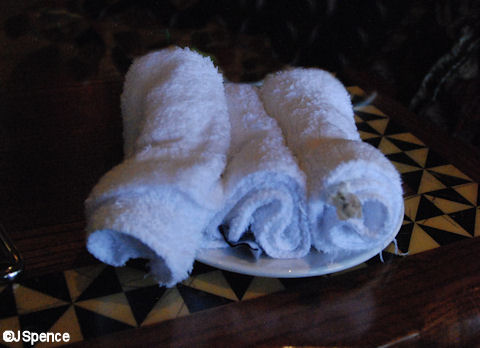 For the main course, bowls of Steamed Vegetables and Stir-Fried Udon Noodles are served as side dishes.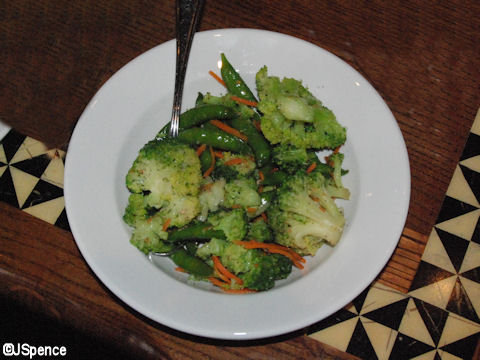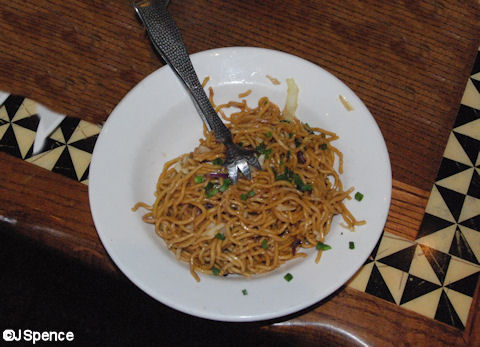 All of this is nice, but the real reason you eat at 'Ohana is for the skewered meats. Offered each night are Asian Barbequed Pork Loin, Spicy Grilled Peel-n-Eat Shrimp, Marinated Sirloin Steak, and Mesquite Grilled Turkey. Accompanying these meats are three dipping sauces, House-made Peanut, Chimichurri, and Pineapple Sweet-and-Sour.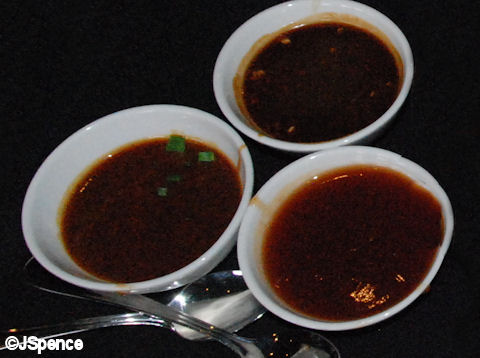 The meats are presented to you on long skewers from which your server skillfully slides several portions onto your plate. This is an all-you-can eat meal so don't hold back. Seconds and thirds (and fourths) are available.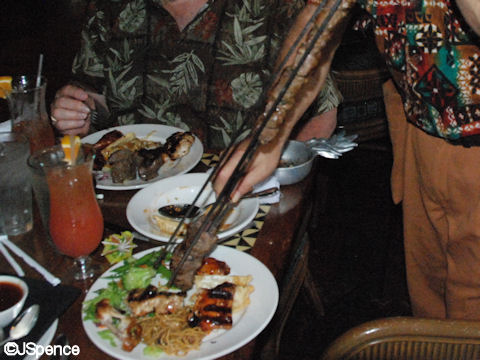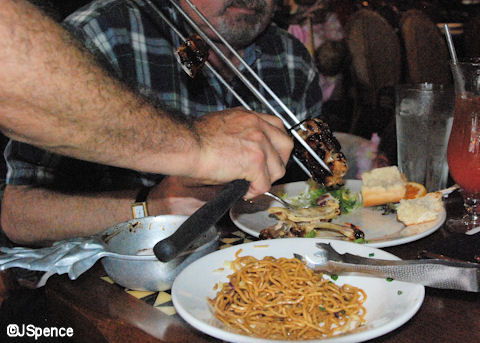 When you've had your fill of meat, it's time to force down dessert. The only thing that makes this possible is that the Bread Pudding, topped with Vanilla Ice Cream and Banana and Caramel Sauce is out of this world. Your stomach will ache, but you'll keep shoveling it in.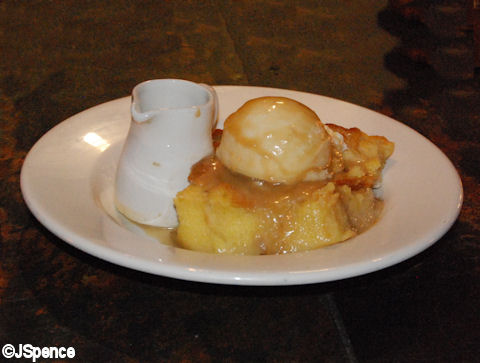 All of the food tastes great and no one can leave this restaurant hungry.
I would have to say, I was disappointed with the pacing of our meal. The server told us that the dinner would be served in courses. However, I wasn't into my second bite of salad when the appetizers arrived. And I doubt that I'd taken my fifth bite of greens when the steamed vegetables and noodles were served – soon to be followed by the meat. The next time I dine here, I will definitely make it clear that I don't want to see any portion of the following course until I'm finished with my current selections and I give the okay. I don't mean to be difficult, but it is a pet peeve of mine when I'm "rushed" in a restaurant.
You might be wondering why I said 'Ohana is perfect for families. Well, I'm about to tell you. Each evening, a performer entertains the diners. On Sunday and Monday, either Kahula or Lopaka are hand and the rest of the week Lipoa charms the audience. They chat with various guests as they circle the restaurant, occasionally breaking into a Hawaiian song accompanied by their ukulele. My friend Randy thinks Lipoa is the tops and only dines at 'Ohana when she's performing.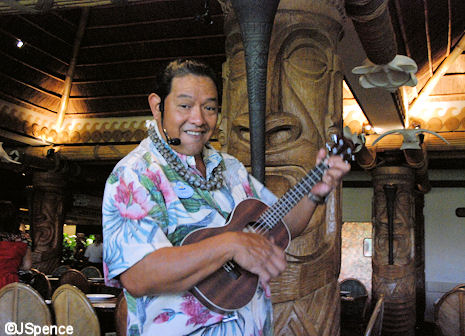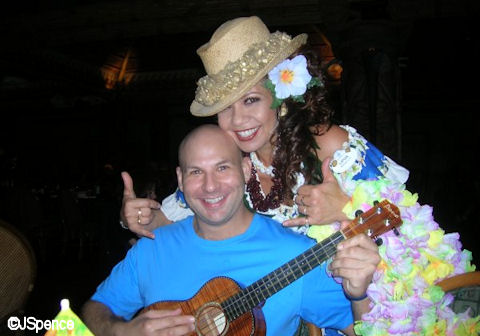 Roughly every twenty minutes, the children are invited to join Kahula, Lopaka, or Lipoa in the center of the restaurant for game time. After a song, the fun begins. The first event of the evening is the coconut race. Each child is given a small broom and coconut, still in its outer casing. Using only the broom, they must maneuver their tropical seed around the restaurant to the cheers of their friends and family.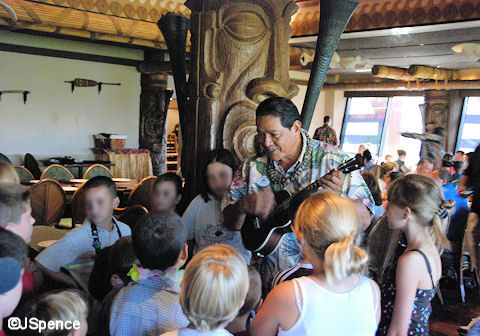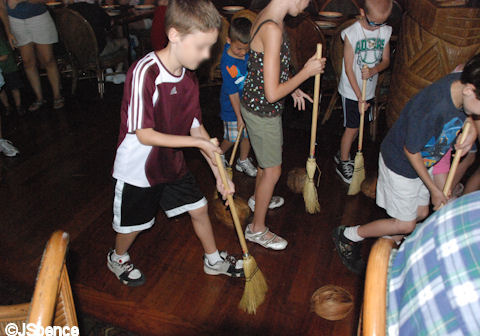 Another event is the limbo dance. Each participant, with maracas in hand, is invited to bend backwards under a bamboo pole as they travel by. The pole is positioned rather high so it's pretty easy for the kids to pass beneath it.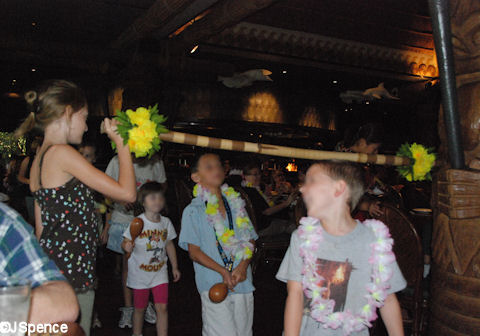 I would have to say that there are more parents out of their seats taking pictures than children participating in these games.
During other portions of the entertainment, newlyweds and couples celebrating their anniversary are asked to take center stage and partake in a romantic dance. Birthdays and other celebrations are also acknowledged. All of the games and remembrances take place along an aisle-way that circles the main dining room. If you want to participate, this is the best place to be seated. If you don't want to be bumped by a stray coconut, then request a table away from this thoroughfare.
'Ohana is also open for a character breakfast. Lilo and Stitch visit each table and happily pose for pictures. This is also an all-you-can eat meal which features scrambled eggs, fried potatoes, sausage, ham, and an assortment of breads. In addition, unlimited juice, milk, and coffee are on tap.
Breakfast:: 7:30am – 11:00am
Price: Adults $18.99 Children 3-9 $10.99
Dinner: 5:00pm to 10:00pm
Price: Adults $30.99; Children 3-9 $14.99
'Ohana is one of the most popular restaurants at Walt Disney World. It is practically mandatory that you have reservations. While I was checking in at 4:45pm the other evening, the hostess was questioning everyone behind me in line. Anyone without a reservation was turned away as they were accepting no more walk-ups.
Reservations can be made online or by calling 407-WDW-DINE.
If you plan on eating at 'Ohana for dinner, skip lunch and don't forget to bring your camera. As I said at the beginning of the article, 'Ohana means family and you're in for some down-home fun – Hawaiian style.
Related Links:
Readers Review 'Ohana Character Breakfast