Our First Trip "Home"
by Guest Blogger Laura Fox
A Little Background
My husband and I have been Disney fans for a long time now. (My first trip was in 1983.) We live in the Northeast and have been to WDW numerous times and tried many of the different resorts.
Back in 2001 we listened to the information on the Disney Vacation Club. At the time, they were just opening the Beach Club Villas and had we bought at that time it would have been our home resort. For various reasons, we chose not to buy at that time but it was always in the back of our minds.
Fast forward to the year 2008 and now with two children things had changed. First of all, friends of ours traveled to WDW in June and became members on that trip with Saratoga Springs as their home resort. This sparked our age old interest again and I ordered the DVC video and my husband started doing research online. Long story short, in Fall 2008, we decided to purchase a resale and now have Old Key West as our home resort. When I shared with a co-worker that we had become members, she being a member herself and knowing our love of Disney exclaimed "It's about time!" So I'm writing to share my experience. Hopefully it will help prepare any of you first timers like us for your first trip "home" or for you more seasoned guests, just get you excited for your upcoming trip.
Going "Home"
Our first trip home started on August 25, 2009. We chose The Boardwalk Villas for our inaugural trip as Members while our friends decided to stay at the Beach Club Villas for theirs. We felt since the resorts were so close by, that it wouldn't matter if we were in different hotels even though we were traveling together.
We originally booked a one bedroom Boardwalk View room for our entire stay but about a month before our trip, Grandma decided she couldn't disappoint her begging Grandchildren and decided to join us. At that time we contacted Member Services to see if we could switch to a Two Bedroom for the duration of our stay at either the Boardwalk Villas or Beach Club Villas. It ended up due to availability that we were only able to have our last 4 nights in a two bedroom so my Mother spent her first three nights at the WDW Swan (which was very nice) before joining us in the two bedroom at the Boardwalk. This turned out to be very exciting for our six year old who had a few sleepovers at the Swan with Grandma.
We traveled by plane to Orlando Intl Airport and made use of Disney's Magical Express. We were undecided if we wanted to use the baggage tags Disney provided and have our luggage go straight from the plane to our room or whether to gather our luggage after our flight and bring it with us on the bus. I always feel like one more person touching your luggage is one more chance for something to get lost. However, being that we were traveling with two small children, we decided that using the tags was the way to go and we packed a change of clothes and bathing suits in our carry on since we were told it could take up to three hours to receive our bags.
We made our way to the Magical Express area which was very easy to find (For you uber planners, it's located on the B side of Level 1.) and we checked in with a cast member who checked our Magical Express booklet and told us which line to get on. There were several lines grouped by which resorts they went to. Through the window to the street you could see several buses lined up loading passengers. We got in the line for the Boardwalk, Beach and Yacht Club resorts. It took about 10-15 minutes before they were calling our row to board the bus where we presented our booklet again and the cast member scanned our transportation voucher. The buses used were Disney's Magical Express, Disney Cruise Line, and Mears Motor coaches. We were on a Disney Cruise line bus and the seats were decorated to match the theme as you can see. Once we were on our way, our bus driver, Angel, confirmed the resorts we were going to and showed a guest video with various information that played right up until we reached our first destination.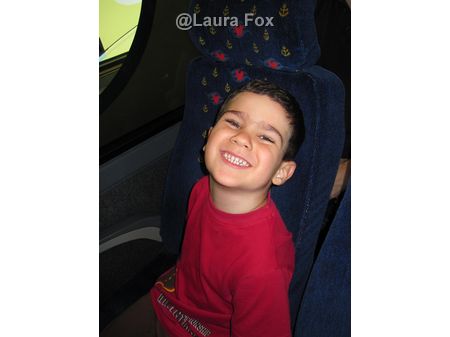 We were very excited to make it to the Boardwalk Villas and were happy to hear the Cast Member at the doors to the main building "Welcome" us "Home" and ask our name. When we told him our name, he said "Oh, yes, Fox" like he had been expecting us and directed us where to go to check in.
When we arrived at the front desk there was no line for regular check in. However, we had done online check in and had to wait for the guest in front of us. We were waiting for what seemed to be a long time when the Concierge Desk assisted us and gave us our information. Our room was not available yet so we decided to walk over to the Swan and check my Mother in there and get something to eat at Picabu in the Dolphin.
Now our friends had checked in the day before at the Beach Club Villas and when they arrived early they were given the option of leaving their cell phone number to get a text when their room was ready. My husband wasn't given the option so we just took our time exploring until it was close to 4pm and then got our room keys rather quickly. We also received a whole Welcome Home package that had park maps, hotel maps, the "Boardwalk Bugle" listing information on the Boardwalk and it's amenities, an Activities Guide and a copy of the Portable Perks brochure which lists all the DVC discounts and tours available.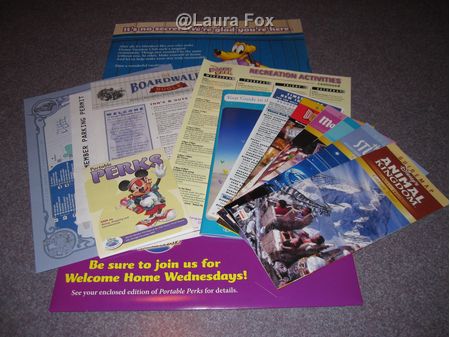 Our room (1 bedroom Boardwalk View) was Room #4051. Facing the Beach Club we overlooked the right side of the Boardwalk (Inn) and Boardwalk Courtyard.
As you may or may not know, the Boardwalk is currently undergoing a refurbishment. This room was one of the unrefurbished rooms. We, however, had no complaints. We loved the location. It was close to the elevators and the view was great! Everything was in working order and clean. We were very happy with the amount of space we had for ourselves and our two boys (ages 4 and 6). They were so excited and explored every inch. They were especially happy with "the bathtub with the jets".
We had ordered a large grocery order through Garden Grocer to delivery that evening. However, much to our happy surprise, while we were on board the Magical Express enroute to the resort, I received a call letting us know that our groceries had already been delivered and were being stored with Bell Services! Wonderful! Within an hour of getting into our room we had received our luggage and our grocery order. They had stored our perishables appropriately so that all our refrigerated items were cold and our freezer items were still frozen. The Garden Grocer service worked great and Bell Services was superb!
Now, I've read the reviews regarding the unrefurbished rooms at the Boardwalk and I'm not blind. Yes, the carpets are somewhat worn and there were some scrapes and paint chips on the furniture etc but from some reviews I read I was expecting to be disappointed if we received a unrefurbished room and I most certainly was not. I did not find anything glaringly wrong that would prompt me to write about it. I feel this is a good statement to make since our switch to the 2 bedroom pool/garden view was in a completely refurbished room so I've been able to see the differences first hand. More on that later.
Member Perks
We were able to take advantage of some Member Perks this trip. We spent our second day at Epcot and made reservations at Le Chefs de France. Members save 20% off their lunch check at this restaurant. This was a bonus since we had plans on eating here anyway. The look on my four year olds face when the kind French woman asked us if we wanted to meet the chef and then presented us to Remy from Ratatouille was priceless. He is a favorite so this restaurant was on our list of must-dos this trip. And saving 20% made it that much more palatable. Thank you Theibault for an enjoyable meal!
The other perk we were able to take advantage of was the PhotoPass Resort Photo Shoot. We've read that this was available at select resorts and since we were overdue for a family picture we made a reservation with the PhotoPass people at the Beach Club. As Members we saved 20% off the price of the package. Our PhotoPass Photographer (Mickie) took us to a beautiful room in the Beach Club and then down to the beach to get some nice family pictures. My husband appreciated that it was quick (about 20 minutes total) and we were able to get some great pictures to go home with.
As an aside, each evening PhotoPass photographers are set in the resorts where there there is a PhotoPass Desk and you can you use your PhotoPass card and have impromptu pictures taken and added to your card. We took advantage of this when we did an adults night out at Jiko in the Animal Kingdom Lodge. The photographer was set up in a certain area and all you had to do was walk up and hand him your PhotoPass card. Our friends did the same thing one night when PhotoPass Photographers were set up out by the Lighthouse at the Yacht/Beach Club.
Enjoying the Resort
Our third day we decided to skip the parks and spend the entire day in the Epcot Resorts area. We spent the morning at our pool at the Boardwalk. Our kids LOVED the slide there. The pool was clean, comfortable and in the morning when everyone is at the parks, EMPTY. All the Cast Members we met were friendly and accommodating. When we entered the pool area, I had one Cast Member ask me if we "were a part of their family". It was our first time at Disney where we could answer yes. We were home. Just don't bring your fruity drink concoction from the bar too close to the pool or you will be chastised.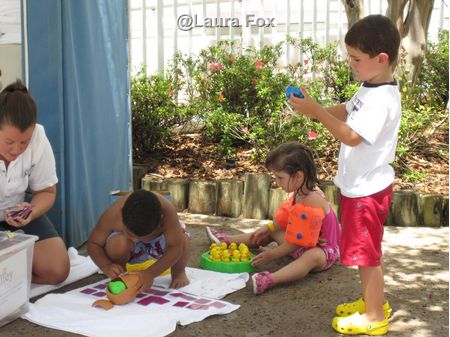 After spending a few hours at our pool and thoroughly enjoying the slide, we decided to join our friends at the Beach Club for lunch. As you may know, the Yacht/Beach Club pool area (Stormalong Bay) is for guests that are staying at their resort only. They take this seriously. Our friend had to meet us outside the pool area and escort us to the tables they had reserved
so that we could have lunch together. Guests making us of that pool use wristbands to identify themselves. So note that the pool hopping restriction is enforced. I have to add though that one late evening our friends were riding the slide with guests that were staying at Port Orleans which leads me to believe that rules are more relaxed late in the evening. While waiting for our meal, the Cast Member checking bracelets and handing out towels shared toys and games with our little ones which kept them happy and busy for a little while. Thanks to our waitress, Raquel from Boston, for her great friendly service for our large group and for making sure the food was safe for our son who has a severe peanut allergy.
Later that day we checked out of our one-bedroom villa and into our two-bedroom villa. Since we were planning on spending the day at the pool we had bell services come and store all of our items in the morning until we could check in again at 4pm. Once again bell services exceeded our expectations and stored all of our luggage and perishables and returned them
to us once we were settled in our new room making it an easy transition.
We were given room 3010 and 3008. Our reservation was for a pool/garden view and the view from our room was of the waterway leading to Hollywood Studios and the Swan. It was a long walk down the hallway to our room from the main area but we didn't mind. As we came closer to our room we noticed that the carpet changed and we were now located in the already refurbished section of the resort. Our refurbished room was very nice and comfortable. Everything was freshly painted or new – carpets, drapes, lamps, appliances etc. We enjoyed several meals in our kitchen and everything was in working order. It was extremely convenient having my Mother in the connecting Studio and she was more than pleased with her accommodations.
Upsides to this resort were so many: Space!, kitchen facilities, view, location, free internet access, DVD player in the room, great pool and slide, access to the nighttime entertainment on the boardwalk, easy access to walking or taking a water taxi to Epcot or Hollywood Studios, did I mention Location?!.
Downsides to both one bedrooms we occupied were that the toilet would not flush twice (but both times was quickly rectified by maintenance) and that the dryer took a loonnngggg time to dry.
Bottom Line: We would definitely stay at the Boardwalk Villas again.
Our trip wouldn't have been complete without spending a little time at Community Hall. Our six year old loved that they had several Playstation 2 games set up to play and also enjoyed playing Air Hockey with his little brother. There was a large flat screen TV and a couch and tables set up for crafts. They had several activities at Community Hall during the week like
painting pottery and you could rent DVDs (free to DVC members) here as well. Community Hall was located adjacent to the quiet pool and the kids loved the time they spent there.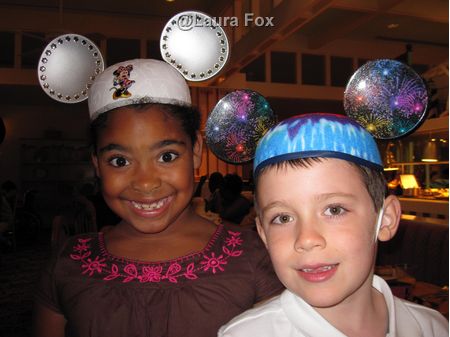 Miscellaneous
Staying at the Boardwalk Villas we were spoiled with the easy, convenient and comfortable access to Hollywood Studios and Epcot via foot or water taxi. The bus service to and from this resort can be long since there are stops made at the Swan, Dolphin, Yacht and Beach Clubs. Several times when coming back via bus we got off at the Swan (1st stop) and walked over the bridge to the Boardwalk rather than staying on the bus. We were definitely in our room much quicker doing so. This especially comes in handy when your six year old announces on the bus that they have to "go" really bad. Public restrooms at the Swan were clean, close and convenient and then there was a nice leisurely walk back to the Boardwalk.
Being a veteran traveler to Walt Disney World it still amazes me that there are so many things that I have never done. This trip I had my first visit to Tom Sawyer Island which we all (especially the kids) loved. After recommending it to several friends based on reviews I've read, we were finally able to experience a relaxing dinner at Jiko. We also made our first foray into Le Chapeau for Mickey Ears! Although I was mentally able to cross off some of the things I counted as "must-sees" for this trip, there were so many that we didn't get to do. This was totally okay, though, because as Members, we know that we will be back again and again and again.
So I'm saving my marshmallows for roasting with Chip and Dale until next trip. My husband summed up our first experience as Members by saying "We should have done this years ago!" My sentiments exactly.
Laura has blogged for AllEars® before. Check out her series on Traveling with Little Ones to Walt Disney World:
Introduction
Day One and Two
Day Three
Day Four
Day Five
Day Six
Day Seven
The Finale