Good afternoon ladies and gentlemen. We are coming to you live (this show is pre-recorded) from the 15th Annual EPCOT International Flower and Garden Festival. Today's broadcast will not only be viewed around the World The stars have come out to be a part of it all: Donald Duck, Daisy Duck, Tinker Bell, and Nick Lachey! Settle back into your chairs as we get this lesson started!
Please welcome to the stage out teacher/hostess for today, Lisa!
Thank you, thank you. (waving) It's an honor to be here at Walt Disney World. I don't want to stand around wasting time when we have lots to learn today but before we get started, a quick show of hands. How many of you are horticulturists? That's wonderful. How many of you remember Culture Club? Yeah! What was with that make-up and those outfits? (looking at the producer). OK, well let's get back on track here.
Please give a warm welcome to everyone's favorite Disneyland blogger, Laura Gilbreath!
Hello, hello. AllEars rocks! Whooooo!
Lisa: Let's walk down towards World Showcase. Oh hey, there are the Donald Duck and Daisy Duck topiaries. Why don't you go ahead and shoot and I'll see what you do and help you out.
Laura: Alright, I will do that. Lisa, here, take a look.
Lisa: I see you are going for the entire beach scene.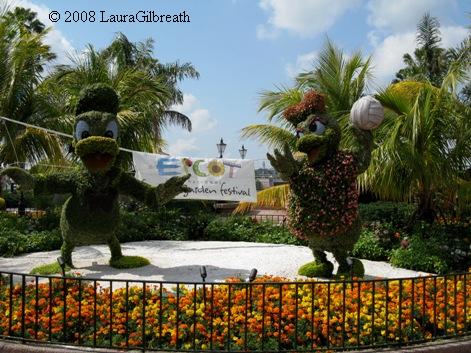 You may want to get a closer look at Donald because you'll be able to see more detail.
Laura: So instead of looking at the big picture, look at things from a different angle, and focus on one subject. Also, use the manual settings in the camera (my camera, Canon's A720 IS, in manual mode, will give you a preview of the exposure when you push the shutter button partway).
Lisa: Another thing to watch are the eyes. Be sure you can see both pupils if shooting from in front. If you're getting a profile shot, make sure the eye closest to you is clearly visible. Getting a body part or random item in front of the eye takes away the power and personality of your subject.
Let's see, here we have a pair of white cockatoos. What shots have you taken?

f8, 1/250, with fill-flash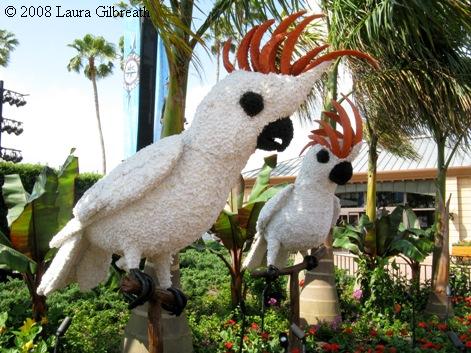 f8, 1/100, with fill-flash
Laura: In the cockatoos, we played with the white balance and the manual exposure
and the flash. Both photos have the same aperture, but there's a faster
shutter speed in the first.
Lisa: You're doing swell, Laura. What do you say we head on over to Peter Pan's Neverland Garden?
Laura: Here we goooooo!
Voiceover: There are 4 different topiaries in Neverland: Peter Pan, Tinkerbell, Captain Hook, and the crocodile. The easiest one to access is Tinker Bell.
Lisa: Tinker Bell's face is unevenly lit because the sun is coming from behind her and her pixie coif is casting a shadow.
Lisa: Try zooming in on her face and I'll even out the light.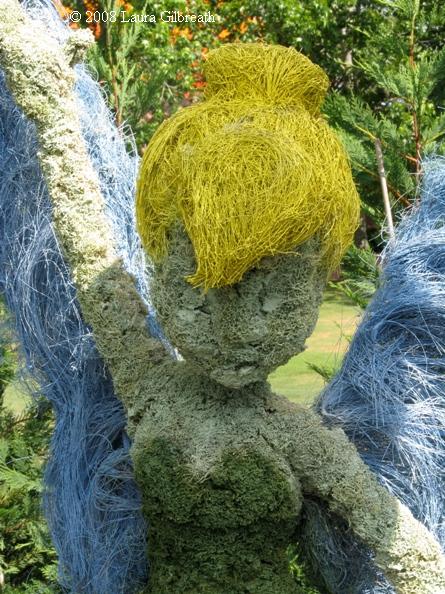 Voiceover: You may wonder what kind of magic happened to change the lighting. Did the sun move? No, it did not. Did Tinker Bell move? No, she did not. Was it magic?
Laura: What is that?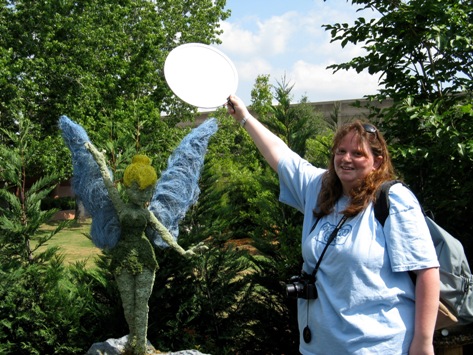 Lisa: It's a diffuser. It comes packed 1/3 of it's full size in a zippered pouch. Once unfolded, you place it between the direct sunlight and your subject and it literally diffuses the amount of light hitting your subject. This cuts out harsh shadows and high contrast. What did you learn, Laura?
Laura: This set is about getting close to your subject, and avoiding a washed-out
subject in bright sunlight – and it helps if you have an assistant with
the right equipment.
Lisa: Thank you all for joining us for Light Meter Live! Before we go, here's a quick peek at why you should always have a camera with you. Nick Lachey was filming "High School Musical – Get in the Picture." You just never know you might run into.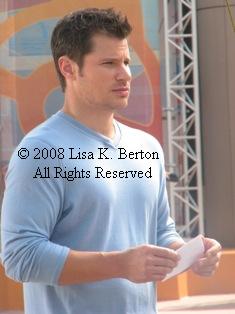 Looking for a diffuser? Try our Amazon Store or your local pro camera shop.
Goodnight everyone. Happy shooting!