The Journey of a Thousand Newsletters
by
Debra Martin Koma
AllEars® Editor
Feature Article
This article appeared in the November 20, 2018 Issue #1000 of ALL EARS® (ISSN: 1533-0753)
Editor's Note: This story/information was accurate when it was published. Please be sure to confirm all current rates, information and other details before planning your trip.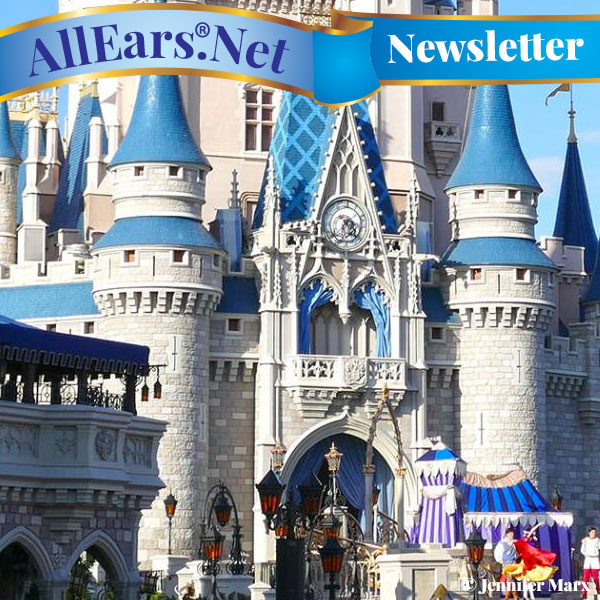 No, your eyes don't deceive you. This is really issue number *1000* of the AllEars® weekly newsletter!
I can scarcely believe it. How have 1000 weeks –1000! — passed since we published the first AllEars® on September 19, 1999?
As we often do when we reach a significant double-zero milestone, we'd like to take a few paragraphs to pause and reflect on where we've been and how we got here… as well as where we might go next!
All the way back in February 2013, in issue #700, I wrote about the growth of social media, and wondered this newsletter was becoming obsolete. But 300 issues later, we're still here andas in-demand as ever! As you can imagine, thismakes us very happy, because all of us here are still as enthusiastic about providing you with Disney information as ever.We look forward to continuing on our journey of both informing and entertaining, while attempting to sprinkle you with a little pixie dust along the way.
Over the past 1000 issues, this newsletter has featured in-depth looks at some of Walt Disney World's major annual events, such as the Epcot Flower and Garden Festival, the Food and Wine Festival and the newer Festival of the Arts. We've run interviews with Disney notables, such as Disney Archivist Dave Smith and Imagineer Alex Wright. We've also had reviews, previews and news aplenty. We'verun a series of historical features — Jim Korkis' informative "Walt Disney World Chronicles." And we've also shared numerous first-hand experiences from those who have visited Walt Disney World and Disneyland, and beyond! We've had reports from vacationers on the Disney Cruise Line andthose who have ventured further afield, to the Disney Parks in France and Asia, to Disney's Aulani in Hawaii, and even other locations via Adventures by Disney.
Like us, many of you are serious vacation-planners, and so we havelooked at the planning process from a variety of angles, representing a variety of interests, such as planning from a solo traveler's perspective and planning a vacation when running in a Disney race. We also have tried to reflect the experiences of the many different demographics found in our subscriber base, from seniors to young adults, from travelers without children to parents with young children and multi-generational families. We strive to be a resource that helps ALL Disney trip-planners, no matter what their individual needs and interests are.
So… where do we go from here?
We are always searching for new ways to be ever-more useful to you, so look for some changes to the newsletter in the coming months. But don't worry, we still plan to offer you entertaining and enlightening stories, tips and advice, to help you derive the biggest "bang" from your Disney vacation bucks. Watch for more details on Disney's newest projects — most notably, Star Wars: Galaxy's Edge. We'll also report on other happenings at Disney's Hollywood Studios as it turns 30 next year,the myriad changes coming to Epcot, and the entire Walt Disney World Resort as it approaches its 50th anniversary in 2021, as well as what's new in Disneyland and Disney California Adventure! Wherever Disney goes as it keeps evolving and forging ahead in new directions, we intend to follow and bring you all along for the ride with us! And if you ever have any suggestions or comments, we encourage you to please send them along.
Because this issue marks a such an auspicious occasion, we need to take some time to let everyone responsible for helping to produce this newsletter know how much we appreciate them. Some of these names you'll know from the AllEars.Net website, but some work quietly behind the scenes. They deserve a special mention, as well.
First, thanks to all of our current feature and featurette writers: Disney Historian Jim Korkis, Hidden Mickey Guy Steve Barrett, and staff writer Joan Feder, as well as our friends at Disney Food Blog and DVC News, who supply us regularly with tidbits of information we might not otherwise hear. We also want to acknowledge our MANY guest columnists, readers who are generous enough to share their stories for publication. (Guest columns are always welcome, by the way — hint to any aspiring writers who would like to get involved!)
Then there are our other contributors — they proofread, edit,take photos, answer mail, and provide so much support (editorial and moral) that might otherwise go unnoticed: Jason of disneygeek.com, Erin Blackwell, Glo from Miami, Lee Zimmerman, Mel Camphouse, and all-around Jack-of-all-trades, Jack Marshall. We also owe a huge debt to AllEars.Net bloggers Laura Gilbreath, Jeanine Yamanaka, Scott Thomas, Gary Cruise and Chuck Schmidt, whose work is sometimes also featured in this newsletter.
Thanks go out also tothe countless writers and friends involved with the newsletter over the years. In particular we want to recognize AllEars.Net founder Deb Wills, who recently stepped down from her day-to-day involvement with thenewsletter and AllEars.Net site to spend more time with family and on other pursuits. We are indebted to her, and all our past contributors, as their devotion and contributions are the building blocks that make up our foundation.
We owe a huge debt of gratitude to our advertisers, whose ongoing support permits us to distribute this newsletter to you free of charge. They are a big reason we are able to continue to do what we do, so we hope you join us in supporting THEM and thanking them, too.
Finally, the people who deserve the biggest thanks of all: YOU, our wonderful subscribers. Withoutyour support for the previous 999 weeks, our 1000th issue could not have happened. Your continued trust and belief in us, along with your feedback and positive energy, encourage us to go on, as we try to put out a useful publication worthy of your precious time.
Thank you.
And here we go, beginning to work on our next thousand issues…
= = = = = = = = = = = = =
RELATED LINKS
= = = = = = = = = = = = =
Find our previous 999 newsletters in our Newsletter Archives.
And if you're not already a subscriber, be sure to sign up! It's free!
=-=-=-=-=-=-=-=-=-=-=-=-=
ABOUT THE AUTHOR
Debra Martin Koma, AllEars® Editor, fell hopelessly in love with Walt Disney World on her first visit there — when she was 35! She's lost count of how often she's returned to her Laughing Place in the ensuing years, but she still isn't tired of it. (And doubts she ever will be.) Neither is she tired of editing the AllEars® Newsletter, even though the weekly deadline makes for some Terrible Tuesdays in the Koma household! She hopes that the end result is always worth the effort.