You're home from your Disney trip and you find yourself daydreaming about that one meal, snack, dessert, or drink. You can almost taste it as you look out the window remembering how good it was. Well, daydream no more! We've collected 50 — yes, 50! — of the most popular Disney recipes and put them in one place for you!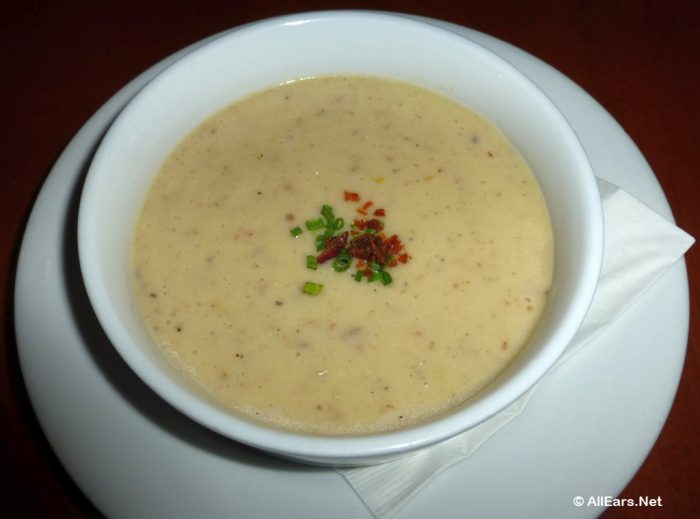 All recipes have been received directly from a Disney chef or restaurant. Also note that recipes are presented "as is" as we received them.
Bon Appetit!
Recipes from Disney World's Magic Kingdom
Be Our Guest: Au Gratin Macaroni (Mac & Cheese)
Please the big and little kids in your life at meal time with a French twist on this classic favorite — after all, who else could combine cream and cheese and macaroni and make it a stand out meal but Lumiere and his pals in Beast's castle?
Tony's Town Square: Chicken Parmigiana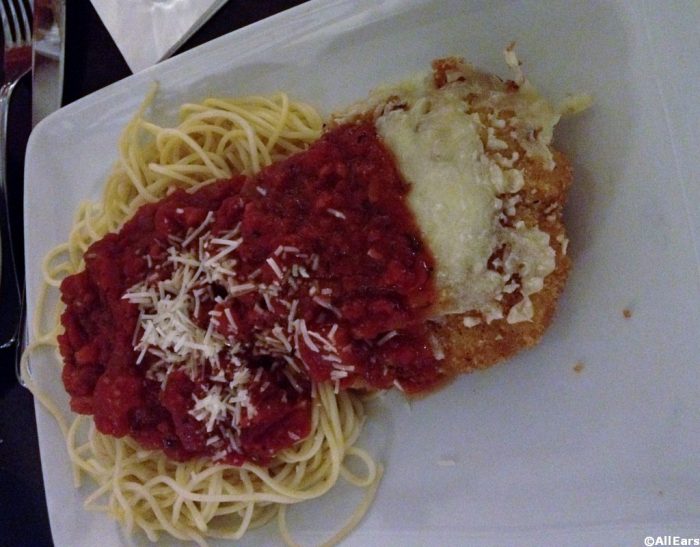 Chicken, parmesan, marinara. All you need is a musical group serenading you and you'll be transported to Italy as you dine on this dish on a "Bella Notte."
Liberty Tree Tavern: Ooey Gooey Toffee Cake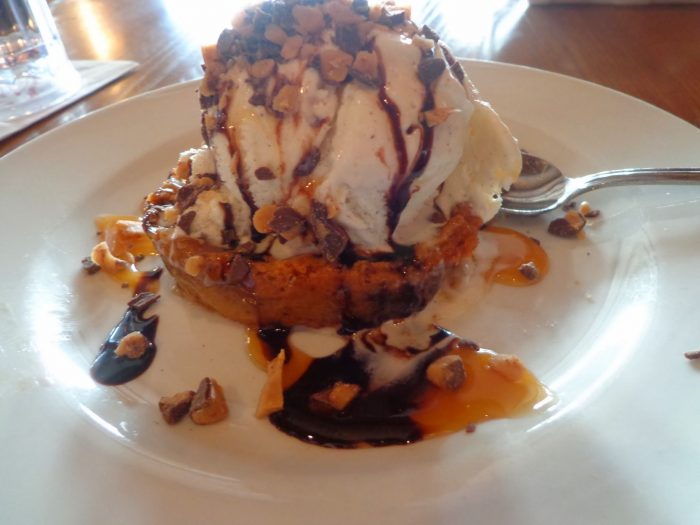 OK, the name really does all the talking. It's Ooey, it's Gooey, it's Toffee-y, it's Cake. What else do you need to know other than the recipe?
Cinderella's Royal Table: Stilton and Potato Quiche
Take your quiche to the next level with this recipe —  it's fit for royalty! If Stilton isn't your jam, try this with a different cheese — and let us know the results!
Jungle Skipper Canteen: S.E.A. Shu Mai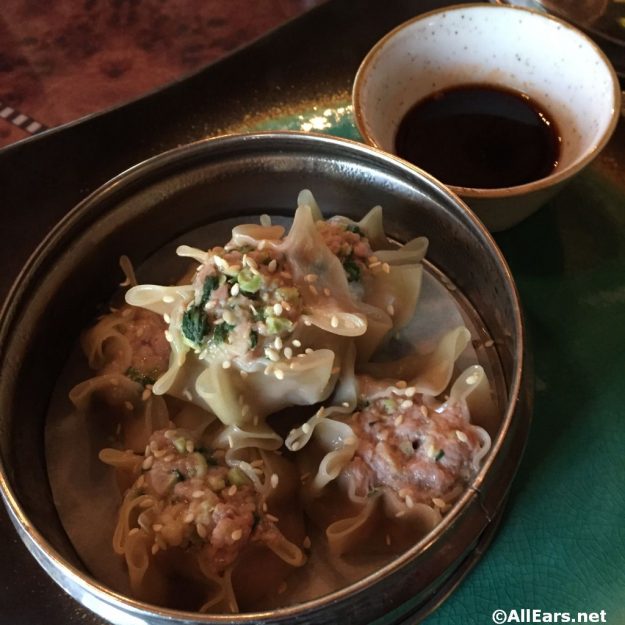 Looking for adventure on the not-so-high seas? Try out this appetizer from the Skipper Canteen that takes a blend of pork, shrimp,  and edamame beans all wrapped in gyoza skin and steams them.
Crystal Palace: Breakfast Lasagna
This certainly isn't your average lasagna. Pancakes and waffles are subbed in for pasta, and the filling is fruit — all topped off with custard as the "sauce." This lasagna should fill you up and keep you going for the whole day!
Columbia Harbour House: Lighthouse Sandwich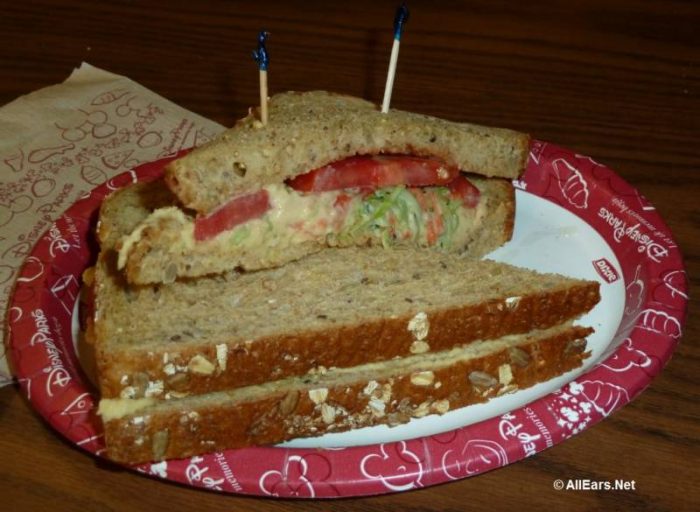 This popular sandwich is a homerun for vegetarians and non-vegetarians alike. People can't get enough of the toasted bread with Broccoli Slaw and of course the star of the sandwich, the homemade hummus!
Recipes from Disney World's Epcot
Canada Pavilion's Le Cellier: Cheddar Cheese Soup
Ah, the granddaddy of all Disney Recipes. No list of Disney recipes is complete without this one! This might be the most asked-for recipe in all of Disney. Anyone have a recipe for a good pretzel bread to go with this?
United Kingdom Pavilion's Rose and Crown Dining Room: Sticky Toffee Pudding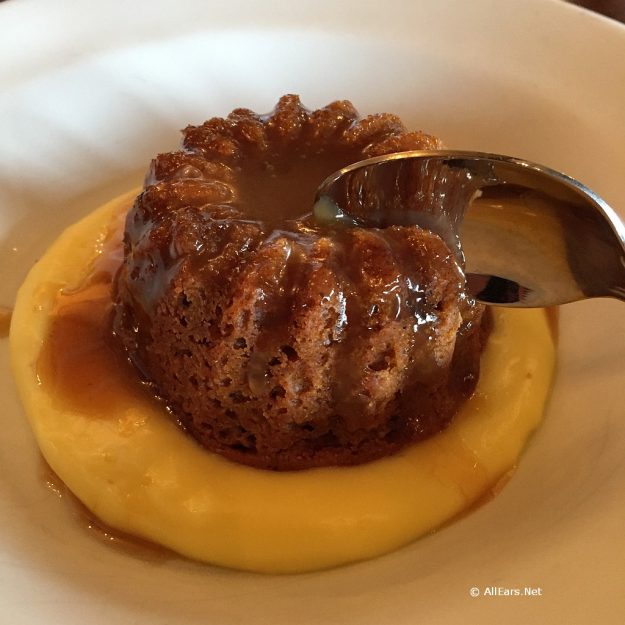 Pick your dessert — the Ooey Gooey Toffee Cake from Liberty Tree Tavern in Magic Kingdom, or this classic British Sticky Toffee Pudding from the Rose and Crown's dining room? We've got a favorite, but we aren't telling. Which one would you choose?
Italy Pavilion's Tutto Italia: Bolognese Sauce
No Italian meal is worth trying unless you have a really great sauce, and now thanks to Tutto Italia, you can have the recipe for a fabulous Bolognese!
China Pavilion's Nine Dragons: Honey Sesame Chicken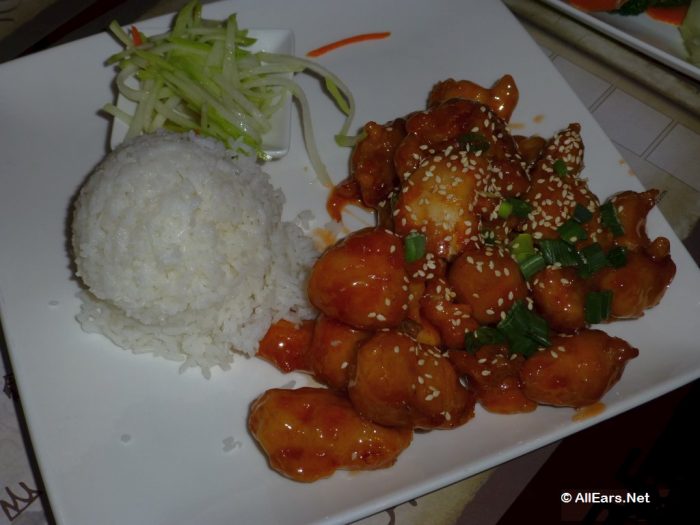 This recipe will satisfy your craving for sweet and savory in one dish. Plus, the marinade can be made ahead of time making this a tasty, time-saving dish.
France Pavilion's Chefs de France: Canard au Miel, Haricots Vert et Pommes de Terre Douce 
This is a different take on the usual duck breast dish. This dish uses the duck legs, and rather than a confit or sweet jam uses a spiced honey sauce. Give it a try!
Morocco Pavilion's Restaurant Marrakesh: Couscous Salad 
If you're looking for a really tasty vegetarian dish you've got to try out this salad. The blend of spices, vegetables and couscous is really spot-on, making this a great appetizer or entree.
Coral Reef: Grilled Mahi-Mahi with Rock Shrimp and a Coconut-Lime Sauce 
Looking to add a little tropical taste to your next Mahi-Mahi? Give this recipe a whirl. Plus, the herbed rice with hearts of palm is a can't-miss.
Garden Grill: Flank Steak Marinade 
This recipe makes one gallon of this marinade, so you may want to cut back when you make it, although we find once we make it we can't stop using it on steak, chicken, pork, and even fish!
Recipes from Disney's Hollywood Studios
The Hollywood Brown Derby: Grapefruit Cake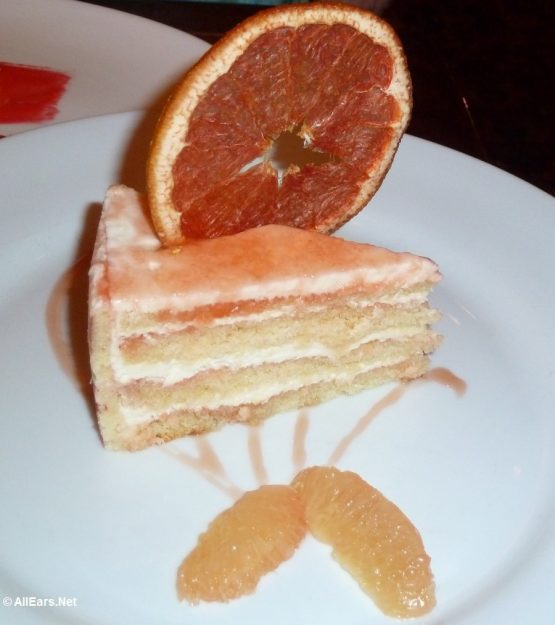 Sweet, tart, elegant, everything you could want in a dessert that salutes the golden age of Hollywood. You can make this delicious dessert with fresh or canned grapefruit, so even when it is out of season you can indulge in this treat.
The Hollywood Brown Derby: Cobb Salad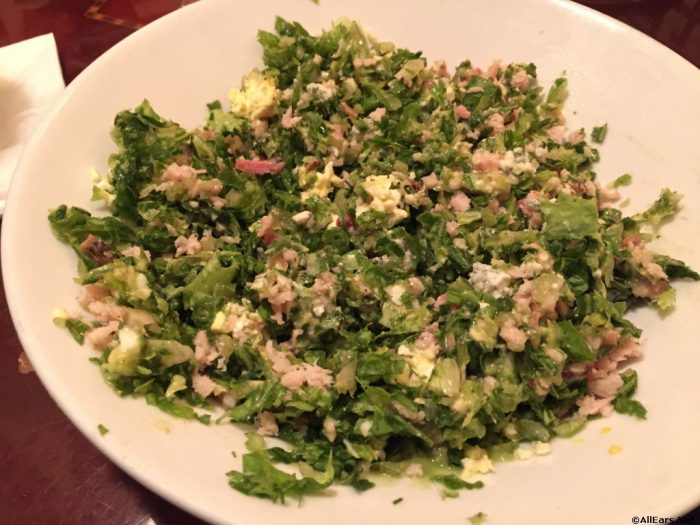 You can pretty much customize this to include or exclude any ingredient you want, but do NOT change out that Brown Derby Old-Fashioned French Dressing — well, unless you really want to.
50's Prime Time Cafe: Fried Boursin Cheese
We can pretty much tell you from experience (i.e. a lot of experience) this Fried Boursin Cheese is as delicious as you think it could be. Melty, herby cheese covered in bread crumbs and fried. Bring us an order now!
Sci Fi Dine In Theater: Artichoke Spinach Dip 
Gotta group coming over for the game or dinner? Whip up this always popular app to keep everyone happy.
Sci Fi Dine In Theater: Chocolate Peanut Butter Cake
There are some times when you just don't have to say anything else. Come on, chocolate and peanut butter together in a cake? Mic Drop.
Hollywood and Vine: Turkey Pot Roast
Looking for one of those meals for a cold, dark night in? This is it. It has everything you need to make you feel cozy and warm — and nap! (It IS turkey after all!)
Recipes from Disney's Animal Kingdom
Flame Tree Barbecue: Barbecue Sauce and Barbecue Rub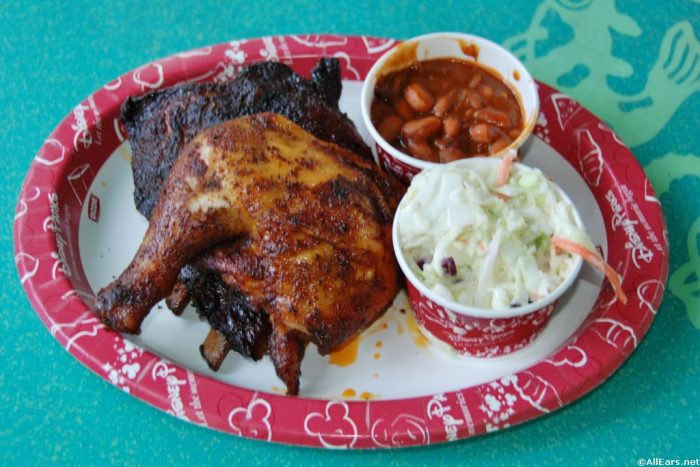 Whether you're looking for a dry rub or a barbecue sauce, Flame Tree has provided both of their recipes to make your next dinner on the grill even tastier.
If you are looking for a unique dinner or lunch recipe give this a spin. You'll be making corned beef hash as well as corn bread to assemble this one-of-a-kind dish.
Tusker House: Spicy Potato and Pea Samosa
The best part of this recipe is its versatility. You can go straight by the recipe, or use pre-packaged wonton wrappers to save time. Plus, you can even use leftovers like last night's mashed potatoes to make this dish!
Tusker House: Cape Malay Lamb Curry 
Even if you have never tried curry before give this recipe a try. It is quite tasty with the lamb and selection of spices.
Recipes from Disney World's Disney Springs Restaurants
Chef Art Smith's Homecomin':  Buttermilk Fried Chicken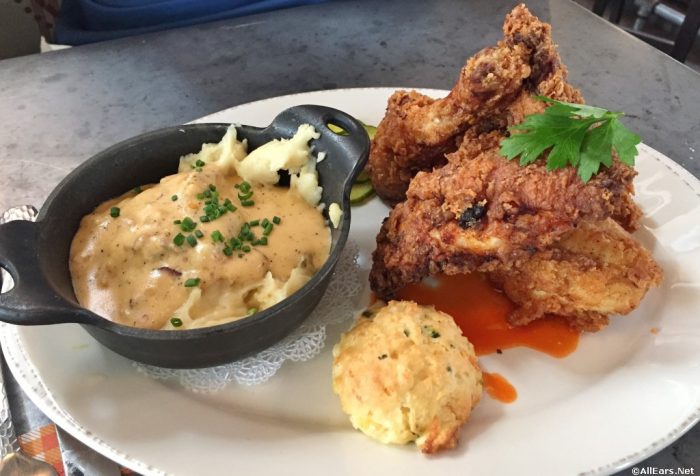 Be sure to let the chicken marinate in the brine overnight. The overnight brining and the rest in the buttermilk for 4-6 hours is really the secret to this delicious fried chicken.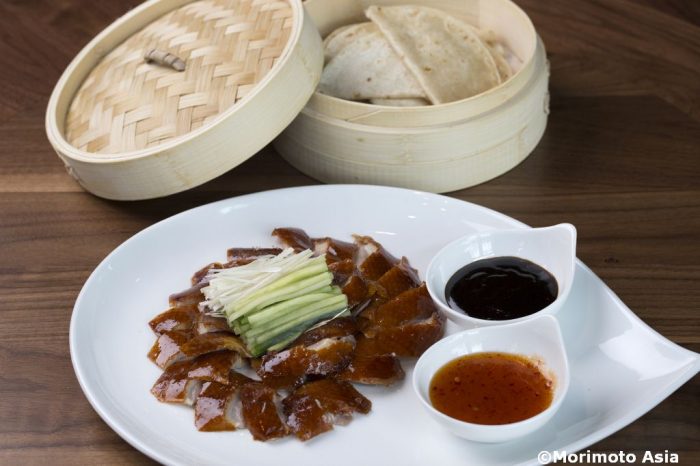 Another recipe with a brine, but this one doesn't take as long. You will be rewarded for your efforts with a very tasty Peking Duck, one of the signature dishes at this location.
Morimoto Asia: Hoisin Chili Sticky Spare Ribs
Everyone will love these tasty spare ribs with a kick. Make them at home and see your popularity rise!
This is another dish that is perfect for cool days and evenings. Cook up a batch and sit in front of the fire (or Netflix) while you enjoy this traditional Irish soup.
This recipe will yield four mini shepherd's pies for your family. We love the versatility, and if you want to sub ingredients we say go for it (just don't tell anyone else!).
STK: Tomato & Watermelon Salad
We know, you're thinking the name is the recipe. Take a look at this ingredients to see how they season this fresh salad at STK — and how to make a batch of that Smoked Chile-Lime Dressing.
Recipes from Disney World's Resort Hotels
Animal Kingdom Lodge's Jiko: Macaroni and Cheese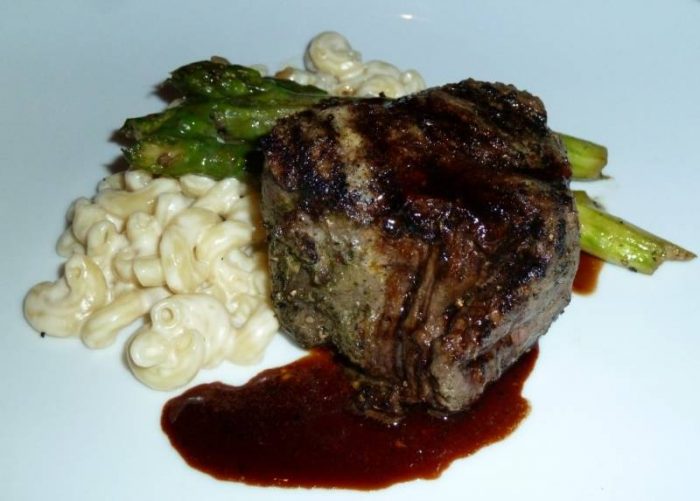 This macaroni and cheese is paired with Jiko's Oak-Grilled Filet Mignon and Red Wine Sauce. Get the Red Wine Sauce Recipe here to recreate this entire plate at home!
Animal Kingdom Lodge's Boma: Zebra Coffee Domes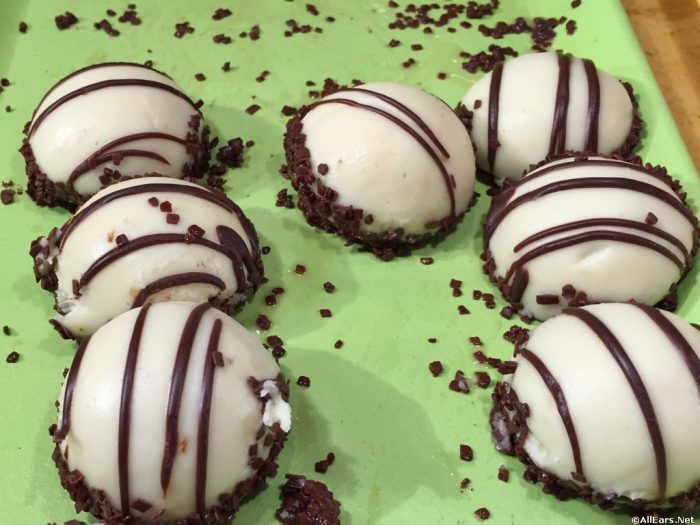 Make 16 of these decadent, coffee and chocolate domes that sit on top of a small round of sponge cake. These are the perfect dessert after any dinner.
Animal Kingdom Lodge's Boma: Bobotie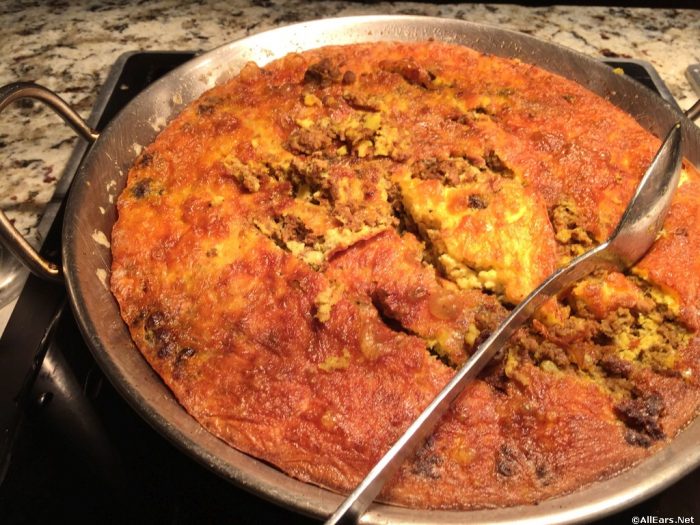 This is one of our most requested recipes, for good reason. No one seems to be able to get enough of this dish — again it's really versatile for at-home prep as you can use any meat you choose!
Beach Club's Cape May Cafe: Oreo Bon Bons
These sweet Bon Bons were a staple at Cape May Cafe, then they disappeared, but now we hear they make reappearances on a frequent basis. If you miss these on your visit you've gotta make them at home — and if you had them on your visit recreate the memory with this recipe.
Boardwalk's Flying Fish: Potato Wrapped Snapper with Creamy Leeks
This is another recipe we get requests for all the time. Though this isn't on the Flying Fish menu any longer, you can recreate this popular, and quite tasty, meal at home.
Boardwalk's Boardwalk Bakery: Brownie Cheesecake
We know this is a popular and classic baked good, but finding a good recipe for it can be challenging. That challenge is over since we have Disney's recipe. And we all know everything is a little sweeter when it comes from Disney!
Contemporary's California Grill: Pork Tenderloin and Goat Cheese Polenta
We aren't sure if it is the marinade on the pork or the delicious goat cheese polenta that makes us keep coming back to this recipe, but whichever it is they make a perfect pairing for a delicious dinner.
Fort Wilderness: Hoop Dee Doo Musical Revue Cornbread
Perhaps the one thing that might be enjoyed more than the show at this location is the cornbread! This is always tops on our our most-requested recipe list.
Grand Floridian's 1900 Park Fare: Strawberry Soup
You can't go wrong with this classic chilled soup on a summer day. The recipe may be simple, but it will reward you with a refreshing and tasty soup as a starter… or maybe even dessert!
Grand Floridian's Victoria and Albert's: Vanilla Souffle
We had to include a recipe from one of Florida's highest-rated restaurants year after year. This souffle will be the perfect sweet ending to a meal sure to impress your guests!
Polynesian Village Resort's Kona Cafe: Tonga Toast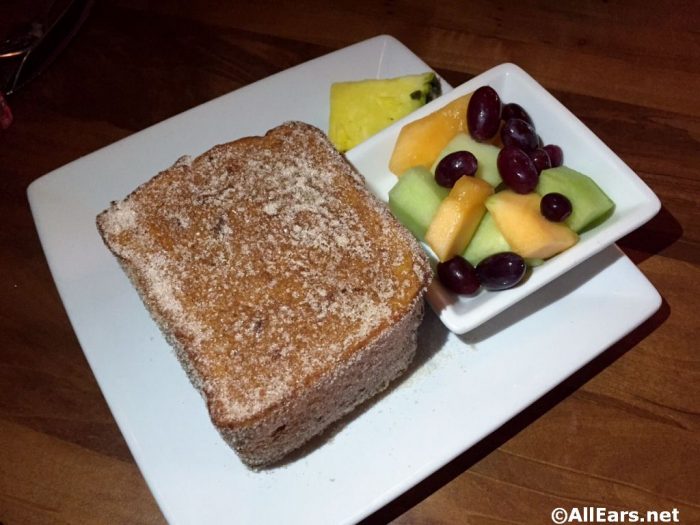 We've heard people come to Disney World just to eat this breakfast treat! We're talking THICK sliced sourdough bread, bananas, sugar, cinnamon, and vanilla — all drizzled in syrup and butter! Get your plane ticket now — or just try this recipe.
Polynesian Village Resort's 'Ohana: Pineapple Bread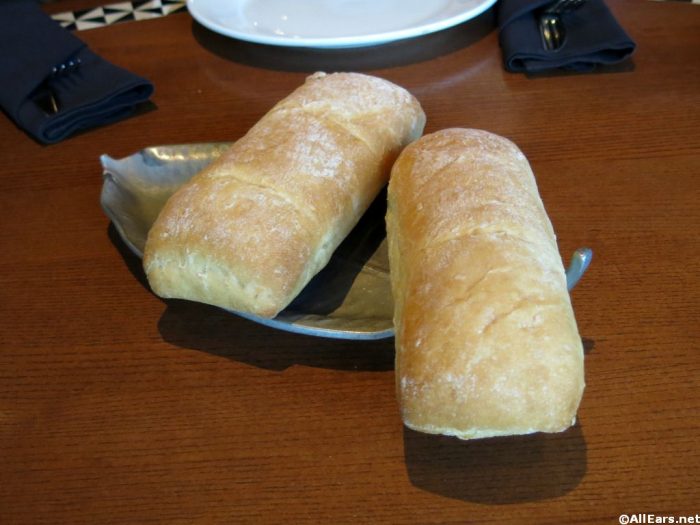 Also known as Welcome Bread (the pineapple is the symbol of hospitality) or as we like to call it, "Can we please have another loaf of this delicious bread?" Give this recipe a spin the next time you are having guests over — try to remember to share!
Pop Century's Everything POP: Tie-Dyed Cheesecake
It's a little tricky to make, but you will be rewarded with a fun cheesecake when you complete the recipe! Plus, it might bring back memories for you and your guests!
Port Orleans French Quarter's Sassagoula Floatworks: Beignets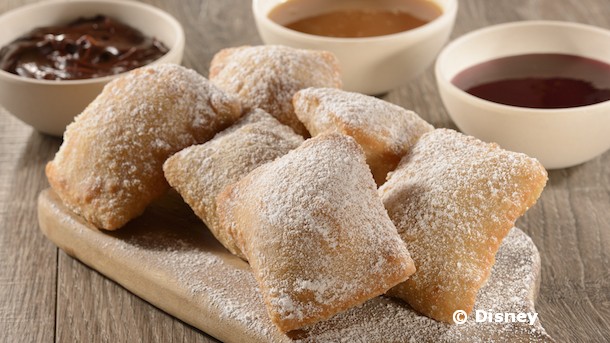 Don you beads, get your powered sugar out! Here's your recipe to make these wonderful beignets — enjoy them for breakfast, lunch, dinner, midnight snack… these are good whenever you want them. Bonus points if you make them in the shape of Mickey!
Port Orleans Riverside's Boatwright's: Crab Soup
This is for the seafood lovers out there. You've got to try this crab soup. We are guessing you could substitute almost any seafood in this delicious soup.
Wilderness Lodge's Artist Point: Berry Cobbler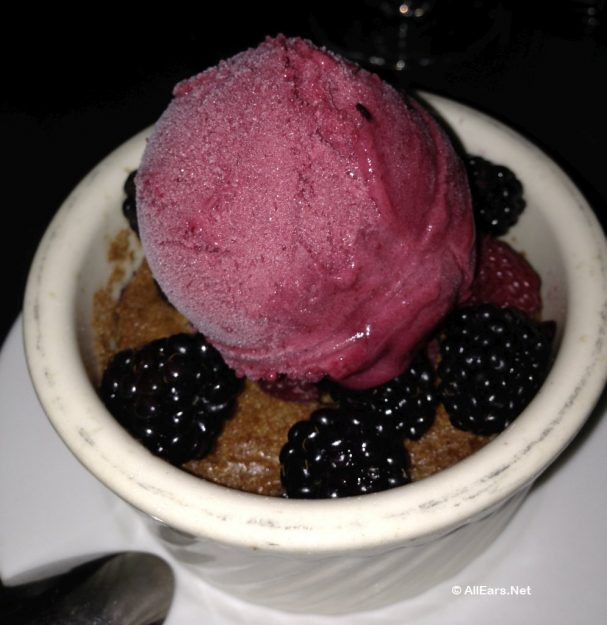 You won't be able to get this much longer as Artist Point will be transitioning soon to a new character meal experience. Don't despair though! You can make this popular dessert at home with the recipe we have.
Wilderness Lodge's Whispering Canyon Cafe: Sausage Gravy
If you're going to use a sausage gravy recipe it should be from the people who are experts! Whip up a batch of biscuits, top them with this sausage gravy,  and you and your family will be fortified for the day.
Wilderness Lodge's Whispering Canyon Cafe: Mashed Potatoes
Just like the sausage gravy, these are the chefs to trust with a mashed potato recipe. Smooth, creamy, buttery, fluffy. Make this side dish the star of your next meal.
Yacht Club's Yachtsman Steakhouse: NY Strip Steak in Bourbon Marinade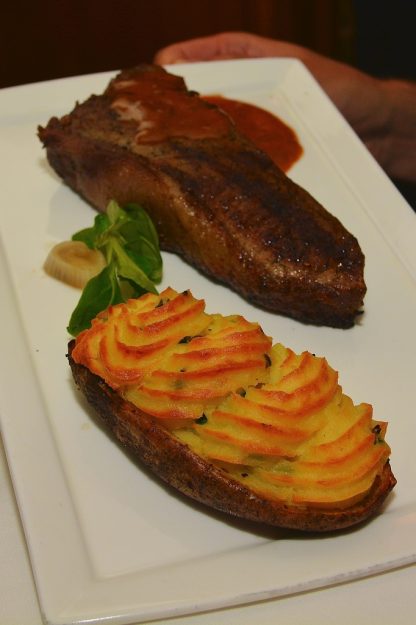 You're turning to the steak experts when you use this recipe. Plus, you're getting a marinade and glaze that will make your steak truly amazing!
That's 50 — count 'em — 50 of Disney's best recipes! Which ones have you tried? Which ones WILL you try? Let us know in the comments below! When you make a recipe, share a photo with us! Be sure to tag @allearsnet when you post it!