Disney's Caribbean Beach Resort is one step closer to completing their multi-year refurbishment with the announcement of menus for the Centertown Market.
Centertown Market will be the quick-service location with grab-and-go options for the resort. We filled you in on the new name and logo a couple of weeks ago.
On to the important stuff… the food!
Customizable Island Bowls

©Disney
These are Build-Your-Own dishes for Breakfast or Dinner. You'll start with a base, then add a protein, sauce, and if you're ordering a breakfast bowl, an egg.
Bases: red beans and rice (offered all day), home fries (for breakfast), and greens (for dinner)
Breakfast Protein: rotisserie beef, bacon, chorizo, or plant-based sausage
Dinner Protein: rotisserie beef, pork shoulder, banana leaf-wrapped fish, jerk chicken thighs, or vegan chipotle seitan
Breakfast Sauce: salsa verde, or pico de gallo
Dinner Sauce: chimichurri, garlic ranch, or spicy pink sauce
Breakfast Eggs: scrambled, poached, or tofu scramble
With all of these options, there are more than 30 different combinations to choose from for both breakfast and dinner!

©Disney
Breakfast will also include classic dishes like Eggs Benedict or the All American Breakfast Platter with eggs, home fries, sausage, bacon, and toast as well as island-inspired creations like Coconut Waffles with fresh fruit or the Banana Pancakes topped with granola and pineapple chunks and served with sausage and maple syrup.

©Disney
Fresh salads, Sicilian-style pizza, pasta dishes, and a variety of sandwiches and burgers round out the dinner menu.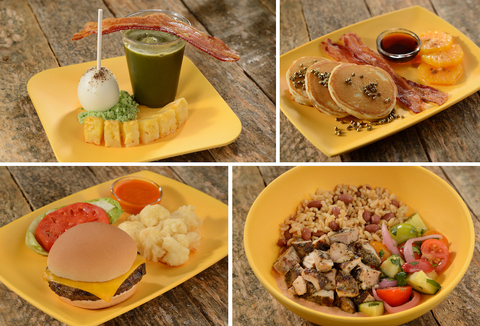 ©Disney
Kids' options will include Pirate Mickey Waffles and French Toast for breakfast and Chicken Breast Nuggets, Tacos, and Grilled Cheese for dinner. There will also be some unique new offerings like the Egg Popper for breakfast (a hard-boiled egg pop with green pirate juice, roasted pineapple, and bacon) and the Beef and Mushroom-blended Cheeseburger for dinner (with "cauli" fries, orange sauce, and a mini "build-your-own" Island Bowl).

©Disney
Two of the dessert options featured are a Tropical Tart with key lime, mango, and passion fruit curd with Chantilly as well as a Chocolate Crème Tart with chocolate cake, coffee Chantilly, and caramel crispies.
Beverage options include Coca-Cola® Freestyle fountain drinks, freshly-brewed coffee, and a variety of teas as well as draft beer and single-serve wine and cocktails. Or you can step inside the Grab 'n Go Market, where you'll find specialty coffees and grab-and-go items.
The Banana Cabana Pool Bar is also receiving a facelift during the refurbishment and some new drinks were announced today along with the Centertown menu.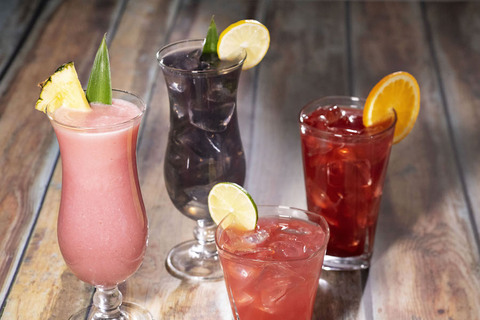 ©Disney
The poolside bar will feature an outdoor lounge where you can gather for some food and alcoholic and non-alcoholic beverages. The lounge is inspired by the festive culture found in the Caribbean, mixing a relaxed sitting area with a lively bar. Cabana-style drapes flank the seating groups and re-purposed steel drums will illuminate a central communal table made from a wooden boat.

©Disney
Banana Cabana will serve exclusive cocktails made with premium spirits and Caribbean seafood and mainland dishes. Libations include the Pink Guava Colada featuring rum, guava puree, pineapple juice, and cream of coconut and the Kraken Punch with spiced rum, blood orange sour, and pomegranate and orange juices. Caribbean beers will also be available for islanders along with a variety of craft and traditional beers and premium white and red wines on tap.
For non-alcoholic options, enjoy drinks made with fruit juices and tropical flavors. One of these drinks is the Tropical Paradise, a blend of pineapple coconut, cinnamon, and lime dusted with nutmeg.
Centertown Market and Banana Cabana are set to open in late Fall of 2018. We'll keep you posted on the opening of both of these locations.