Just as Hollywood's awards season is in full swing, so, too, is Walt Disney World's version of the Oscars. The "Mousecars" — exclusive golden Mickey Mouse statues — are bestowed on some of the most promising students in Central Florida through the Disney Dreamers and Doers program. And if students want to be considered for the honor, they need to hurry because the deadline is this week.
For more than three decades, this award program has recognized local students who have inspired others and made the world a better place. In return, The Walt Disney Co. hopes to inspire and reward the area's student leaders with theme-park tickets — or even annual passes — to Walt Disney World and provide Disney-themed keepsakes, such as the Mousecars.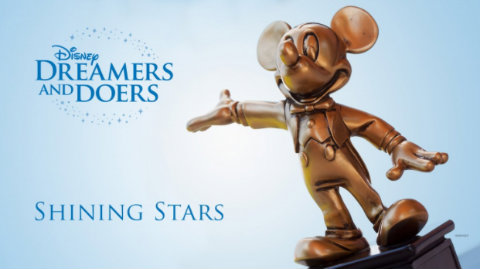 Disney relies on each school in Orange, Osceola, Seminole, Lake and Polk counties to nominate one child for the honor of being named a Disney Dreamer and Doer.
The process begins when students are asked to nominate themselves by writing a 300-word paragraph describing their achievements. The official rules give these examples of student contributions: "strengthening their families; conservation/environmental projects; helping others; safety; school achievement in spite of barriers; improving their schools; serving as a role model for siblings/friends; or any other positive action." An addition to the rules notes: "High academic achievement and volunteer involvement can be considered but should not be the only determining factors to select a school's Disney Dreamer and Doer."
Then, the student asks a teacher to champion his or her application by writing a 75-word endorsement. The two essays are turned in to the school's principal by the school's announced deadline, and a school winner is chosen based on the strength of the essay. (Grammatical accuracy is not a factor.)
Deadlines likely are this week, so students who are interested in applying should confirm dates with their schools.
In total, there are about 375 students from elementary, middle- and high-school students in Central Florida chosen to receive the one-day park-hopper tickets, medals and certificates.
Once a school's Disney Dreamer and Doer is chosen, he or she is entered in a larger competition, Disney's Shining Stars. The awards are given to 15 students — one elementary, middle and high school student in Orange, Osceola, Seminole, Lake and Polk counties. Disney officials, not school principals, choose the Shining Stars. Shining Stars receive Disney World annual passes for their immediate families for one year, Mousecar statues and certificates noting their accomplishments. Plus, the Shining Stars and their families are invited to a a special event at Walt Disney World. Last year it was a preview of Pandora at Animal Kingdom. In previous years, it was an Epcot Illuminations Dessert Party.
"Students may be comfortable in the spotlight, or shy away from it. Some take positive action that is visible; some actions may not be visible to many," the Disney press release states. "We believe all students do good things and have the potential to be a Disney Dreamer and Doer. We look forward to hearing about students in each of these categories."
Among past winners are a student who learned to give back after living in a homeless shelter; a student who organized book drives for needy kids; and a student who excelled in science education with a goal of creating clean, unlimited power sources.
Schools will be notified in April if their students are among this year's Shining Stars.