For years, one of my family's favorite holiday traditions is a visit to see "snow" just outside the gates of Walt Disney World. The town of Celebration hosts "Now Snowing Nightly" – a flurry of soap bubbles — from Thanksgiving through New Year's Eve, and it's open to the public at no charge.
Celebration's downtown is a traditional retail and business district modeled after those found in small American towns and built by The Walt Disney Company. Retail shops, restaurants, a town hall, post office and offices are among the downtown businesses. Many of these buildings are situated along a wide promenade circling a lake.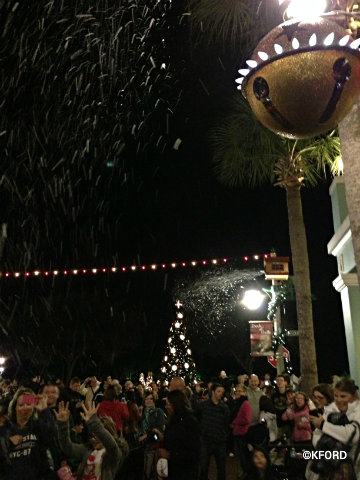 The shopping district is quite festive with the "snowfall," Christmas decorations, live music on Saturdays, ice skating, horse-drawn carriages, simulated train rides, visits with Santa Claus and restaurants to fit a range of budgets and tastes.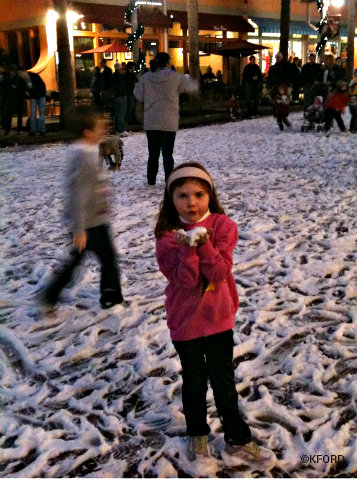 Our family outing usually consists of eating dinner and then enjoying the entertainment. There are some wonderful places to dine, such as Cuban treasure the Columbia Restaurant. Through the years, we have learned that planning to have an early dinner helps avoid a long wait for a table (and also makes street parking, which is free, easier) on weekend nights during Now Snowing. The later it gets, the more crowded the streets become and the harder it is to find a close parking spot.
Snow falls daily at 6, 7, 8 and 9 p.m. on Market Street. There's no need to queue up to experience the snow – just step into the street, which is blocked off from traffic.
Saturday's live performance, the annual Radio Disney Holiday Concert, kicks off at 6 p.m. with Skylar Steckera and In Real Life. We have attended the Radio Disney concert several times and definitely noticed that those nights are popular with crowds, especially tweens and teens. On Dec. 16, Countdown to Christmas begins at 5:30 p.m. with Ava Bryant, Catching Arrows, Danielle Carter, Nick Barbuto, The House on Cliff, Couch Jackets, Erin Kinsley and Menage.
Other holiday activities include:
** Ice Skating. The ice skating rink really is a hard plastic surface that kids use skates to glide on. The Endless Ice offers them the traditional winter experience without as many painful spills. This rink even encourages beginning skaters to use supports (that look a lot like walkers) while they learn. Skating, which includes skate rental, is $10 per 30 minutes and it's open from 4 to 10 p.m. daily.
** Santa Claus greets families each night from 6 to 9 p.m. through Dec. 24. (He starts 30 minutes earlier on Wednesdays, Fridays, Saturdays and Sundays.) There is no charge for the visit, and photo packages start at $24.99. Pets are welcome on Wednesdays.
** Horse and carriage rides are $45 for up to four passengers and $10 for each additional person. A special Cinderella Carriage can accommodate up to four people for $65, and each additional person is $10. A sleigh ride is $55 for up to four passengers and $10 for each additional person. Group wagon rides are $5 per person.
** When my son and daughter were younger, they couldn't wait to ride the Holiday Train on a short trip through town. It's $5 per person. Tickets can be purchased for $4 before 4 p.m. at Market Street Gallery or Sweet Escape.
If you're looking for a fun holiday getaway not far from Orlando or the gates of Walt Disney World, you'll find that the town of Celebration certainly lives up to its name during the holidays. And if you're a native Floridian, you'll appreciate a chance to have a white Christmas after all. Good luck building that bubbly Olaf snowman, though.