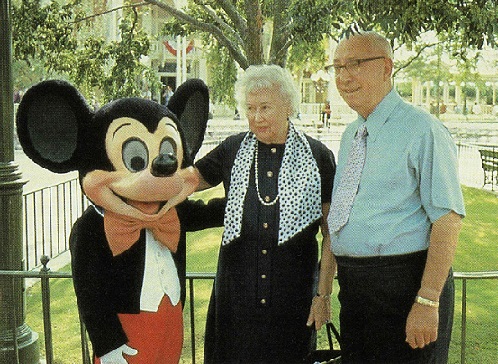 Edna and Roy Disney pose with Mickey Mouse in Town Square. [The Walt Disney Company]

Tania Norris made some remarkable contributions during her nine years with WED Enterprises, supplying the interior designs for New Orleans Square, the Haunted Mansion and the Plaza Inn Restaurant in Disneyland, as well as doing interior design work for some of the restaurants at Walt Disney World prior to its opening in 1971.
But what she cherishes most about her time with the creative wing of the Walt Disney Company [now known as Walt Disney Imagineering] are the personal relationships she forged with some of the most respected names in the company.
There was the admiration she felt for Walt Disney himself, who "was always very, very nice to me," she said. But during her years at WED, she also became close with Walt's wife Lillian, their children Diane and Sharon, his brother Roy, Roy's wife Edna, as well as one of the most respected artists of his generation, Herb Ryman.
Here's an example of just how respected Tania Norris was within the company ranks: When Walt Disney died on Dec. 5, 1966, Roy Disney gathered some of the company's top executives a few days later to discuss the company's future.
"After Walt died, Roy called together the heads of all the departments to come to the Studio, to tell them that Epcot would continue and things would go on … and I was the only woman there," Tania said. "I found that very odd, because I really didn't have that high a position, but I did know Roy. Whether that was a factor, I really didn't know, but I felt that was quite an honor to be included in that group."
Indeed, during her tenure at WED, she became quite friendly with Roy and Edna Disney.
"Roy was very sweet, he was very low-key. He and Edna … I used to see them having coffee in Wilshire every Saturday morning. They were just very lovely, genuine people."
Tania's love of antiques helped cement her relationships with the rest of Disney's "leading ladies."
"I used to take Edna antique shopping, as I did Lilly and Diane and Sharon. Lilly was always so sweet, too."
Edna Disney was one of the members of the Disney family who neither sought nor received much attention. But like her husband, she was an important cog in the company, particularly during those often difficult early years. She married Roy in 1925 and they had one son, Roy E. Disney, who was born in 1930. When the Disney Brothers Cartoon Studio was struggling to make a name for itself, Edna Disney was there to lend a hand. She even loaned the studio money when times were particularly tough. And she's listed as one of the inkers on the film Plane Crazy [along with Lillian Disney and Lillian's sister, Hazel Sewell], which was released in 1928.
Edna also was known for her sense of humor … which came as a shock to many Disney executives.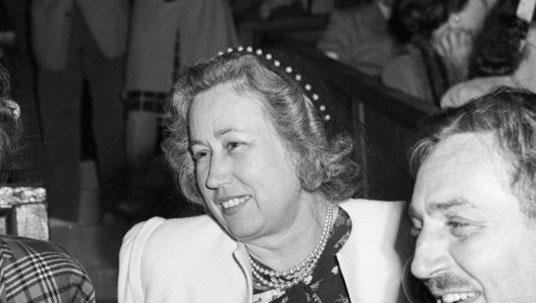 Tania Norris enjoyed shopping for antiques with Edna Disney, above. [The Walt Disney Company]

"I remember one occasion when Dick Irvine, who was the head of WED at that time, and Gen. Joe Fowler called me to the office and they said, 'Would you mind taking Edna shopping?' And I said 'Not at all. She has a wonderful sense of humor.'
"I remember them looking at each other and saying, 'She does?' I obviously knew her as a person more than they did. She kept very low-key, as did Roy. Roy was never really that highly regarded because Walt was such a genius in so many areas, he was sort of the benevolent dictator, so to speak."
Roy was always known as the company's behind-the-scenes the money man. "Although I have no proof of that, it was always the story that was given out, because Walt wanted to give Roy a position of importance, it was really Walt who did the talking. He had the charisma. It was Roy who got on the plane with Herbie's sketches to take them to New York to sell the project of Disneyland to the bankers in New York. He must have had some form of salesmanship to himself, too."
Ah, yes, Herbie.
In the same way you don't have to be a weatherman to know which way the wind is blowing, you really don't have to be an artist to appreciate great works of art. Tania Norris has long been a fan of Herb Ryman, the Disney Legend whose body of work still casts an imposing shadow over the Walt Disney Company. After all, Tania had the pleasure of working with the man she called Herbie, becoming his friend, and ultimately amassing a collection of about 40 of his works, many she received as gifts.
"When Herbie was an art director at Disney, he might be given a project that I might not know about for maybe another year," Tania said. "He would be one of the designers for it. When that work was done, it went to one of the architects and then I would get involved, talking about the interiors and what was needed there. There were story boards that would be put together for every project. They would have Herbie's drawings, they would have Dorothea's [Redmond] renderings, which we would discuss. I'd make story board suggestions for fabrics or even light fixtures, whatever it was that was needed for the project. A lot of that is done on computers nowadays."
While Herb Ryman's reputation as an artist was impeccable, his caring and generous nature endeared him to his fellow cast members. To many, he was the ultimate mentor.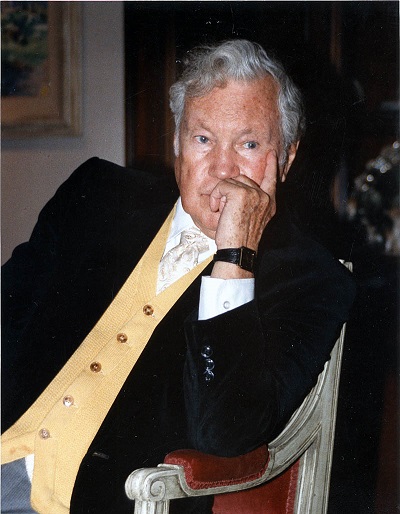 Herb Ryman was known as a brilliant artist who loved sharing his time and talents with others. [The Walt Disney Company]

"Herbie was very generous with his knowledge to others," Tania said. "He really helped a couple of young men at WED who had talent. He guided them quite a bit. He was really a renaissance man. He was deeply read and widely read. He had an insight that was pretty uncanny. He would do, for instance, caricatures of people and you didn't really want to have a caricature done by Herbie because he saw right into your soul. Those caricatures could be really rather rough. They showed you as you really were. But he could draw and paint on any subject in any medium."
Over the years, Tania has amassed a stunning collection of original works by Herbie, several of which were given to her by the artist himself.
"I have about 40 of his paintings and drawings. I started collecting them when I was at WED. Herbie even gave me several as gifts. Then I bought several more at the Ryman expositions. I try to buy one a year to help support them."
Tania went on to describe Herbie's often-misunderstood work habits.
"When he was given a project, he would go and visit everybody. He'd talk to people. He'd goof off, in other words. And John Hench would say, 'Walt's coming in a couple of days' and Herbie would say 'Oh, he is …' And he'd keep going and going and people would be getting really uptight because his sketches were usually critical for a project.
"Lo and behold, the next morning, when it was needed, he was there with the finished product. He knew very well that because of the way he worked, if he finished something early, he's be given two more projects to complete. So he just played the game. Even though he was goofing off, you knew he was thinking about it."
Tania left WED in 1970. "It just wasn't the same without Walt," she said wistfully.
Since leaving WED, Tania has traversed on an impressive, eclectic path.
The Queen Mary ocean liner docked in its permanent home in Long Beach, Calif.

In the early 1970s, she volunteered her talents during the restoration of the legendary Queen Mary ocean liner. "I was the project designer for the Queen Mary when it came into Long Beach," she said. "That was 1971 or 1972. The Queen Mary had phenomenal detail. Every inch of it was properly detailed and the craftsmanship was marvelous. Then they had the major artists of the day provide artwork for the ship. Marvelous bronze and paintings. A lot of it has disappeared. It should have been a sensation, but it's never taken off."
Tania worked on the Queen Mary for three years. After she left, the ship's ownership changed hands and the emphasis on detail and craftsmanship seemed to wither. "Unfortunately, that was when the Mary started to decline. They opened in a very short time with indoor/outdoor carpeting and deck chairs. People got sick … it was really a disaster."
In the late 1980s, after the Walt Disney Company purchased the Wrather Company so it could acquire the Disneyland Hotel, it also obtained Wrather's leasing rights to operate the Queen Mary, along with the dome which housed Howard Hughes' fabled Spruce Goose wooden airplane. At the time, Disney's acquisition of the Queen Mary lease was part of a wide-ranging project called DisneySea in Long Beach. On the drawing board was a nautical-themed park, hotels and docks for cruise ships, all centered around the Queen Mary exhibition. But the tepid response to the Queen Mary, as well as a number of unwieldy coastal regulatory agency standards, Disney decided to drop the project. The ship's lease wasn't renewed by Disney and the City of Long Branch took over. Hughes' Spruce Goose was moved to an aviation museum in Oregon.
Following her Queen Mary experience, Tania shifted gears and returned to a life-long passion of hers: Roses.
"My mother was an avid gardener and I was fortunate enough that part of my life during the war [World War II] was spent in Scotland, where they had one of the greatest gardens. It was also near the castle where Robert Adams had designed one of his famous round rooms. That particular suite was given to General Eisenhower as a gift for his efforts during the war.
These days, "I have a beautiful garden in my back yard and its 90 percent roses"
Tania has become so well-known among the Los Angeles-area rose community that she's had a rose named after her: The Tania Norris. She's also the founder of the Beverly Hills Rose Society.
In recent years, Tania combined her love of roses with her appreciation of fine art into a stunning collection of books dealing with botanical art. Her collection resulted in one of the most generous gifts ever received by the Getty Research Institute in Los Angeles.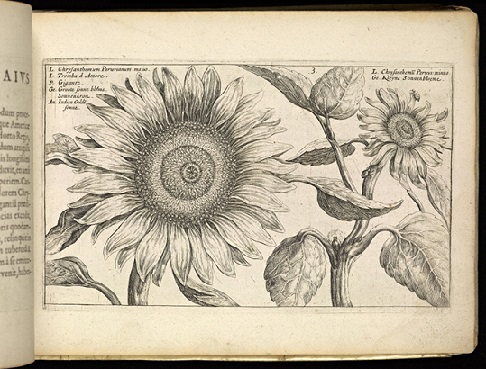 Crispin van de Passe's "Hortus floridus" is featured in a collection of botanical books donated to the Getty Research Institute by Tania Norris. [The Getty Research Institute, Tania Norris Collection]

When she started her collection, "I didn't know anything about botanical art. It's very meticulous. Everything has to be botanically correct, and it's very tedious." At that point, she said, "I realized that I liked the history rather than the actual painting, so I started to collect books from the 1600s to the middle of the 1800s of what I called 'botanicals,' because I fell in love with the wood cut and the etchings and the designs in the books. I couldn't read them, because they are in Latin and High German and French, very few in English. I was buying them like they were comic books … very expensive comic books!
"I also bought some very good paintings and I happened to mention my collection to someone at the Getty Research Institute one day and she said she'd love to see them. So she brought the curator of prints from the institute with her and he was looking at the paintings and I said I have a few books under my dining room table that you might want to look at. So he started to look at them and I could see his eyes getting larger and larger. He was trying to play it cool. The next thing I knew, a curator of rare books came by and, the long and short of it, he asked if I would donate my collection to the Getty."
She did … and the Tania Norris Collection of Botanical Books and Renaissance Woodblocks has since become one of the most sought-after research materials available to art lovers and historians alike.
"What is wonderful about the Getty is that anyone in the world can Google a book and see it on-line. They can also reproduce parts of a book for free, as long as you give them credit for it. To me, it's one of the greatest things. I sort of kept track of it one day and over a third of my books were being viewed around the world. Quite a number of them have been used in various demonstrations. It's something that I am so deeply thrilled about because I had no idea that just because I loved them that this would be something of value to them.
"I've also have given them about 1,200 other books which are to do with antiques and interior design, which was my library when I was working at WED," she said. "Then I just started, about three months ago, an endowment at the Huntington Art Collection and Botanical Garden Library so that can be continued to be taught and researched over the years. It's something that's very dear to my heart and will continue."
Much like Herbie Ryman, Tania Norris not only understands to importance of art, but also how vital it is to pass on one's talents and influence on future generations. And in that sense, Tania's life has come full circle.