In honor of International Coastal Cleanup Day, SeaWorld Orlando is hosting a nearby beach cleanup for annual pass members on Saturday, Sept. 16. Sign-ups are taking place now, and there are a finite number of spots.
For years, SeaWorld has organized beach cleanups in Florida and California, and pass members are invited to join team members at some of these community events. This one, like the one my family attended last year, will take place from 9 to 11 a.m. at Cocoa Beach.
To participate, log into the pass member website and sign up there. Each pass member will need to be registered separately, and each also can bring a guest. I'd suggest doing this as soon as possible because spots fill up quickly, based on our experience.
Once you're registered, you will be sent an email confirmation with directions and a safety waiver you are asked to print, sign and bring to the event.
When you arrive, you will sign in and complete additional waivers to allow SeaWorld to photograph and video participating pass members. You will be given a SeaWorld Cares T-shirt and asked to wear it for the event. The shirts last year were soft with an understated design — a nice souvenir after they served their purpose at the cleanup.
We also were provided with gloves, trash bags, hand sanitizer, bug spray and an ocean trash data form from the Ocean Conservancy. We were asked to keep track of the types of trash we collected on the beach. According to the form, we were most likely to find cigarette butts, food wrappers, plastic and foam take out containers, plastic and metal bottle caps, plastic lids, straws and utensils. Sure enough, my family alone picked up more than 100 cigarette butts.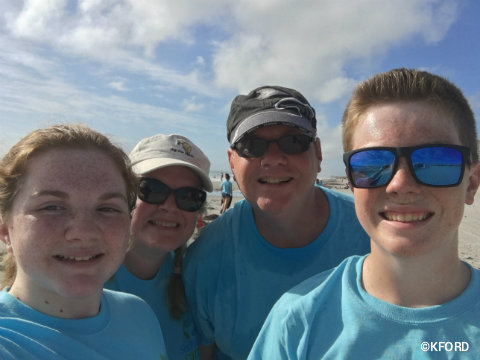 Our large group of SeaWorld pass members and team members fanned out in both directions on the beach and worked steadily for about two hours. During that time, we were given bottles of water and encouraged to take breaks as needed because it was a humid, hot 88 degrees that day.
At the end of our shift, we stacked our bags of trash on the beach and gathered for a group photo. We were told at that time that we would each be given a complimentary print of the group photo, which we could pick up during our next visit to SeaWorld. Another nice surprise!
Also, know that SeaWorld team members are happy to sign forms for students who are earning community service hours. My daughter, who loves dolphins and is interested in a career in marine biology, is in the process of doing this, so these beach cleanups are a way for her to be involved with the environment she enjoys and appreciates.
My family and I had a positive experience volunteering with SeaWorld Orlando and would encourage pass members of all ages to give the beach cleanups a try. Volunteering gave us an opportunity to see another side of SeaWorld's conservation efforts and how small things can make a big difference to the sea life around us.