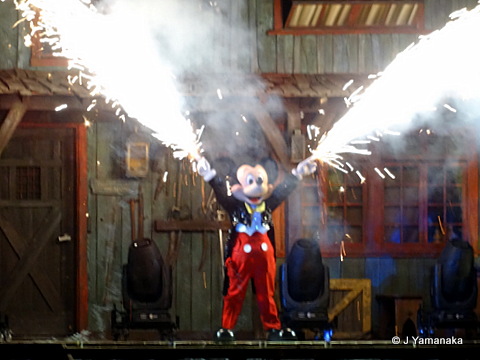 Fantasmic! is back at Disneyland. It was a lengthy absence due to Star Wars: Galaxy's Edge construction (so nice to finally have a real name for that project!) which required re-routing the Rivers of America and closing all of the water-related attractions, as well as the Disneyland Railroad.
Jeanine saw the premiere of the new version of Fantasmic! on Monday, July 17. You can read about the changes and see a full video of the show in
her blog.
Access to the viewing areas for Fantasmic! that are right along the Rivers of America requires a Fastpass, though there are standby viewing areas on the upper tiers available on a first come, first serve, basis. Fastpasses are available to anyone at no charge (note that you can NOT use the MaxPass feature to book Fastpasses for Fantasmic! or World of Color). The Fastpass kiosks are next to the Mark Twain dock along the Rivers of America. These still deliver a paper Fastpass that must be presented for access to the Fastpass viewing areas. The area to return to will be identified on the ticket, e.g. Mark Twain Dock.
For those who wish a premium viewing experience, there are several dining packages available at various price points. These packages include access to what are arguably the best viewing areas for the show. Both Blue Bayou and River Belle Terrace offer a three-course prix fixe menu. They share the premium viewing area: in the center, in the first tier along the water. Blue Bayou is $65 for adults and $25 for kids 3-9. River Belle Terrace is $45/$25. River Belle offers a premium option: for an additional $15 guests can dine at 8:00 and watch the 9:00 show from their tables at the restaurant. This option can only be booked by calling Disneyland Dining.
Hungry Bear Restaurant offers an on-the-go option. Meals are packaged in a box and include a bottled beverage. Guests can choose to dine at the Hungry Bear's seating area or take the meal with them. A ticket for the preferred viewing area will be provided at time of pickup and payment – at this writing it is to the left of the premium viewing area. The price is $29.99 for adults and 19.99 for kids 3-9.
Blue Bayou Fantasmic! Menu
River Belle Terrace Fantasmic! Menu
Hungry Bear Restaurant Fantasmic! Menu
Lee and I tried the River Belle Terrace package on Friday night. We did not opt for the premium option. While it would be nice to have an actual chair to sit in for the show, the viewing from River Belle is somewhat obstructed, and not nearly as close as being right by the water.
When I made the reservation on-line at Disneyland.com I was automatically assigned to the first show – which was what I wanted. Reservations can be made starting at 4:00 p.m., our time was 5:10. We arrive at the restaurant about 15 minutes early, but they were able to seat us right away. The hostess verified that we were there for the package and for the 9:00 Fantasmic! show. She gave us a choice of inside or outside seating – we chose to sit outside in the shade. It's really quite lovely being outside in the shade on a warm summer evening! Much quieter than sitting inside.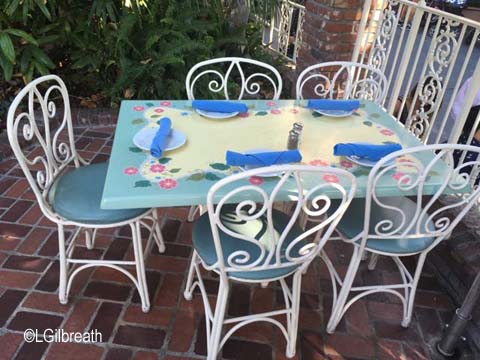 Our meal was a modified version of the regular River Belle Terrace menu. Soft drink was included. As a starter we had a choice of the House Salad or Corn Chowder. I had the salad, which normally is served with Gorgonzola, but I requested that be left off. It had arugula, shredded apple, dried cranberries and candied pecans. It was a generous serving, and I enjoyed it.
Lee tried the Corn Chowder. Lots of kernels of fresh corn in it. He said it was very good, and that the peppers on top were a garnish and there weren't more in the soup. (I don't like peppers.)
Most of the entrees from the regular menu were available to us. I ordered the Oven-Roasted BBQ Half Chicken. It came with baked beans and my choice of another side: seasoned tater tots, potato salad, green beans or tangy coleslaw. I asked our server if "tangy" meant the coleslaw had peppers, but she didn't know, so I went with the tater tots. The chicken was nicely cooked, though it needed more BBQ sauce, which our server brought out as a side. The tater tots were lightly seasoned – they could have been hotter. My favorite part was the baked beans – there were black beans mixed in with them, as well as bacon. Lee thought they were a little too sweet, but I like them that way.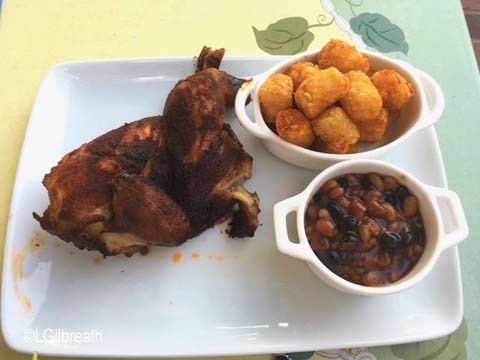 Lee tried the Pork Spareribs. I thought the dish was nicely presented. The ribs were very tender and easily came off the bone. I didn't care for the spice rub on them, but Lee enjoyed them. He ordered the potato salad as a side. Neither of us liked it – the potatoes were a little firm, and there was something in the dressing that gave it a slightly reddish tint and an odd flavor.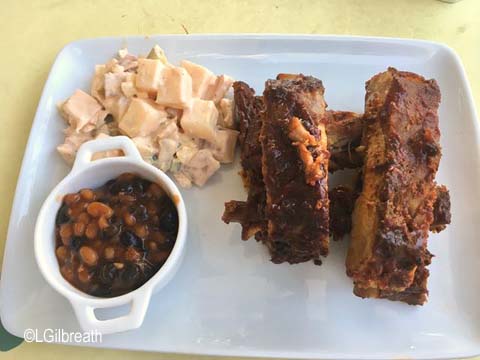 For dessert I ordered the Maleficent Dragon. That dessert was the reason I'd chosen River Belle Terrace instead of Blue Bayou. 🙂 Crunchy milk chocolate base with caramel mousse and a spiced dark chocolate-blackberry ganache center. The "flame" sauce was orange-vanilla. It was very good, and surprisingly complex for a mass-produced theme park location.
The ganache in the middle WAS spicy – but we didn't taste it immediately, it was pretty late on the palate. A little too spicy for me, though I still really enjoyed the dessert.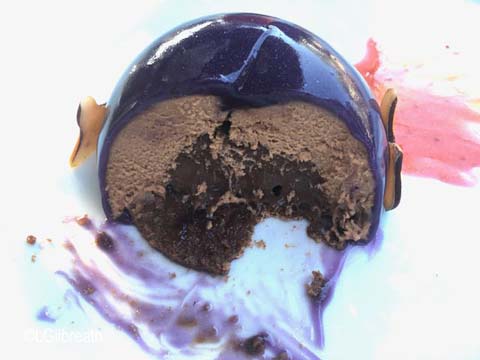 I had fun playing with the white chocolate pieces. 🙂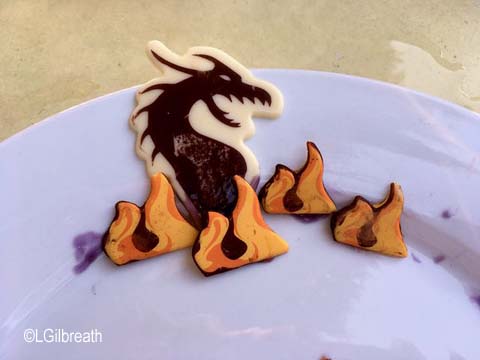 Lee chose the Strawberry Shortcake. It was good but not exceptional…he liked my dessert better – he finished off my ganache. 🙂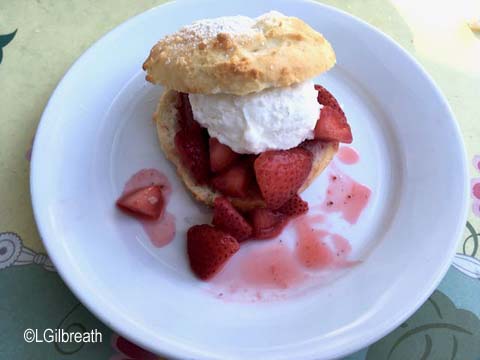 The service was good, except it seemed like they were in a hurry to get us out of there. They brought our entrees just a few minutes after our appetizers – we were no where close to finished with them. Our server was going to bring the desserts soon after clearing the entree plates, but we asked for a few minutes to digest first. So that ended up being the right amount of time between courses.
Our server brought us our Fantasmic! tickets when we paid for the meal. The viewing area opens an hour ahead of the show; she recommended getting there at least 30 minutes in advance.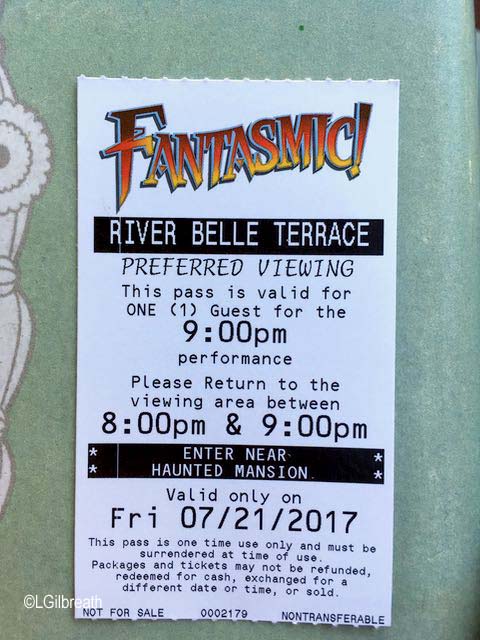 We received a 15% annual passholder discount on the meal, but with tax and tip it was still about $100 for the two of us. Given what a three course meal, plus beverage, would have cost us on the regular menu, we only paid about $5 for the Fantasmic! ticket. Now, on a normal evening would we have dined at River Belle Terrace? No, but we did it to get the premium viewing of Fantasmic!
We went back to the Rivers of America area about 8:30. It was pretty crowded, though there was still a fair bit of standby area available – Jason was able to get a good spot at almost center stage at 8:30. Our server had told us there would be a sign near Haunted Mansion telling us where to go, but we didn't see any signs at all. We asked a cast member in the area and she directed us – the entrance was down near the water close to the Harbour Galley.
There were two entrances there: one for "regular" Fastpasses, and one for those with Premium viewing. Our Fastpasses were checked several times as we made our way along the river before we were directed into a viewing area near center stage. I was surprised to see that people who had the Blue Bayou package (identifiable because they were given seat cushions as part of their package) were sitting in the same section with us. It seems like they don't distinguish between Blue Bayou and River Belle in the preferred viewing areas.
Everyone had to sit on the ground in the preferred viewing area, with the exception of some people in ECVs who were allowed to sit on their vehicles at the back. A few people had been smart enough to bring blankets, and of course the Blue Bayou guests had their cushions. We were quite envious. 🙂
The show…Wow. The projection system was updated and the projections on the mist screens were so much clearer, brighter, and more vibrant than they have been in the past.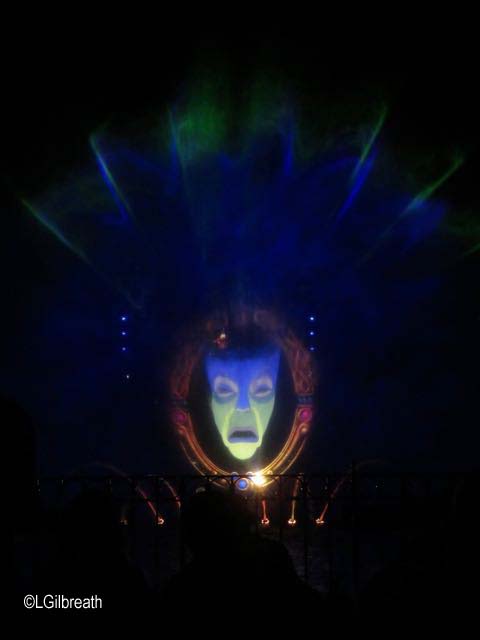 In addition, the stage area on Tom Sawyer Island was digitally mapped. Projections are used to great effect to add depth and interest to the background area.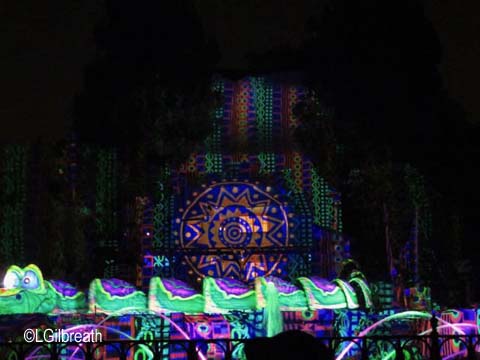 The fountains were also upgraded – it seemed to me like they featured more movement and color, a la World of Color.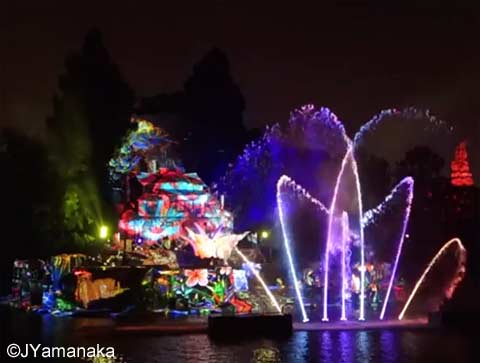 This is a new version of Fantasmic!, and as you would expect, there are some new elements to the show – which means the removal of some older elements. The most controversial, I think, was the decision to remove Captain Hook and Peter Pan from the Sailing Ship Columbia and feature Jack Sparrow instead. I missed the charm of the Peter Pan version, though there is non-stop action and some fairly impressive stunts in the new one.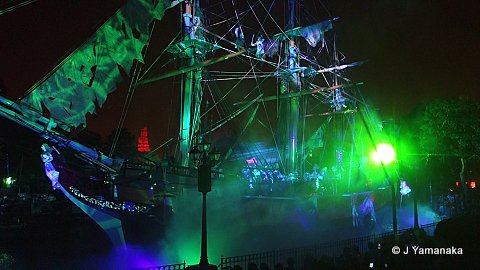 There are a number of new animated scenes featuring characters from "The Lion King", "Finding Nemo", and "The Little Mermaid".
The movie "Aladdin" is featured prominently: Mickey interacts with a mist screen Genie to "Friend Like Me", and Aladdin and Jasmine float on their flying carpet to "Whole New World". I was a little disappointed in that scene: early press releases had described them as floating over a bed of fog, but there was little fog to be seen, and in fact we could see the support of the carpet.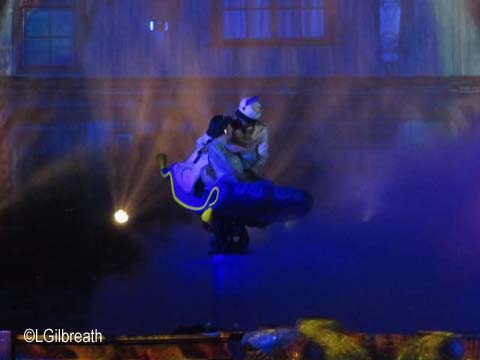 Flynn Rider and Rapunzel replace Snow White and her prince in the princess sequence. I thought the background of the island with the lantern projections worked very well there. Though that's not exactly new – it seems like every current Disney show has that particular scene and song from Tangled.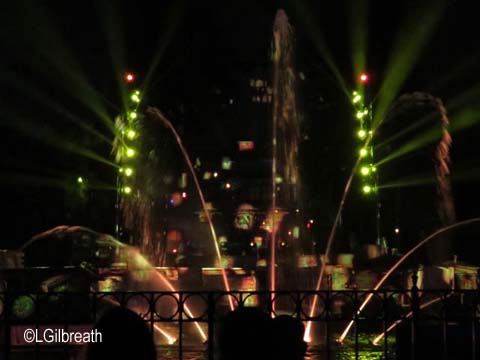 Other than the Magic Mirror, the animation of the villains sequence looked basically the same – a little shorter. The quality of of the projections seemed noticeably inferior to me compared to the newer segments. I was surprised that they weren't upgraded. Nice to see the huge dragon back – though now it's Sorcerer Mickey that battles her rather than Brave Little Tailor Mickey.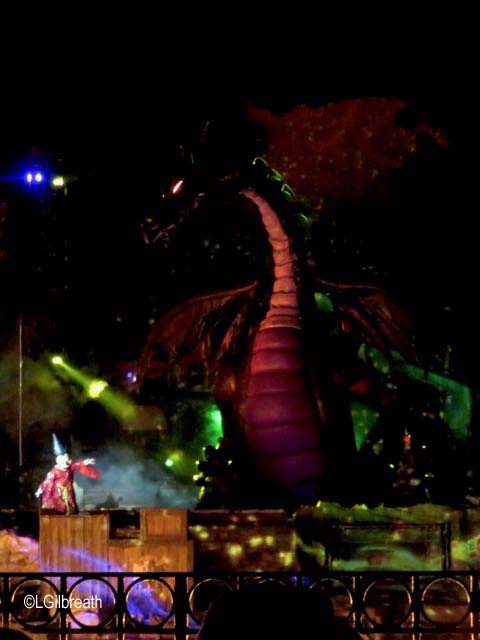 Mickey is quite a bit more present in the new show as a live figure on stage, though he also appears in animation.
I really liked the new show. Overall it looks so much better than it did before. Since it's so much brighter I hope it will be easier to view even for those guests who don't have the prime viewing spot that we did.
Since we saw the early 9:00 show, we were able to stay in the viewing area to watch the Remember, Dreams Come True fireworks show. Disney added projections on the Rivers of America mist screens for the 60th anniversary Disneyland Forever fireworks, and there are projections for the Remember show, also.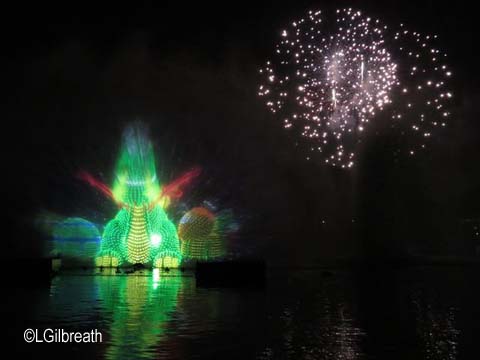 Different than what we would see on the castle if we were on Main Street, though much clearer and more visible than they are on the castle.
If you want a guaranteed good viewing location for Fantasmic!, then I think reserving one of the dining packages is an excellent option. Choosing River Belle Terrace and Blue Bayou will give you equally good viewing, so I think it's a matter of the price and which menu you prefer. The Hungry Bear viewing area will not be quite as good, but still better than you're likely to get with a regular Fastpass ticket, and that dinner package is certainly cheaper than the other two. But there's less food included with the Hungry Bear option, so in some ways it's a lesser value.