Roaring Fork at Wilderness Lodge has long been one of my family's favorite quick-service restaurants at Walt Disney World — so much so that, as locals, we have been known to drive to the resort just so I can have the popular Wilderness Salad for dinner.
For the last few months I have gone through a withdrawal while the restaurant was being renovated. It reopened last week, ahead of schedule, and in time for the official opening of the Copper Creek Villas and other additions to the hotel. So, my family went to check it out over the weekend.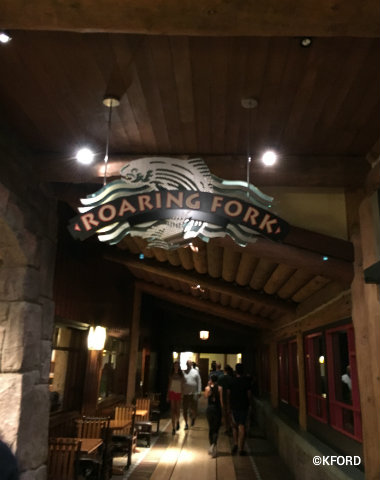 Those familiar with Roaring Fork will not be walking into an unfamiliar setting when they visit the renovated space. There are some changes to the set-up, though, that are definite improvements. I have to say, however, that the lunch/dinner menu was a disappointment for our family who dined there specifically for favorite dishes. More casual visitors without such expectations are likely to find Roaring Fork perfectly acceptable.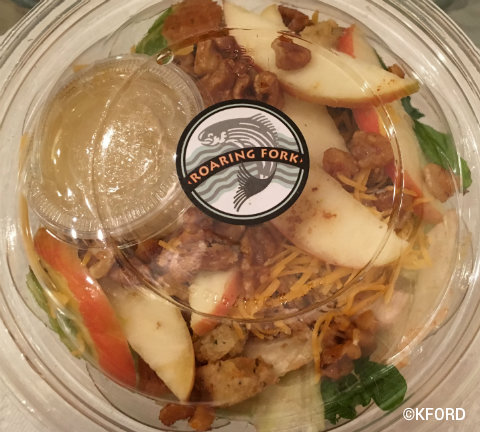 Most of the changes at this restaurant center around streamlining operations into more of a grab-and-go location. In fact, that is exactly what happened to my favorite Wilderness Salad — it's still available as a pre-packaged item in one of the expansive new coolers. Unfortunately, the salad just does not have the same flavors as when it is prepared fresh in front of each guest. Among other things, it's difficult to keep nuts and croutons from becoming mushy in a refrigerator.
My husband has always enjoyed the Roast Beef with Blue Cheese Sandwich, which was a hearty meal. The sandwich had a generous amount of roast beef and crumbled blue cheese in between focaccia bread. It was served with house-made chips or cucumber salad. That, too, has been relegated to the cooler, and it's just not as appetizing as when it was freshly made. These two dishes were fan favorites, so I know we're not alone in our disappointment.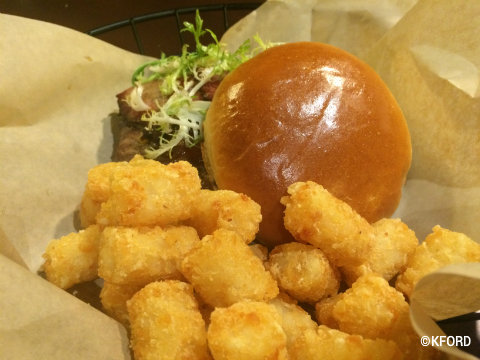 My husband and children decided to try sandwiches off the new hot menu. He chose the Brisket Cheeseburger, which has Tillamook cheddar cheese, cranberry barbecue sauce, cast iron onions, and apple frisee on sweet brioche. While my husband certainly found the burger acceptable, he said it just wasn't a sandwich he would drive out of his way to go have.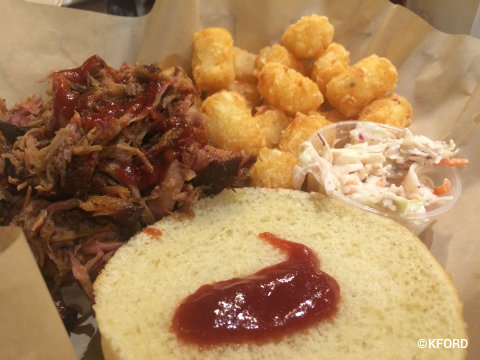 My kids both sampled the 10-Hour Smoked Pulled Pork Sandwich, which is served with chipotle-apple barbecue sauce and creamy slaw on sweet brioche. Tater tots take the place of fries. My 12-year-old daughter said she really enjoyed her meal. On the other hand, my 14-year-old son who loves to try new barbeque recipes thought it was just average. (You can see the complete new Roaring Fork menus on AllEars.Net, including breakfast offerings.)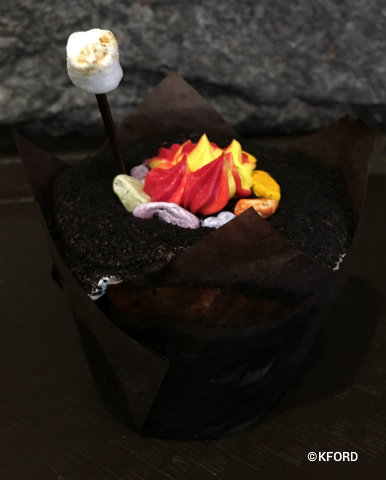 What they did love, however, was dessert. When the manager realized my family's food was taking a while to prepare, he offered each of us a dessert or pastry "compliments of Mickey." Honestly, we did not think the service was especially slow, and we had not said anything about it. But, of course, we appreciated the gesture. I chose what has to be the cutest new cupcake on all of Disney property: the Campfire Cupcake. Everyone else in my family tried cookies and brownies.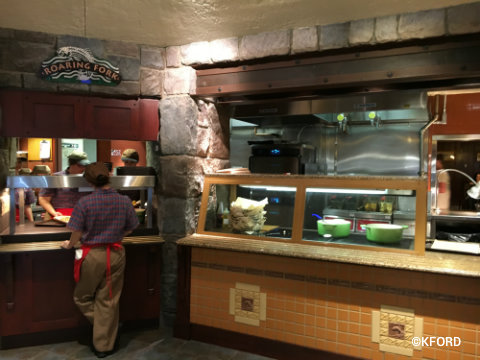 Certainly, service is something Walt Disney World is well-known for, and the new design of Roaring Fork minimizes wait times for hungry and busy guests. They no longer have to go to a separate counter to order food before paying. Instead, guests gather any pre-packaged items, drinks or desserts and head to the cash register. There, a cast member also takes orders for hot foods, which are then brought to the guest's table when they are ready.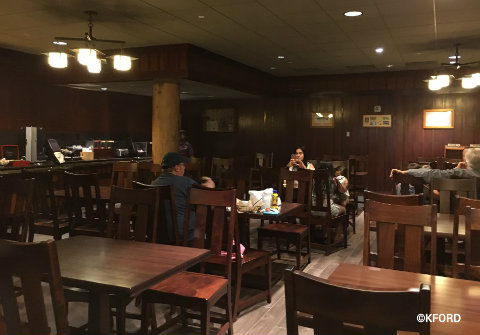 When it comes to seating, guests will find both the indoor and outdoor spaces renovated with new furniture. Outdoor seating has been expanded and features a covering so guests are protected from the sun. Inside, the condiment bar no longer offers fresh toppings, such as lettuce, tomatoes, pickles and onions. But the soda machine has moved from the room where you order to the room where tables are. That, in my opinion, is a big improvement not just for this Diet Coke-loving mom but also for the greater good of cutting down on traffic congestion.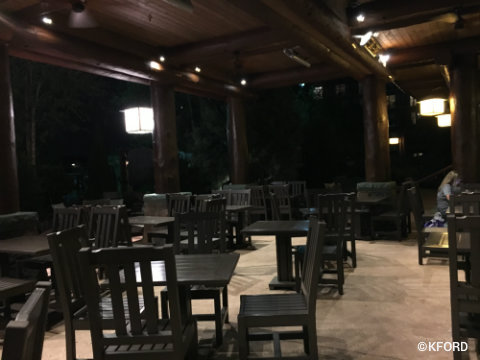 Overall, Roaring Fork's renovations have given guests a more streamlined dining experience. Unfortunately, those improvements mean that fewer foods are made to order and are, instead, available in coolers. Depending on your schedule, that could work in your favor. But I know I won't be making the drive to Walt Disney World just to dine at Roaring Fork, as I have done in the past.