When I come across a reference to Ranger Rick, the National Wildlife Federation's ambassador, fond memories of my tween years come rushing back when I had the plush version of the raccoon and a subscription to the magazine. Now, he is turning 50 and is appealing to a new generation with initiatives to save the monarch butterfly.
The Federation has a longstanding commitment to bringing back America's monarch butterfly population, which has declined by 90 percent in the past 20 years. It supports the nationwide Mayors' Monarch Pledge, which has so far recruited 300 cities, counties, and towns in the monarch flyway to create more habitat and educate their residents. It also supported the designation of Interstate 35 as a monarch highway.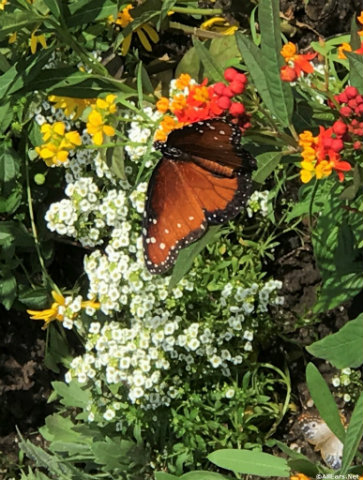 The Disney Conservation Fund is supporting the federation's focus on protecting the monarch butterfly and pollinator populations with the 2017 Butterfly Heroes campaign. Now in its third year, Butterfly Heroes provides kids and families with the inspiration and tools to work together, to enjoy nature, and to make a difference starting in their own backyards. The campaign equips those who pledge to plant and maintain a regionally-specific garden that provides food sources and habitats for monarchs, other butterflies and pollinators.
Plus, those who pledge to be a Butterfly Hero can be entered in a sweepstakes to win a trip to Walt Disney World to see monarch butterflies in action at the 2018 Epcot International Flower & Garden Festival. All pledged participants who share photos of their Butterfly Heroes planting and outdoor activity by September 30, 2017, will be entered.
Anyone who uploads a photo of himself or herself making the American Sign Language hand symbol of a butterfly by June 1, 2017, will be entered into a contest to receive a Ranger Rick Garden Habitat Fun Pack and $500.00 gift card. The fun pack includes the Ranger Rick Amazing Butterflies book (Rowman & Littlefield, 2016) and a new Ranger Rick CD featuring "The Monarch Song" from the award-winning children's band, The WhizPops.
"At our core, the National Wildlife Federation is dedicated to fostering a deep appreciation and passion for wildlife and our incredible outdoor world," said Collin O'Mara, President and CEO of the National Wildlife Federation, in a press release. "We believe that immersion leads to action – and that by introducing hundreds of thousands of American children to the monarch butterfly's mind-blowing metamorphosis we will inspire a generation of conservationists to act."