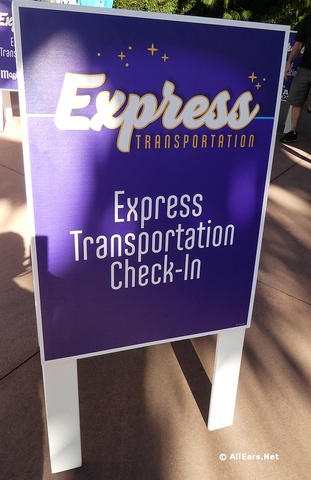 When I first heard about Walt Disney World's new Express Transportation service a few months ago, I was a bit skeptical.
Sure, it sounded good on paper — travel from theme park to theme park, bypassing main park entrance check-ins and long waits for standard bus transportation, or having to drive and park yourself — but would people really be willing to PAY for this service?
I finally had the chance to try it out myself and I have to admit I'm a skeptic no more.
When the service was first launched earlier this year, it cost $15 for a single day, or $24 for up to seven consecutive days. One sign that the service has caught on and that people ARE willing to pay? The price has already jumped in just a few short months, to $19/$29 respectively.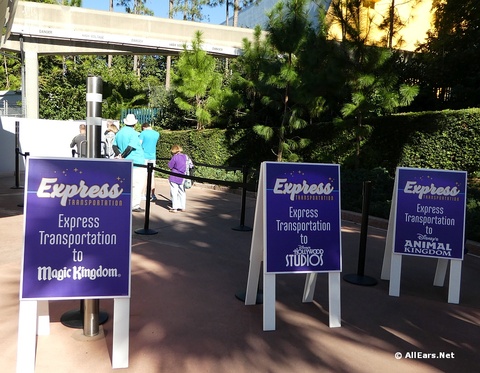 So here's how it works:
You can purchase this service at Guest Relations or at the actual Express Transportation check-in area in each of the parks. To be eligible to purchase, though, you must have a valid WDW ticket that has the Park Hopper option. This includes Annual Passes. Note that there are no discounts for children ages 3-9, but children under 3 are free.
Once you've paid up, the option is added to your My Disney Experience account, so that all cast members need to do is scan your MagicBand or RF card before you board.
You check in for the bus service at one of the four Express Transportation locations. As of this writing they are:
— In Magic Kingdom: near the exit of Buzz Lightyear's Space Ranger Spin in Tomorrowland
— In Epcot: on the east side of Spaceship Earth (actually on your left as you're coming in from the park's main entrance)
— In Disney's Hollywood Studios: in what they call "Coaster Courtyard," which is behind the Rock 'n' Roller Coaster, near the Sunset Showcase
— In Disney's Animal Kingdom: along the side of the Dawa Bar in Africa (the path that leads down to Festival of the Lion King) NOTE: On the flyer, the location is given as in front of Kilimanjaro Safari, but it had moved to the Dawa Bar location as of my visit last week.
When you check in, tell the cast member which park you are hopping to, and they'll let you know when the next departure is. Each park has its own bus, and they run about every 30 minutes.
A few minutes before departure, a cast member will usher you backstage (remember, no photos allowed in backstage areas!) and you will board the WDW bus to your next park. I had thought perhaps it would be a mini-van or smaller shuttle bus, but nope, it's a regular, full-size bus. On one trip, there were only four other passengers besides me; on another there were eight of us in total.
The bus takes you to your destination and you are greeted by another cast member who guides you through the backstage area and out into the park. No waiting for a bus or the tram to the parking lot, or wandering around looking for your car in the simmering Orlando heat. No driving to and from theme parks. And best of all you completely bypass security bag-checks and long lines at the turnstiles.
What a timesaver! Especially during peak seasons, like this past week with its spring break crowds! My trip from the Studios to Epcot took 17 minutes, from the time I boarded until the time I was walking under Spaceship Earth. I was lucky that I didn't have long to wait for a bus, but even the next day when I was traveling from Animal Kingdom, I only had to wait about 10 minutes before the next bus to Epcot. I felt that it saved me a lot of time and trouble — plus I had a few minutes to snack on a Mickey pretzel while I waited.
The Express Transportation service starts at 10 a.m. and is supposed to run until the parks close. One of the days I was using it however, I saw this sign, noting that the service ended at 8 p.m. that evening. Be sure to check the closing time if you're planning to use it to shuttle between the parks later at night.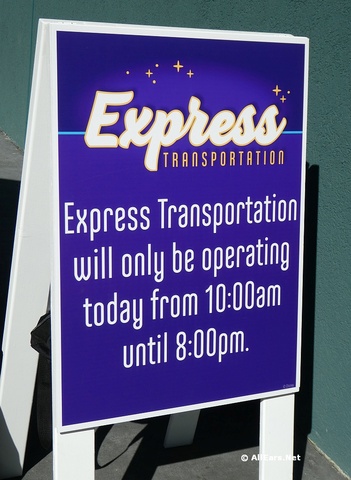 All things considered, I think Express Transportation is a fabulous idea, and I will definitely use the service again when I'm planning a day of multi-park hopping. I think the price is a little steep for families though, since there are no discounts for children — $76 for one day for a family of four, or $116 for a week? Ouch. On the other hand, if you have room in your budget, it does save you time and hassle, and with a couple little ones in tow, that might make the difference between a pleasant day and… well, an unpleasant one.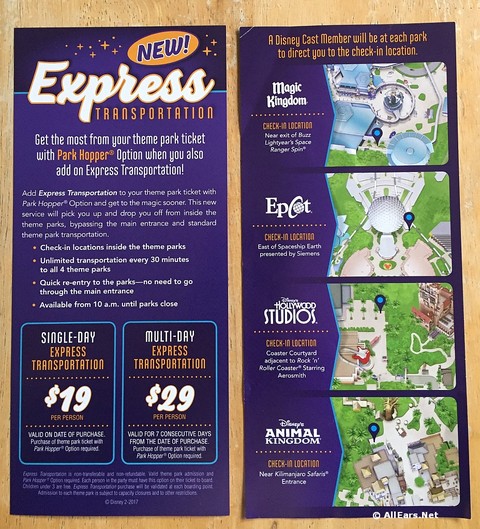 Have you tried this new service? Do you think it's worth the money? Let us know in the comments below!