Adult coloring books have been incredibly popular for a while now, and Disney has been in on the trend with its "Art of Coloring" books that are billed to "inspire creativity and relaxation." Now, the company is making its coloring books even more accessible through a new app, Color by Disney.
Color by Disney offers hundreds of coloring pages featuring beloved Disney and Pixar characters — and it's being marketed to adults as a way to relieve stress. Disney touts the app as having these features:
** Hours of Disney Magic: Experience the joy of capturing the most memorable Disney and Pixar moments through a world of color.
** Infinite Creative Expression: Hundreds of design and character combinations ranging from modern classics like "Frozen" and "Moana" to iconic films like "The Lion King" and "The Little Mermaid" to Pixar favorites like "Brave" and "Monsters, Inc."
** Film-Inspired Effects: Add a dash of pixie dust with an extensive collection of classic film-inspired color palettes, special gradients and fun filters, including glitter and watercolors.
** Share Options: Connect the app to social media networks to showcase and share magical masterpieces.
** Instant Access: Color by Disney is an always-on service providing hours of engagement for users taking a break from their daily grinds.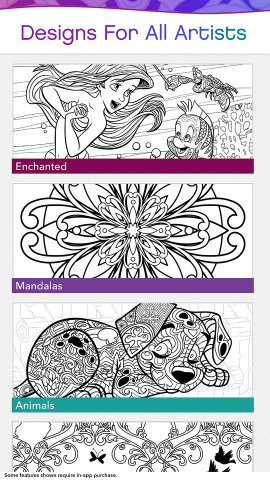 Color by Disney is available for iOS and Android mobile devices as a subscription-based app. The app is free to download and then the coloring pages are added each week as part of a subscription. Three packages are available: one week all-access for $2.99; one month all-access for $7.99; or a year all-access for $39.99. But users can experience Color by Disney for free with a seven-day trial.
Color by Disney is available for download now on the Apple App Store, Google Play Store and Windows App Store.
Disney is just one popular subject for adult coloring enthusiasts. There are online and real-life groups dedicated to every niche you can think of — from animal lovers to popular television shows. And with good reason, it would seem.
A story in The Washington Post pointed out: "Coloring books work like other mindfulness techniques such as yoga and meditation, says Craig Sawchuk, a clinical psychologist at the Mayo Clinic in Rochester, Minn. Such approaches work 'almost like a volume knob to turn down the sympathetic nervous system, the stress response.' Coloring can help slow down heart rate and respiration, loosen muscles and stimulate the brain, he says."
So, break out that tablet or smart phone and start relaxing!