Yesterday, I told you about two of the entertaining and informative beverage seminars at the Walt Disney World Swan and Dolphin's Food & Wine Classic. Today, I'm describing the main attraction: the food and beverage stations lining the outdoor causeway and the specialty areas.
For those not familiar with the event, the Food & Wine Classic is two evenings of sampling appetizer-size portions of food, wine and beer in an outdoor atmosphere with live entertainment. Each night has a different menu at the 12 food stations that represent restaurants and chefs that are part of the resort. Over the last seven years, the event has grown to also include two specialty areas: Carnival Corner and Chinatown.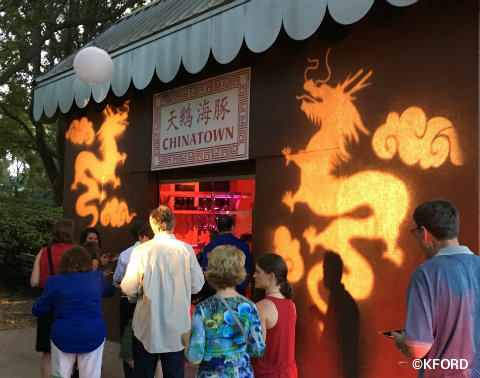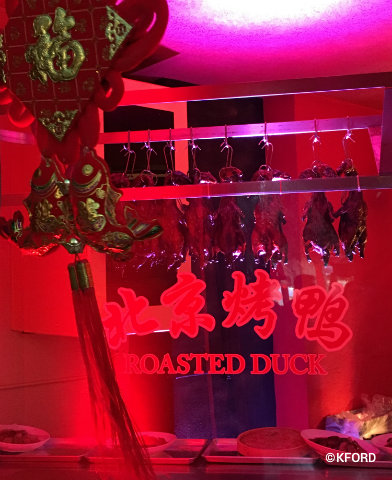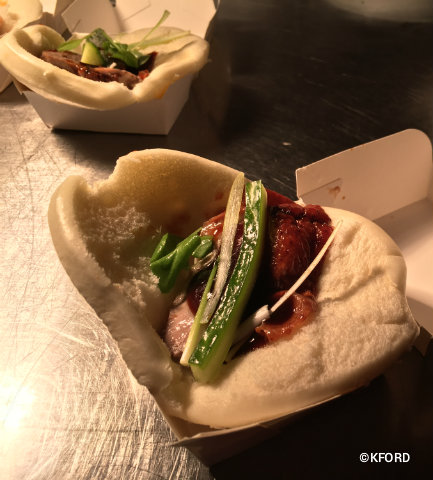 This year was the first year for Chinatown, which was located at the far end of the walkway between the beach and the main pool for the Dolphin. From the feedback we heard — and our own tastings — we found the new area to be quite successful. Guests entered through a pagoda-style arch, and the area was decorated with a Chinese sculpture, red lighting in the landscape, projections on the food kiosk and even Bruce Lee movies playing silently on a building facade. Patrons could sample the Shanghai Dumpling, a pan roasted duck dumpling in spicy sauce, and a portion of crispy duck served on a steamed bun with cucumber hoisin. Both were outstanding. The dishes were paired with the Happy Buddha and Tsingtao beers.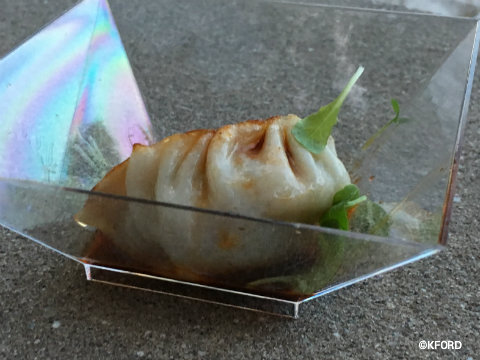 Nearby, the Carnival Corner returned with food trucks serving the same specialty items as they did at their debut last year: Texas-Style Corn Dogs, Funnel Cakes, Nitro Kettle Corn, Cabot Creamery Mac & Cheese, and Wines. We had sampled each of the dishes last year, and we were happy to go back for our favorites this year. Three carnival-style games had been added to this area, one included in the cost of a wristband and the others charging a nominal fee, and each offered prizes, such as a bottle of wine ot a can of the resort's own beer, Phins & Feathers Pale Ale. This area seemed to attract the younger crowd and was busy throughout the night.
Out on the causeway, popular food stations included those of celebrity chef Todd English, Kimonos, Cib's Smoke Shop, Shula's Steakhouse and Il Mulino. Lines appeared long at times — especially at the start of the event at 5:30 p.m. — but we've learned over the years that they ebb and flow. There's no need to stand in a long line. If you do choose to wait, though, know that the lines move quickly, and people seem to be enjoying the time chatting.
Here are some of the dishes we sampled this year: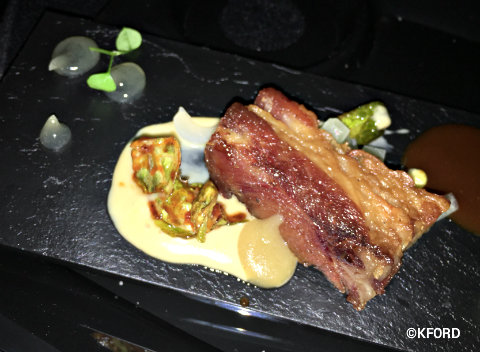 Cib's Smokehouse: Hand-crafted Bacon with Sweet Corn Puree, Fried Brussel Sprouts and Compressed Heirloom Apple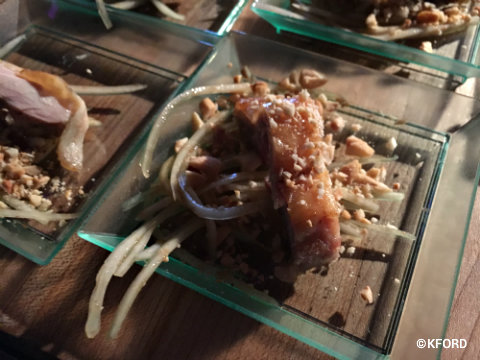 Fresh: Thai Chicken Salad — Organic Greens, Green Papaya and Tamarind-Ginger Dressing
BlueZoo: Shrimp Cocktail Steamroller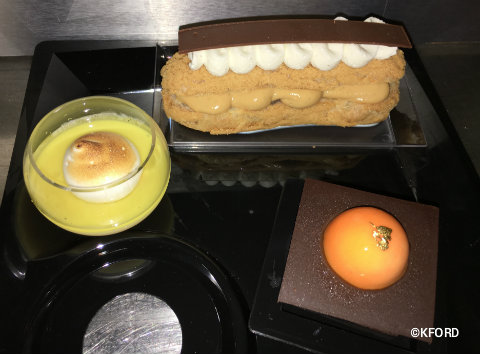 Chef Laurent Branlard's Desserts: Caramel Sea Salt Éclair with Vanilla Whipped Cream and Comfit Ginger Pears; Lemon Meringue Cup with Lemon Gelee and Frangipan; and Chocolate Fondant with Orange Pate de Fruit Milk, Chocolate Cremeux and Orange Cream. Plus, a Chocolate cake and Vinalla Sundae with Caramelized Banana, Peanuts and Whipped Cream.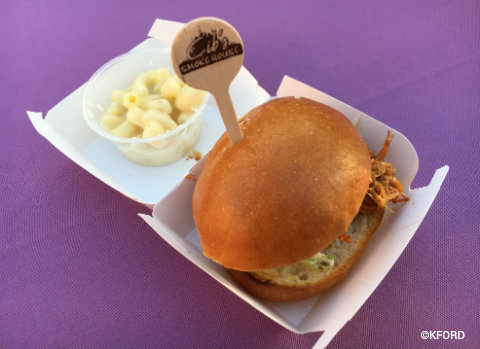 Fountain: Southern Pulled Pork, Apple Fennel Slaw, Smoked Tomato BBQ Sauce and Pullman Bun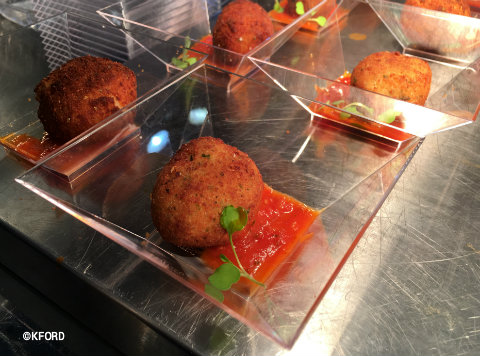 Il Mulino: Arancini — Braised Osso Buco, Carnaroli Risoto, Sauce Fra Diavolo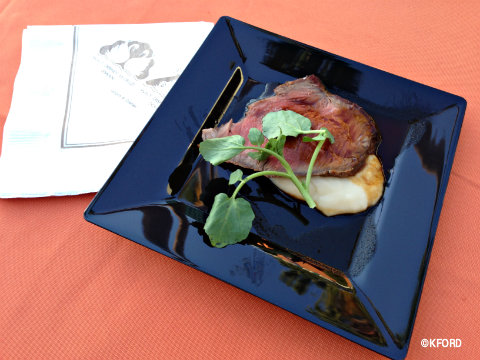 Shula's Steakhouse: Salt Roasted Prime New York Strip, Roasted Garlic Mashed Potatoes, Sauce Bordelaise
As the name indicates, the Food & Wine Classic is also all about the beverages. In fact, there are 42 beverage stations along the causeway.
Deb Wills and Linda Eckwerth attended the event on Friday, and because they are more wine aficionados than me, I asked their thoughts about the offerings. Here's what they had to say:
"The causeway provides a great opportunity to taste new wines and learn more about what you like or may not like," Deb said. "One of my favorites, Justin winery, was back, and I enjoyed tasting their newest Cabernet. I found the St. Francis kiosk and it had been a while since I tasted those and enjoyed the old vines Zinfandel. I am learning more about Pinot Grigio and was happy to find a few on the causeway I could try."
Linda also found some old favorites and a new wine she liked.
"I enjoyed one of my favorite Chardonnays from Cambria. I learned that the Katharine brand will be elevated in cost and grapes. The current Katharine has been renamed to Benchbreak," she said. "I also found a new Chianti I liked: Rocca della Macie. The original wine I wanted to taste from St Francis had a long line, and there wasn't line at the Chianti table. I tried something new and I liked it."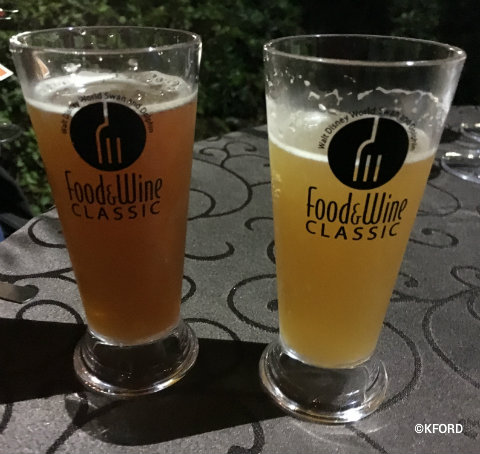 Guests who prefer beer to wine had plenty of beverage options, as well, on the causeway and especially if they chose to upgrade their Food & Wine Classic tickets to include the Beer Garden for an additional $25. The Beer Garden was located on the Crescent Terrace near the canal with a view of the nearby Boardwalk. The area, under a canopy of shade trees, was populated with various beer and food vendors. My husband enjoyed some familiar beers from brewers such as Sam Adams, Highland Brewing, Swamp Head, MIA Brewing and more. Along with the great-tasting beer offerings were warm pretzels and various mustards, and vendors offering German Style sausage and Wiener Schnitzel, too, for a perfect beer-pairing snack.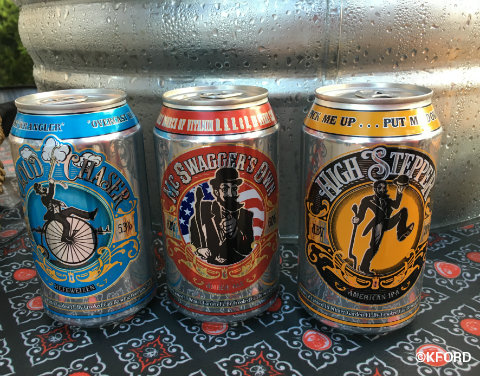 The offerings from Winter Garden-based Crooked Can Brewing Co. included the High Stepper American IPA, the McSwagger's Own amber ale and the Cloud Chaser, which is a Hefeweizen, or wheat, beer. My husband had the IPA and the amber and enjoyed both. He's an IPA fan but doesn't always enjoy the American-style variety as much as the real thing. Still, he had praise for it and the McSwagger's Own.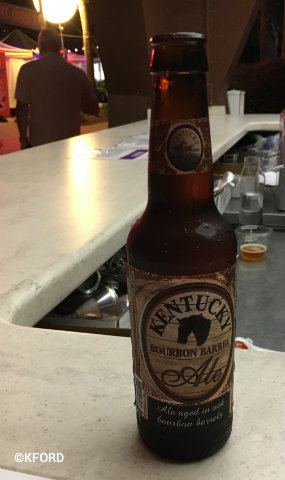 The beer he liked the most, though was the Kentucky Bourbon Barrel Ale that, like its name implies, is aged in bourbon barrels to give it a distinctive flavor. It was a good sipping beer for many of the dishes sampled at the event, my husband said. Plus, the full-flavored brew can stand alone on cooler days and nights, too.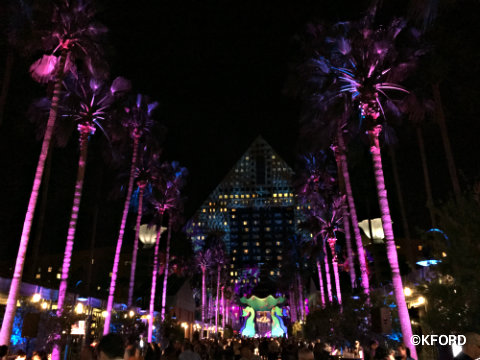 This was my fourth year covering the Food & Wine Classic for AllEars.Net, and it's an event I look forward to every year. It's a great value for your money with the event lasting for three and a half hours, and it does not feel rushed. If you haven't tried this event, I recommend putting it on your calendar for next year. It's a great date night! Official dates for 2017 have not yet been announced, but it typically is held the last weekend in October.
DISCLAMER: I was a guest of the Walt Disney World Swan and Dolphin at its Food & Wine Classic. This did not affect my review, and my opinions are my own.