About a month ago Carol and I joined a group of AllEars.net readers at Tomorrowland Terrace for a "Meet and Greet". I really enjoy this sort of get-together; any time Disney fans gather there's always plenty of friendly chatter about our similar experiences and I usually come away having learned something new about my happy place.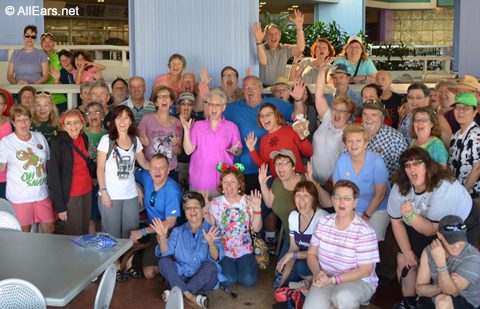 That particular Sunday morning I spent a few minutes chatting with a couple who read my blogs. I mentioned that I'm always on the lookout for new topics; was there anything they'd like me to write about? "Why yes," they replied, "How do you use the FastPass+ system? We've been here for three days and had three FastPasses each day. We have yet to use a single one of them."
I rolled that thought around in my mind for a second or two then replied, "I'm not really sure I can help with that. Carol and I seldom use all of ours either. We typically book three each day we are at a park, but we often only use one or two of them."
We spent a few minutes talking about the reasons why we didn't take advantage of the passes; as you might expect, our reasons were quite similar.
Let's take a look back at how the new FastPass+ system has changed our park experiences . . .
Remember those old paper FastPasses? They were introduced in 1999 and gave the holder a one hour reserved time slot for a ride. When they returned during that hour they could enter through an "express lane". FastPasses were only available for the most popular attractions at each park; the majority of rides or attractions did not have a FastPass line. The most avid guests would arrive at the park for "rope-drop" and as soon as the park opened they would hurry to the FastPass Distribution area for their first ride of the day.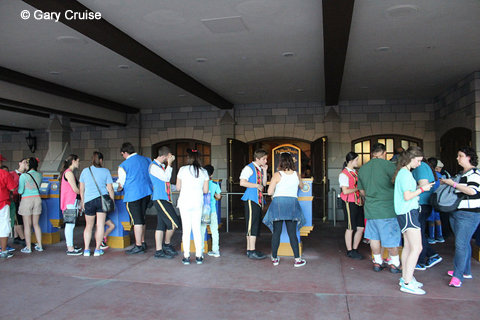 The voucher they received stipulated a time when they could pick up a second FastPass for a different attraction.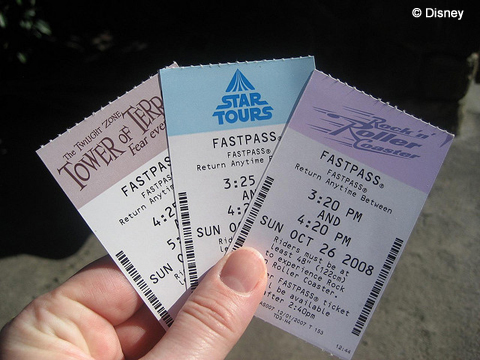 The system worked very well; guests would often pick up a FastPass then ride another non-FastPass attraction while they waited for their appointed time. It was a simple, but effective system that allowed guests who spent a few minutes planning to enjoy more rides in a short time.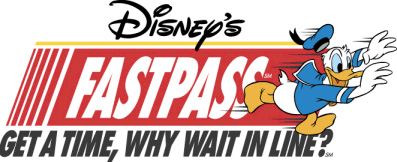 Then in 2013 Disney began rolling out the next generation . . . FastPass+ . . . at Walt Disney World. It has not been implemented at the other Disney theme parks yet.
It was all part of a huge project code-named "Next Generation Experience". The project had a billion dollar budget and included MagicBands, FastPass+, My Disney Experience, and PhotoPass Memory Maker, four technology advances we've probably all become familiar with during the past couple of years.
So how does FastPass+ work? Well, it's quite a bit different! There is now a FastPass+ line at virtually every attraction and the passes can be booked in advance. If you have pre-purchased your park ticket and are staying in a Disney resort you can book FastPass+ (3 per day) up to 60 days in advance using the online "My Disney Experience" system. If you have pre-purchased a park ticket or hold an Annual Pass you can use the same system to reserve FastPass+ (3 per day) up to 30 days in advance. There is even a mobile app available for smart phones and tablets which lets you manage and change your FastPass+ bookings.
Day guests, who purchase tickets the day of their visit can also book FastPass+ but they have to line up at one of the kiosks in the park to select their passes from whatever remains available.
Regardless of when or how you booked your three FastPass+, once they have been used, or expired, you can book additional passes (only one at a time) at an in-park kiosk.
So how has this impacted the guest experience?
There are some positive aspects, and there are also some negative ones; let's look at a few of the good things first!
Very Convenient, Very Easy:
"My Disney Experience" is a wonderful tool to help with your trip plan. All of your resort details, FastPass+ selections, dining reservations, etc. appear in one location. It's easy to use and accessible from your desktop computer, laptop, tablet or smart phone.
No need to rush:
You don't have to be there at rope-drop and scurry back to Pixar Place for that FastPass+ at Toy Story Midway Mania. Carol and I always feel pretty smug as we wander slowly through Hollywood Studios to use the FastPass+ which she booked 60 days prior . . . that's a very good benefit of the new system.
Fireworks and Parade viewing areas:
Special viewing areas have been set aside for guests who book FastPass+ to watch parades, fireworks and the nightly Capture The Magic show. These areas offer great views and are not nearly as crowded as surrounding areas. Another great advantage!
Unfortunately, there are some disadvantages as well.
Flexibility is restricted:
The new system forces you to commit to visiting a theme park 30 to 60 days in advance and restricts your ability to be spontaneous. For example, you have pre-booked FastPass+ for Animal Kingdom but when you wake up it's pouring rain. Before the new system you might have decided to go to EPCOT that day and visit Animal Kingdom later in your vacation. It's no longer that easy . . . it's really tough to let those FastPass+ go!
Park-Hopping is difficult:
All three FastPass+ must be booked at the same park. This restricts your ability to hop from one park to another. Yes, once your three passes have been used you can hop to another park and book another FastPass+ at a kiosk, but it's not nearly as easy as it used to be!
You can't always get what you want:
The day has finally arrived, it's 60 days before your vacation and you sit down to make your FastPass+ bookings for Hollywood Studios. Naturally you want Toy Story Midway Mania so you book it first. Then you move on to your second favourite and book the Twilight Zone Tower of Terror. For your last selection you would like Rock 'N Roller Coaster . . . but wait . . . it's not on the list. Why can't you see it? It's not available and you will not be able to book it because the attractions at Hollywood Studios and EPCOT have been "tiered" to ensure fairness. Guests can select one Tier 1 attraction and two Tier 2 attractions. Toy Story Midway Mania and Rock "N Roller Coaster are both Tier 1, so you cannot reserve them both. That's a big disadvantage! To see more detail about FastPass+ and Tiering read the AllEars page HERE.
Longer standby lines:
Imagine when you couldn't get Rock 'N Roller Coaster in that example above that you decided to go anyway and use the standby line. Wow — it was slow! Yes, the FastPass+ system seems to be putting more people than ever before into the FastPass line and this naturally slows down the standby lines. Even attractions that didn't have FastPass lines in the old days now have long and slow standby lines as people whisk past in the new FastPass+ line. Another reason it's difficult to be spontaneous!
Long FastPass+ lines:
Yes, the FastPass+ lines are sometimes long, very long. When we visited the parks in late October 2015 the FastPass+ line for Kilimanjaro Safaris was contained by a temporary system of posts and ropes. It stretched from the FastPass+ entrance all the way to the standby entrance. During the same trip the FastPass+ line for Toy Story stretched all the way back to One Man's Dream.
What about inexperienced visitors? Do cast members explain FastPass+ to day guests? It's difficult for me to imagine myself as a day guest, visiting Walt Disney World for the first time, but I suspect that if I were that day guest, I would be disappointed by what I found in the parks. Huge lines everywhere I looked and people hustling past, right beside me, in an express lane. I'm not at all sure I'd be back.
So how does the new system work for Carol and I? Well, I'd like to tell you it's fabulous. I'd like to tell you that it's the best thing ever . . . but that would be a very big exaggeration. If we were to boil our feelings about the system down to a single word, that word would be "meh".
We would be quite happy to return to the old system.
Carol really enjoys planning our Disney adventures and she takes full advantage of My Disney Experience. It's a good tool for planning and making reservations, but the new FastPass+ just isn't a perfect fit for us. We all too often find ourselves a bit frustrated that we have three attractions booked at EPCOT and yet the weather is perfect for a trip to Animal Kingdom. We could not accurately forecast the weather 60 days ago and there's just no room in the new system for the kind of spontaneity or improvisation we're used too!
Imagine this scene; Carol is booking our day at Hollywood Studios. She has a 9:30 FastPass+ at Toy Story Midway Mania and a 10:45 pass at Twilight Zone Tower of Terror. She asks my opinion, "For our third FastPass+, would you rather have Disney Junior at 11:40 or the Frozen Sing-Along at 12:15?" My reply is quick, "Neither"! So she leaves it at the two she has already booked and the program automatically assigns us a third pass at Indiana Jones Stunt Spectacular. We haven't watched that show since 2002 and I don't think we'll use that FastPass+ to see it this time. We very seldom use all three of our FastPass+.
So to that couple who asked how to use FastPass+ all I can say is, "We feel your pain and we share your frustration."
Yes, FastPass+ has some good points, but in our particular case they are slightly outweighed by the bad points.
How about you? Do you love FastPass+ or do you hate it?