Do you have a shelf that looks like this?
Is your travel bag filled with these?
When you work on a crossword or Sudoku puzzle do you have one of these in your hand?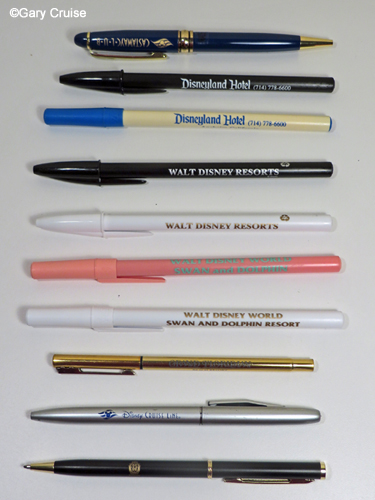 If you answered yes to those questions you are in good company. I think almost every Disney fan takes home a pen or two and some of those handy little packages of soap and bottles of shampoo and lotions each time they stay in a Disney resort.
They are so handy to have, just the right size to carry along when you travel and the lotions are perfect for the night table beside your bed at home. Since they all say "Disney" right there on the package they're collectibles as well!
Every day Mousekeeping drops off a fresh supply in your room and it accumulates much faster than you can possibly use it. The only logical solution is to take it home!
As you might expect, Carol has quite a varied collection. Let's look at a few items.
These days everything is generic, every resort has the same soaps and shampoos . . . but in days of yore it was different; and Carol has collected the proof!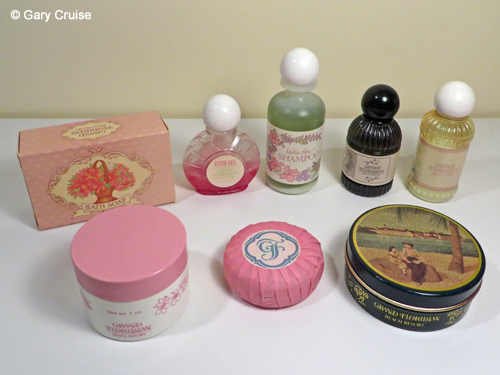 The Grand Floridian Resort used to have a complete line of specialty products to enhance the experience for guests. That green bottle in the back row is shampoo for the ladies; to its right is a dark bottle — that's shampoo for the men! The ladies and the gents apparently had to share conditioner; it's on the far right. The white jar in the front is facial cream and the green tin is a sewing kit. Alas, even the mighty Floridian uses the generic line these days!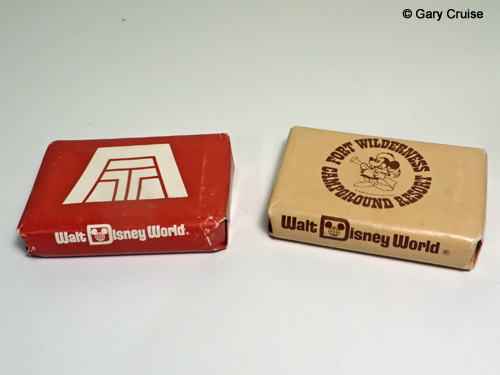 Here are a couple of soap bars from that same era, the Contemporary Resort and Fort Wilderness Resort and Campground.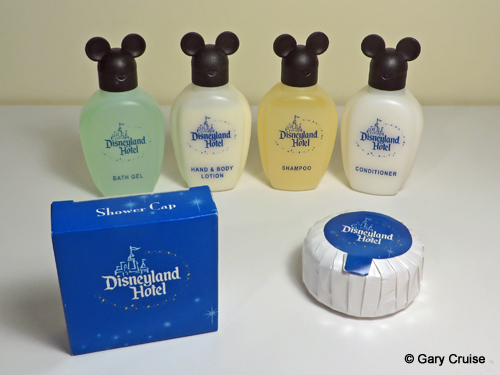 When we last stayed at the Disneyland Hotel in 2011 they still provided specially branded toiletry products, including a shower cap. That's something that's rarely seen these days!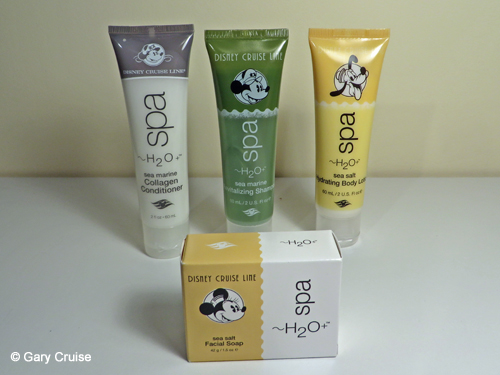 The Disney Cruise Line has a line of H2O Spa soaps and lotions; Carol likes the H2O products and always brings home every drop Mousekeeping leaves in the stateroom.
Now let's look at some of the generic soaps and lotions.
This group of products from several years ago included two different styles of bottled body lotion, facial soap that was wrapped and also boxed, and a handy little sewing kit.
Here's another old group of generic soaps.
And still more old soaps. The cellophane wrapper lets you see the Mickey embossed on the round bar.
It looks like H2O is now the exclusive supplier for Disney resorts; it's the only brand we've seen in the resorts during our recent trips.
Carol has pulled out all those unique "resort-specific" items in her collection and tucked them safely away in her Tickle Trunk. It would be a shame if they were used by accident; they're irreplaceable!

How about you?
Do you have a collection of old Disney soaps, shampoos, lotions and toiletries?
What's your favourite?