If you're the parent of a child who has experienced the kids or youth clubs on Disney Cruise Line ships, you probably know that the activities go well beyond simple crafts and movies. The young club-goers have their own extensive itineraries from which to choose, and the selections are so engaging that the kids often don't want to leave the clubs. But now, visitors to Walt Disney World won't have to set sail to experience the same award-winning programming.
Beginning Dec. 4, two of the resort's children's activity centers will offer activities similar to what is available on the four Disney ships. The Sandcastle Club at Disney's Beach Club and Lilo's Playhouse at Disney's Polynesian Village will introduce programming that includes cooking activities, adventures in science and character interactions for ages 3 to 12. (Children must be potty-trained to participate.) In addition there still will be toys, games, costumes for playing dress-up, crafts, dancing and storytelling.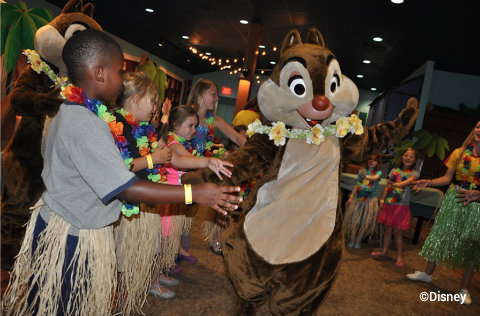 Perhaps what Disney Cruise Line's Oceaneer Clubs and Oceaneer Labs are best known for is their ability to immerse young passengers in the worlds of their favorite Disney characters. When I previewed the areas on the Disney Dream, I was amazed by the level of detail in Andy's Room (from Toy Story) and Monsters Academy (Monsters Inc.), Pixie Hollow (Tinker Bell) and the Explorer Pod (Finding Nemo). Just this month, the Dream debuted new Star Wars: Millennium Falcon and Disney Infinity sections of the Oceaneer Club, replacing Monsters Academy and Explorer Pod. (The Disney Magic has an Avengers Academy.) And the activities in these areas also allow the youngsters to feel as though they have stepped into the characters' lives.
Kids spending time in the Sandcastle Club and Lilo's Playhouse will have a visit from Captain Hook or Chip 'n' Dale each evening, a Disney publicist told me. The characters will participate in a specific program in the clubs rather than a general meet-and-greet.
The pricing has changed for the Sandcastle Club and Lilo's Playhouse. Instead of an hourly rate, these two clubs cost $55 per child from 4:30 p.m. to midnight. Your child can stay as little or long as you like, and it's the same rate. Dinner is included.
Walt Disney World's two other children's activity centers — Simba's Clubhouse at Animal Kingdom Lodge and Cub's Den at Wilderness Lodge — will continue with their current format, meaning the programming and pricing will stay the same. The cost is $15 per child per hour with a two-hour minimum. Simba's Clubhouse and Cub's Den also are open from 4:30 p.m. to midnight, and kids in the club from 6 to 8 p.m. are served a complimentary dinner of their choosing.
To make reservations, call 407-WDW-DINE.
The Walt Disney World Swan and Dolphin operates its own children's club, Camp Dolphin, with a few differences because of its Westin ownership. Camp Dolphin opens at 5:30 p.m. each day, an hour later than the Disney World clubs, but they all close when Cinderella's coach turns into a pumpkin. In addition, children must be ages 4 to 12 to participate in Camp Dolphin.
Dinner is included for children who are in Camp Dolphin from 7 to 8 p.m. Counselors take the kids to nearby Picabu (Peek-A-Boo) restaurant, where the meals they have pre-selected from a menu of traditional kid favorites, such as cheeseburgers, mac and cheese, chicken fingers and hot dogs, are served. Then, they are treated to ice cream from The Fountain ice cream shop.
At Camp Dolphin, the price is $10 per child per hour with no minimum. Plus, each adult who orders an entree at Shula's Steak House, Todd English's bluezoo or Il Mulino New York Trattoria in the hotel earns two complimentary hours for a child at Camp Dolphin. This offer also applies to an adult who purchases a spa service at Mandara Spa.
Reservations are required for Camp Dolphin. To book, call 407-934-4000 or go online to the hotel's website 72 hours in advance.