Saturday, typically the busiest day of any convention, started out as usual for me with a quick run around the Exhibitor's Floor to get a look at some of the booths and exhibits before all the panels of the day started.

The John Lasseter Hawaiian Shirt Exhibit showcased all the hawaiian shirts he's commissioned for the various Pixar films throughout the years.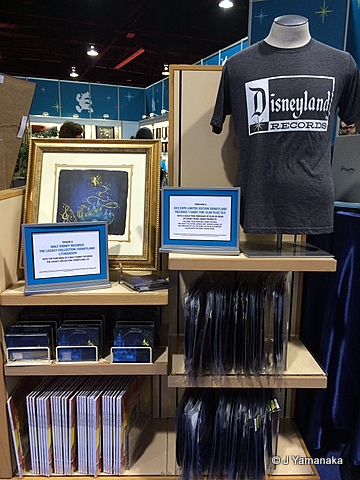 Over at the Disney Music Emporium, they were offering an Expo-exclusive shirt for $15 with a $50 music purchase.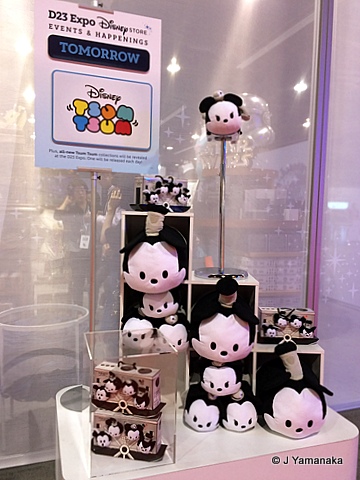 The Disney Store booth displayed the special merchandise of the day for the next day outside the entrance so you could plan accordingly.

The Walt Disney Studios booth had costumes on display from all the big films they were going to present at this day's Live Action panel.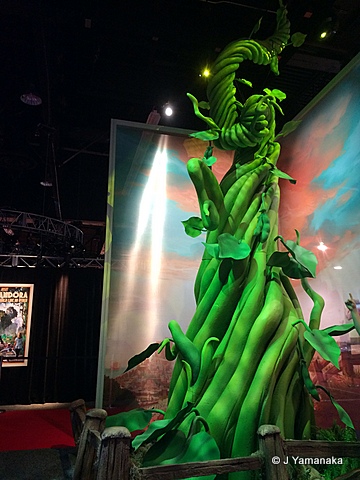 Overnight, a beanstalk had erupted from the Walt Disney Animation Studios area, celebrating the new film "Gigantic," which was announced in the Animation panel the day before.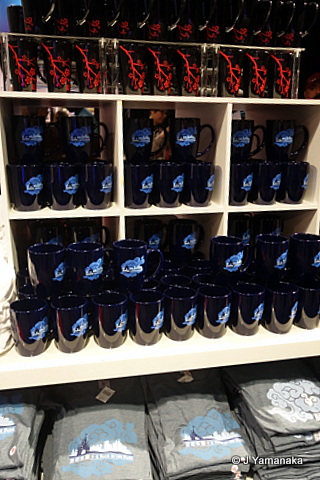 Finally made it into Mickey's of Glendale, which was on the same difficulty level as breaking into Fort Knox, and took in all the Shanghai Disneyland and other Imagineering-exclusive merchandise available.
On to the Walt Disney Studios Live Action presentation. I actually live-tweeted this one, so if, for some reason, you haven't already heard what transpired, you can see those tweets here
[All photos and video, unless otherwise attributed, are courtesy of Disney.]
The panel was also covered in more detail over on the AllEars News Blog, here.
Highlights from Marvel included the appearance of Chris Evans and Anthony Mackie to introduce "Captain America: Civil War:"
D23 – Saturday 8/15 – Live Action Falcon and Captain America Intros from Disney D23 on Vimeo.
A much more comfortable Johnny Depp returning to Hall D23 for The Walt Disney Studios and "Pirates of the Caribbean: Dead Men Tell No Tails" as Captain Jack Sparrow:
D23 – Saturday 8/15 – Johhny Depp as Jack Sparrow from Disney D23 on Vimeo.
And JJ Abrams with the cast of "Star Wars: The Force Awakens" being joined by Harrison Ford:
D23 – Saturday 8/15 – Star Wars The Force Awakens – JJ Abrams brings Harrison Ford onstage from Disney D23 on Vimeo.
D23 – Saturday 8/15 – Star Wars The Force Awakens – Harrison Ford from Disney D23 on Vimeo.
So then we thought it was done, but no! Then, in a bizarre twist, Iger came back and announced Star Wars Land! During the Studios panel, and some two-and-a-half hours before the Parks and Resorts panel! It was quite a surprise.
D23 – Saturday 8/15 – Star Wars The Force Awakens – Bob Iger announces Star Wars themed lands at Disney Parks from Disney D23 on Vimeo.
After the panel, guests were given posters of "Jungle Book," and a new Drew Struzan image for "Force Awakens."
In between the two big Hall D23 panels of the day were some outstanding smaller ones. "Welcome to Zootopia," featured a large group of the film's directors, writers, producer and production designer hosted by animator Darrin Butters.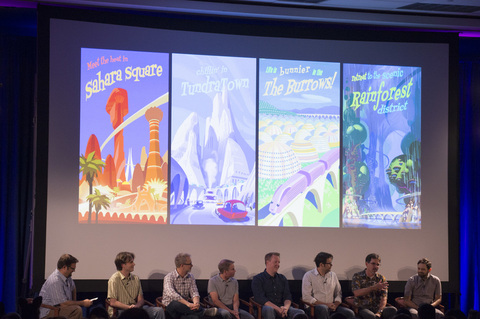 They gave some background into the research they did for the film, including a trip to Africa in both Animal Kingdom and the actual continent, and showed us some concept art and preview clips.
"Disney on Broadway: 'The Originals'" was a phenomenal concert featuring Ashley Brown, Broadway's original Mary Poppins, James Monroe Iglehart, Broadway's original Genie, and Josh Strickland, Broadway's original Tarzan.
D23 – Saturday 8/15 – The Originals Broadway Musicals Medley from Disney D23 on Vimeo.
At the end, it was announced that "Frozen" will be the next big Disney on Broadway production.
Next up was the big "Walt Disney Parks and Resorts" presentation, the announcements from which were posted up here
This was kind of an unusual panel, mostly because it started out with Walt Disney Parks and Resorts Chairman Bob Chapek coming out and delivering almost word-for-word, the exact same speech that Iger had just given in the Studios presentation (you would have remembered too, if you had just heard the deathless prose "…ever wondered what bantha fodder smells like? Or the taste of blue milk?")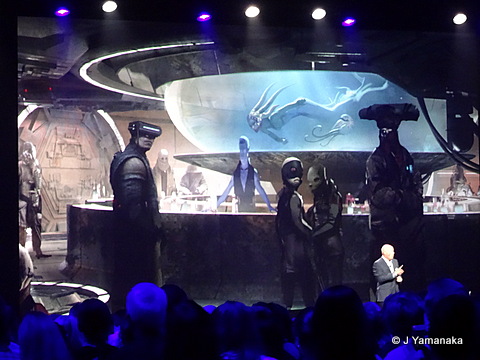 Most of the announcements were just expounding on topics long in the works, with the bulk of the content going to Imagineer Bob Weis presenting on Shanghai Disneyland.
Longstanding Imagineer Joe Rohde was joined by "Avatar" director and producer James Cameron and Jon Landau to give probably the most effective segment on "Pandora: World of Avatar."
The final bizarre note to the panel was a prolonged bit in the "Iron Man Experience" presentation where they kept teasing the appearance of Iron Man, and just when everyone was hoping Robert Downey Junior would show up, Stan Lee made an appearance! He declared himself the World's Greatest Cameo Actor, and showed us his clip roll from all the movies he'd been in! In the Parks and Resorts panel! It was quite a surprise.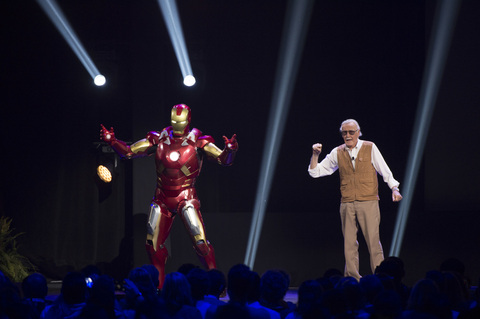 Then a cast member chorus did a very nice medley of songs from Disney nighttime spectaculars around the world to play us off.

Video by MouseSteps
The last panel I had for the day was "Once Upon a Time: An Evening with Snow White & the Evil Queen."

Video by MouseInfo
Hosted by Jeffrey Epstein, the erstwhile D23 Disney Geek, creators Edward Kitsis and Adam Horowitz were quizzed on what we might expect to see in the upcoming Season 5, from Camelot to the introduction of Amy Manson as Merida.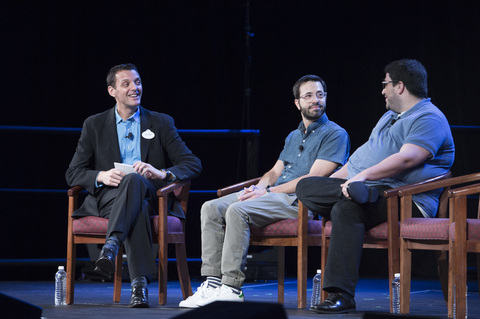 Actresses Ginnifer (Snow White) Goodwin and Lana (Evil Queen) Parilla then joined them for a rousing discussion on the long and sometimes troubled relationship between the step-relatives.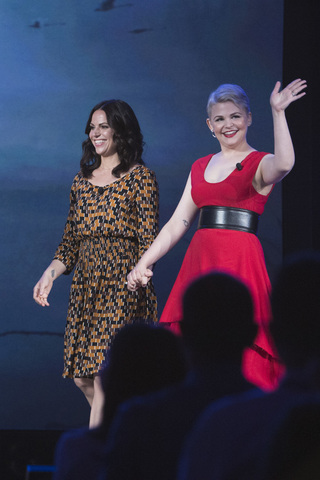 –Parilla's favorite line: "I shall destroy your happiness if it is the last thing I do."
–Snow's reaction to Dark Swan is to consider herself a failure as a mother, versus Regina's resentment at being in Emma's debt.
–Camelot exists in the same time frame as the Enchanted Forest. "Like Anaheim and LA. No time difference." "But a lot of traffic."
Eventually they decided to take a question from the audience, and the man in the Jango Fett helmet was none other than Josh (Prince Charming) Dallas!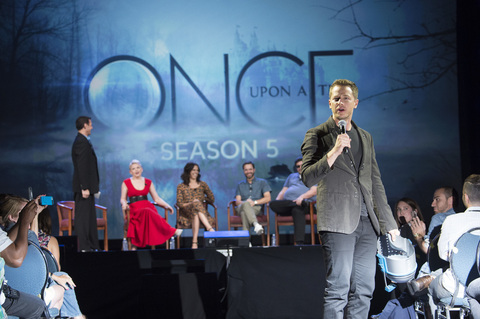 After hopping up on stage and getting a quick smooch and lipstick wipe-off from his real-life wife, Dallas took his share of questions.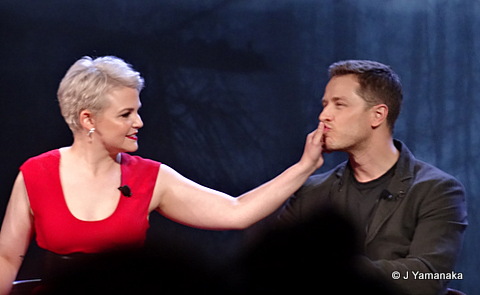 –"I had to ride a giant pickle once."
–"It was meant to be a dragon."
–"It was a dragon in post-production!"
–"It was Maleficent, to be honest."
–"I rode…Maleficent…"
–"D23 after dark."
–"Full-on bromance" between Prince Charming and King Arthur.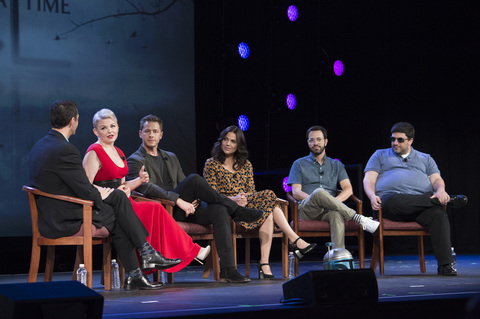 –Goodwin is a Charter Member of D23.
–None of the others seem like they've spent a huge amount of time with the Disney catalog.
–Overarching themes for the next season: Sometimes things aren't what they appear to be; and Love is a very dangerous weapon.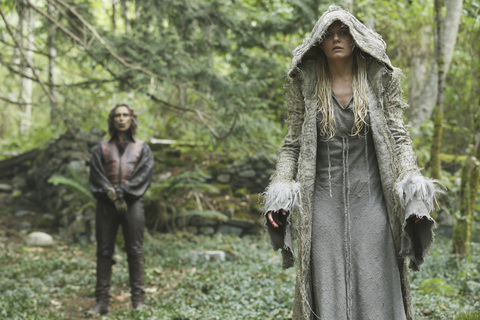 So that was it for the second day of Expo. Two midnights gone!

Thoughts on the day:
–The live action presentation was pretty strong, I thought, with some loss of momentum in the middle…but when you're sandwiched in between Marvel and Star Wars, there's only so much you can do.
–Marvel once again shows impressive finesse when it comes to these fan events, largely due to Kevin Feige's easy affability and obvious knowledge of his topic. Notably, he was the only presenter who didn't use the teleprompter at all.
–Probably the biggest surprise for me was how good "Jungle Book" looked, for a film that really didn't generate any blip on my radar at all, when it was announced. The cast is impressive, and Neel Sethi, who plays Mowgli, was utterly charming.
–The movie that came off the flattest for me overall was "Pete's Dragon." Maybe it's just an association with Bryce Dallas Howard, but it had the feel of a mashup between "Jurassic Park" and "The Village."
–I was trying to explain it to my Mom later, and was all "it's a live-action remake of 'Pete's Dragon'…wait a minute, it already was live-action!"
–Ah Harrison.
–"Zootopia" looks as cute as you'd expect a Disney animated feature about animals to be, with some pretty funny voice work by Jason Bateman and Ginnifer Goodwin.
–The Disney on Broadway concert was great and it is too bad it wasn't scheduled as a nighttime event like the Richard Sherman and Dick Van Dyke concerts have been in the past, because they probably could have easily filled Hall D23. As it was, it was impossible to see all of it if you also attended the Studios and the Parks presentations.
–Joe Rohde is one of the great presenters left at Imagineering, who really gives the impression of putting not just passion but brains into his projects. He always has an overriding vision that keeps his talks from degenerating into simple marketing spiels.
–Both Shanghai Disneyland and Pandora really looked great and exceeded the expectations I had developed from their earlier concept art.
–While the two new attractions planned for DHS' Toy Story Land will help differentiate it from the ones in Disneyland Paris and Hong Kong Disneyland, that's a lot of parks to have the same fairly uncomplicated land.
–Man, I cannot tell you how grateful I am that none of the panels I attended did Q&A. General Q&A is the worst. I have never seen a Q&A that wasn't pre-screened that didn't devolve down to "can I have a hug/kiss/autograph/selfie?"