So the sun shone brightly on the first day of D23 Expo 2015…A little too brightly, as a heatwave ensured temperatures hitting around 100 degrees every day of the weekend.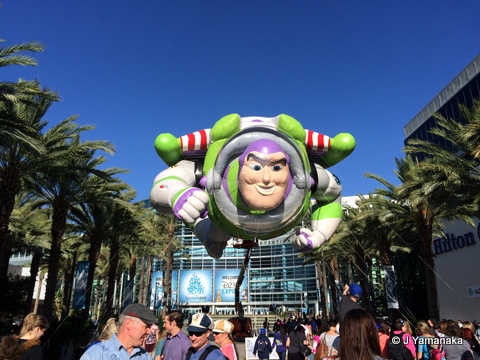 While attendees were able to escape the heat for the rest of the day once inside, lines to get in had people waiting out in the sun for longer than was probably magical–an hour more for those not Gold or Silver D23 members, who had to wait until 1000 to gain access to the Exhibitor's Floor.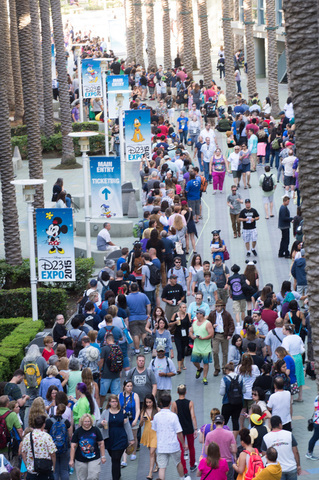 [Unless otherwise marked, all photos provided by Disney.]
Prior to opening, the Disney Store booth put on a little show each day to officially unlock itself for the day's commerce.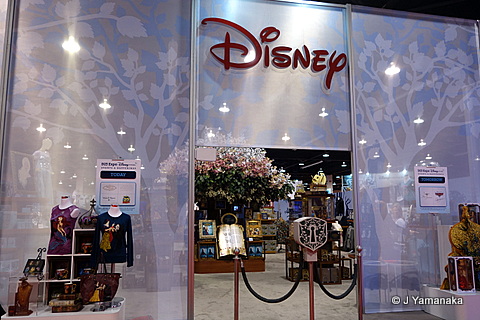 The booth featured a variety of merchandise, some of which changed daily, that was either not yet for general sale or was exclusive to the Expo. Lines, accordingly, were huge from before opening to after closing, typically ranging from 45 minutes to 2-3 hours.
(To be honest, if I had known at this point the kind of wait people were going to have to undergo the rest of the weekend to get into this booth, I'd have tried harder to fight the kid to open it.)
On the way over to the Disney Legends Award ceremony, I passed by the Pixar Studios booth where "Good Dinosaur" Director Pete Sohn and Producer Denise Ream were signing lithographs.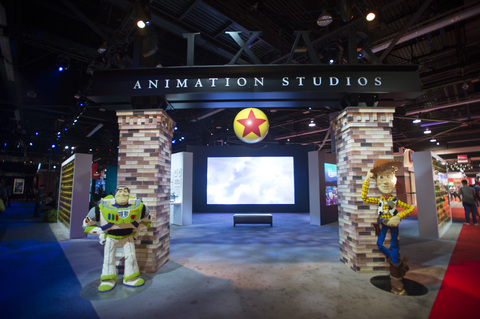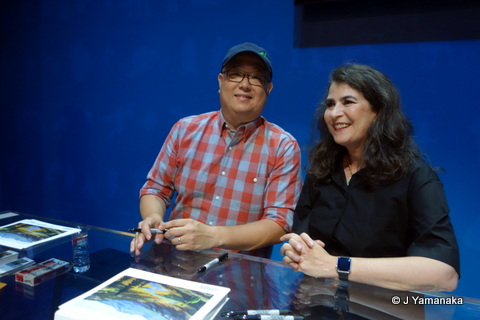 The Disney Legends Awards was held in the huge "Hall D23" which took the place of the Arena this Expo for the largest presentations. While the capacity was almost doubled, the visibility from the flat seating in the cavernous hall was not nearly as good as the tiered circular Arena seating.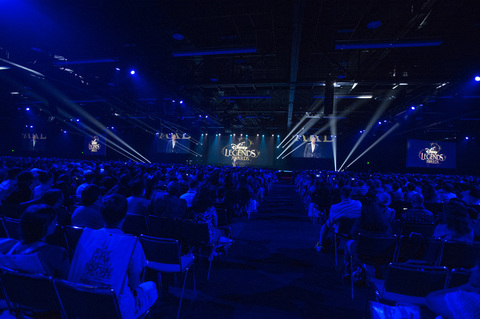 Bob Iger, Walt Disney Company CEO, hosted the Legends Awards, and started off by welcoming everyone to the D23 Expo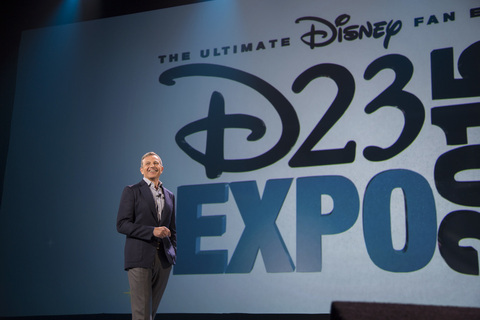 A number of Disney luminaries were honored, among them animator Andreas Deja,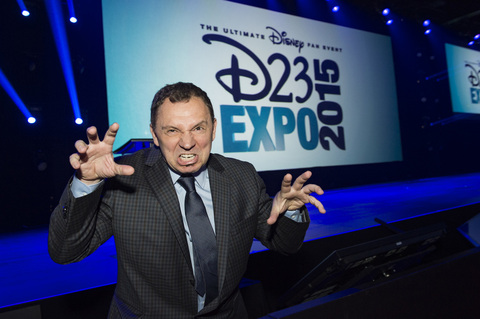 Original Disney Ambassador Julie Reihm Casaletto,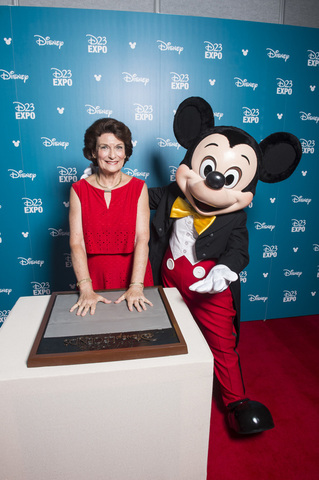 Filmmaker George Lucas,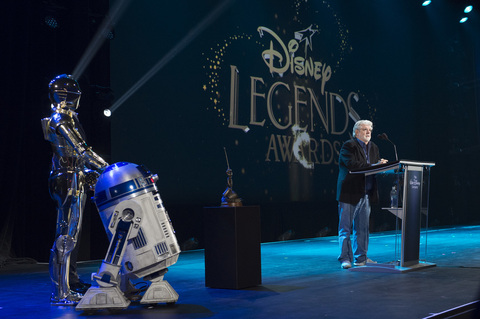 And surprise recipient Johnny Depp, who actually seemed as surprised as anyone to be there.
After the award ceremony, I was able to take a look around the Parks and Resorts booths, dedicated to the Pandora area being created for Animal Kingdom, and Shanghai Disneyland.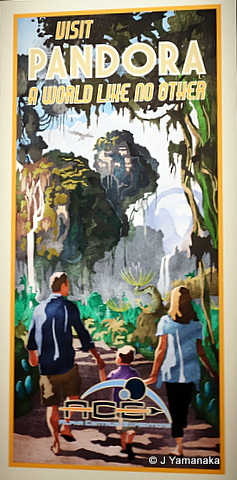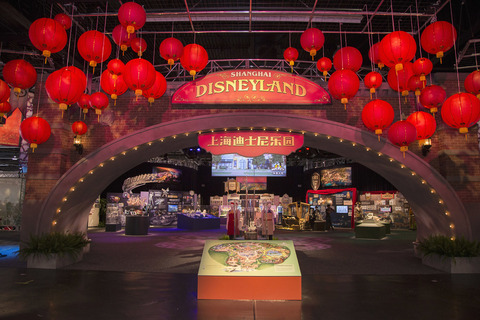 [Deb Koma already described these booths in her blog here.]
The Shanghai booth in particular was particularly well done, and presented a level of detail in the park's design that I hadn't seen before.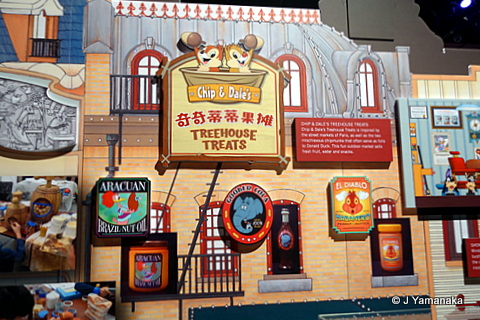 After exploring those areas, I was able to take a quick look around the floor at some of the smaller displays. The Tsum Tsum booth had a sneak peek at some of the vinyl Tsums that will be coming out, complete with stackable props.
Over at "An Animator's Gallery: Eric Goldberg," over 100 of his Hirschfeld-esque caricatures of various Disney characters were on display, including one he did particularly for the Expo.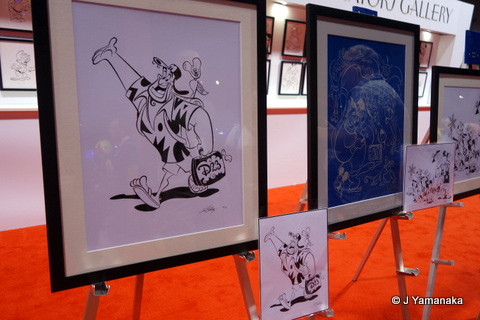 So at this point, I attempted to get into the big Pixar and Walt Disney Animation Studios panel, also in Hall D23. Attentive readers can probably foresee the difficulty here a lot sooner than I did, which is actually arguably a cardinal rule of con-going: If People Have Been Waiting Out All Night To Attend A Panel, You Should Probably Not Get In Line An Hour Before It Starts. To be fair, I found the line corrals, which were in the basement, confusing as it wasn't immediately obvious to me which lines were moving where, in what order, and what doors people were being taken out. Periodically the line would move, and I would just have to assume folks were going up some back way and not getting eaten like that Twilight Zone episode "To Serve Man."
As time went by, it was about 45 minutes after the presentation was supposed to have started that they finally called it and told everyone else in the standby queue (surprise! I was in the standby queue!) to leave. After I staggered back upstairs, I saw some people leaving the panel and went over to see if there was any open space…and was basically waved in. Sadly, the previews ran over by around an hour, causing me to have to leave early to attend another panel, but I did manage to see presentations on "Zootopia," "Gigantic," and "Moana." And The Rock!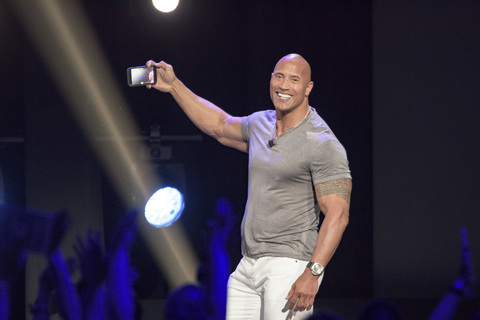 [More animation panel details: /blogs/dnews/2015/08/news_from_the_d23_expo_2015_an.html]
The last panel for the day was "Imagineering 60 Years of Disneyland"–a two-part discussion about Disneyland with both Legendary and current Imagineers. Moderated by filmmaker Leslie Iwerks, the guests included Marty Sklar, Orlando Ferrante, Richard M. Sherman, Kim Irvine, Tony Baxter, Charita Carter, Steve Davison, and Kevin Rafferty.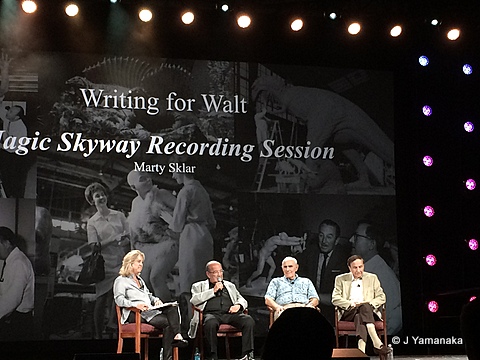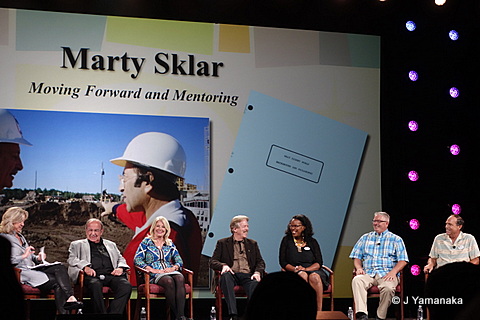 Although there wasn't really any new ground covered in the interviews, the Imagineers are all engaging speakers and clearly have an enormous amount of enthusiasm for their work at Disneyland and reverence for the original Imagineers that made it possible.
Here are the full video presentations courtesy of MouseSteps and Jeff Lange DVD
A strong ending to Friday, but the weekend had barely begun…
Thoughts on the day:
–The Disney Store booth, both this Expo and last Expo, is the only booth that I was never able to enter, except as a brief tour.
–Status matters: Gold and Silver D23 members were able to enter the floor at 0900, an hour ahead of general or non-members. During that hour, entire panels and autograph sessions were held that, while not strictly labeled as just for paid members, were clearly not accessible to others.
–Even panels that started at 1000 when everyone should have been able to enter were hard for general/non-members to attend, as they required people to be in a separate line from the general admittance line considerably earlier. This became more challenging as different panels starting at the same time had different lines and masses of people made distinguishing them difficult.
–I don't know if it's his incipient retirement or what, but Iger seemed way more at ease on stage than he has at almost any other time I've seen him, including his taped intro to the 2011 Expo, where he basically said "have a good time! I'm on vacation!"
–In general, for a big, popular event at a convention, getting in line 1-2 hours ahead of time is just the worst. Chances are excellent that you won't get in and will end up spending an uncomfortably long amount of time standing around in the Line of Futility. If you're unwilling to commit to the long haul wait, you're probably better off just showing up right before and seeing if, by some fluke, you can walk in. You'll have about the same chance of getting in (slim->none) but you won't have wasted a lot of time verifying it.
–At SDCC, a lot of the panels end on the quarter-hour, which gives people a chance to race over to a different panel starting on the hour. That would have been helpful at Expo, where I frequently had to leave a presentation early to ensure getting a seat at the next panel. Given that a lot of the events started late and ran over, this sometimes meant that I missed around half of the first panel, and then had to stand around waiting for the second one.