Disney really should make T-shirts proclaiming "I survived the D23 Expo!" much like its theme-park attraction T-shirts expressing a similar sentiment. However exhilarating you find the biennial opportunity to explore all the branches of The Walt Disney Company, there's no getting around the exhaustion that comes after three days of crowds, lines and excitement at the Anaheim Convention Center.
My family and I just returned from our first experience at the D23 Expo, and I have yet to unpack our suitcase of free goodies and things we purchased at the specialty shopping stores. But I can tell you we had fun collecting everything, seeing the larger-than-life displays, attending star-studded presentations and just taking it all in. Although I think we had a realistic idea of what to expect, we did learn some strategies during our weekend that could improve future visits.
First, let me say that I covered the D23 Expo as a member of the media for three days, which afforded me early entry to the Expo floor and reserved seating at the large-scale Disney Parks and Resorts presentation. My husband and two children bought their own tickets and attended with the general public for one day. For the most part, we experienced the Disney fan convention in the same way, and I spent part of their day — Saturday, which was sold out — with them.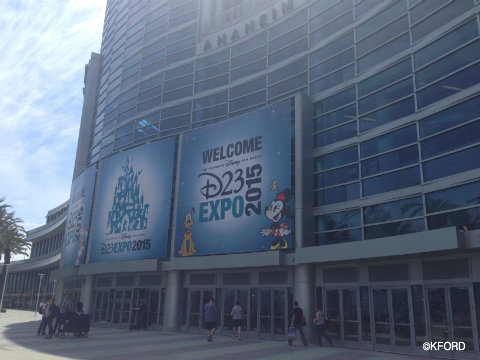 Unfortunately, the day did not get off to a good start for my husband and two children. The convention center opened to the general public at 10 a.m., so my family lined up at 9 a.m. It took them 90 minutes to get inside and out of the heat! Not only were the lines long, but they were disorganized, as well, with few cast members to direct guests or keep others from blatantly cutting in line. It was frustrating for them, to say the least, and probably my family's biggest complaint about the D23 Expo. My son was especially upset because he wanted to attend a small panel that began at 10 a.m., and he only managed to catch the second half.
Still, things improved once they all were inside the convention center. My husband and I used the divide-and-conquer method in order for our family to see and do as much as possible. I highly recommend this strategy if members of your family have differing priorities.
My almost 13-year-old son immediately joined me at the Imagineering panel with Disney legend Marty Sklar and four other Imagineers who contributed to his book, "One Little Spark." The panelists discussed their individual — and divergent — education and careers that led to them working as Imagineers, as well as how Sklar contributed to their time at The Walt Disney Company. Because my son is interested in possibly becoming an Imagineer one day, this was a valuable presentation for him. (I'll be dedicating another blog post just to that presentation for other readers who have children with aspirations in Imagineering.)
After the panel, he and I headed down to the expo floor to join the queue that had already formed with people who wanted the autographs of the five Imagineers on the panel. Even though we rushed downstairs and the signing didn't start until 30 minutes after the panel ended, the line already wrapped back and forth though the queue several times and it wasn't much longer before it was cut off. Then, I raced around trying to secure a copy of "One Little Spark" to have autographed. The Expo rules stated that autographing would only be allowed on merchandise purchased at the Expo, although we found out later that the policy was not enforced and many folks were willing to sign the free D23 Expo cards that were stacked on tables. In the end, my son and I were excited to have the personal interaction with the Imagineers.
Meanwhile, my husband and my almost-11-year-old daughter were standing in a line to meet the cast of Disney Channel's newest hit movie, "Descendants": Sofia Carson, Dove Cameron and Cameron Boyce. They waited about 90 minutes, but my daughter couldn't have been more thrilled. All three actors were great about interacting with her and even held her iPod to pose for a group selfie.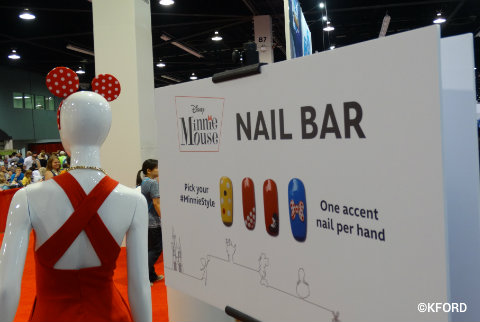 From there, my daughter and her indulgent father joined a queue at the Disney Consumer Products pavilion where stylists were creating Tinker Bell buns for girls and women alike. It took about an hour for her to reach the front and take her place at one of three stations, and I arrived just in time to see the process. The complimentary hairstyles were offered as an incentive to advertise a new line of Tink-themed merchandise. Likewise, the Minnie Mouse manicures next door were promoting new Minnie products. My daughter and husband stood in that hour-long line, too! (Stay tuned for separate blog posts dedicated to upcoming Disney Consumer Product merchandise.)
We all had a lunch break at the convention center café and then split up again. I checked in to cover the Disney Parks and Resorts presentation; my son decided he was willing to wait three-and-a-half hours in a queue to meet the cast of ABC's "Pretty Little Liars"; and my husband and daughter wanted to explore more of the Expo floor. We each were mostly happy with our choices. The Parks and Resorts presentation was full of exciting news punctuated by surprise appearances by actors, directors and celebrities working on the projects. I loved it! My son made friends with other kids in line for the meet-and-greet, and they and their electronic devices entertained one another. We checked in with him periodically and held his place for him to make bathroom breaks. The one disappointment was that although the event was advertised as a cast meet-and-greet, it turned out to be just one actor — and one that was new to the show at that. There are no guarantees of appearances, of course, but it sure would have been helpful to share that information with kids who waited more than three hours to see their favorite actors.
My husband and my daughter braved the extremely long line for the Disney Store, which was an opportunity to purchase collectibles and products from upcoming merchandise lines that have yet to be released. Although my daughter did spend her money on an Ariel wallet, she wasn't tempted by much else because many of the items were high-end, limited-edition pieces. The pair also checked out other booths, including the one for Disney Parks. After my presentation, I joined a two-hour line for Mickey's of Glendale, which was a rare opportunity to purchase Disney Imagineering merchandise. We stayed until the Expo closed at 7 p.m.
Things we did right:
** We stayed at the Hilton hotel adjacent to the Anaheim Convention Center. It was just steps away, so we could have taken breaks in our room if we needed to. This is something that might be important to keep in mind if you have small children who might need a midday break.
** We wore comfortable clothing and shoes in preparation for a long day.
** We each carried a backpack for things we collected, as well as bottles of water and snacks to get us through the long lines.
** We knew there was no way we could see and do everything, so each family member made a list of priorities for the day and we tried to get through at least two per person.
** We used the D23 Expo app, which was updated throughout the conference with many things that were not listed on the printed schedules and maps.
** We expected to stand in lines. We are veterans of the Disney theme parks, so even though standing in a two-hour line is not something we love to do, we can get through it without too much complaining if the end result is important to us.
In retrospect, I think my husband and kids would have benefited from spending two days at the convention. Even with our divide-and-conquer strategy, there was so much they didn't get to experience. For example, my husband would have liked to have spent time in the Disney Archives display, but he forfeited that to be able to take our kids to more of what they wanted to do. I had a better shot at seeing more of the offerings since I attended all three days.
Overall, the D23 Expo was mostly what we expected. There was something for every type of Disney fan —- as long as you were willing to stand in line. Casual Disney fans may not appreciate the craziness of a large-scale convention, but for serious Disney fans, it's an experience of a lifetime.
DISCLAIMER: I was a media guest of D23 at the D23 Expo for the purpose of covering the convention. This did not affect my story; my opinions are my own.