Kenny Ortega just might be Disney Channel's Fairy Godmother. After all, the director and choreographer delivered the network's biggest franchise, "High School Musical," almost a decade ago and now he has produced the most-watched cable TV movie of the year, "Descendants," which aired on Friday.
The premise behind "Descendants" isn't new, but the network does take an engaging look at what would happen if Disney villains (and some heroes) had children. The main characters — Jay (Booboo Stewart), Evie (Sofia Carson), Carlos (Cameron Bryce) and Mal (Dove Cameron) — are the offspring of Jafar, the Evil Queen, Cruella de Vil and Maleficent, respectively. The group is granted permission by the benevolent teenage son of King Adam and Queen Belle to leave the remote Isle of the Lost and attend prep school with the Disney heroes' kids. This, of course, leads to a battle of good versus evil set amidst the backdrop of typical teenage angst.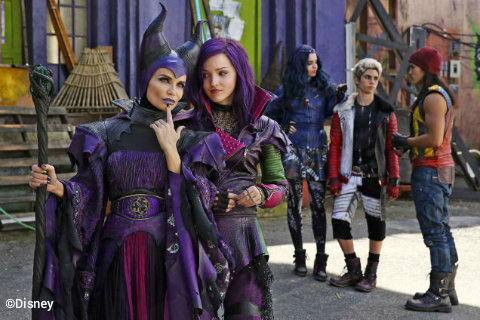 Cameron and Kristin Chenoweth, who plays her mother, offer strong performances in the live-action "Descendants." As Mal realizes that she doesn't have to carry out her mother's revenge plot and live with evil in her heart, the pair battles each other. Chenoweth is perfectly cast and hilarious in her role as Maleficent, while Cameron is quite believable as her willful daughter.
Of course, it wouldn't be an Ortega production without catchy music and choreography. I really liked the clever twist on the classic "Be Our Guest" tune from "Beauty and the Beast." Cameron's solo "If Only" is relatable to young viewers, even if the lip-synching is way off on this number. And there are large-scale production numbers, as well, such as "Did I mention I'm in Love With You?" on the lacrosse field and in the bleachers and the final number, "Set It Off," after Ben's coronation, which occurs in front of a castle with shooting fireworks.
The choreography for these songs seems more realistic — dance moves that you actually might see high school students doing — than, say, some of the made-up moves of Disney Channel's other summer hit, "Teen Beach 2."
Two years ago, Mattel delved into the world of villains' offspring with its popular "Ever After High" books. New York Times best-selling author Shannon Hale was hired to write the tween books, which would then tie into a merchandise line. Earlier this year, a movie, "Ever After High: Spring Unsprung" debuted before a Netflix animated series about Apple White, daughter of the Fairest of Them All, and Raven Queen, daughter of the Evil Queen.
The "Ever After High" animated franchise has been wildly popular with its tween audience, but it certainly doesn't appear to have a lock on the subject. "Descendants" already has racked up some impressive numbers:
** 6.6 million viewers tuned in to watch "Descendants" Friday on Disney Channel.
** 1.4 million viewers on the WATCH Disney Channel app saw the movie in the six days leading up its official television premiere.
** The "Descendants" soundtrack is No. 1 on iTunes for soundtracks and No. 2 for albums.
** "Descendants" prequel novel, "The Isle of the Lost," by Melissa de la Cruz from Disney Publishing Worldwide has been No. 1 on the New York Times Best Seller List for 10 weeks.
Both derivatives, however, leave viewers with the feel-good message of "Be true to yourself." But will they leave viewers wanting more and more? To this day, I can still sing many of the High School Musical songs and I fondly recall how much my children enjoyed everything related to the franchise. Will I be saying the same about "Descendants" in 10 years?