Orlando City Soccer Club, the City Beautiful's first professional soccer team, certainly has brought new local fans to the game. And if your children are among them, one way to channel that enthusiasm might be with a four-day clinic at the Disney Soccer Academy. The summer camps take place at ESPN Wide World of Sports at Walt Disney World and promise appearances from some of the game's biggest stars. And perhaps just as winning for parents is the fact that the price has dropped from last summer's camps.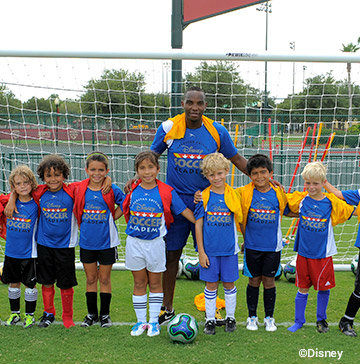 Registration now is open for the two camps, which take place June 22 through 25 and June 29 through July 2, and you do not have to be a Florida resident to participate! Parents can register their children, who must be ages 5 to 18, online or in person from 8 to 9 a.m. June 22 and 29. There is no limit on the number of players who can attend each session.
Athletes are put in groups on the field, where they are taught by licensed coaches from around the world. The focus is on technical development and playing games with small teams; kids practice their shooting, dribbling and defending skills. Plus, professional English Premier League and Brazilian soccer players get in the games with the kids.
"It's an opportunity for children to come and be involved with current professional players. "¦ We have some of the top of the line stars coming out to be involved and play with the kids," said Glen Buckley, Soccer Academy director, on the Disney website.
Disney Soccer Academy is run by Midwest Soccer Academy, which has been training athletes of all ages and abilities since 1973.
Although each camp day runs from 9 a.m. to 3 p.m., it is not all under the hot Florida sun. Warm-up and the first training session take place from 9 to 11:30 a.m. Then, kids break for lunch, which is included in the camp cost, from 11:30 a.m. to 1 p.m. They head back out onto the field for a second training session from 1 to 3 p.m. For an additional cost of $60 per week, players can stay for aftercare from 3 to 5 p.m.
If there is inclement weather, alternate activities may be planned and refunds will not be issued.
The cost of one session at the Disney Soccer Academy is $349. In addition to the instruction and lunch, the price also includes an event T-shirt and a gift for each athlete. Friends and families are invited to watch the clinics, and they pay a separate admission charge. Daily admission is $17 for adult guests (ages 10 and older) and $12 for children (ages 3 to 9). Spectators also can purchase a Length of Event pass, but those prices have yet to be announced.
Athletes who are 17 and younger must check in with their legal guardians on the first day of camp. Everyone who is participating – athletes and coaches – must sign waivers and turn them in the first day before they will be issued their credentials.
Athletes and their legal guardians are required to book camp accommodations at Disney's Athlete Housing program and through Disney's Sports travel provider, GET Sports, unless certain conditions are met, such as living within a 90-minute drive or having reservations at a family-owned timeshare. For more details, visit Get Travel.