The first time I met Heather Will-Browne, a horticulture area manager at Walt Disney World, it wasn't in person. Instead, my family and I watched her on the Travel Channel special "Walt Disney World Holidays with Samantha Brown" that aired in the early 2000s. Will-Browne discusses the resort's famous hanging poinsettia balls with host Brown, and they joke about the pronunciation of "poinsettia."
Perhaps that seems like a very specific detail to remember, but that show has become a classic for our family – one that we watch every year along with Rudolph, Frosty and the Grinch – and my children and I know all the dialogue. You see, "Walt Disney World Holidays with Samantha Brown" was shown repeatedly on cable television when my son was a toddler and his love of all things Disney was just beginning. He was so happy to see his most favorite place in the world on television, and he was interested in everything the cast members pointed out.
Fast forward about a decade and I had the opportunity to actually meet Brown and Will-Browne in person on separate occasions. (I wish my son had been with me!)
But appearing in a television show about Walt Disney World is hardly Will-Browne's only claim to fame. She actually is one of the original cast members who have worked at the resort since the first day it opened in 1971. Will-Browne also is the first female cast member to work as a gardener, which she did for about 25 years before she was promoted to a manager.
Will-Browne spoke to Deb Wills in 2011 at the 40th anniversary celebration of Walt Disney World, where she discussed her memories of those early days. (See the video below.) One of her memorable moments was creating the first set of hanging baskets for Main Street, U.S.A. – the very thing I wanted to ask about when I spoke with her recently about the horticulture team's role in decorating for the holidays. I couldn't resist asking her about the television special, too.
What do you remember when you were filming with Samantha Brown?
Many times when you have an interview and you're interacting with someone, a lot of it depends on how you click with that person, and Samantha was such an easy person to talk to. She just made me feel comfortable.
Did you rehearse that segment?
I'm not very good at rehearsing, or if I try to memorize something, I'll forget it. I always like to go off the cuff and that one was definitely off the cuff.
Did you film other conversations or scenes that did not make it into the special?
I don't think so. Many times, we'd just do one take, and that was it. It's always better if you are spontaneous.
You talk about poinsettia balls/baskets in the television special. Could you tell me how those are used now on Walt Disney World property?
We used to put the holiday [display] in after Thanksgiving. Now, we get poinsettias as early as Nov. 5. Those balls don't last a long time, so in the past when we could put them up last-minute, that made sense. Now, because we have to extend that (show) for so long, most of the baskets are the skirts. For the holiday, it's an ivy skirt, and then we leave a space in the top and we fill that with poinsettias. But we do still make some poinsettia balls and I love them! I like them better than any of the poinsettia baskets that we do.
On Hollywood Boulevard at the Studios, there are balls made out of springer wry, ferns, spider plants and poinsettias. And they are just beautiful. And those have to be started in August. The fern and the spider plants have to have a long time to grow.
How often do you have to change the poinsettias in either of those two baskets?
A lot of it depends on the weather. Many times we don't have to switch them out at all. If they are maintained, those poinsettias can last. Now, if we hit a freeze or frost or there's a hard winter, we may have to change them out. But let's hope not more than once – and if we're lucky, not at all!
What does it take to maintain the poinsettias in the baskets and the Walt Disney World landscape?
Minimal maintenance on a poinsettia basket, but a lot of it has to do with watering. You definitely want to make sure that you don't overwater or underwater it. If we get a lot of rain – something we can't control – that's a bit different. But daily monitoring is the norm, and that's part of being a gardener, especially here at Disney. It's constant attention. It's our whole philosophy about paying attention to detail. It's a judgment call about whether each plant needs to be watered each day.
How has the horticulture department's role in holiday decorating changed over the years?
I am proud to say that we are a huge part of the holiday show at Disney. If you go into the parks, you will see a lot more. Flower towers, for instance. We never used to do these in the parks. Now we have poinsettia towers at The Contemporary hotel, the Transportation and Ticket Center, and they line the bridge at Epcot that leads to World Showcase. We also have added twinkle lights to the plants. At Epcot, we have twinkle lights in a lot of the flower towers. If you go over to Italy, there is a beautiful pink flower tower, and it has the twinkle lights.
Another new thing are the holiday topiaries. This year we have snowflakes at Downtown Disney that are twinkling [on the far side of The Marketplace near Rainforest Café]. We have some "dichondra silver falls," a weepy, silvery plant that gives this whole area a wintery feel.
Our department is also part of Holiday Services, and we have a brand-new Christmas tree at Downtown Disney this year with a different theme. The entire Marketplace area really looks ready for the holidays, and it's one of my favorites.
Which places at Walt Disney World do you consider must-sees for the holidays?
There is a topiary snowman between Germany and The Outpost [at Epcot] that is new this year, and he's very cute. He has twinkle lights, button eyes, arms of sticks, a top hat. This is the first time we've done a snowman.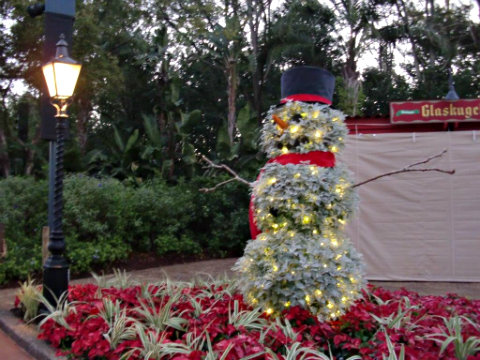 Also, the Grand Floridian because it's our biggest poinsettia display. People just get blown away when they see a mass of poinsettias in one area. And we help with the little things, too, like decorating the gingerbread houses with greenery and poinsettias.
We use a lot of red poinsettias because many people just feel like that's the poinsettia for the holiday. They want to see red poinsettias. But one of my favorites is a new poinsettia called Ice Crystals. Ice Crystals are used in the hanging baskets and in the flower tower at Italy. They are just very pretty. They look like they have been dusted with frost. It's a muted pinky-red and then it's got a creamy look, too. It's not red and it's not pink.
How many people on the horticulture team are involved in decorating for the holidays?
Everyone really is involved because holiday is everywhere. No matter what you are taking care of, somewhere in your day, you are taking care of something that has to do with the holiday. The tree farm nursery crew does a lot of work preparing specialty items, like the topiaries, the flower towers, the hanging baskets and then we send those to the parks. Once they are in the parks, those crews have to maintain them. So, we all touch them at some point. I just think we have a spectacular horticulture show for the holidays.
Interview with Heather regarding Epcot's International Flower and Garden Festival