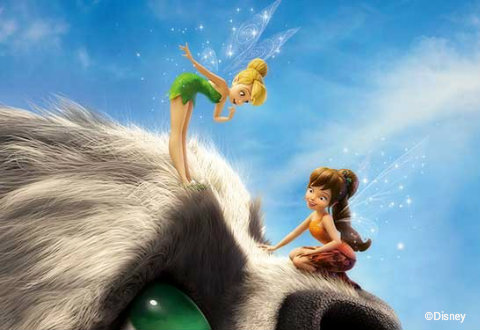 Those who share my family's love of Tinker Bell may know that we have faithfully followed the progression of the Disney Fairies movies since the first one was released in 2008. And we fans have another adventure to look forward to in the spring. DisneyToon Studios will release "Tinker Bell & the Legend of the NeverBeast" direct to DVD on March 3, 2015.
This week, it was announced that actress Ginnifer Goodwin (ABC's "Once Upon A Time") will voice Fawn in the upcoming sequel.
In a news release, Director Steve Loter wrote, "Fawn is a character who loves all animals unconditionally. She will help any animal that needs her, but sometimes Fawn thinks too impulsively, when she should be thinking with her head, as well as her heart."
"Fawn was inspired by my daughter and her unconditional love of animals," he said. "But Ginnifer had a very strong hand in crafting the character. Her sense of fun and her wondrous view of the world gave Fawn direction. You can hear the smile in Ginnifer's voice-this is a character that loves life and lives it to its fullest."
Goodwin joins veterans Mae Whitman (Tinker Bell), Megan Hilty (Rosetta), Lucy Liu (Silvermist), Raven Symone (Iridessa) and Anjelica Huston (Queen Clarion).
It also was announced that a new character — Gruff — will be introduced in "Tinker Bell & the Legend of the NeverBeast."
The studio describes the creature and his role in Pixie Hollow this way: "The heartwarming story explores the ancient myth of a mysterious creature whose distant roar sparks the curiosity of Tinker Bell's friend Fawn, an animal fairy who's not afraid to break the rules to rescue the NeverBeast before time runs out. The fairies meet Gruff who is a massive creature and the subject of an ancient Pixie Hollow myth. Hidden in a dark lair on the fringes of the fairies' beloved home, Gruff is discovered by curious and empathetic animal fairy Fawn, who sees something special in his glowing green eyes. His penchant for stacking rocks mystifies Fawn and her friends-but Gruff's true purpose is the real surprise."
However, Gruff is not rely welcome in Pixie Hollow because the other fairies suspect he could destroy their home. Fawn, who sees a tender heart beneath his gruff exterior, must convince Tink and the girls to risk everything to rescue the NeverBeast before time runs out.
Here's a look back at recent Tinker Bell DVD releases, "The Pirate Fairy" and "Secret of the Wings."