The last time I reviewed the Caribbean Beach Resort was during an overnight stay in November 2010. (To read that review, click here.)
Last month (June 2014) I returned for a two-night stay to see what had changed since my last visit. After a look around I discovered that very little has been altered during the past three and a half years. So with just a few exceptions, the resort is pretty much the way you remember it. Here are the changes I discovered during my stay.
In case you didn't already know, Disney no longer uses plastic key-cards as room keys. They now give each guest a wristband that "magically" unlocks the door when you tap the band to a Mickey head positioned near the doorknob. You can also use these wristbands to pay for food and drink by simply "tapping" and entering a Personal Identification Number that you created at check-in. (You must leave a credit card on file during check-in to have charging privileges.)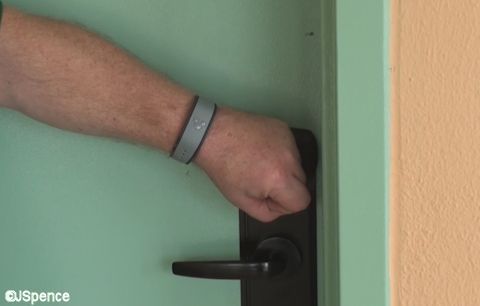 I have stayed at three Disney World resorts since the implementation of these wrist bands. And I have to tell you, I like them. I really appreciate wearing my room key on my wrist. It beats pulling out my wallet and searching for the keycard. The same holds true when paying for something. It's much easier to "tap" than search for a credit card or cash. Also, the wristbands are waterproof which makes trips to the pool all the more convenient. Now you don't have to leave your wallet or purse unattended while swimming. You can leave your money and credit cards back in the room. You have everything you need right at "hand." I think the wristbands are great!
NOTE: I am NOT talking about using the wristbands for FastPasses. This is a whole other topic that I will NOT be discussing here. And please don't send me comments on the subject of FastPasses. They will NOT get posted. All I'm saying is that I like the wristbands for room access and charging.
All six laundry rooms are now locked 24/7 and require a wristband for access. I can personally assure you that no matter what section of the resort you're staying in, you can use any of these facilities. I know, because while I was filming the resort, I checked each and every laundry room and my "Barbados" wristband granted me access to all of them.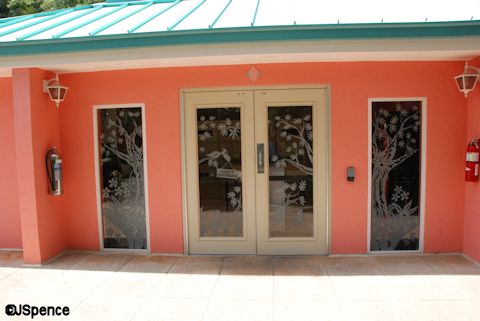 The offerings at the Marina have been scaled back dramatically. No longer available are the Sea Raycers, pontoon boats, canoes, pedal boats, and sail boats. If you want to pilot your own craft, you must now travel to the Contemporary, Polynesian, Grand Floridian, Wilderness Lodge, Fort Wilderness, or the Yacht Club. Still available at the Caribbean Beach Resort Marina are surreys, bicycles, fishing excursions, and the Pirate Cruise. This was a cost-cutting measure made by Disney that has impacted all of their moderate resorts.
In this next picture, you can see the empty channel where the Sea Racers once waited for eager captains.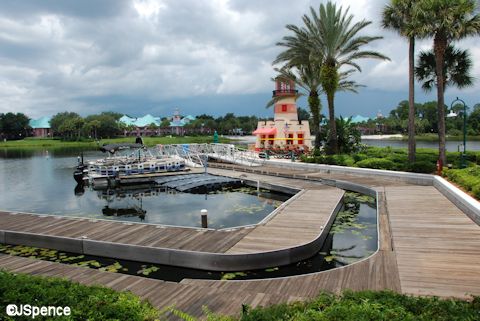 As I mentioned in my recent blog about the All Star Resorts, the paper drinking cups purchased at the food court now have a microchip attached to them that monitors your consumption. After your initial serving, you are allowed three refills over the next two hours.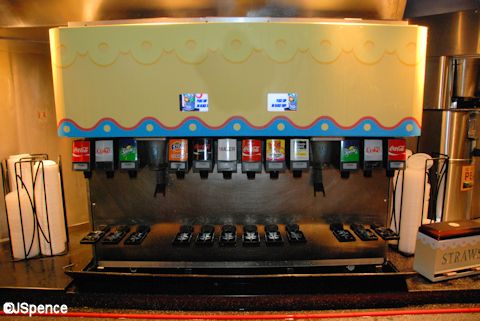 I booked a standard room for my stay at the Caribbean Beach Resort. When I entered, I saw that nothing had really changed since my last visit in November 2010. The only noticeable difference was the lack of a bedspread in favor of the "spa" look. A "Finding Nemo" throw now offers the only splash of color in the room. Additionally, my room did not have a "Finding Nemo" wallpaper boarder circling the ceiling as my room did in 2010.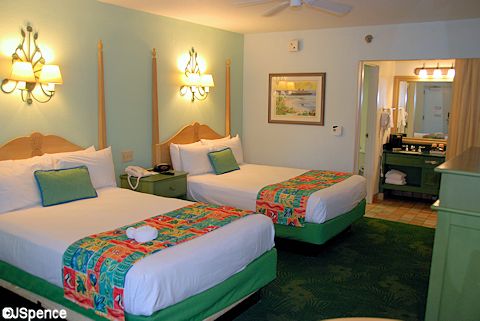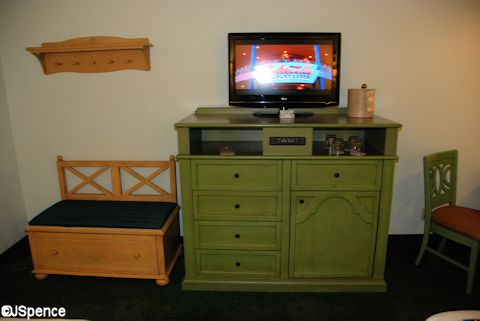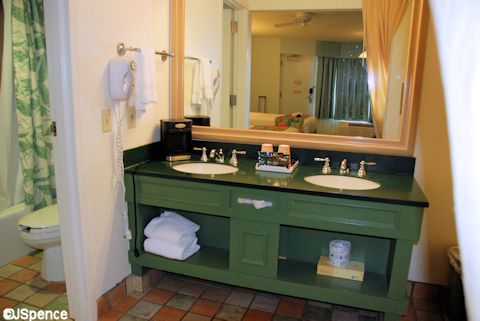 As I mentioned in my blog about the All Stars, the TVs at the Caribbean Beach now turn on to an informational channel about the resort. In addition, the volume is initially set very low as to not disturb others. I really like this change and I'm glad to see it being implemented at all of the resorts.
I was disappointed with the electrical outlet near the table as the refrigerator was plugged into one of the receptacles. I was visiting by myself and wanted to plug in both a cell phone and a laptop. I can't imagine how a modern family of four would make out with just one outlet.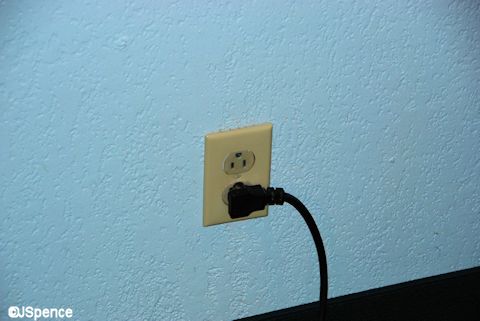 Overall, I found the room to be tired and uninspired. Very clean, but tired and uninspired. I can't say that there was anything wrong with my accommodations, but I can't say that there was anything particularly compelling about them either. If you were to pin me down for details as to why I felt this way, I would be hard pressed to come up with any. Overall, I'd just have to say that the room lacked Disney magic. With just a few small Disney details (the throw, a picture of a Disney Cruise Line ship, and one hidden Mickey), a similar room could be found at any motel along Hwy 192.
This depressed me. I know that the Caribbean Beach is a favorite of many, but I was going to have a hard time promoting this room. I began wondering how I was going to write a review and gently let down the ardent fans of this resort. But fortunately, this story does, or will, have a happy ending.
The next day, I set out on a three hour trek around the entire resort to film and photograph each of the six villages. I started at the Barbados village then moved on to the Aruba section. When I got to the Jamaica village I discovered that a number of the buildings were closed and construction workers were scurrying everywhere. It didn't take me long to realize that Disney was in the process of refurbishing the rooms at the Caribbean Beach and work had only recently begun.
I try to respect rules and I try not to venture where I don't belong. But I wanted to see what was happening so I carefully passed by a construction warning sign so I could peek into one of the almost completed rooms. And I have to tell you, it looked great. A far cry from the room I was currently staying in. However, I did not take any pictures because I didn't want to push my trespassing any further than I already had. Instead, I headed over to Custom House so I could speak with a hotel manager.
After introductions were made, I explained to him that I write for AllEars and was currently staying at the resort. I asked if there was any way I could change rooms for my second night. But I was told that very few remodeled rooms are on line and nothing was available at the moment. I went on to explain that I live nearby and could stop by any day if they would grant me access to a remodeled room for just 10-15 minutes so I could photograph and film the new accommodations. Once again, my request was politely declined.
So, for the time being, all I can tell you is that new and more compelling rooms are on their way to the Caribbean Beach Resort. I know that AllEars will make every effort to bring you pictures and videos as soon as we can, but it will probably be a few months away. Since Disney will not guarantee an updated room when making a reservation, we need to wait until more refurbished rooms come online so we can be somewhat certain we're booked into a newer unit.
As I mentioned earlier, I spent three hours circling the resort so I could videotape all of the villages. I also spent several more hours filming Old Port Royale Centertown. Below is the culmination of my efforts. I hope you enjoy this overview of the resort.
Since I've already told you about all of the changes I discovered at the Caribbean Beach Resort, and this blog is only half the normal length I strive for, I thought I would use the rest of the space to give you an in-depth review of the food court and Shutters, the resort's table-service restaurant. Let's start with the food court.
First, you need to know that I like Disney resort food courts. In fact, since I live so close to Disney World, I will occasionally stop in at a resort simply to have lunch at one of these counter-service eateries. Of course, when eating at a food court, one must keep in mind that this is not a fine dining establishment. For the most part, the food offered at these locations is pre-prepared or is a dish that can be cooked quickly. This is perfectly fine with me as I don't always want "fine dining." As long as you have the right frame of mind and don't compare these establishments with a table-service restaurant, you should be fine.
The food court at the Caribbean Beach Resort is located in the Old Port Royale Centertown building. Disney tried to place this building in the center of the resort, convenient to everyone. But the truth is, it can be a long walk from some of the villages. Because of this, Disney offers bus service that continually circles the resort and stops at all villages and Old Port Royale Centertown.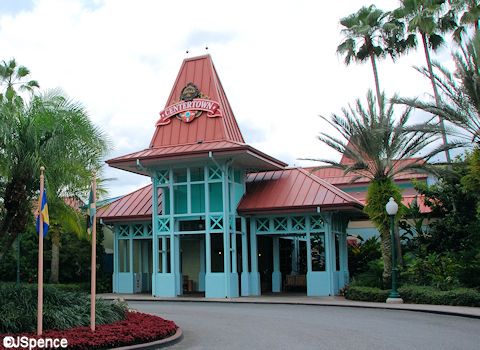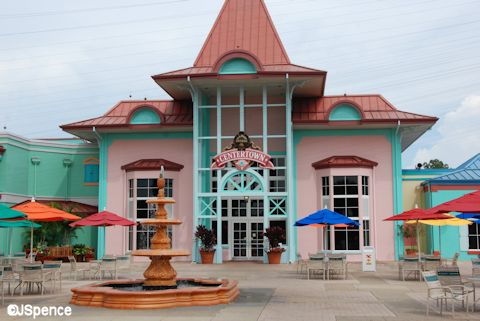 As I've mentioned many times before, when making a room reservation, you can request a specific location. Disney will not guarantee they will honor the request, but they will try their best. So if you want to be close to Old Port Royale Centertown, request either the Martinique or Trinidad North village. Second choices would be Aruba and Jamaica.
The food court at the Caribbean Beach Resort is themed to resemble an open-air marketplace found somewhere in the islands. Brightly colored buildings line a stone street, each selling their wares. On the second story, you can see the homes of the shop owners. Overhead, lanterns light the way beneath a perpetual evening sky.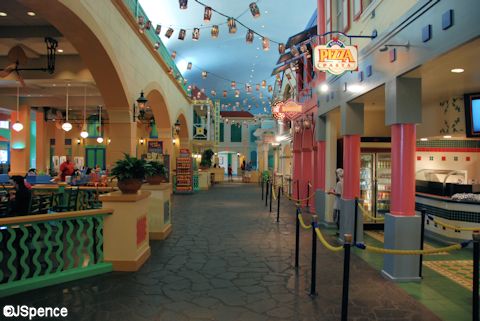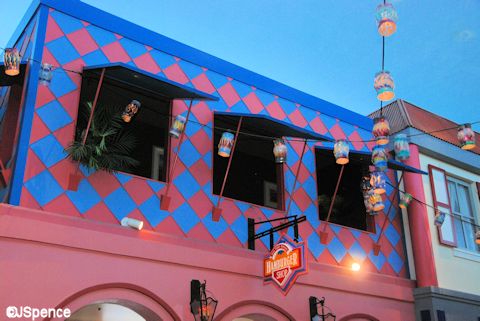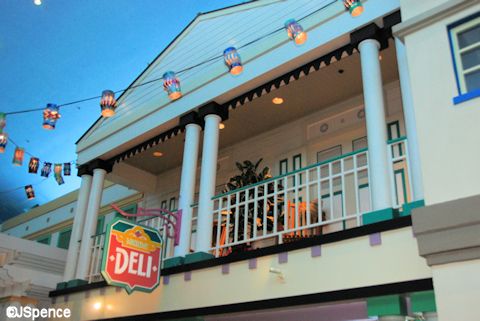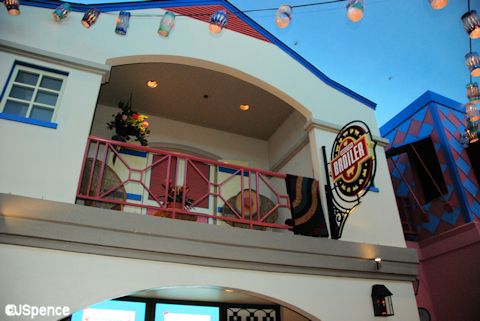 The first shop we come to is Grab N Go. This is the largest of the five shops found along this street and as the name implies, it's the spot where you can "grab" your goodies quickly, pay, and be on your way.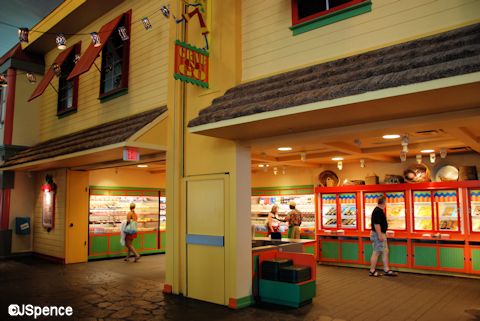 The selection here is large. In the bakery section, rolls, muffins, and bagels dominate the offerings in the morning. As the day progresses, these give way to cookies, cupcakes, and other cake-like goodies.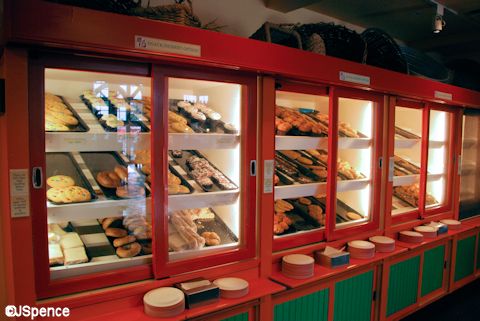 On an adjoining shelve, chips, salty snacks, more cookies, and wine are available. Whole fruit can also be found nearby.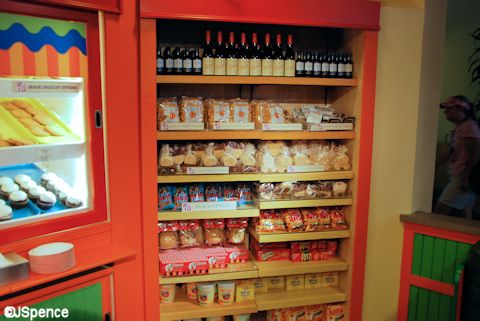 The rest of the offerings can be found in open refrigerators. Here you'll find sliced fruit, salads, yogurts, premade sandwiches, soft drinks, adult beverages, power drinks, milk, juices, desserts, and much more.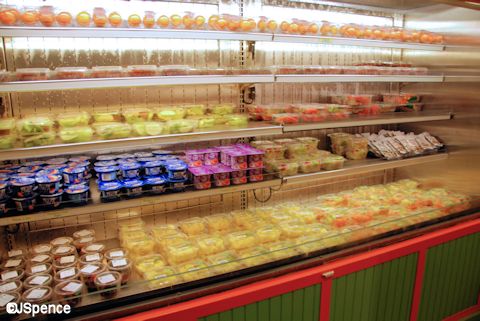 I'm not a big breakfast eater, so for me, Grab N Go works perfectly. I can get a bagel, cream cheese, and an orange juice and be more than happy.
Note, at Grab N Go you pay for your purchases within the store. At all other locations in the food court you pay at central registers.
When the Caribbean Beach Resort first opened, the Grab N Go station did not exist. This space was divided into two shops, Cinnamon Bay Bakery and Oriental Express. The latter served a variety of Chinese items like egg rolls, spareribs, and soups. Later, this shop was renamed the Wok Shop.
The next stop along the road is Royale Pizza and Pasta Shop.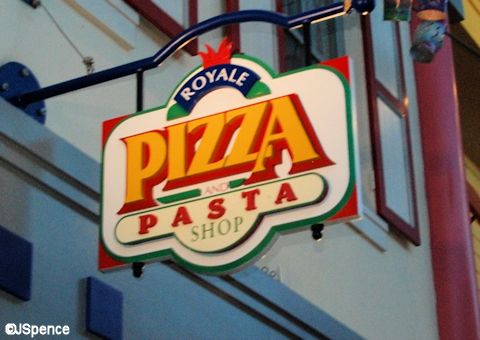 The pizzas served here are the same as the ones served in the parks. Personally, I think they're fine. Is it gourmet pizza? Nope. But they don't taste like the store-bought cardboard variety either. However, your toppings are limited to cheese and pepperoni.
Other options here are Fettuccini Pasta and Meatballs, Vegetable Lasagna, Chicken and Mushroom Marsala, and Baked Ziti with Italian Sausage. Since I was at the resort to write a review, I decided to give this spot a try and selected the Baked Ziti with Italian Sausage for lunch one day. The meal is accompanied with your choice of either a breadstick or a simple iceberg lettuce salad.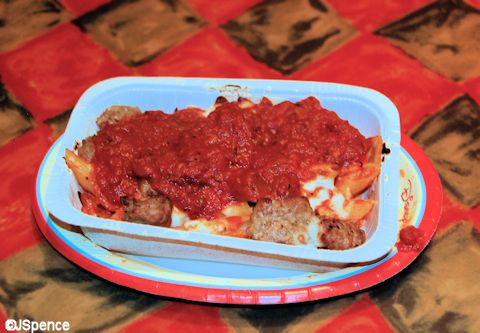 I discovered while photographing this meal that the red and green table tops were not particularly complementary to the food. So please believe me when I say, the pasta tasted much better than it looks here. LOL
Overall, I was happy with my selection. It was quite tasty. My only complaint was with the salad. I wish it contained a little something more than just lettuce. A cherry tomato would have been nice. Prepackaged Ken's dressing is available at the ordering station.
Next on our journey is the Old Port Royale Hamburger Shop. The offerings here include a 1/3 Lb. Angus Bacon Cheeseburger, Caribbean Catch Sandwich, Chicken Breast Nuggets, Hot Dog, Jerk Chicken Sandwich, Vegetable Burger, Chili-Cheese Hot Dog, and Portobello Mushroom Sandwich.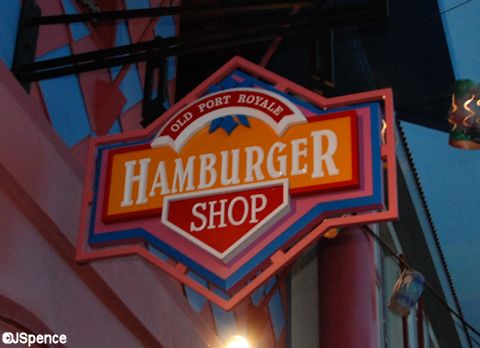 Here I selected the Bacon Cheeseburger and my friend Donald tried the Chicken Nuggets. For the burger, a topping bar is available near the beverage station that includes tomatoes, lettuce, pickles, and onions. For the nuggets, several dipping sauces are offered.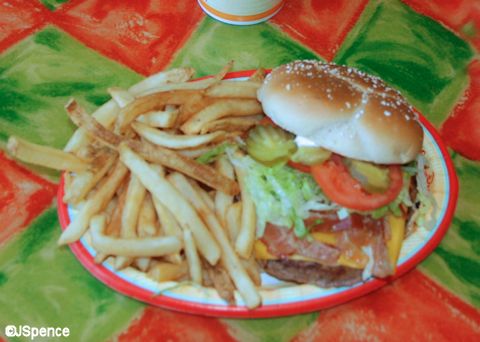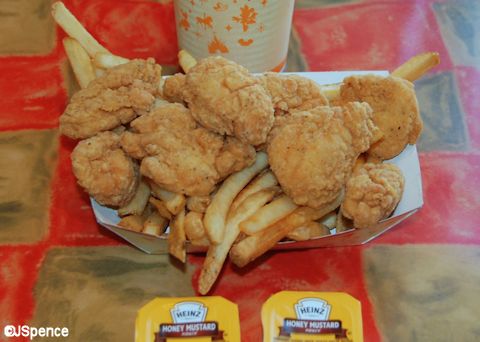 We were both pleased with our selections. Everything was hot and the fries were fresh, not soggy.
Bridgetown Broiler is only open for breakfast (7am to 11:30am) and dinner (5pm to 11pm). I did not sample any of their wares so I can't offer any opinion for this spot. In the evening they offer Baked Chicken, Roast Turkey, Mojo Pork, Ropa Vieja (Braised Beef), a Vegetable Plate, and Seared Salmon.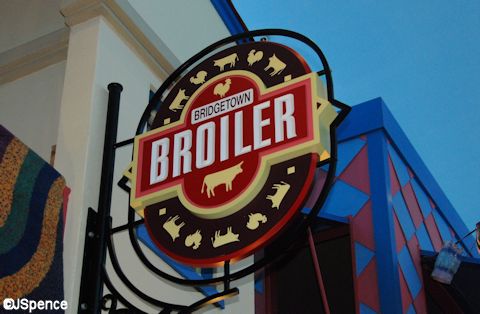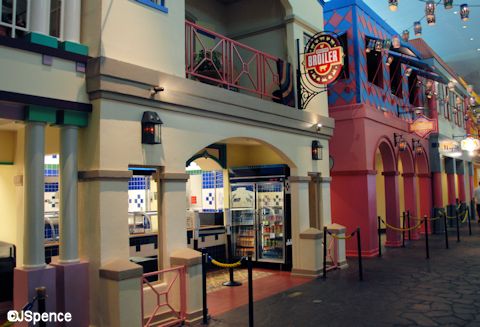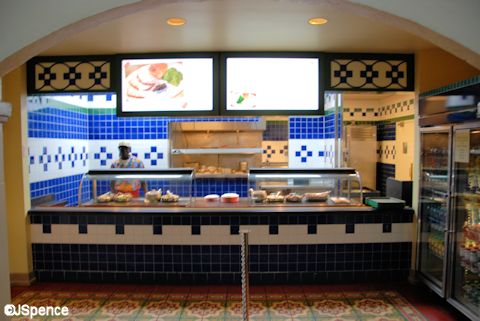 The last stop along this quaint street is Montego's Deli. The selections at this shop include Turkey BLT Sandwich, Royale Sandwich, Vegetable Wrap, Cheesesteak, Roast Beef & Blue on Ciabatta, Cuban Sandwich, Caribbean Salad with Chicken, Shrimp or Tofu, Caesar Salad with Chicken or Shrimp, and Lime Chicken Wrap.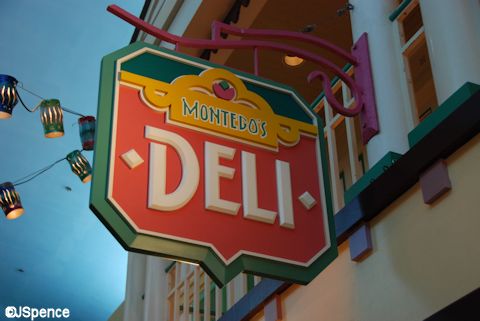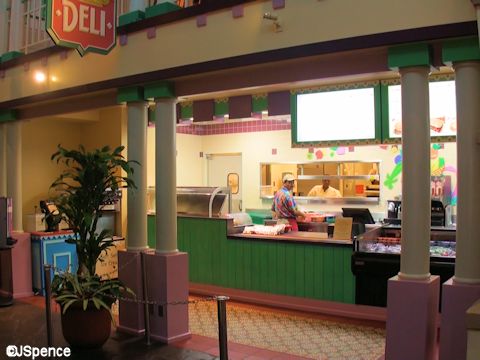 On the afternoon I opted to eat at this shop I selected the Royale Sandwich. It is loaded with turkey, ham, salami, roast beef, provolone, and red pepper ranch spread. It is served with either house-made jerk chips or pasta salad. I chose the latter.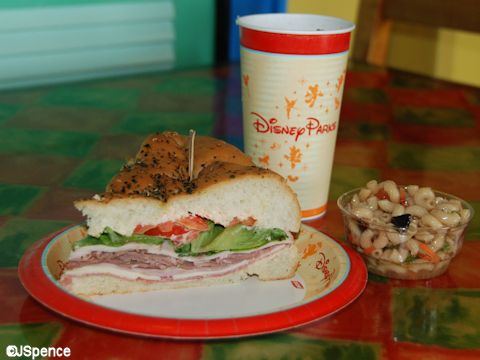 This sandwich was extremely tasty. In fact, it was probably the best meal I had at the food court. The pasta salad was also quite good. Sometimes pasta salads can be rather bland, but this one was not. It tasted of the many other ingredients present in the mix.
The food court begins serving hot breakfasts at 6:30 each morning with just one store being open. At 7am, two more stores begin serving and at 8am, the last of them comes on line. With each opening, more offerings are available. Note, the Grab N Go is open all day from 6:30am to 11pm.
Breakfast dishes include, Bounty Platter, French Toast, Spinach & Feta Omelet, Ham & Cheese Omelet, Western Omelet, Cheese Omelet, Mickey-Shaped Waffle, Steak & Egg & Cheese Quesadilla, Pancakes, Chocolate-Chip Pancakes, and Breakfast Cuban Sandwich.
Besides tasting as many meals as I could during this trip, I had another goal for this review. I wanted to take flattering photographs of the food to share with you. This prompted me to select the Bounty Platter as I thought it would make a good picture. The Bounty Platter comes with a scoop of scrambled eggs, breakfast potatoes, two strips of bacon, one sausage patty, one biscuit, and one slice of French toast.
It is my experience that breakfast foods do not hold heat well. This can be a problem when eating the morning meal in a food court. Even though I encountered no line when paying, the process still took a couple of minutes. After which I had to proceed to the condiment station and find jelly, salt, butter, syrup, cutlery, and napkins. By the time I got seated, my food was only lukewarm. By the time I had my last bite, it was cold.
The scrambled eggs tasted fine. After all, it is pretty hard to mess up scrambled eggs. However, they did need salt (and pepper, but I forgot to pick some up and I wasn't going back to the condiment station).
I also like the potatoes. They were lightly spiced and actually quite good.
On the down side, the bacon slices were small and limp. If you like your bacon crispy, forget it.
The sausage was absolutely tasteless. In fact, if you had blindfolded me and given me a bite of this sausage, I would not have been able to tell you what had been placed in my mouth.
The biscuit was so cold it was incapable of melting a pat of butter. And the slightly warm French toast quickly lost what heat it had once I poured the cold syrup on top.
In the future, I'll stick with my traditional bagel and cream cheese.
To enter the dining room, you must pass by one of several registers and pay for your meal. This is also the time to order your fountain drink if you didn't pick up a bottle or can at one of the food stalls. On the backside of the register stands are napkins and plastic cutlery.
Just past the registers is the beverage station. As I mentioned earlier, you must have a microchip embedded drinking cup or an all-you-can-drink mug to activate the machines. Water is the one exception.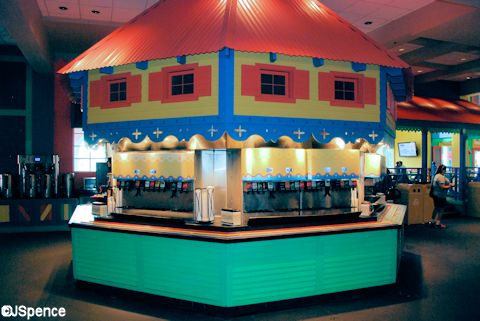 Behind the beverage station guests can find a multitude of offerings. Toasters, a microwave oven, condiments, the topping bar, and everything else you need to complete your meal is located here. If you don't see something you need, just ask one of the nearby cast members and they should be able to help you out.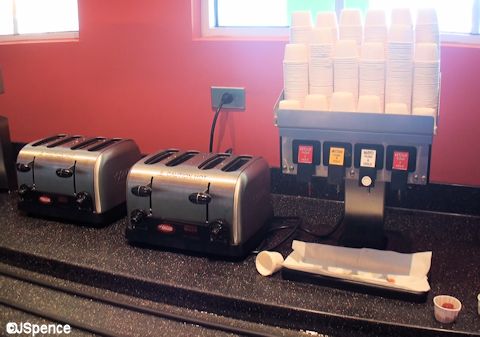 The eating area consists of one large dining room and two smaller adjacent rooms. They all continue the same festive color scheme found at the food stalls.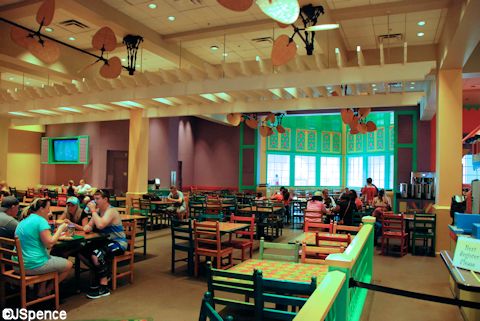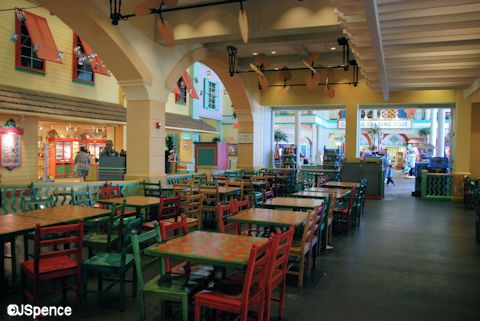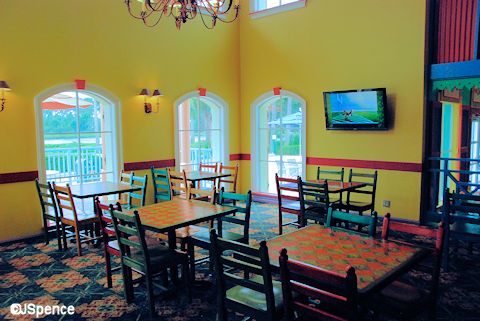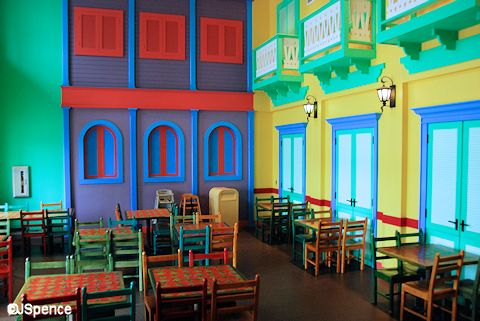 With the exception of one of the smaller rooms, this space is not carpeted. Nor are the seats padded. Thus, there are no soft surfaces to soak up the noise. So when things get busy here, it can also get loud.
There a handful of tables located just outside of the food court. On nice days, this is a wonderful place to enjoy lunch or dinner.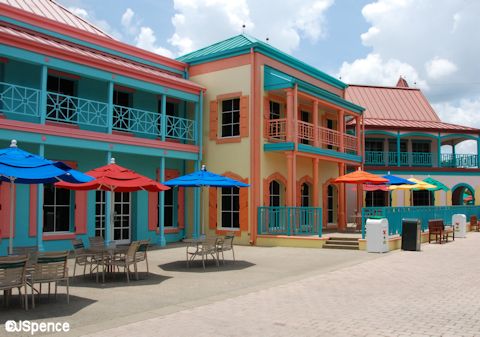 Near the beverage area is a "To Go" station. Here you'll find everything you need to package up your meal for a trip back to your room. Plates, lids, napkins, cutlery, beverage holders, and paper bags are all available.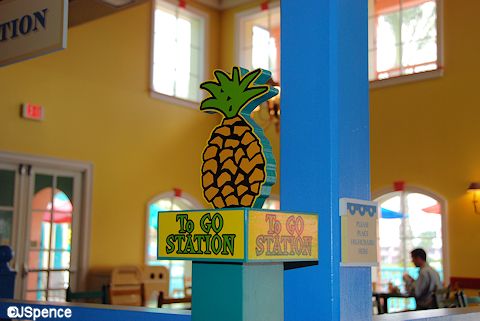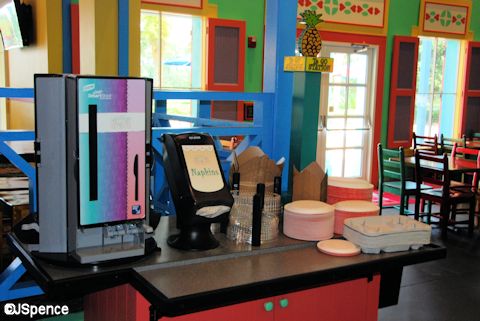 Overall, I like the Old Port Royale food court. I'm obviously not too keen on my recent breakfast, but other than that, I liked everything I sampled and I would have no problem returning here for lunch, even if I wasn't staying at the resort.
Below is a short video of the Caribbean Beach food court. If you've already seen my resort overview video, there is no need to view this one as you've already seen the food court earlier.
My regular readers know that I am a believer in trying everything that Disney has to offer. That being said, I would hope that if you're staying at the Caribbean Beach Resort, you only enjoy one, maybe two meals at the food court during your stay. Even if you don't have the budget to eat in some of Disney's finer dining establishments, stop in at the other resorts and give their food courts a try. Who knows, you just might be captivated by the offerings someplace else and want to give another resort a try on your next trip.
Well it seems that I've rambled on so long that I've run out of space from my review of Shutters. So I guess you'll have to check back tomorrow to see what I think of the Caribbean Beach Resort's only table-service restaurant. Until then, Bon Appetit.