The latest version of the Hall of Presidents located in Liberty Square is my favorite. The story and the fact every President on stage moves and acknowledges when they are introduced is very impressive to my tech and patriotic sides. For those who might think this is a waste of time or a nice air conditioned place to take a short nap, here are the Top 10 Reasons to Visit the Hall of Presidents.
In previous posts, I shared with you the lobby where you wait before entering the theater and the photo of all the Presidents on stage using a wide-angle lens. Today, I show you the Hall of President's exterior from the point of view of the replica Liberty Bell displayed across the street.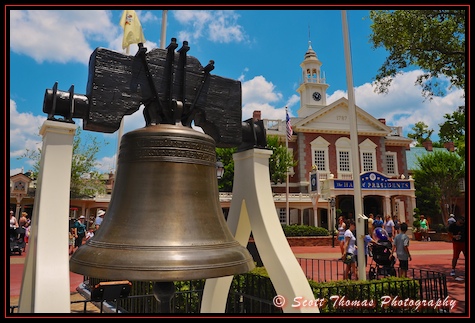 Hall of Presidents behind the Liberty Bell in Libery Square.
Nikon D700/24-120VR, 1/125s, f/16, ISO 320, EV 0, 24mm focal length.
Lisa will be here on Thursday to share her patriotic colors for the Disney Pic of the Week on the Hall of Presidents.