This summer, my family is going to experience a unique Florida event, one that both Walt Disney World and SeaWorld support, but it doesn't take place in a theme park.
Loggerhead sea turtle nesting season, which runs approximately May through October, gives Florida residents and visitors an opportunity to learn about the species. The turtles come ashore at night to lay their eggs in holes, or nests, on the beach and then they make their way back to the ocean. Only about 10 of the dozens of eggs laid in each nest will survive to adulthood, a Walt Disney World cast member told me.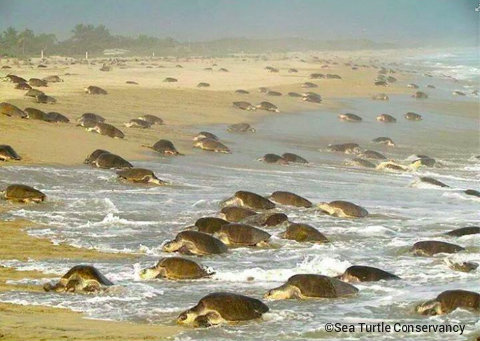 To increase the public's awareness about the plight of sea turtles, the U.S. Fish and Wildlife Service and the Florida Fish and Wildlife Conservation Commission allow a few trained and approved groups to conduct nighttime turtle walks along certain beaches in Brevard County. The walks take place in June and July, and registration opened this month. The walks fill up quickly because they are so popular, so sign up now if you are interested.
The Sea Turtle Preservation Society is one of the approved groups that conducts turtle walks in Melbourne Beach. They take place every Monday, Tuesday, Wednesday, Friday, and Saturday night in June and Monday, Wednesday, Friday and Saturday nights in July along with the first Friday and Saturday in August. Children must be at least 6 years old, and a donation of at least $15 per adult and $10 per child (ages 6 to 12) is required to participate.
The Sea Turtle Conservancy also offers guided turtle walks through the Archie Carr National Wildlife Refuge, which includes Vero Beach, on Monday through Friday nights in June and July. In addition to the loggerhead turtles, endangered leatherback sea turtles nest in the Carr Refuge. Children must be at least 7 years old, and a donation of at least $15 per person is required to participate.
For both programs, turtle watchers meet promptly at 8:45 p.m. for a brief interpretive program on threats to sea turtle survival. Afterwards, participants will wait at beach crossover points with their guides while scouts search for a nesting loggerhead. Then, they take off on a beach walk that may be about a mile in soft sand. Turtle watches can last until midnight or later.
At Disney's Vero Beach Resort, The Sea Turtle Conservancy also will kick off its Tour de Turtles in August. Started in 2008 by the Sea Turtle Conservancy, Tour de Turtles is a fun way to learn about the long migration of sea turtles from their nesting beaches to their foraging grounds. Tracking is done through satellite telemetry, with transmitters sending signals each time a turtle surfaces to breathe. Those who follow along at tourdeturtles.org will be exposed to the science and geography of sea-turtle migration. At the same time, researchers hope to gain more knowledge about the migratory practices of the endangered species because so much still is unknown. (Read more about Tour de Turtles in my previous blog post.)
Can't make it to the Treasure Coast to see the turtles for yourself?
You can learn more about turtle conservation on June 4 at Epcot's The Seas with Nemo & Friends. Walt Disney World celebrates World Oceans Day each year with interactive exhibits inside the pavilion. I wrote about past events here.
Or, if you are visiting SeaWorld Orlando, make sure to go to the Turtle Trek attraction, which is open year round. The tanks in the pre-show area house turtles that SeaWorld has rescued and is rehabilitating. Guests move from the animal habitat into the first 360-degree dome theater, which shows a 3D film about the life of a sea turtle. The movie is from the turtle's point of view and depicts its life — including the daily dangers — from birth to adulthood. (You can read more about it here.) The film's message is one of conservation: That everyday heroes can make a difference in nature.
Last week, SeaWorld Orlando's Aquarium Team traveled to Hobe Sound, Fla., to return three loggerhead sea turtles, and then to Sebastian Inlet in Melbourne Beach, Fla., to return a green sea turtle. The green sea turtle was rescued by a University of Central Florida turtle monitoring group and transported to SeaWorld Orlando by the Sea Turtle Preservation Society. So far in 2014, SeaWorld Orlando has rescued 29 sea turtles and returned 13 back to the water.