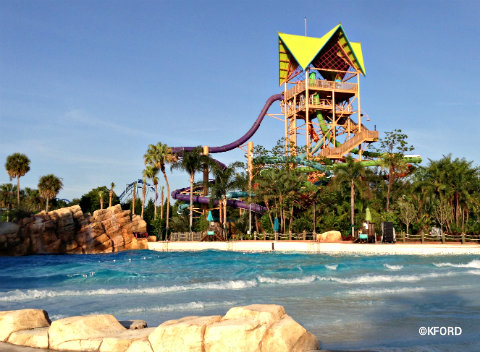 Orlando's tallest, steepest water-slide attraction opened yesterday at SeaWorld's Aquatica. Are you brave enough to give it a try?
My 9-year-old daughter was — and there were plenty of adults who wouldn't step foot onto Ihu's Breakaway Falls during a media event Thursday! Few theme-park rides frighten my daughter, but this one made her think twice before climbing 126 steps to the 80-foot-tall platform. I believe she mostly was apprehensive about not being able to wear her goggles to see better because she normally wears glasses on dry land. The "thrill" part of the ride didn't paralyze her, as it would some kids.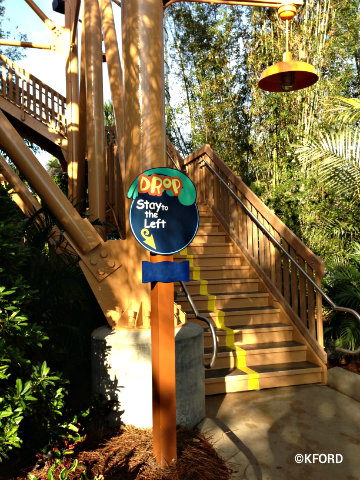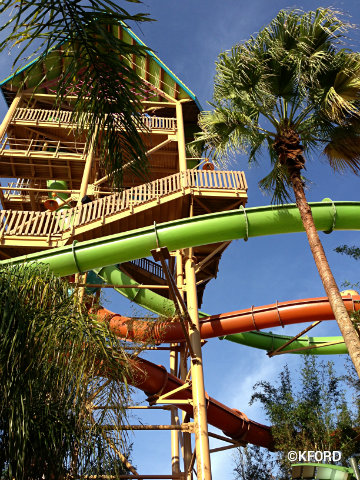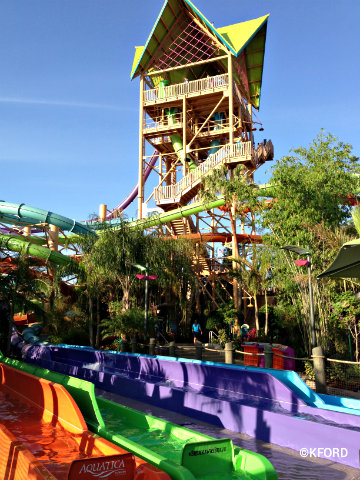 After taking in the amazing view of SeaWorld and Aquatica, my daughter stepped into the clear chamber as the rhythmic drumming of a heartbeat beat in the background. When she was ready, she crossed her arms and legs, gave the team member a thumb-up sign, and waited for her countdown to start. Then, the bottom dropped out and she plunged at a rate of 20 to 24 feet per second before splashing into a spiral speed slide. (During normal operation of the attraction, three riders will be in position, one in each breakaway box, and they won't know who will drop first, adding to the anticipation.)
My daughter emerged at the bottom of the water slide all smiles. She was shaking a little from the adrenaline, but she was not upset by the experience. She said she expected it to be a scarier than it was, so she was fine once she had experienced it. Still, this attraction is not for the faint of heart or anyone with ongoing medical conditions.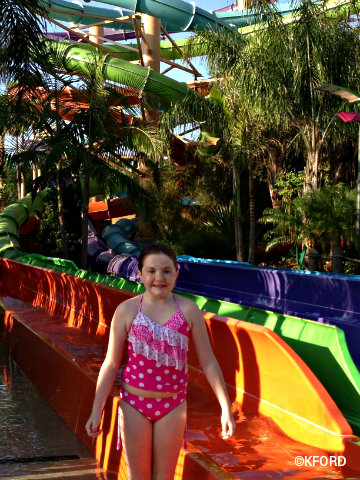 My daughter first rode the orange slide, which drops more than three stories and is the longest of the four slides, at 420 feet. Each translucent tube slide offers riders a different experience. The green slide has the shortest drop, but it's still a 28-foot fall. And the blue slide is the steepest of the trio that start with breakaway boxes.
Next, my daughter tried the purple slide, which does not have a breakaway box. It does start from the same platform, though, and it has the steepest incline. She said she liked that slide best and she rode it multiple times. Neither slide, however, caused the dreaded wedgie, she was happy to report.
See a first-person point-of-view video of Ihu's Breakaway Falls:
Although it may seem like hours for those who are frightened, the ride really only lasts about 7 seconds total, I was told. Most of us can talk ourselves through that, right?
What to know before you go:
** Riders must be at least 48 inches tall to experience Ihu's Breakaway Falls. The maximum weight allowed is 300 pounds.
** Nothing can be carried on this ride, including cameras.
** Riders cannot wear items that may come loose, such as goggles or jewelry.
For the opening weekend, Aquatica is testing a fun green-screen photo opportunity. Visitors can pose individually or with their friends and family, and their image will be placed in the promotional artwork for the attraction. The cost is $15 per image. That price buys you a 6 x 8 print, and the image also is sent via email or text to the recipient. Additional images for the same person are $5. The Ihu's Breakaway Falls photo booth is the first of its kind at the water park, which doesn't have professional photographers stationed throughout the park.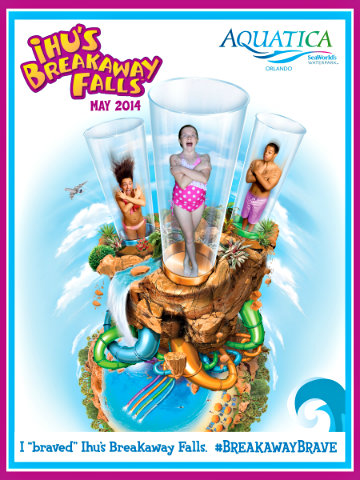 On the day before the official opening of Ihu's Breakaway Falls, there was a small selection of branded merchandise.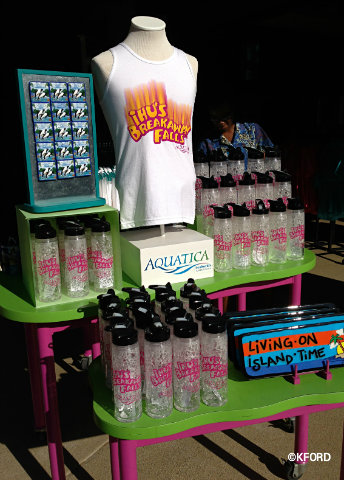 To take a look at all the other attractions that Aquatica has to offer families, please see my previous post.
One-day admission to Aquatica is $46 for adults and $41 for ages 3 to 9. The Splash and Save ticket, which must be purchased in advance online and is good through May 31, is $28 per person.