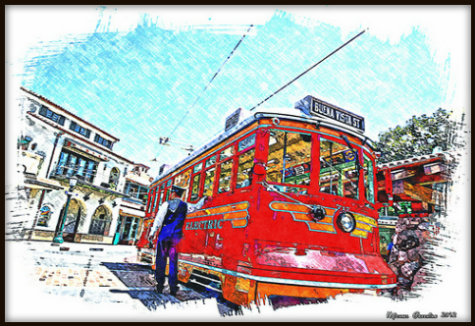 Red Car Trolley on Buena Vista Street by Michael Greening.
I had a thought I would post from Disneyland this week. I quickly decided to call in a friend, Michael Greening (aka Ring of Fire Hot Sauce 1 on flickr), to pitch hit for me as I wanted to feature something from Disney's California Adventure. Finding time on the road for photo processing can be tough. Besides, didn't Michael do a wonderful job on his photo?
The Red Car Trolleys of Buena Vista Street are perfect. Not only do they bring back memories of Who Framed Roger Rabbit but also of the time Walt Disney first came to Los Angeles. This is where I will be tomorrow for the AllEars.net Picture This! Disney's California Adventure Photowalk. Will you be there?
While I am here, you can follow @Scottwdw on Twitter for my photos and comments about Disneyland.