Much like the just-released Disney movie "Planes," the companion video games from Disney Interactive are aimed at a young audience and rated for everyone. As such, they are a fun way to continue the story. For older kids, though, the challenges might not be enough to sustain their interest.
My almost-11-year-old son piloted both a console and a handheld platform of the game, and he found them to be similar to each other and true to the story line of the movie. (For my review of Disney's "Planes," please see my previous blog post.)
My son first tested the Wii version, which offers four modes of play: Story, Air Rallies, Free Flight and Balloon Popping. Story is just as it sounds — missions based on the actual movie — and Balloon Popping is self-explanatory, as well. Air Rallies gives players the chance to race, while Free Flight explores the game's 10 locations. Playing a console version of the game requires participants to use both a nunchuck and Wii remote simultaneously — something that can be difficult for young players until they get the hang of it.
My son liked the selection of characters — 10 choices, and some are reprised by the actors who voice them in the movie. Players can store up to three profiles, and the auto-save feature is a nice touch. He did not like the long tutorial, or basic flight training, at the beginning, though. Sure, it's a necessarily evil for beginners, but advanced players would like to get right to the game and figure out the controls themselves. Once he made it through the tutorial, he found the game to be pretty easy for his age and skill set. For beginning gamers, though, the aerial contests may be just the right level of difficulty.
Disney's "Planes" for Wii can be experienced by one to two players at a time, with the second using a drop-in and drop-out feature. Expanding gameplay to more than just two people might have helped it soar with families having kids of different ages.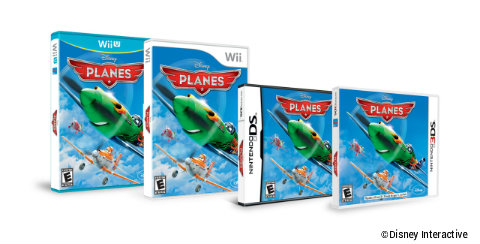 Unlike the "Epic Mickey" sequel games, Disney's "Planes" is very much alike across platforms. The Ninetendo 3DS version also starts with a series of tutorials to get players up to speed. Then, they can take off as one of six characters and soar through six environments inspired by the film. Again, there are four modes of play — Story, Challenge, Racing and Ballloon Popping — and more than 40 challenges and missions.
StreetPass, a 3DS feature that allows users to share content when they physically pass by each other, is enabled on Disney's Planes. Based on Mii figures, the social system grants players more access depending on the number of connections they make. My son does love this feature about his 3DS, though at his age, he did not want his friends to know he was playing the "Planes" game because he thought the games, like the film, is more for the younger set.
Disney's "Planes" is available exclusively on the Nintendo platforms of Wii U, Wii, DS and 3DS. Prices range from $29.99 to $49.99.
DISCLAIMER: Disney Interactive provided me with review copies of Disney's "Planes" for Nintendo's Wii and 3DS systems. This did not affect my review or my son's reactions; my opinions are my own.