"Kingdom Keepers" readers: Get ready for a couple of new adventures. Author Ridley Pearson has some exciting news for fans of the young-adult series that is set in Walt Disney World and aboard Disney Cruise Line ships.
Of course, readers of the series know that the sixth installment, "Kingdom Keepers 6: Dark Passage," hits shelves April 2. But what they probably don't know is that after they read the book, readers actually can participate in the writing of the seventh and final book in the series – and they will be able to read most of it as chapters are produced weekly.
"I have outlined the seventh book, but I really feel so grateful to the readers that I felt it a little unfair if I was the only one who decided how this whole world was going to come to a close," Pearson said when my 10-year-old son, a "Kingdom Keepers" fan, and I interviewed him recently at Epcot.
So, Pearson has spent two years with the help of a software company, to develop an app called Kingdom Keepers Insider (KKI). (Initially, it was referred to as Kingdom Keepers 7 Fan Fiction Experience.) The free app will be available across all platforms, and there will a web version for people who don't have access to an iOS or Android device.
Pearson described Kingdom Keepers Insider like this: "I'm going to post a chapter every Sunday and a piece of the outline for the next week. The readers will come in and vote on things and give me suggestions and write fan fiction that I will actually clip right into the book. Then I will finish that next chapter and post it Sunday, and we'll start the process over. So, in real time, the reader will be seeing what the book is going to be as I'm writing it and help me decide where it goes. Near the end, we'll stop that and I'll finish the book on my own " It's really going to be a fun process."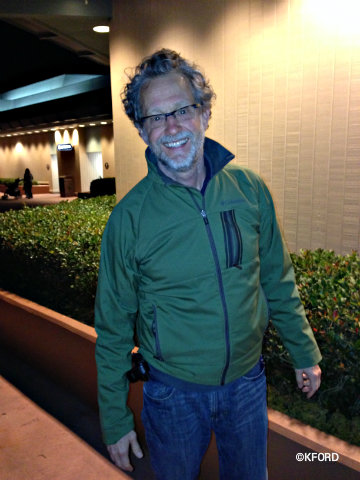 Pearson is embracing fan fiction, something many authors might not do, so we had to ask his thoughts on all the stories written by fans who are inspired to create their own stories with his characters.
"I haven't experienced much of it because I didn't want anyone coming back and suing me and saying, 'Oh, that was my idea.' But it's a world that is so active in the Kingdom Keepers world. I have experts that I work with – high school juniors and seniors who are really well-read in the series – and they participate in all this and they are all part of KKI," he said. "This software protects me, but allows people to write fan fiction within it that then I can use if I want. Everyone is happy."
But hardly anyone is happy about the series drawing to a close, including Pearson. "I kind of wish it wasn't, but I have always felt it should. I don't like open-ended series," he said. "I wanted to end this originally at five books, and Disney talked me into seven."
For fans who dread April 2014, when the last "Kingdom Keepers" book will be released, Pearson offers some comfort — there will be a second "Kingdom Keepers" series.
"We were debating something considerably different for the second series, and I think it won't be all that different in a lot of ways because I'm having a hard time letting go of the characters and the readers polled are having a hard time letting go of it being about the [Disney] parks. They'll be older. I hope it will be mostly the same characters and also set in the Disney parks," he said.
"On my last book tour, I took a hand poll of what people wanted – the same characters or the same locations. It was weird because I expected it to go one way, but it was 50-50. I was going to take the same characters and move them overseas into kind of a different world — more our world, but with the Overtaker world coming into our world. I haven't started it yet. So we'll just have to see."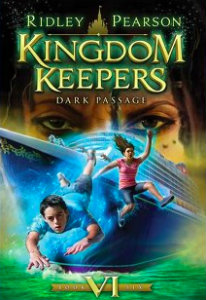 In the meantime, Pearson is poised to begin his national book tour for KK6 in April. "In 'Kingdom Keepers 6,' the Kingdom Keepers are halfway through a long cruise that's going through the Panama Canal, and there are added Overtakers and there are some added helpers to the Kingdom Keepers. The stakes are much higher because of the Overtakers involved, and some really scary stuff happens that readers may not forgive me for," Pearson said.
He may well find out when he visits 11 stops on his book tour, beginning April 2. Pearson will be back at Walt Disney World to meet fans and sign books toward the end of the run. He is scheduled to appear from 4 to 7 p.m. April 10 at Once Upon a Toy at Downtown Disney Marketplace and from 9:30 to 11:30 a.m. April 11 at Disney's Hollywood Studios. Admission is required to attend the theme-park signing. (You can read about last year's event on my previous blog post.)
A tip to fellow Kingdom Keepers fans: We have attended the Downtown Disney book signings for the last two years and readers line up well before the start time. Fans should expect the same as this popular series continues with the last two books.